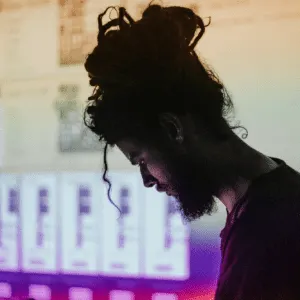 Latest posts by Calum Vaughan
(see all)
For as long as I can remember, gaming chairs have always been constantly improved upon by manufacturers. And for a good reason – the comfort and health benefits of a well-designed gaming chair are of utmost importance to any player, professional or not.
Back when I was taking part in my first gaming tournaments and streams, it was all about the adjustable armrests and nearly horizontal reclining ability. Then, chairs with lumbar and neck support pillows took the market by storm. As I've recently been confronted with the necessity of buying a new gaming chair, I've found out that the latest fad is an additional footrest that truly takes the chair to the next level.
With my newfound expertise, let me share my findings with you. In this guide, I'll do my best to help you find the best offer on the market for a chair with a footrest that you'll fall in love with. Let's dive in!
At a Glance: Best Gaming Chair With a Footrest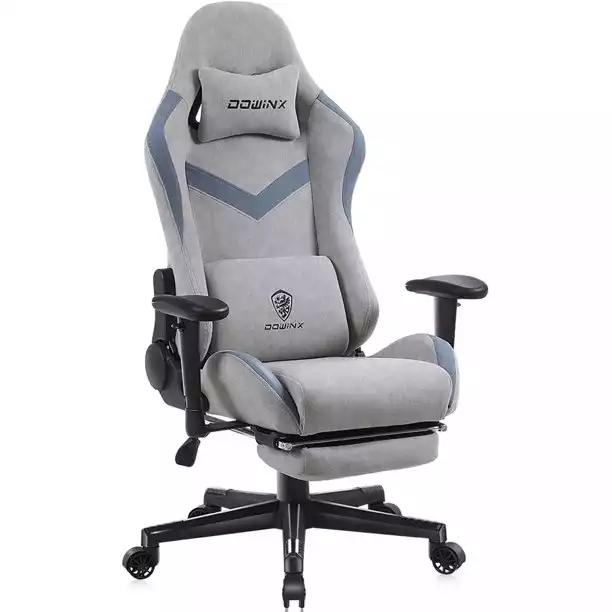 Why do you Need a Gaming Chair?
First, let's disperse any doubts about whether or not you need a professional gaming chair. While someone who only plays video games occasionally for limited periods can get away without one, if you're gaming regularly, up to a couple of hours per session, then it's a no-brainer – you need that chair.
Most importantly, a good gaming chair will ensure that you maintain a correct posture and don't ruin your back in a lengthy process of leveling up in whatever your MMORPG of choice is. And by "back," I mean both your spine and your back's muscles, both equally important to take care of. Coming from someone who has already experienced the pains of sciatica due to ignoring the above for too long in my teenage (yes, teenage) gaming years, trust my word – you want to spare yourself from any back-related conditions at all costs.
Secondly, if you pick a well-made, comfortable chair that you feel good sitting in, it will without a doubt improve your in-game performance. Not only you'll find yourself being able to play longer without feeling fatigued, but it will also positively influence your skills like aim accuracy or reaction time. These chairs are designed to be as adjustable as possible – setting all parts to their optimal positions for your body will surely result in a significant improvement in your KD ratios.
Lastly, it's worth taking note of various additional features that these chairs provide for all your gaming needs and all-around convenience. Built-in speakers in your headrest? Massager for your lower back? Or maybe you'd want some charging ports in armrests for your phone or controller? Whichever one sounds the most appealing; you're covered with one of the suggestions that I'll provide further. But before that, first, let's explore what's important in general when choosing a gaming chair of any sort.
What Makes a Good Gaming Chair
Now that we've established what the benefits of owning a gaming chair are let's explore further what you should take into consideration when choosing one.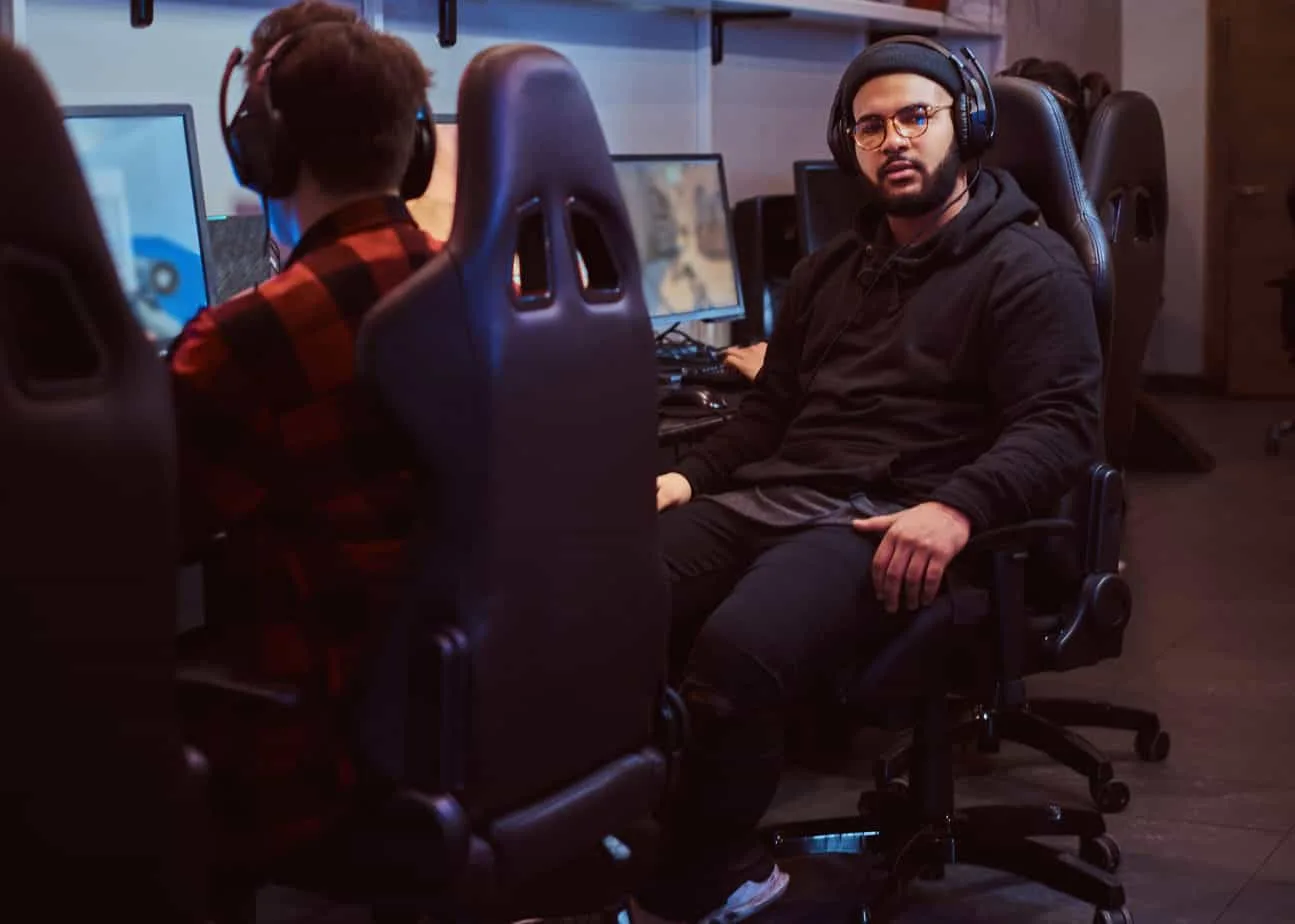 Wide Adjustability
In my opinion, this is the most important thing that you should make sure that the chair of your choice has. Here, the more, the better – you should be able to adjust practically every single part of your chair that has the potential to move.
Starting from the obvious ones like seat height and recline angle, through armrests and footrest, ending with head and lumbar support, make sure that your chair will accommodate your body most optimally.
With gaming chairs, there is a limited possibility of trying them out in-store before committing to a purchase – it's most likely that you will buy yours online if there's no retail store in your area that sells the models that you're interested in.
If initially, you don't find your chair comfortable enough, I'd recommend trying different settings in which these parts I mentioned can be positioned before deciding to return it. Experiment with it for at least a week and if you're still not satisfied with how comfy it is, make notes of what the issues are and try to find a chair that offers a wider spectrum of adjustability for the parts in question.
Padding and Fabric
Quality and thickness of padding, as well as the exterior fabric, are the other factors that separate good chairs from truly great ones. Once you adjust your chair to the needs of your body, it is up to these to make you feel 100% comfortable.
My preference is that a chair has an extra thick layer of padding as well as an exterior material softer than an artificial leather that a lot of gaming chairs are covered with. Only then do I feel truly comfortable sitting in it.
However, most gamers I know prefer thinner padding and a rougher texture of the exterior fabric – they say that "softer" chairs make them slouch too much, and they tend to get "too comfortable" to focus on the task at hand. To each their own – choose what resonates with your understanding of "comfortable gaming" more.
Design and Build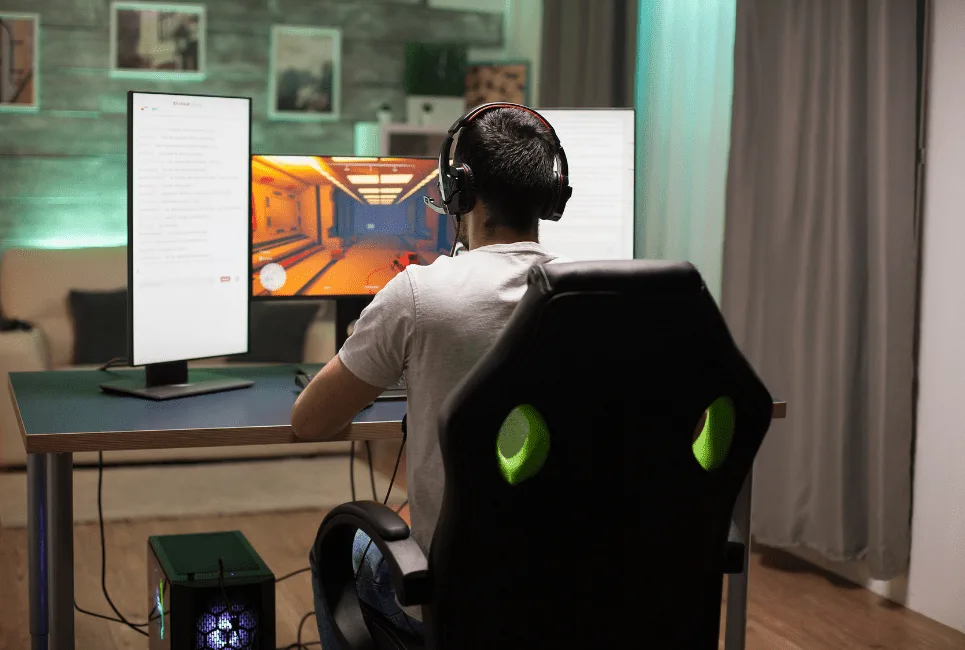 Choosing a well-designed and sturdily built chair will ensure that it will serve you for a long time and stand the test of any intense gaming moments or, God forbids, heated rage-quits.
I'd recommend that you stay away from plastic as much as you can – for the chair's base and frame especially. Aluminum or steel are much more reliable materials. Plastic armrests are pretty much unavoidable but do just fine in the majority of models, at least when they feel sturdily attached to the frame, and plastic doesn't feel cheap.
Design-wise, first, pay attention to the shape of the backrest. If you're built wider than most people, this will most likely make or break a chair for you as quite a lot of gaming chairs on the market have a fairly narrow middle backrest area with slanted shoulder and arm backrests on the sides. Make sure that the shape of the backrest best matches your body type.
Next, give armrests a closer look. Ideally, you should be able to adjust them in at least two dimensions. Only moving them up and down might not be enough unless it just so happens that they're already placed in an optimal position for your arms. Other factors to consider here are width and shape (you want your forearms to sit comfortably) and whether or not the armrests recline with the backrest or stay in place.
Last but not least, I want to encourage you to invest in a chair with a built-in footrest. As I mentioned at the beginning of this article, I've recently purchased a new gaming chair with a footrest. Now, I would never want to go back to a regular chair that forces you to have your feet on the floor at all times. Let me tell you why.
Importance of Footrest
Have you ever wondered why we say "kick your feet up" when we mean "relax to the fullest"? It's because, with your legs in a vertical position on the floor, your body is not able to rest properly. Anyone who tried sleeping on a plane or in a car knows what I'm talking about – even if you're flying first-class or sitting in a Mercedes, no matter how comfortable your seat is, your legs and back will sooner or later feel fatigued.
This is where a built-in footrest of your gaming chair comes into play (pun intended) and saves the day. Starting to feel pain in the lower half of your body, but the raid is far from being over? Bring that footrest out from beneath your chair, stretch your legs out, recline your backrest a bit more, and give your body the proper rest it needs without losing a single loot item. You can't ask for more during longer gaming sessions that you know you'll partake in.
Allowing your legs to rest regularly in a more horizontal position will also greatly improve your blood circulation and reduce the risk of long-term casualties like swollen veins or blood clots.
My Top 4 Picks for the Best Gaming Chair With a Footrest
I hope that I've managed to convince you that apart from mastering your in-game skills, your IRL setup matters just as much if you want to bring your A-game consistently. Now, let's look at a couple of quality gaming chairs with footrests that I can recommend with confidence.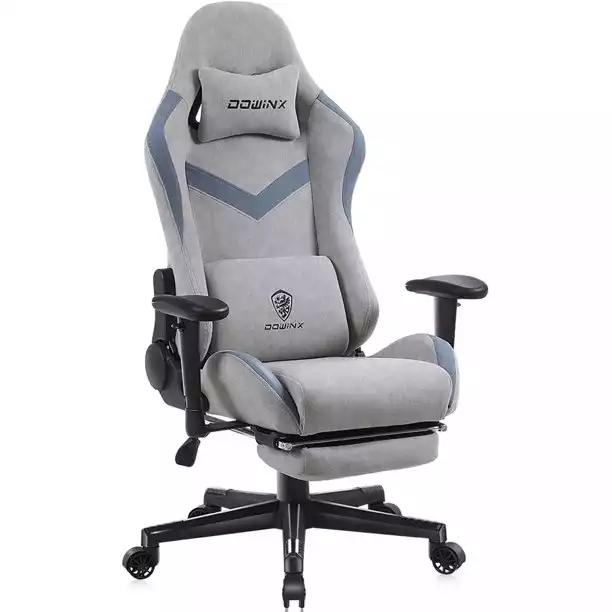 First on my list is this Dowinx gaming chair that I've been a happy owner of for the past six months. A major difference between this one and the vast majority of other gaming chairs on the market is the exterior fabric used. Instead of commonly used polyurethane or carbon fiber leather, you get nice and soft in touch, breathable knitted fabric, which combined with all-around generous layers of padding brings unparalleled comfort when sitting.
The build is solid with a heavy-duty metal frame and a few high-quality plastic elements. Adjustable parts move swiftly and quietly, including the footrest discreetly tucked under the seat. On top of that, a wide and very comfortable lumbar support pillow with a built-in massager provides an exceptionally relaxing experience when reclining.
All that said, this chair has some adjustability shortcomings that I need to acknowledge, even if they don't affect me personally. Being around 5'10" in height, with average-width shoulders, this chair naturally accommodates someone with my physique. However, taller gamers might find that the seat doesn't rise high enough, and those with broad shoulders will very likely be frustrated with armrests being adjustable only in one vertical dimension.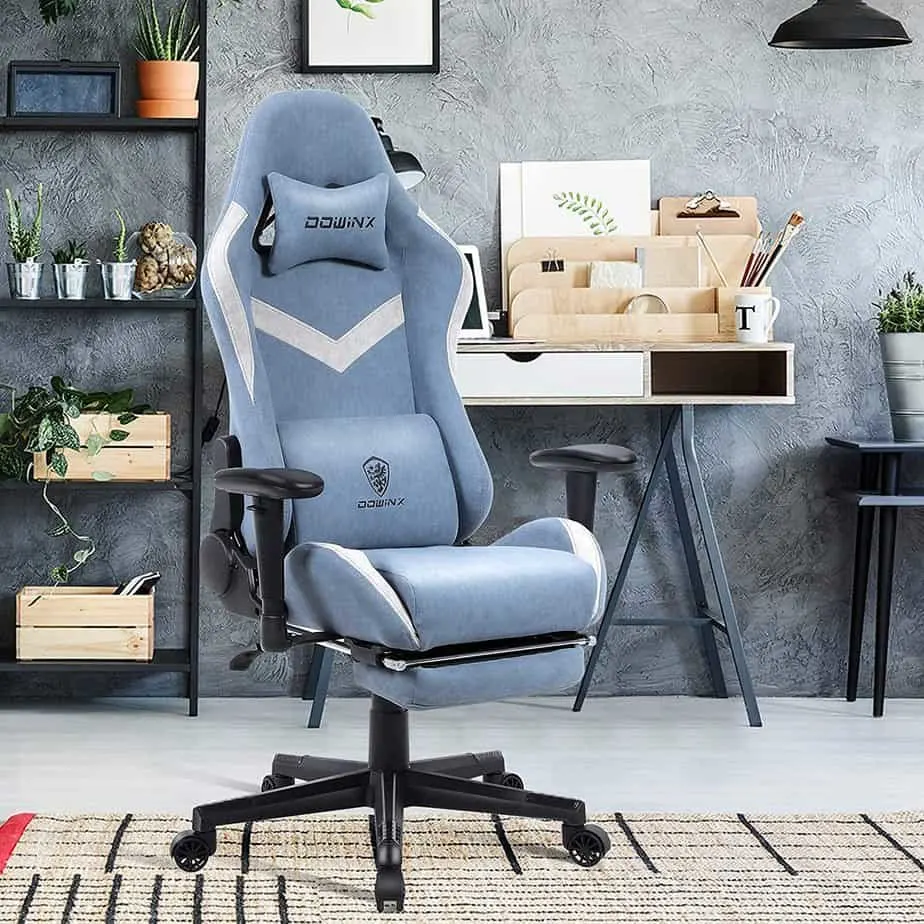 Pros
Exceptionally comfortable

Solid build

Lumbar massager

Elegant look
Cons
One-dimensional armrest adjustability

Maximum seat height at around 19″ from the floor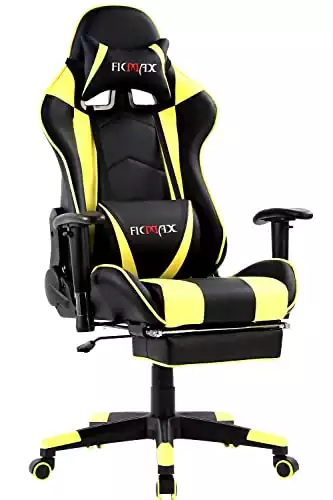 Ficmax Massage Gaming Chair | Amazon
Ficmax Gaming chairs massage designed to give highly contoured support when and where you need it most, this ergonomic chair is also equipped with an extendable footrest for position reinforcement. As well as padded armrests provide all-around comfort.
Buy at Amazon.com
We earn a commission if you make a purchase, at no additional cost to you.
Next, a commonly chosen Ficmax's offering – Ergonomic Gaming Chair. Here, you get dirt & fade-resistant PU leather with a thick padding of high-density memory foam to provide comfortable sitting. The backrest reclines to full 180 degrees, so with its footrest extended out, you might end up wanting to fall asleep in it right after a long-night gaming session.
While the alloy frame is sturdy, plastic elements are a bit on the cheaper side, especially around the armrests, which are this chair's strongest weakness. They tend to get wobbly, and the shape is not the most inviting to put your forearms on in a natural way. Being able to adjust them only up and down is another flaw that might make it hard to get your arms in a comfortable position.
One last thing to mention is the adjustable lumbar pillow which might seem too firm at first, but rest assured it will soften up with use and adapt to your body. The built-in massager works nicely but could use a bit more horsepower.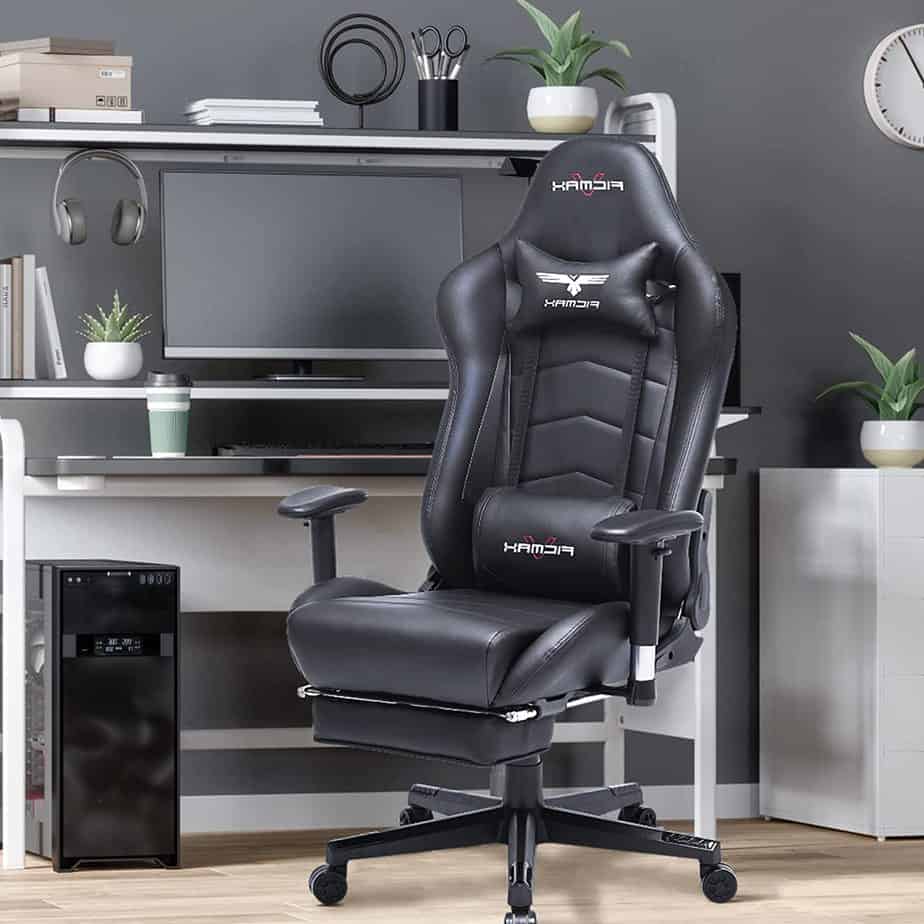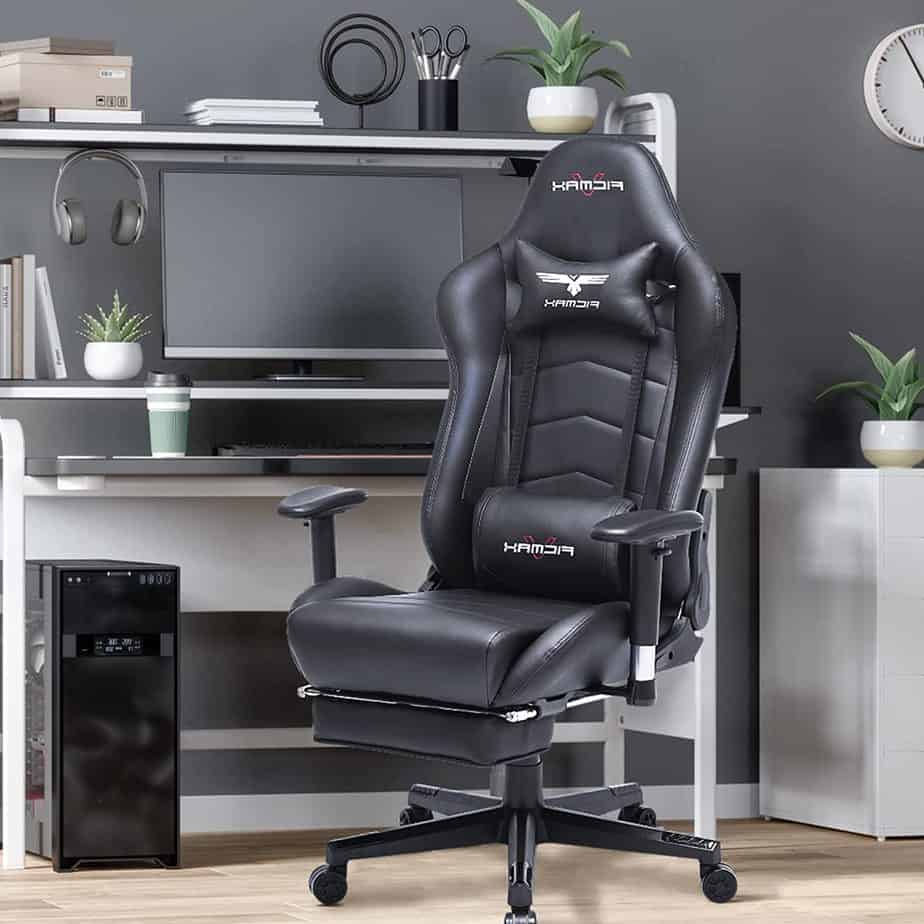 Pros
Affordable

The thick padding of memory foam

Built-in massager
Cons
Wobbly armrests with limited adjustability

Lower quality plastic used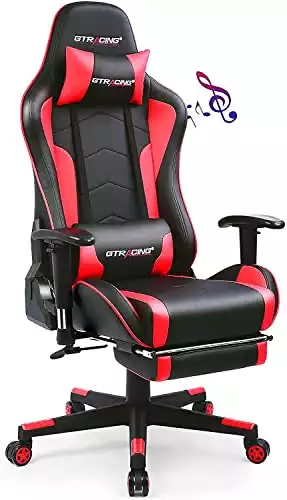 This chair has a lot going on for itself. Apart from its most distinguishable feature, being built-in Bluetooth speakers on both sides of the backrest, it also separates itself from the previous two by having armrests adjustable not even in two but all three dimensions. Armrests' design is well thought of, without any unnecessary curves on the sides, allowing you to place your forearms comfortably in every position.
Let's talk about these speakers now. Bluetooth 5.1 that they rely on pairs well, and the battery holds up to an average of about 10-12 hours. As for the sound quality, they leave quite a bit to be desired, but ultimately, it's not the booming low-end or crystal-clear high frequencies you're usually looking for in most games' soundtracks and their sound effects.
In a nutshell – as a tool for additional immersion in the game, these speakers' surround sound works great. But if you like listening to music with your game's sound on mute, you'll be better off with a good pair of on-desk speakers.
Apart from the above, it's an all-around well-made gaming chair with the usual PU leather upholstery, strong metal frame, and sturdy retractable footrest.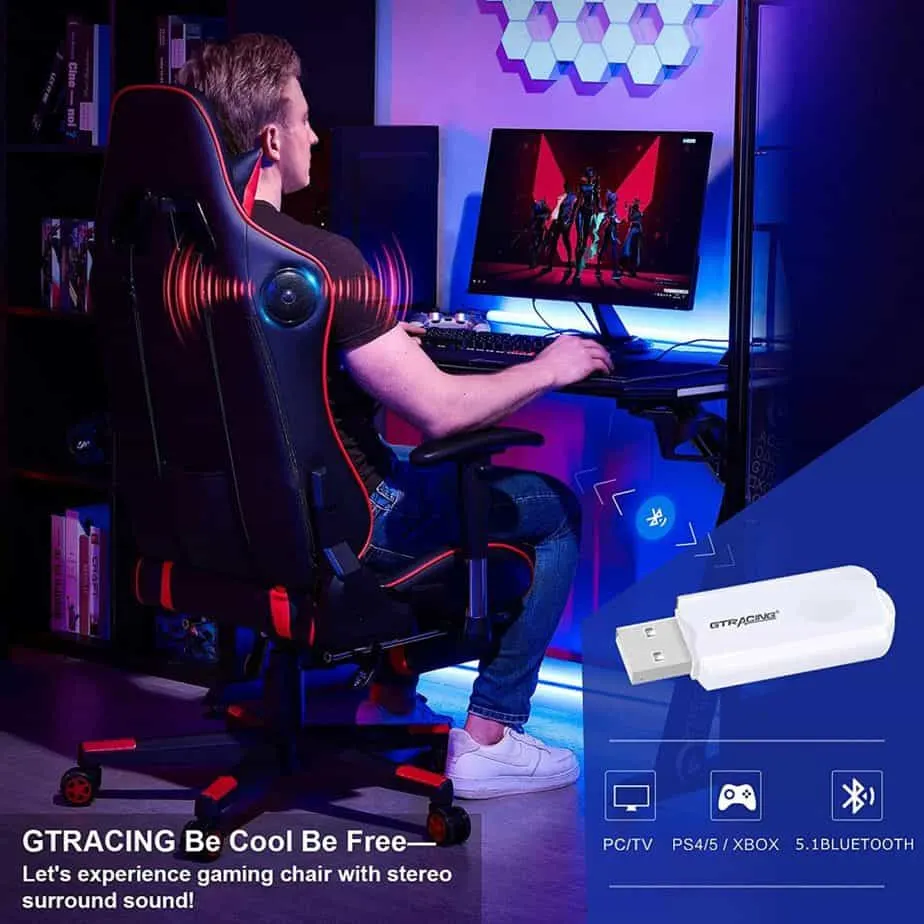 Pros
Well designed, 3D adjustable armrests

Solid materials

Immersive surround sound
Cons
Sound quality could use improvement

Tad expensive

No lumbar massager
Blue Whale Massage Gaming Chair with Footrest | Amazon
Innovative implant USB electric massager makes the lumbar cushion effectively relieve your fatigue; Adjustable height, back angle and recline locking system to lock the back at any angle up to 155°; Adjustable Arms; Retractable padded footrest; 360-degree swivel.
Buy at Amazon.com
We earn a commission if you make a purchase, at no additional cost to you.
Last on my list is this proposition from Blue Whale. This chair comes in either regular or XL size, so you can choose according to your body type. Its PU leather is of one of the higher quality ones – feels good in touch and doesn't wear too much after longer use. The headrest pillow is comfortable, and the lumbar cushion with a built-in massager does its job very well – you might initially think that it's too firm but give it some time. Once you break it in and it adjusts to your back, it's exceptionally good.
As far as the design goes, it's great but not exceptional. First of all, you can tilt back only up to 155 degrees which might not be enough for some gamers. Secondly, the armrests are 2D adjustable – good, but still not ideal given their curvature. Finally, the wheels are not always rolling smoothly, especially on carpets and rugs.
Overall, it's a great chair for the price that it costs and the durability of the materials used.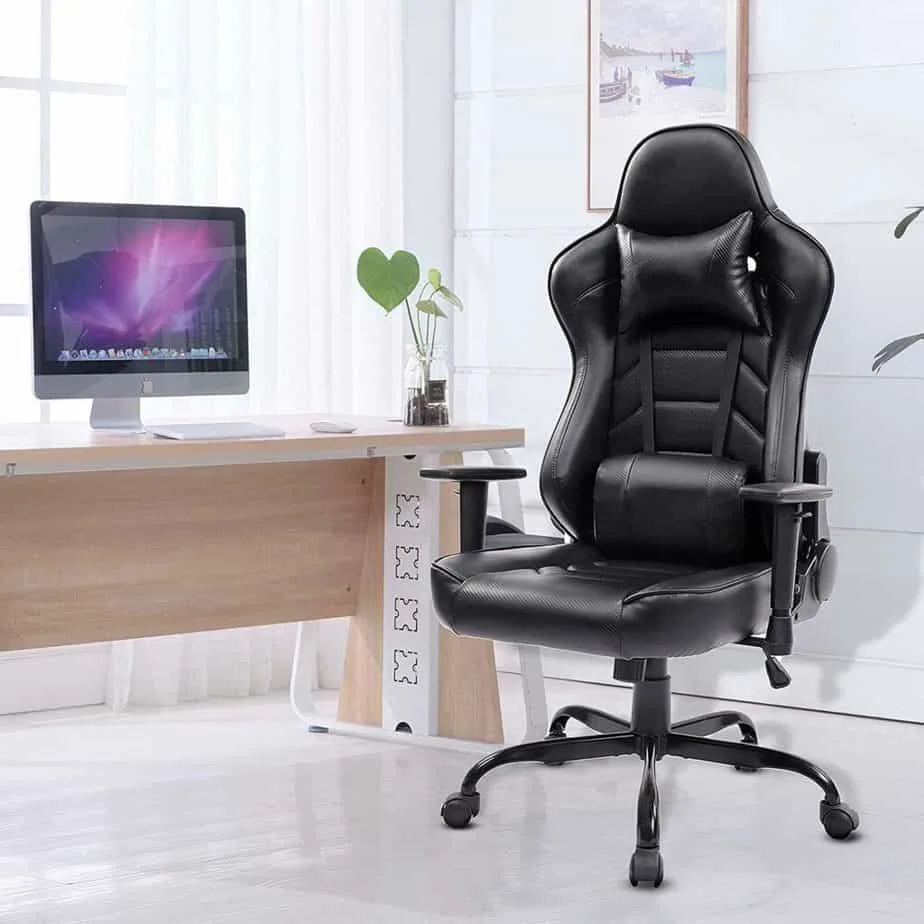 Pros
Great lumbar support cushion

High-quality PU leather

Good price-quality ratio
Cons
Some minor design flaws

Wheels get stuck on rigid surfaces
FAQ
Just in case you have any additional questions, this quick FAQ should leave your curiosity satisfied.
Question: Is it a Good Idea to Buy a Used Gaming Chair?
Answer: Since a lot of chairs use memory foam for padding, I'd advise against buying it second-hand. If you're tight on the budget, go for a brand-new, generally comfortable chair with simply fewer features that usually drive up the price.
Question: Are Gaming Chairs Sold With a Warranty?
Answer: Yes! The most commonly seen warranty period for gaming chairs is one year, but in some cases, manufacturers might throw a year or more extra for some social media advertising in return – make sure to check their website for warranty information.
Question: How Much Weight can These Chairs Hold Up?
Answer: It varies between the brands and models, but usually, it's in the range of 250 to 350 pounds. Based on my experience, always choose a chair that provides up to 50 pounds more weight support than your actual weight – manufacturers are most often very optimistic about the durability of their products when in regular use at their maximum weight capacity.
Question: Is it Difficult to Put Together a Gaming Chair?
Answer: I would say it's as difficult as putting together IKEA furniture – you'll be fine as long as you do it step by step, closely following the attached instruction. Make sure all the screws are tight in their places, as any wobbling parts might cause serious damage to the chair.
Final Thoughts
At the end of the day, your personal preference and your body type will be deciding factors in the process of choosing the right gaming chair with a footrest. While browsing, pay attention to the measurements of each chair on top of the pros and cons that I've already listed.
If I may recommend one of these chairs, it would be Dowinx Gaming Chair LS-666801. Its soft knitted fabric upholstery, classy look, and great all-around build with high-quality material all make it an easy winner in my book. However, if you're a gamer of a bigger physique, look for an opportunity to try it out before purchasing.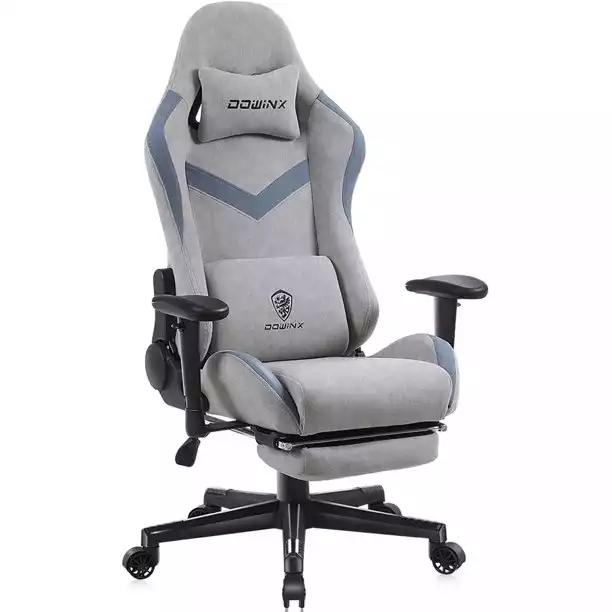 I hope that this guide will make it much easier for you to find that perfect gaming chair that you just won't ever feel like getting out of. Because why would you? Tilt it back, kick your feet up on the footrest and keep going. GLHF!
Continue reading:
Purple Gaming Chair Ideas – My Choices for a Striking Aesthetic
Kawaii Gaming Setup Ideas – How to Create a Cute Gaming Room