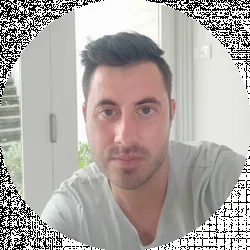 Latest posts by David Borgogni
(see all)
A comfortable gaming chair is an essential part of any setup. In my gaming chairs ideas guide, I will show you why a quality gaming chair is vital for comfort and the extra functionality they offer.
Before buying a new gaming chair, I'll run through what you need to consider, the different types of gaming chairs available, and I will review the best gaming chairs on the market.
If you want to radically upgrade your gaming and streaming setup, I have all the information you need.
Bottom Line Up Front: I have listed different gaming chairs to suit everyone's needs, but the best all-round model you can buy is the RESPAWN RSP-110.
This chair is ideally suited for PC gaming and using a gaming desk; however, it works great for console gaming too. The chair has superior levels of comfort, several adjustable features, and it comes in many colors schemes. Also, you can buy this chair at a reasonable price.
At a Glance: Best Gaming Chair Ideas
The best gaming chairs you can buy are:
What is a Gaming Chair?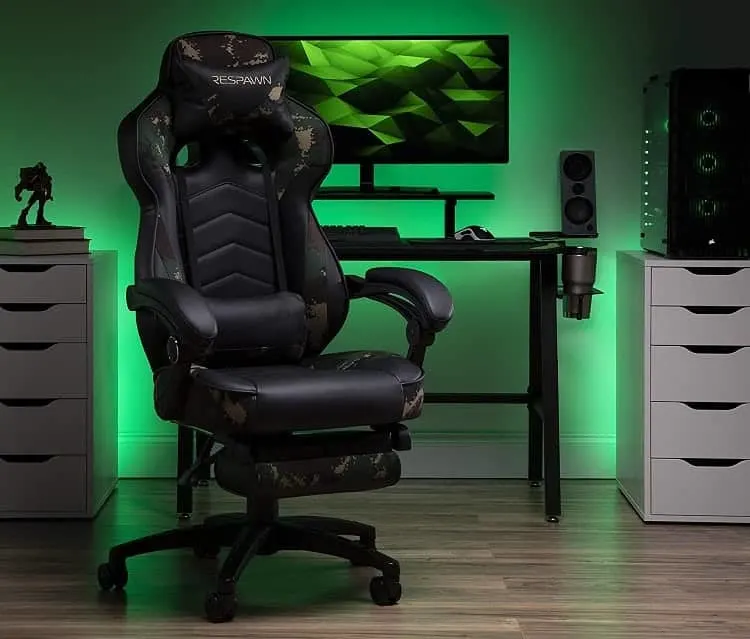 You might think that there isn't much difference between a gaming chair and a standard desk chair; however, gaming chairs are ideal for long sessions playing PC or console games.
A gaming chair offers superior comfort compared to a regular desk chair, and they also come with a lot more features.
This can include additions such as:
A footrest
Enhanced lumbar and neck support
Massager
Inbuilt speakers
180-degree recline
Different aesthetics
Cupholder
These are just some additional features you can find on a gaming chair that you won't usually have on a standard desk chair.
What are the Different Types of Gaming Chairs?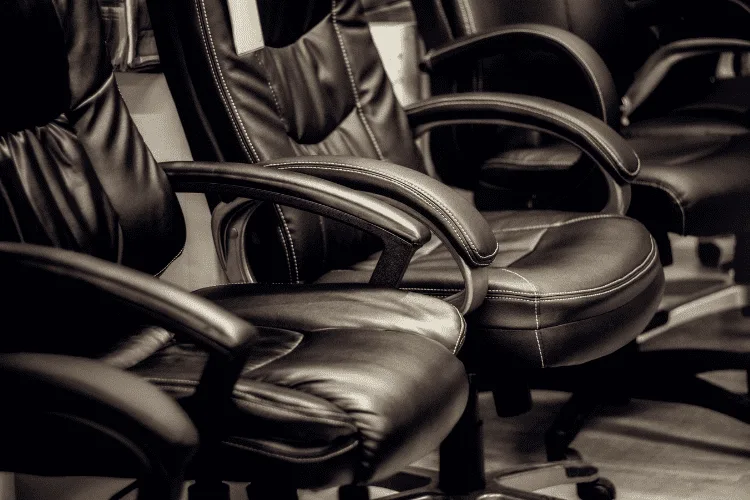 There are three main types of gaming chairs you can buy.
Racing
A racing/PC gaming chair does look like an office chair at first glance, and this style is ideal for any gaming, such as using a PC or a console.
This gaming chair type is designed to sit at a gaming desk; however, its features are different from a regular office chair. A racing gaming chair will offer superior comfort and comes with full recline and swivel functionality. You may also find additional features such as a footrest or even built-in speakers, perfect for immersive gaming sessions.
Floor
Rocker or floor gaming chairs aren't designed to use with a gaming desk.
They are best for using with console gaming, and they can be a comfortable option for watching TV too. These gaming chairs often have inbuilt Bluetooth speakers, and many can connect directly to consoles.
Some floor gaming chairs don't offer much movement. They are very stationary; however, rocker gaming chairs can rock back and forth and provide much more flexibility allowing you to find the best position. Also, you can find hybrid floor gaming chairs that are in between a floor model and a traditional PC gaming chair.
Massage
The third gaming chair type is a massage gaming chair.
These chairs usually take up a significant amount of space, so they aren't suited to all setups. The fundamental idea of this design is that it has a massage function; however, many of these chairs are excellent for gaming as they provide superior comfort and often come with many additional features.
A massage gaming chair will typically be the most expensive type you can buy, and they are generally made from genuine leather, which bumps up the price.
Things to Consider When Buying a Gaming Chair
Size
The dimensions of a gaming chair can be a pretty important factor to consider.
Many gaming chairs have an adjustable height, so you can adapt this to fit your gaming desk and ensure the most comfortable position. If you are tight on space in your gaming room, make sure to look at the overall dimensions, as this is vital to ensure you don't buy a gaming chair that is too big.
If you are buying a floor gaming chair, you'll need to make additional space in your gaming room.
Additional Features
The additional features many offer separate a gaming chair from a standard desk chair.
Some of the extra functionality you can find with a gaming chair includes:
Wireless speakers
Direct console connectivity
Massage function
Cupholder
These are some additional features that massively improve your gaming experience and comfort levels. Extra functionality can increase the price, but it is well worth it.
Cost
Your budget should factor into the gaming chair model you purchase.
There are many budget gaming chair models available, so you don't need to spend a ton of money to get a decent chair. Some gaming chairs that come packed with many features will cost more, but they will provide more immersive and comfortable gaming sessions.
You should set out your budget and look for gaming chairs within that pricing range, although spending a few extra dollars on a more durable, comfortable, and feature-rich gaming chair is advisable if you can afford it.
Material
Most gaming chairs are manufactured from PU leather. This material is artificial and made from a thermoplastic polymer, although it still offers excellent comfort and durability. The advantage of PU leather over genuine leather is that it is cheaper, so you won't need to spend as much money.
You can find gaming chairs that have genuine leather (usually massage chairs), but be prepared to pay extra.
Color and Style
If you care about aesthetics which can be important for streaming, the style and color of your gaming chair are vital.
Gaming chairs are available in a wide variety of different styles and colors that fit into a variety of different designs. For example, you can go for:
Traditional black gaming chairs
There are many color combinations, so it shouldn't be difficult if you need to find a particular aesthetic.
The Major Differences Between Gaming Chairs and Office Chairs
Gaming chairs differ from traditional office chairs in many ways.
For a start, gaming chairs provide much more comfort, and they have a higher backrest and enhanced lumbar and back support. You can recline a gaming chair much further than a standard office chair too.
The extra features that many gaming chairs offer are something else that differentiates them from desk chairs, and this includes things such as wireless speakers, a footrest, and even a massage function.
Gaming chairs will generally cost more than a standard desk chair, but you get substantially better comfort and functionality for the extra money. You will also find that gaming chairs are far more adjustable, including the height and armrests.
Advantages of Using a Gaming Chair
I definitely recommend getting a gaming chair for your setup, and these are the main advantages of using this type of chair.
Better comfort – If you are gaming for long periods, you need proper lumbar and neck support. Gaming chairs are specifically designed for this, and they offer far better comfort than a regular desk chair.
Adjustability – Gaming chairs are very adjustable, and this means you can customize the height and recline to get the best position possible for those extended gaming sessions.
Features – You will find a ton of additional functionality with a gaming chair that you won't get on any other type of desk chair. Some chairs have speakers, a footrest, and much more to improve your gaming experience.
Different styles – Gaming chairs are available in different types, such as a PC/racing chair, floor, or rocker chair, and you can even buy massage chairs that work brilliantly for gaming.
Enhanced concentration – As you will be more comfortable playing games on a gaming chair, your attention and performance will improve.
The Disadvantages of Using a Gaming Chair
Even though I think every gamer should invest in a solid gaming chair for the reasons, I have mentioned above, buying a gaming chair does come with some downsides.
Increased cost – As gaming chairs offer much better comfort and overall functionality, they will cost more than purchasing a regular desk chair. However, you can find many budget models that are perfect for gaming.
Space – Some gaming chairs, especially floor or massagers, take up a lot of additional room. It can be challenging to incorporate these chairs into your gaming room if you are tight on space.
Selection Criteria
I only want to show you the best chairs in this gaming chair ideas guide, so I needed to filter out subpar models. This meant that I needed to apply some criteria to ensure the top chairs made it onto my list. The criteria I used included:
Comfort – All the chairs on my list have superb ergonomics, and they are incredibly comfortable. Regardless of what chair you choose from my recommendations, it will offer a relaxed and comfortable experience.
Features – I love gaming chairs with at least some additional features, and the chairs on my list offer something other than simply comfort.
Styles – Not everyone wants a PC gaming chair, so I have included a mix of chairs for gaming desks, floor chairs, and a hybrid model that can give you the best of both worlds.
Cost – Gaming chairs can be fairly expensive depending on the model and features you want. I have made sure to add a selection of gaming chairs across different price points, so there is something for everyone.
My Top Recommendations for gaming chairs in 2022
RESPAWN RSP-110 – Best Racing Style Gaming Chair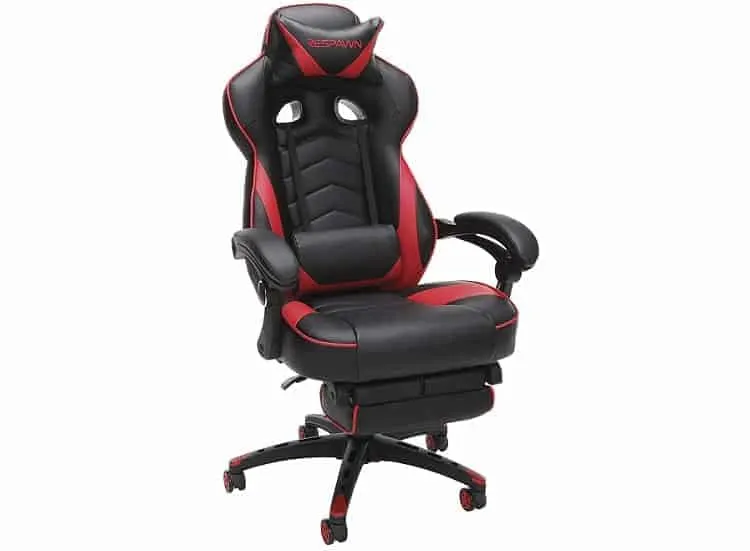 The RESPAWN RSP-110 is the best racing-style gaming chair, and it is ideal for PC gaming and for use in combination with a quality gaming desk.
This chair provides excellent comfort levels as it offers a segmented padded design and the lumbar and neck support is great. The lumbar pillow and headrest are adjustable, allowing you to find the perfect position for a long gaming session.
One feature I really like on this gaming chair is the footrest. It adds a whole other level of comfort and, when combined with the 155-degree recline, you can lie back and relax easily on this chair.
If you want a stylish racing-style gaming chair, this model is a good choice as it comes in different colors. The colors available are:
Black/Red
Black/Blue
Black/Green
Black/White
Black/Grey
Forest camo
White/Pink
So, you have a lot of options to achieve the aesthetic you want.
The other big bonus of this gaming chair is that it doesn't cost too much. With the superior comfort levels and build of this chair, you would think it would set you back several hundred dollars, but that isn't the case. There are cheaper chairs out there, but you won't find the same quality and comfort as the RESPAWN RSP-110 for the price.
Pros
Extremely comfortable racing-style gaming chair
Has many adjustable features
Available in various colors
Doesn't cost much money
Cons
Some people have found the armrests aren't that durable
X Rocker 2.1 Gaming Chair – Best rocker Style Gaming Chair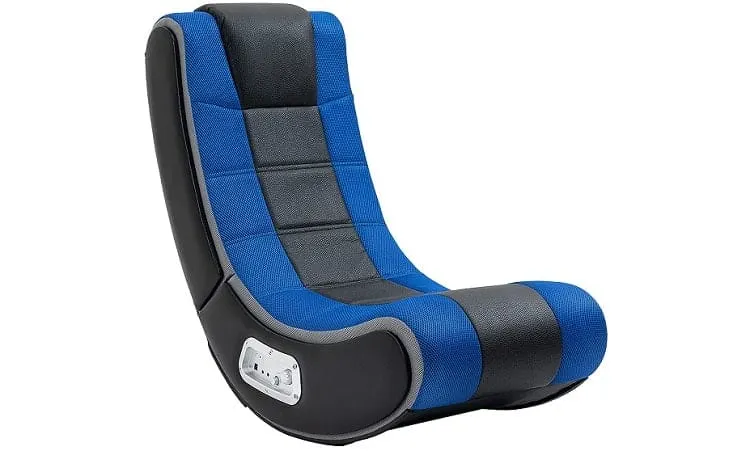 A rocker or floor gaming chair is an ideal choice for console gaming.
The X Rocker 2.1 Gaming Chair is my top pick for a floor gaming chair as it has everything you need for an immersive gaming experience. This chair has an integrated wireless audio system, and the speakers are nestled in the headrest. You will think that you are right in amongst the action when using the speakers on this X Rocker chair.
Also, a cool feature is to hook this chair up directly to many console systems through your TV.
The rocking and reclining nature of this chair make for very comfortable gaming sessions, and you can spend hours sitting on the X Rocker 2.1 without even noticing the time. The chair's dimensions mean you will need to clear some floor space; however, it also folds, which allows you to store it away.
I would like to have seen some armrests on this X Rocker. While it isn't a dealbreaker for me and plenty of floor chairs don't have armrests, it would have been an excellent addition.
This X Rocker chair is ideal for anyone who has some money to spend and wants a fully functional and comfortable floor chair for console gaming.
Pros
Has integrated wireless audio
Can fold and store it away
Comfortable gaming chair
Available in two colors
Cons
Ferghana Gaming Chair – Best Massage Gaming Chair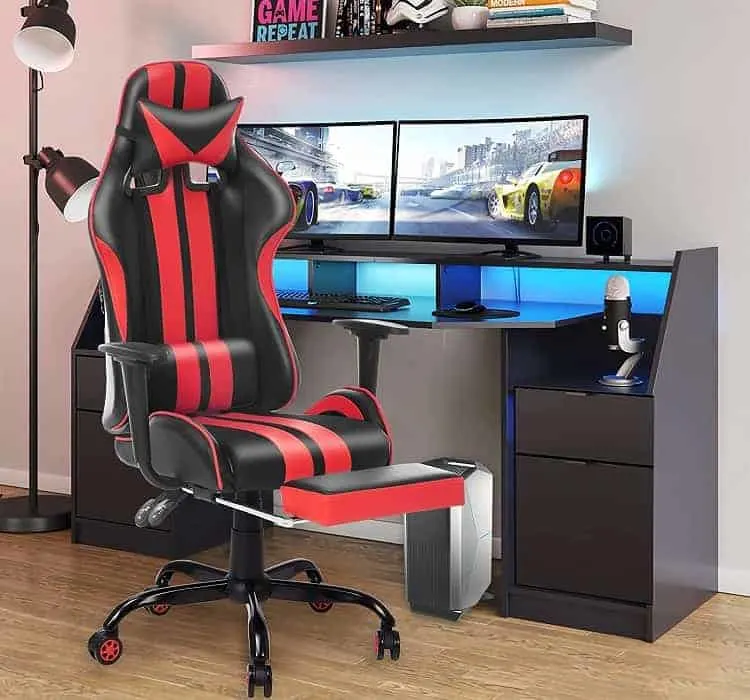 A feature that will make your extended gaming sessions far more comfortable is a massager, and this is why I have included the Ferghana Gaming Chair on my list.
The Ferghana Gaming Chair is a racing-style chair, so it is perfect for any type of gaming but mainly playing on a PC. A USB powers the lumbar massage cushion, and you don't need to worry about having any free power sockets. There are several vibration settings available, and this is ideal for boosting your comfort levels.
The chair is made from PU leather, and it provides a high level of padding throughout. The chair is very durable and has an impressive weight capacity of 260-300lbs, above most standard gaming chairs. Also, you can recline up to 160 degrees with the Ferghana Gaming Chair, and the footrest adds another layer of comfort and is an excellent addition to an already well-made chair.
You have four color options combined with black for this chair – blue, green, grey, and red.
The only downside to this racing-style gaming chair is the assembly. Putting this chair together was a little tricky as the bolts can be difficult; however, once you have it assembled, this is a great gaming chair with a massage function.
Pros
Gaming chair with a USB massager
Can recline to 160 degrees
Excellent weight capacity
Comfortable and has a footrest
Cons
The assembly is difficult with this chair
X Rocker 5152301 Trident Pedestal – Best Hybrid Gaming Chair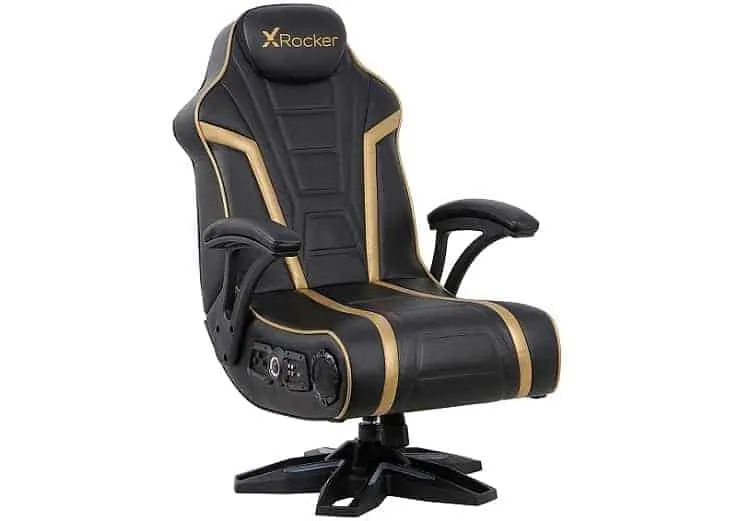 Hybrid gaming chairs fill a nice void in the market between a floor and a desk chair. The X Rocker 5152301 Trident Pedestal is an excellent gaming chair that works for both console and PC gaming.
First of all, I really like the black and gold style of this chair, and it has a muted but grand aesthetic to it. If you need a gaming chair to double up for professional work use, this is a great option to choose.
The chair itself has headrest-mounted speakers, and a backrest mounted subwoofer, which brings the audio right to your ears, and it is a great feature of this X Rocker. There is a real-time vibration feature that can work well for certain games, and you can hook up your TV or console directly.
The padded armrests and overall construction of this chair make for a high comfort level, while the swivel base adds durability.
The height is adjustable, which is disappointing as it can be challenging to find a gaming desk that fits with this chair. If you don't want a proper floor chair, but something in the middle, the XRocker 5152301 Trident Pedestal works very well.
Pros
Hybrid gaming chair for console and PC gaming
Offers good comfort levels
Available in a black and gold design
Has inbuilt wireless speakers
Cons
The height isn't adjustable
FZYUAN Video Gaming Chairs with LED Light – Best Gaming Chair for Aesthetics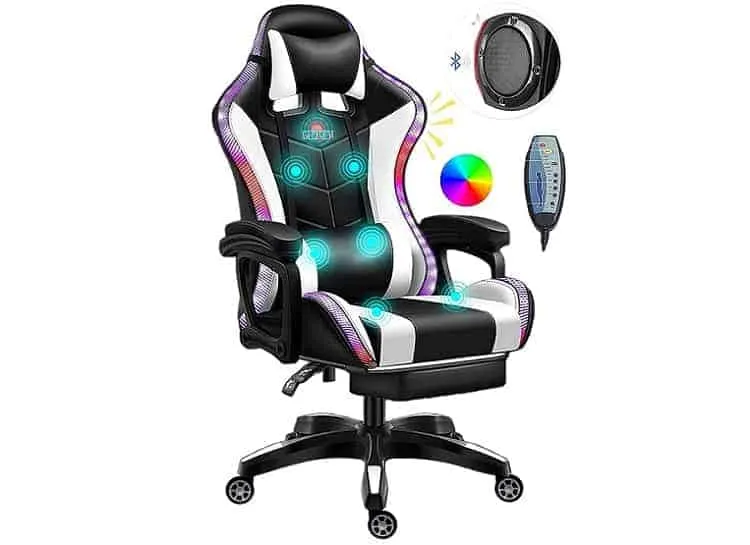 For many gamers and those who stream content, aesthetics are important. Creating a vibrant gaming setup, whether it is purple, pink, blue, or more subdued, can enhance your gaming experience, and the FZYUAN Video Gaming Chairs with LED Lights is the best chair to do this.
This chair is more expensive than others on my list; however, you can create some brilliant aesthetics in your gaming room for the extra money. The chair has LED light bars with different colors that allow you to choose your style and another major benefit of this model is the massage function.
There are seven different massage settings, so not only do you get superior comfort, but you can do it in style. You can connect audio to the chair as it has inbuilt Bluetooth speakers.
The chair has a footrest, 360 swivels, and you can recline, which all add to this FZYUAN model's functionality and comfort.
Aside from the cost, there isn't much wrong with this gaming chair, and it offers pretty much everything you need for an immersive and comfortable experience.
Pros
Has LED lights with different settings
Massage mode with seven functions
Comes with inbuilt Bluetooth speakers
Footrest and well-padded throughout
Cons
This chair is quite expensive
FLECTY Ergonomic Office Chair – Best Budget Gaming Chair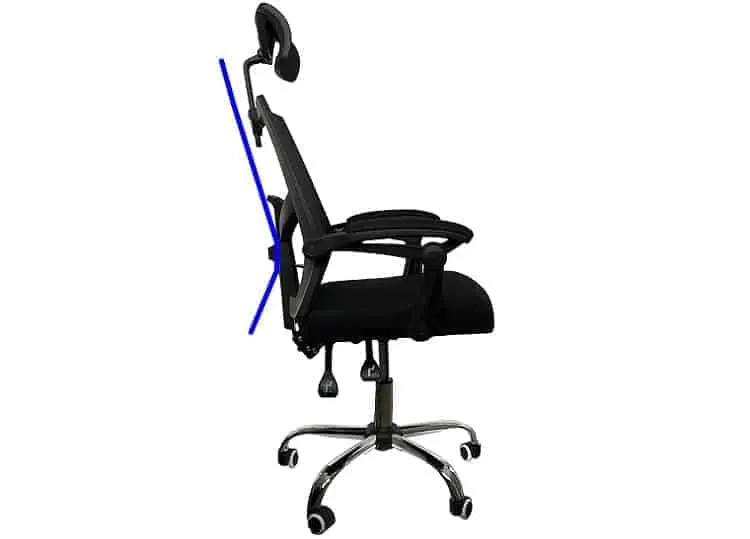 The gaming chairs on my list so far haven't been overly expensive, with the exception of the FZYUAN Video Gaming Chairs with LED Lights; however, I wanted to include a cost-effective model in case you are on a very tight budget.
The FLECTY Ergonomic Office Chair is more of a standard desk chair, but if you don't want to spend a lot of money, it can function well for gaming. This chair would suit you if you mainly work from home and play games now and again in your spare time.
The chair has an ergonomically curved backrest with a high backrest offering good support and comfort. The seat has a good level of padding, and the lumbar support and height are all adjustable.
You won't find many gaming features with this chair as it is mainly aimed at office and homeworking. For example, there are no built-in speakers, massage functions, or LED lights; however, this chair is available at a very reasonable cost, and you can easily double it up for both work and gaming if you want.
Pros
Available at a low cost
Has a comfortable ergonomic design
Good lumbar and neck support
Has some adjustable features
Cons
Very basic chair that is more suited to office work
Frequently Asked Questions
Question: Are Gaming Chairs Really Better?
Yes. While you can use a standard desk chair for PC gaming if you are on a tight budget, it is much better to purchase a gaming chair. They offer much better comfort, functionality, as well as a better gaming experience.
Question: Can I Use a Gaming Chair for Work?
Definitely, if you work from home or have a home office setup, a gaming chair is a great addition. It can be used for both gaming and work while ensuring comfort, although if you have meetings from your home office, you should look for a more professional gaming chair style such as black.
Question: Is a Gaming Chair More Comfortable Than an Office Chair?
Yes. A gaming chair has vastly superior lumbar and neck support, and this is one of the main differences between these chairs and a desk chair. You can also find gaming chairs with massage functions, and they are more adjustable with their height and recline too.
Question: Do Gaming Chairs Have Wireless Speakers?
Some gaming chairs have inbuilt wireless speakers. You are more likely to find these on floor or rocker gaming chairs; however, some PC gaming chairs also have this functionality and can connect to consoles.
Question: Can I Use a Gaming Chair for Console Gaming?
If you game on an Xbox or Playstation, it is usually better to go for a floor gaming chair. However, depending on your setup, a PC gaming chair combined with a gaming desk is a great idea too.
Question: What are Gaming Chairs Made From?
Most gaming chairs are made from PU leather, and many will have a breathable mesh. This not only keeps the cost down as it is cheaper than genuine leather, but it offers a comfortable and durable material that is ideal for long sessions. You can buy genuine leather gaming chairs, but they will be more expensive.
Conclusion: The Best Gaming Chair Ideas
A high-quality chair is essential to ensure that you are as comfortable as possible when gaming on a PC, consoles, or streaming your games. I would highly recommend you check out the RESPAWN RSP-110 gaming chair because of its superior level of comfort. You definitely aren't going to be disappointed with this chair!
While you can use a standard desk chair if you are on a very tight budget, saving for a gaming chair for superior comfort and enhanced functionality is better.
You might also find these interesting: