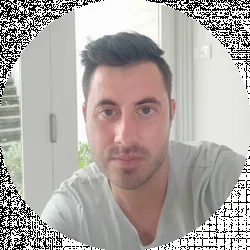 Latest posts by David Borgogni
(see all)
A high-quality desk is a must-have for your gaming setup. In my gaming desk ideas guide, I will tell you everything you need to know about buying a new gaming desk.
I'll look at why you should invest in a desk that has been made for gaming, the different things to think about before you buy, and I'll also show you the best desks on the market.
Bottom Line Up Front: There are a ton of fantastic gaming desks you can buy, but I recommend the Eureka Ergonomic Gaming Desk L60 for the best all-around experience. This L-shaped gaming desk provides plenty of space, has a modern design, and the assembly is straightforward. While it could offer some storage shelves, this is a fully functional desk that would fit into any gaming room setup.
At a Glance: Best Gaming Desk Ideas
The best gaming desks you can get are:
What is a Gaming Desk?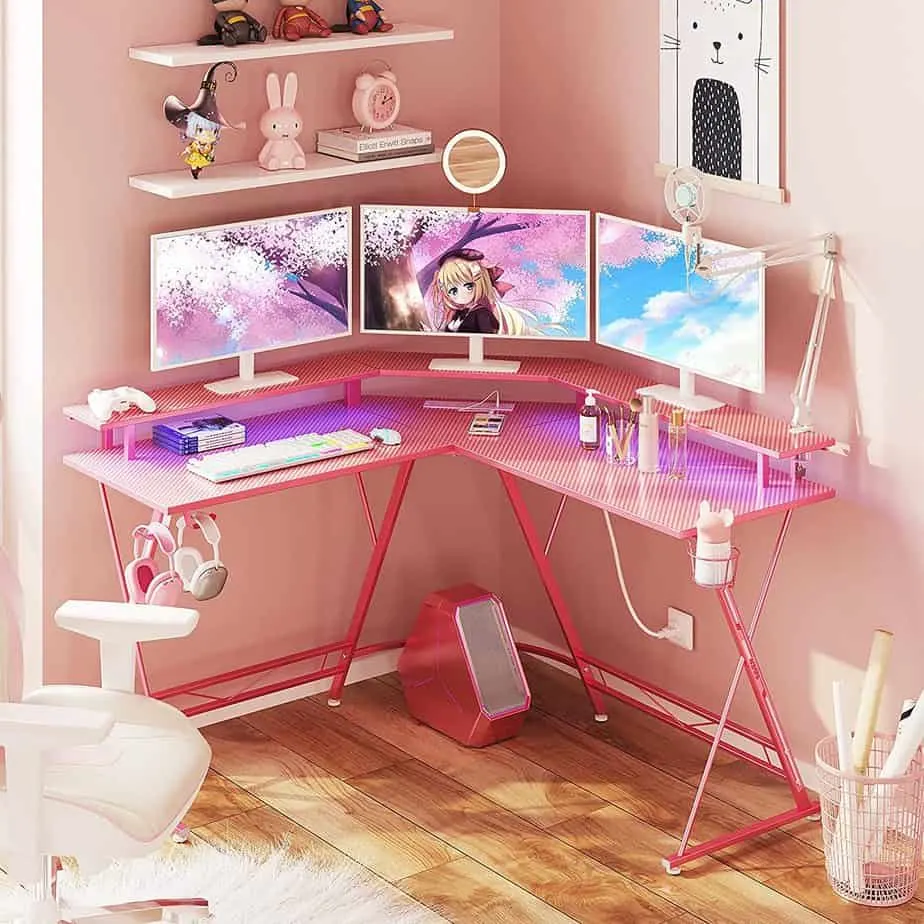 A gaming desk is a desk that has been specifically designed for gaming and streaming content.
While you can use a regular office-type desk to play games, this won't provide the same functionality or comfort. Gaming desks tend to be bigger than standard desks and offer unique designs.
There are different types of gaming desks that you can buy, which I will cover in more detail below. The main types of gaming desks are:
Rectangular gaming desk (Z-shaped)
Corner gaming desk (L-shaped)
U-shaped gaming desk
You will find gaming desks have many additional features both for functionality and aesthetics. This can include things such as:
Cup holders
Large mouse pad area
LED lights
Headphone hooks
Built-in cable management
Storage drawers and shelves
USB connections
These are just some additional features that you can find on a quality gaming desk.
What are the Different Types of Gaming Desks?
Gaming desks come in three main styles.
Z-Shaped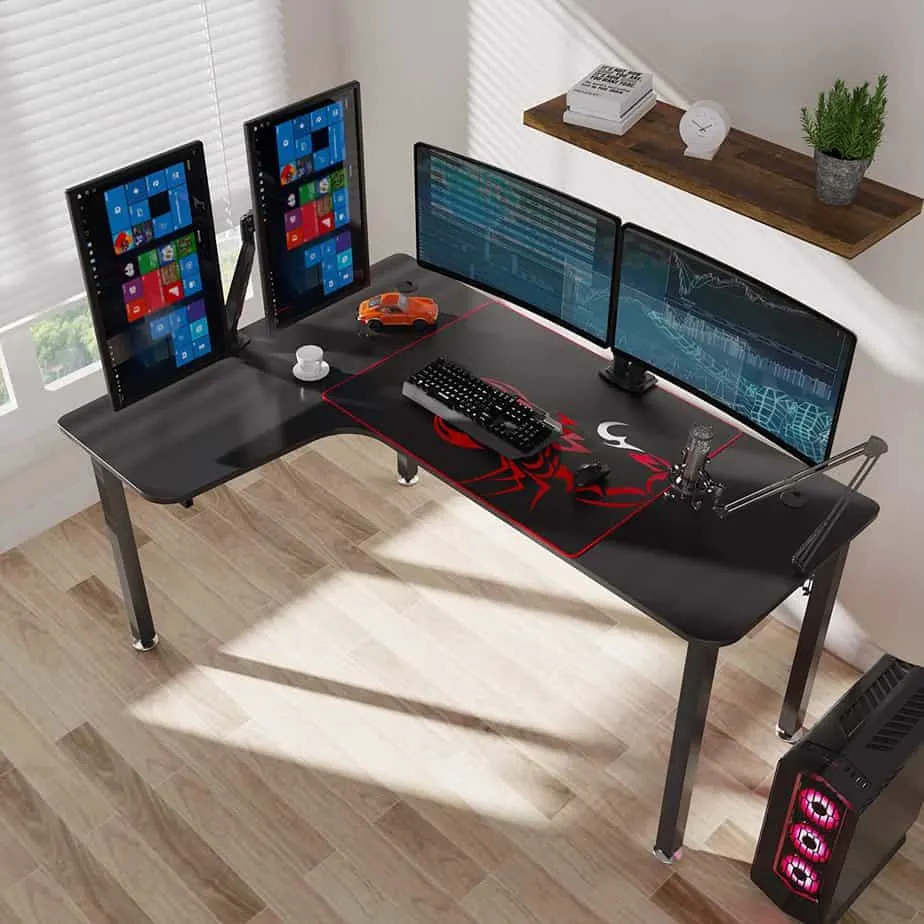 Z-shaped or rectangular gaming desks have a standard desk-style design.
This is a good option if you aren't blessed with a lot of space in your gaming room, as some Z-shaped gaming desks are pretty compact. The downside is that they are smaller than both L-shaped and U-shaped gaming desks, so you won't have the same amount of space to house your monitor(s) and gaming accessories.
If you want a more surround experience, Z-shaped desks aren't an ideal choice; however, they do suit people who don't have much room and are on a tighter budget as many rectangular desks can be bought relatively cheaply.
L-Shaped
L-shaped or corner gaming desks are amongst the most popular styles as they offer a substantial amount of space. You often see these two terms used interchangeably; however, there is a difference between them. An L-shaped desk is normally made up of two separate desks that can be joined together, whereas a corner desk is usually one entire desk surface.
These desks can fit into an otherwise unused corner in your gaming room and provide a fantastic area with plenty of desk space. If you want a more surround-type experience for gaming and streaming content, a corner desk is an excellent way to do this.
These desks can cost a bit more money due to the large surface area, but they generally come with many gaming features, and the extra space is worth it.
U-Shaped
The other gaming desk type you can buy is a U-shaped gaming desk.
These desks provide the most amount of space as they (unsurprisingly!) form a U-shape with your gaming chair in the middle. A U-shaped desk is also a fantastic choice if you want a good surround experience as you can house a lot of monitors while still having a ton of space left over.
A significant downside to a U-shaped gaming desk is that you need a pretty big gaming room to have one. Even the smaller models will take up a lot more space than a rectangular desk, which will cost more money due to the increased size.
However, if you do have the space in your home and the money available, a U-shaped gaming desk is an excellent way to the game.
Things to Consider When Buying a Gaming Desk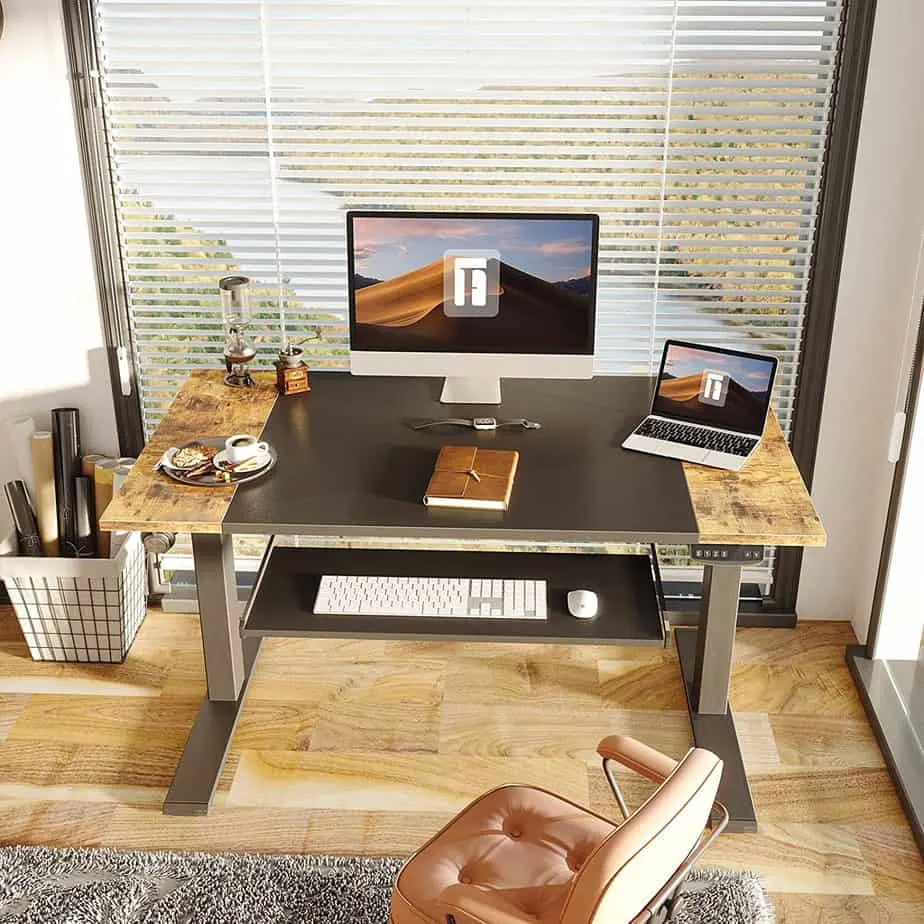 Gaming desks come in various shapes, sizes, and different features, so you need to think about a few things before purchasing one.
Shape
I've explained the different gaming desk shapes above; however, your gaming room will determine the shape you need for your setup.
A rectangular or Z-shaped desk will probably work best if you only have a small space to house a gaming desk. They generally don't take up as much room as a corner or U-shaping gaming desk.
If you have more space, an L-shaped or U-shaped desk will give you the best gaming experience. Not only do they have a larger surface area to house more monitors and accessories, but they can also provide a surrounding experience.
Additional Features
The great thing about gaming desks is that they often come with various gaming features.
Some of the features you find on gaming desks include:
Cup holders
Large mouse pad area
LED lights
Headphone hooks
Built-in cable management
USB connections
Before you buy a gaming desk, think about what functionality you need from it. A headphone hook can be an excellent addition if you regularly play with headphones. Also, if you want to create a striking aesthetic in your gaming setup, LED lights are a brilliant option.
Most gaming desks don't have all these features, but you can easily find desks with a good combination, so it is best to consider what you think is essential before buying.
Cost
When it comes to buying any gaming room equipment and accessories, the cost should be a significant factor in your decision-making.
Gaming desks can be as expensive or as budget-friendly as you want, and there are plenty of models available to suit all price points.
You should set yourself a budget and look for a gaming desk within your price range; however, if you find a slightly more expensive desk that comes with the additional features you need, it can make send to stretch your budget if you can.
Storage
One thing that irks me about some gaming desks is their lack of storage.
Even though a gaming desk often has specific gaming storage features such as a headphone hook, a surprising number out there don't have any storage options. This isn't a problem for some people, and you can decorate and accessorize your desk, but if you want to keep items out of sight, you should look for a gaming desk with good storage.
Some desks will have drawers or storage shelves that are beneficial for storing away your gaming accessories and keeping everything tidy.
Color and Style
Lastly, the color of a gaming desk can play a major role in the overall style of your room.
Gaming desks come in various color schemes, and it is easy to find a gaming desk to fit in with your existing aesthetic. You could also go for a radically different desk than the rest of your room and use it as a focal point.
You may find some of my previous guides on different colored gaming desks useful to give you an idea of the colors available:
The Major Differences Between Gaming Desks and Office Desks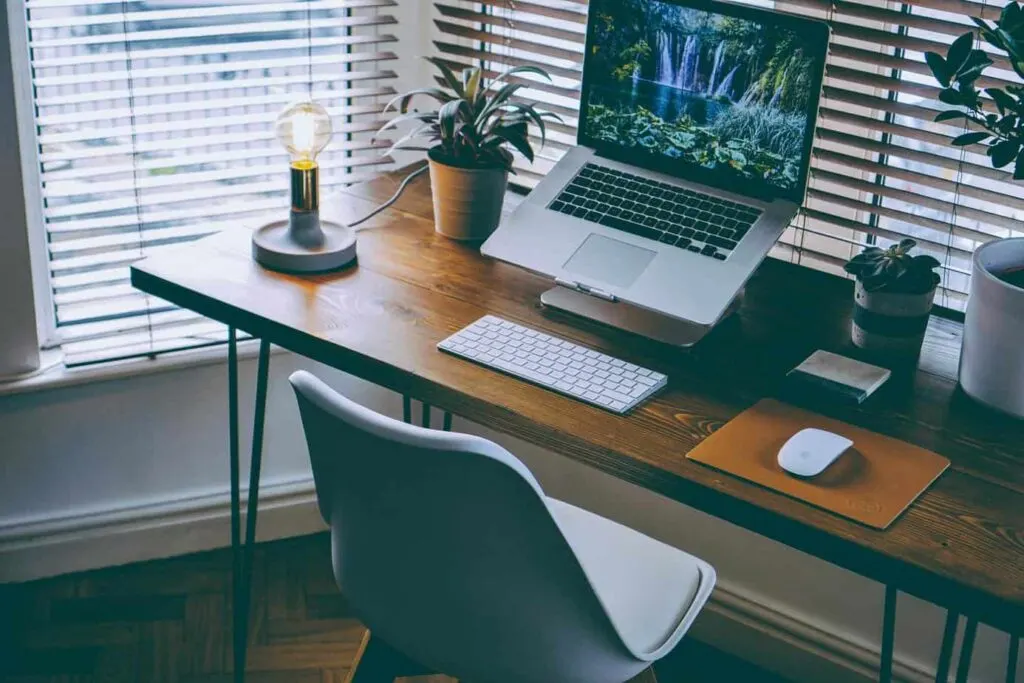 The main difference between a gaming desk and a regular desk is that a gaming desk has many specific gaming features. A gaming desk is usually larger as it needs to accommodate an extra widescreen or several monitors at once.
Also, gaming desks are usually more ergonomic as gamers spend long sessions, which it is built to accommodate. The added ergonomics can include a comfortable surface texture, adjustable height, and other features that you don't find on a standard desk.
You will also find gaming desks in more shapes and sizes than regular desks. This includes extra length and width, and you can buy gaming desks in different shapes such as L-shaped and U-shape.
Additional features are a standard part of a gaming desk that you won't find on a regular desk, including LED lights, cup holders, headphone hooks, and USB connections.
While you can use a regular desk for gaming, it is much better, more comfortable, and enjoyable to have a desk that has been built specifically for gaming.
Advantages of Using a Gaming Desk
A gaming desk has several advantages such as:
Better ergonomics: A gaming desk is designed for long gaming and streaming sessions. The design means that the desk has better ergonomics which promote better posture and comfort, and they are also often adjustable in height.
Advanced features: Gaming desks come with various elements that you won't find on a regular office desk. These features can be very practical such as a cupholder, USB connections, or headphone hooks, and they can be aesthetic such as LED lights.
More space: A gaming desk is bigger than a standard office desk, providing more desk space for your gaming accessories and equipment.
Aesthetics: Many gaming desks have beautiful and striking styles that are much more appealing than a regular desk. This added aesthetic can create a modern and vibrant gaming setup.
The Disadvantages of Using a Gaming Desk
While gaming desks are fantastic pieces of furniture, whether you are a professional streamer or someone who just wants to spend a few hours playing your favorite games, there are some downsides.
More expensive: A suitable gaming desk with many great features will cost more than a regular desk. You are paying for much better functionality and comfort; however, if you are on a tight budget and trying to stream cheaply, a solid gaming desk is going to eat into your available funds.
Requires more space: Depending on the gaming desk you buy, you will likely need additional space in your room. Gaming desks are usually bigger than a standard desk, so finding one to fit can be a challenge if you are very short on space.
Selection Criteria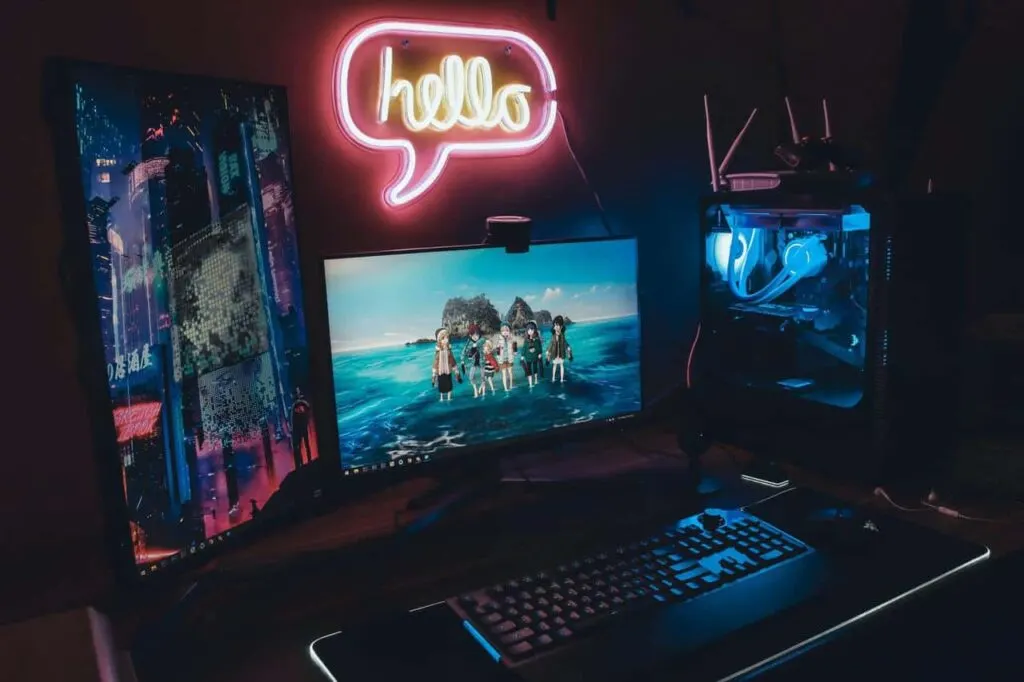 The gaming desk market is vast, and it can be easy to feel overwhelmed by the amount of choice out there. This is why I applied some criteria to the gaming desks I reviewed to make sure only the best desks made their way onto my list. The criteria I used for this guide included:
Gaming only desks: It wouldn't make sense to add in standard office desks, so all the models on my list have been created for gaming purposes.
Shapes: I have included all the main gaming desk shapes on my list, including Z-shaped, U-shaped, and L-shaped gaming desks.
Cost: Not everyone can splash out hundreds of dollars on a new gaming desk, so I added in some budget-friendly options, and none of the gaming desks below are massively expensive.
Features: There are a lot of extra features that are very useful with a gaming desk. The models on my list have a nice mixture of gaming features for functionality and aesthetics.
My Top Recommendations for Gaming Desks in 2022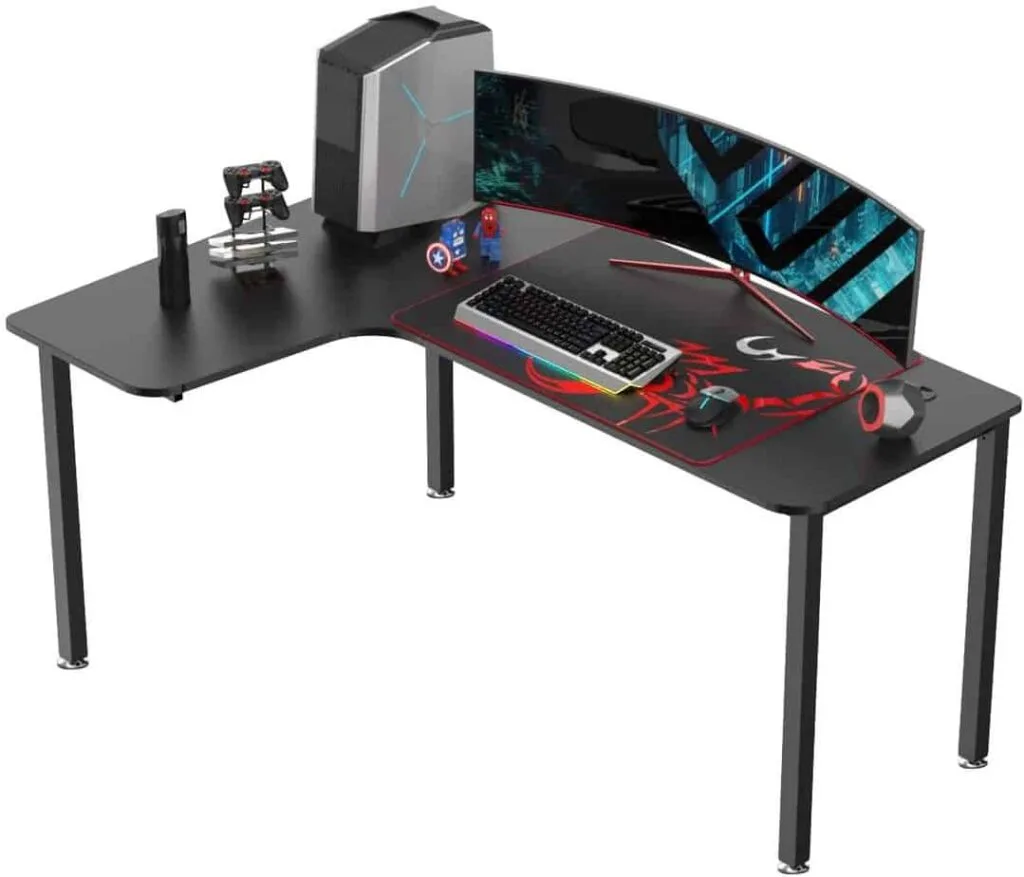 I love L-shaped gaming desks because they can turn an otherwise unused corner of your room into a proper gaming setup.
The Eureka Ergonomic Gaming Desk L60 is my top choice if you want a model in this style as it not only looks great, but it performs brilliantly. This gaming desk was my top choice in my previous guide – L-shaped Gaming Desk Ideas.
The additional desk area is ideal for having several monitors or an extra-large screen (it measures 61.13″ wide), and you will still have plenty of room left for accessories and other gaming items. The powder-coated steel frame and EPA certificated P2 particleboard ensure a high level of durability, and the desktop is scratch resistant.
There aren't many storage options with this desk, and it is something that would elevate this model to a truly great one. While this doesn't impact the look, style, or how this desk performs, I would have liked some shelves or other storage solutions. However, you can easily add some storage boxes underneath.
Overall, this is a brilliant L-shaped corner desk with very few drawbacks but a ton of functionality and aesthetics for the price.
Pros
Ideal L-shaped gaming desk
Room for several monitors and accessories
Well-made and durable
Easy to clean and maintain
Assembly is quite straightforward
Cons
This desk could use some storage options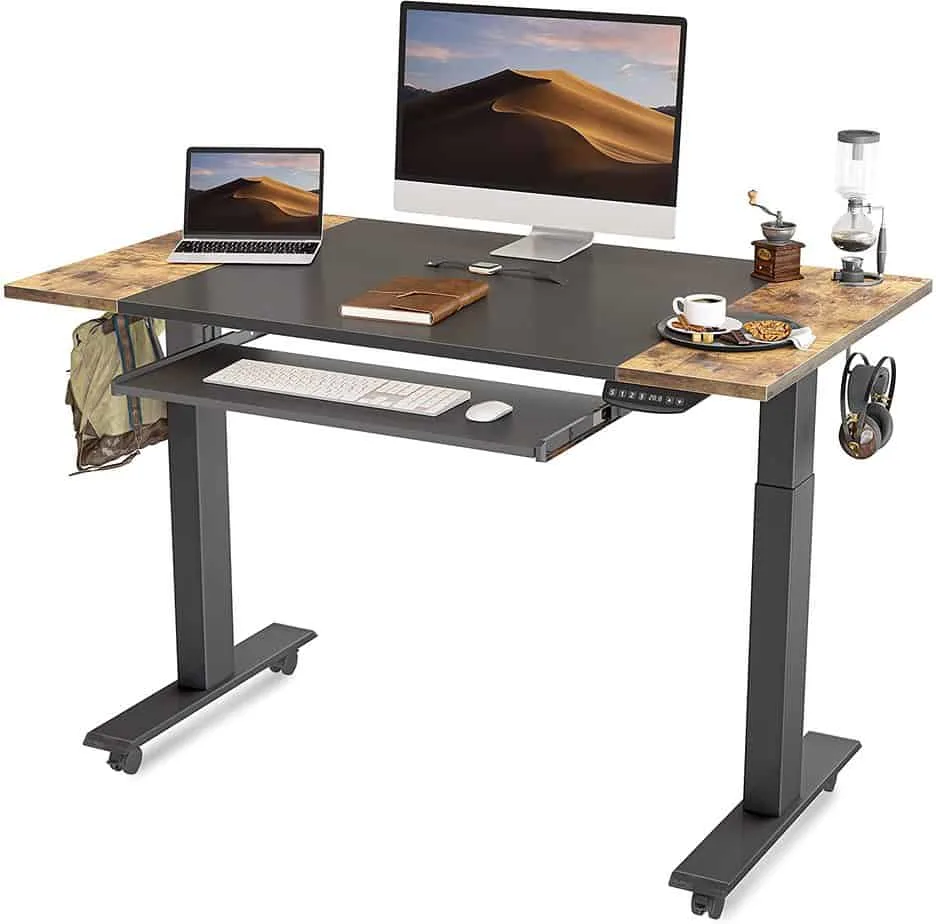 Standing gaming desks are growing in popularity. You might not think that these desk types are suited to gaming – after all, isn't the point to sit back and recline on your gaming chair for a few hours? – but they are incredibly useful for posture and your back.
The great thing about the FEZIBO Dual Motor Height Adjustable Electric Standing Desk with Keyboard Tray is that it can be used for standing and sitting in your chair. You can adjust the height via the electric motor, which turns this desk into a standard model to a standing desk, and you can continue gaming without sitting down.
This desk doesn't provide a ton of space, and it is a bit smaller than some of the other desks in this guide. You can buy a version up to 63 inches but massively increase the price. However, if you don't have a lot of room in your gaming setup, it can work well. Other features of this desk include the cable management tray and two hooks; this helps keep messy leads out of sight, and you can hang your headphones and other accessories.
For anyone trying to achieve a minimalist gaming setup, this desk would work great for this style.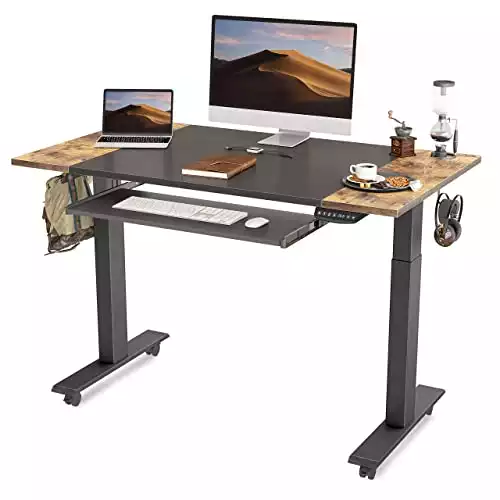 Pros
Nicely design minimalist gaming desk
Can be used for standing or sitting
Has some additional gaming features
Cable management tray
Cons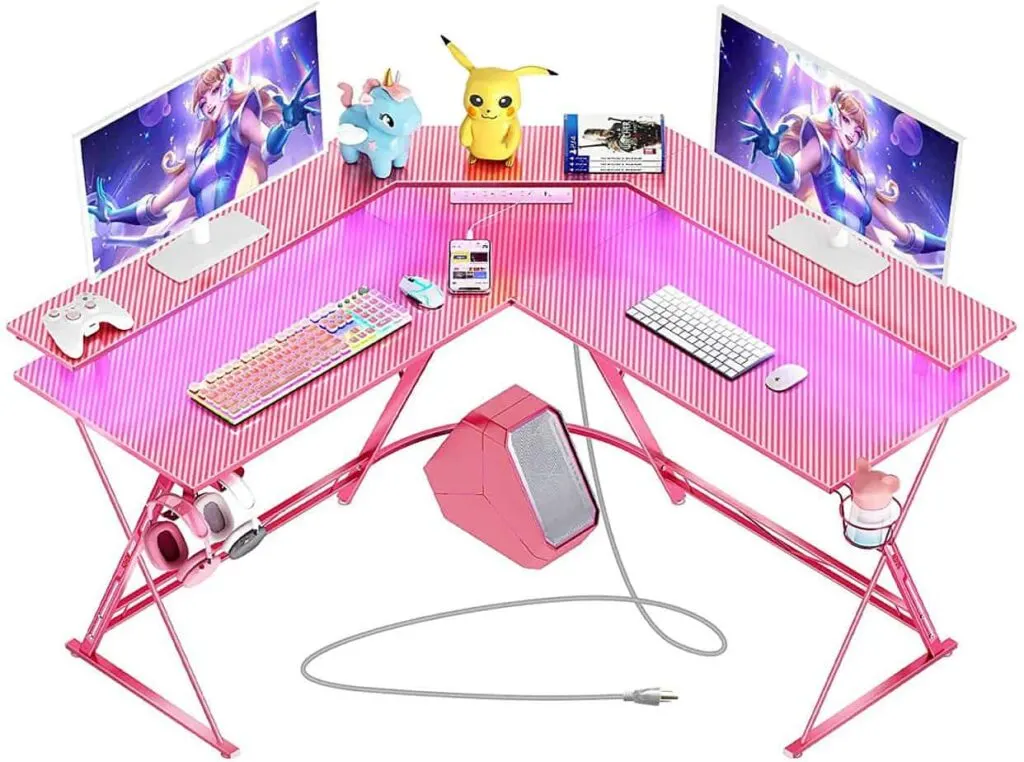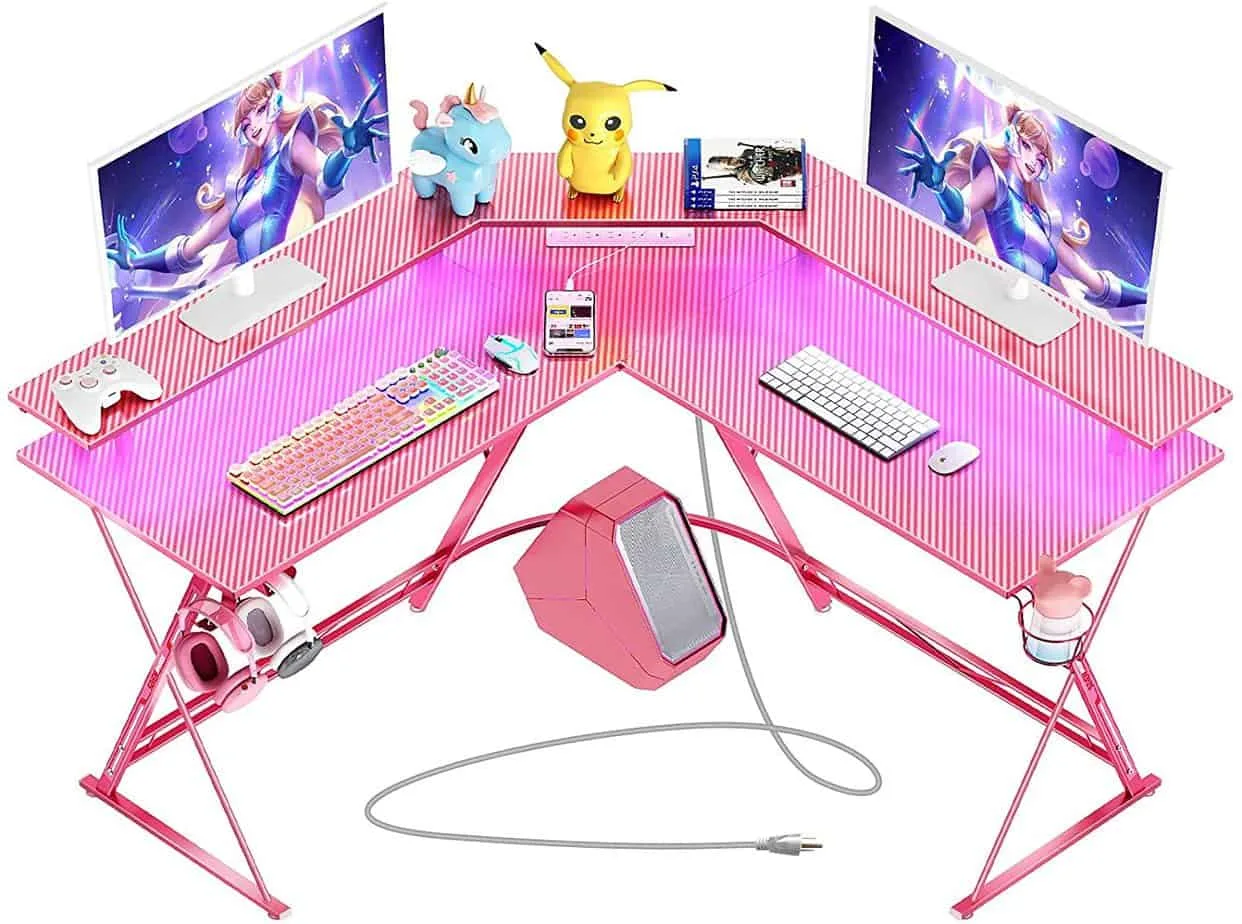 A desk can become the focal point of a gaming room, and if you want to create a bold style in your setup, the pink Seven Warrior Gaming Desk with LED Strips and Power Outlets is the desk to choose.
You can combine this desk with black and white shades to stand out or blend into a bright pink gaming setup.
The Seven Warrior is the most aesthetically striking in my guide; however, it also has excellent functionality. This includes an L-shaped design with enough room for up to four monitors, and the monitor stand promotes good posture. You can also use the monitor stands to store gaming accessories which is a nice feature.
There are UBS outlets and four power outlets built into this desk, and the LED lights which run underneath the monitor stands provide a beautiful aesthetic. The headphone hook and cup holder are two great additions, while the assembly is relatively straightforward – coming from someone who hates spending a long time putting furniture together!
You will need to install the LED lights (although they are worth it), and I think the monitor shelves could be wider. However, this highly functional desk is perfect if you want a bright and colorful model.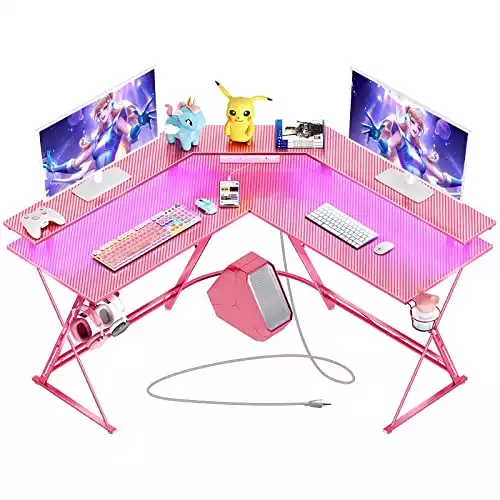 Seven Warrior Gaming Desk | Amazon
The Seven Warrior gaming desks utilize an ultra-stable and sturdy X-shaped leg design to stand up to any serious gamer's demands.
Buy at Amazon.com
We earn a commission if you make a purchase, at no additional cost to you.
09/25/2023 02:10 am GMT
Pros
Visually stunning gaming desk
Has many additional features
Well-built and stable
The L-shaped design offers plenty of room
Cons
The monitor shelf could be wider
You need to install the LED lights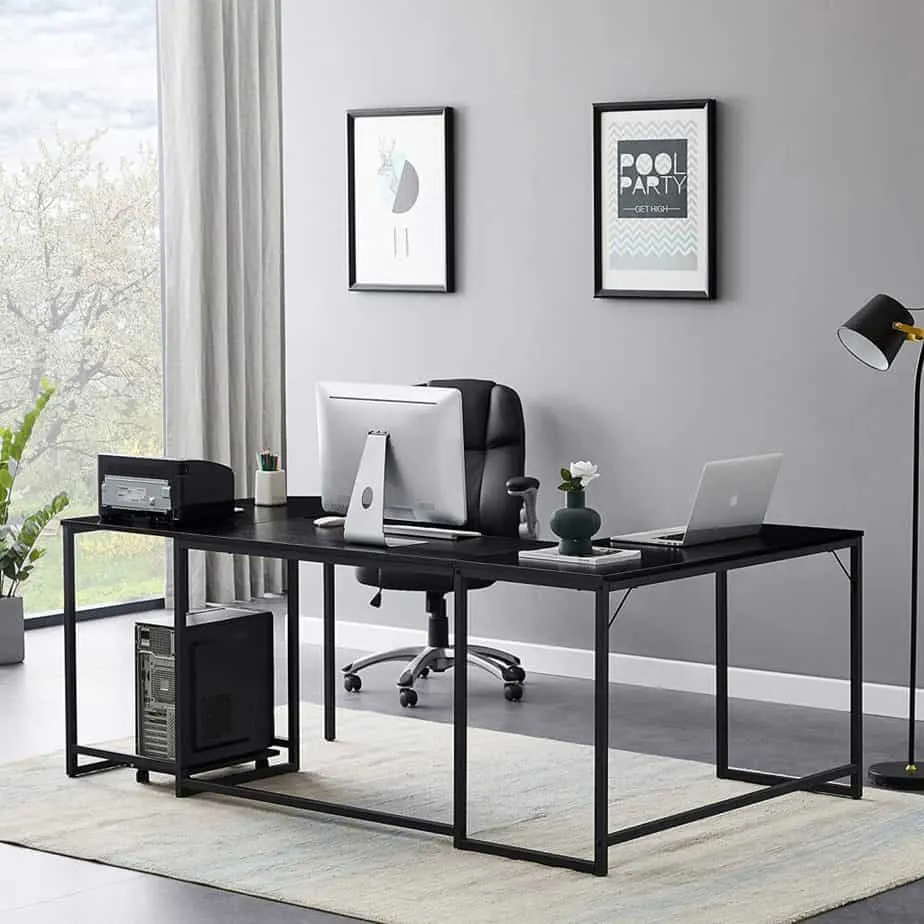 U-shaped gaming desks do usually require more space in your room, but they can be a fantastic addition to your setup for a surrounding experience. These desks also provide a lot more desk area to store accessories and other equipment.
The Merax U-Shaped Computer Desk is my choice if you want a gaming desk in this style. At first glance, the desk looks pretty basic; however, I do like its simple and minimalist design. If you bought this desk with a more extravagant gaming chair, it would work very well, and you can always decorate the surface with various accessories to add to the aesthetic.
The textured surface ensures that maintaining this desk is very straightforward, and while there is a lack of additional features, you do get a lot of desk space.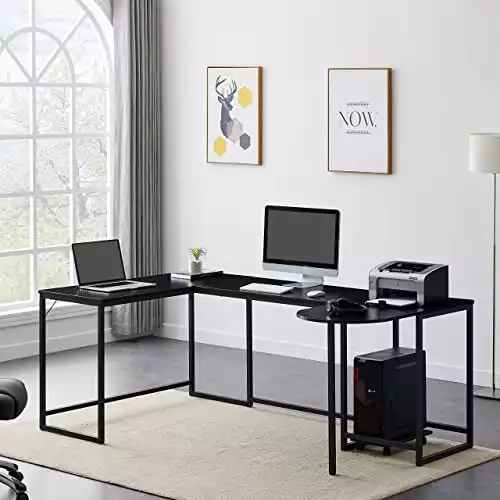 Merax U-Shaped Computer Desk | Amazon
The U-shaped desk is specifically designed to meet a small room. The two rectangular panels form an L-shaped angle and could fit in the corner to maximize your space.
Buy at Amazon.com
We earn a commission if you make a purchase, at no additional cost to you.
09/24/2023 05:59 pm GMT
Pros
Industrial style U-shaped gaming desk
Offers a lot of space
Durable and made from engineering wood
Easy to clean and maintain
Cons
Lack of additional features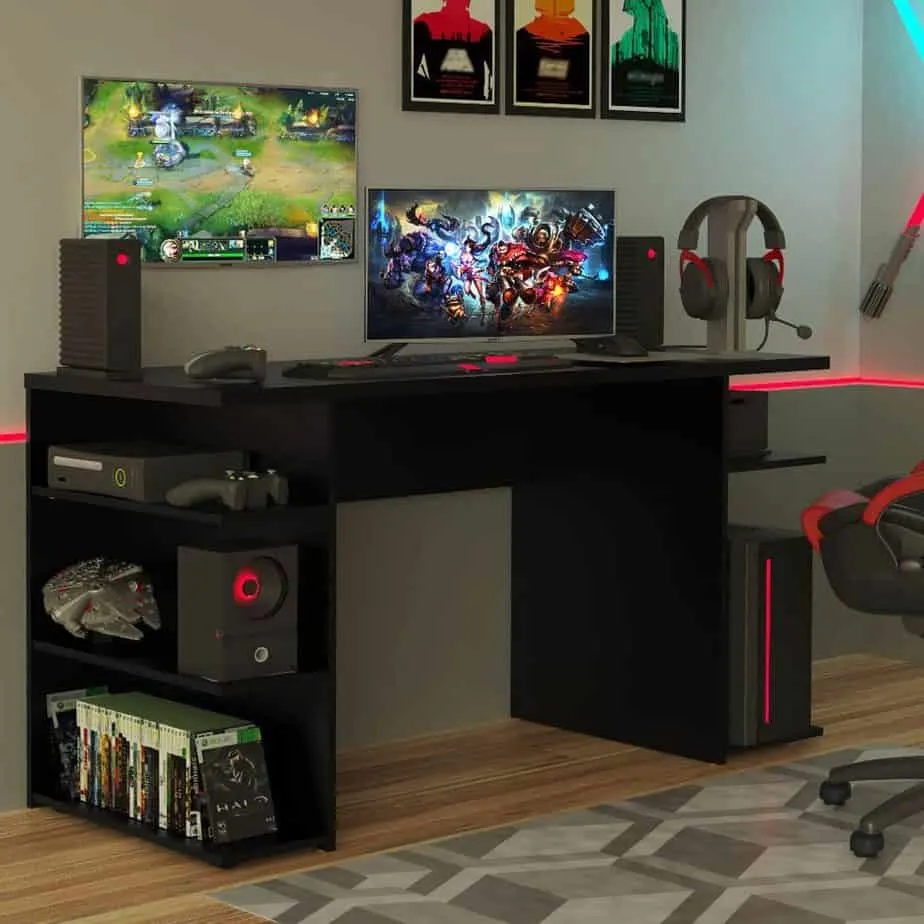 Many gaming desks have a distinct lack of storage options, as I mentioned above. This is why I always like recommending a gaming desk that does come with decent storage, so you can put away your accessories, games, and other equipment.
The MADESA Computer Desk with Shelves is the best gaming desk with adequate storage I have come across, and it is available at a reasonable cost. This desk isn't as cheap as my budget pick below, but it shouldn't decimate your gaming budget either.
The desk has several shelves which allow you to store gaming accessories, consoles, controllers, games, and whatever you like neatly. I like the dark design of this desk too as it provides a modern feel, but you can also buy this desk in white if you want something a bit lighter. The engineered wood is durable, although the desk only has a weight capacity of 110 lbs. This weight capacity is OK, but it isn't as much as you think.
I found the assembly a little tricky as certain parts of this desk weren't clearly labeled, and it took me a while to figure out what section went where. I got there in the end but be prepared to spend more time putting this gaming desk together.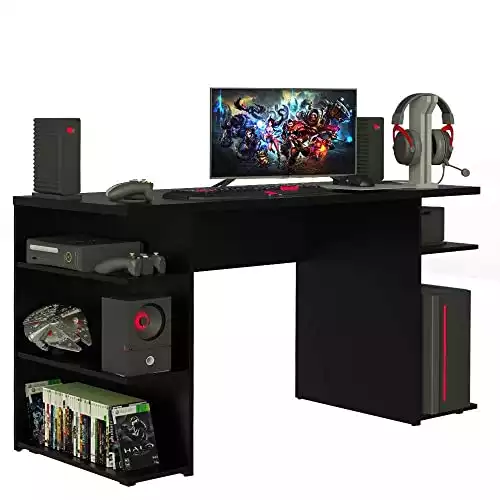 Pros
Great storage options with open shelving
Has a sleek and modern design
Durable and made from engineered wood
Cons
The assembly is a little tricky
Weight capacity could be better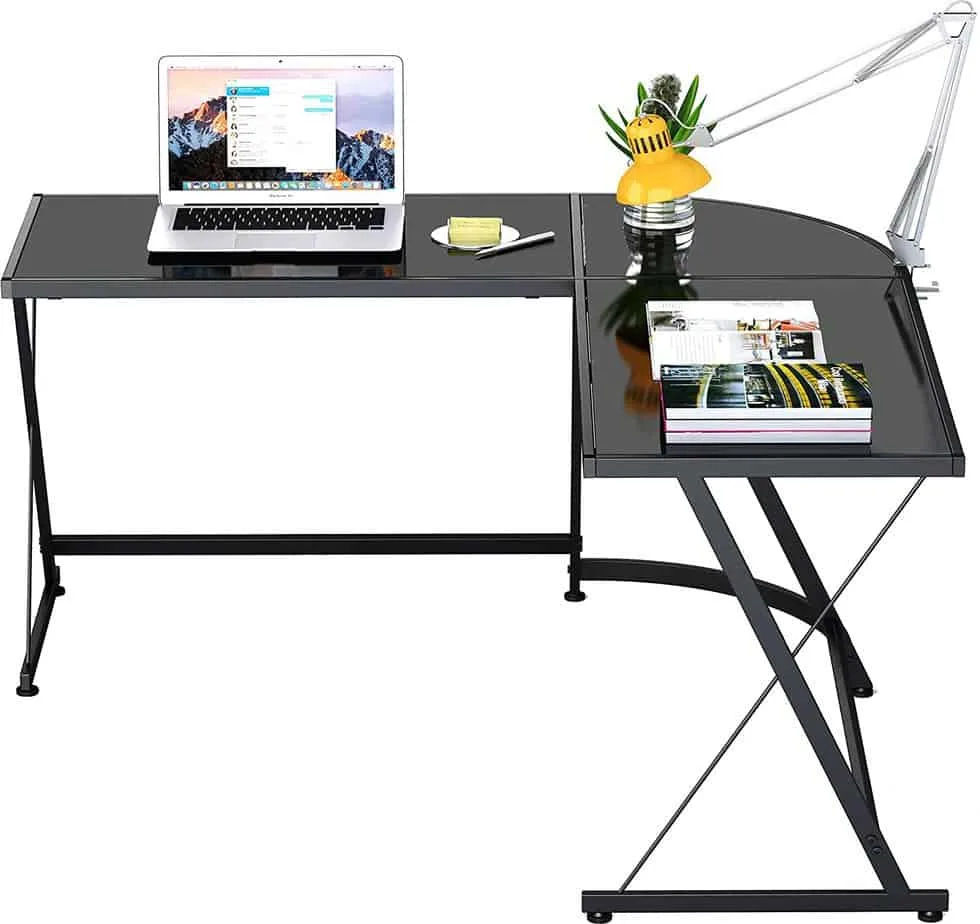 Creating a gaming setup on a budget can be challenging if you need to purchase different furniture and equipment at once. So, if you are on a tight budget, the SHW Gaming Desk is the best cost-effective choice that combines design and functionality.
This L-shaped gaming desk has a relatively basic but modern design and would fit into most gaming setups whether you are going for a modern, minimalist, or black setup.
The desk is very durable as it is made from a steel frame with a powder-coated finish alongside the tempered safety glass. The construction also ensures that the SHW Gaming Desk is easy to maintain, assemble, and clean, which is a big bonus. The footrest bar is a nice addition and adds a good comfort level.
This is a budget model, so you don't get many additional features with this gaming desk. Overall, it is pretty basic but does its job well. If you want a gaming desk that is a standard above a regular office desk, but you don't want to spend a lot of money, the SHW Gaming Desk is a good option.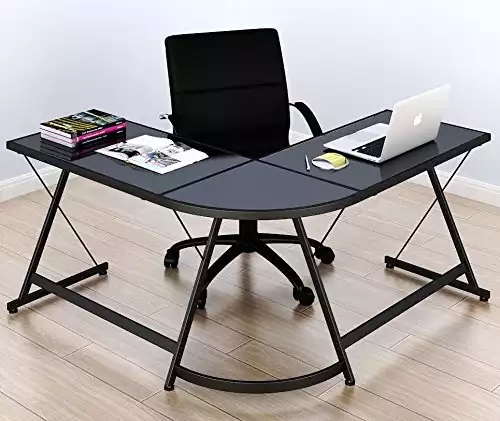 Pros
Modern styled budget gaming desk
Offers good comfort with a footrest
Durable and has a powder-coated finish
L-shaped design
Cons
There aren't many additional features with this desk
Experienced games might find it very basic
Frequently Asked Questions
Question: Why Should I Buy a Gaming Desk?
Answer: A gaming desk provides superior ergonomics and more functionality than a standard desk. This will allow you to game in comfort and have a better experience playing games on a PC, console, or streaming content to an audience.
Question: What is the Best Gaming Desk Shape?
Answer: It depends on your preference and the layout of your gaming room. L-shaped or corner gaming desks are usually the most popular due to their extra space, but many prefer rectangular desks for smaller areas.
Question: Can I Buy a Gaming Desk on a Budget?
Answer: Yes. Even though some gaming desks cost hundreds of dollars, you can buy a basic model that still comes with some extra features for a low price. This is useful if you plan on setting up a gaming rig or streaming on a budget.
Question: Do Gaming Desks Have Storage Space?
Answer: Some gaming desks will have built-in storage options. This includes drawers and open shelving. Many desks don't have much storage; however, you can easily add some drawers or storage boxes underneath.
Question: Can I Use a Gaming Desk for Console Gaming?
Answer: Yes. Gaming desks can be used for any type of gaming, whether you are battling it out on a PC or relaxing with a Playstation or Xbox. There is no one type of gaming machine that is tailored for a gaming desk, so you can use any computer or console.
Question: What is a Good Size Desk for Gaming?
Answer: Your gaming desk's size depends on the space you have available in your gaming room. However, I recommend a minimum width of 60 inches if possible as this provides adequate space for an extra-wide monitor or several screens. Also, a depth of 30 inches is best to house any accessories.
Conclusion: The Best Gaming Desk Ideas
Gaming desks play a vital role in your setup as they provide substantially more functionality and comfort than a regular office desk.
Having a proper gaming desk in your room will improve ergonomics, give you some great additional features, and also offer a much better and more enjoyable gaming experience.
Continue reading:
Best Gaming Desks on Amazon – My Top Picks for Better Gaming and Streaming
Corner Gaming Desk Ideas – My Six Picks that Will Improve Your Gaming Setup
Pink Gaming Setup Ideas For Aesthetically Pleasing Gaming Stations