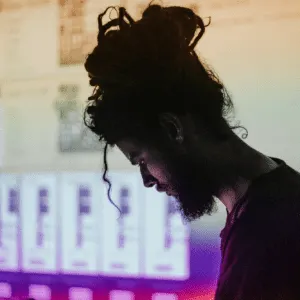 Latest posts by Calum Vaughan
(see all)
Anime and gaming have been going hand in hand for quite some time now. It would make sense that Japan's well-established position in a medium of video games presents an opportunity for gamers to dive into the world of anime.
On top of that, with so many classic video game titles enjoyed all around the world having a direct connection to anime, inevitably, the connection between the two only keeps on getting stronger.
Considering the above, it's no surprise that anime-loving gamers everywhere are looking for ways to incorporate their favorite anime titles and characters into their gaming setups. These colorful battle stations are so full of personality it's hard to resist not wanting to put together one on your own.
In this article, I will present all of the anime gaming setup ideas that will turn your old, boring desk into a marvelous, eye-catching display of your character and taste in anime. Let's take a look at what's available on the market – some of these are absolute must-have accessories that I even purchased myself while writing this article!
Bottom Line Up Front: The Razer Kraken headset with Kitty Ears is one of the best value for money streaming setup accessories on the market today. With its Bluetooth functionality, customizable aesthetic, and excellent value for money, it's a must purchase – especially for streamers looking for a new headset!
What Is There to Customize?
First, let's talk about what items in your gaming setups you can upgrade – the following, are the main categories of products you'll be looking for.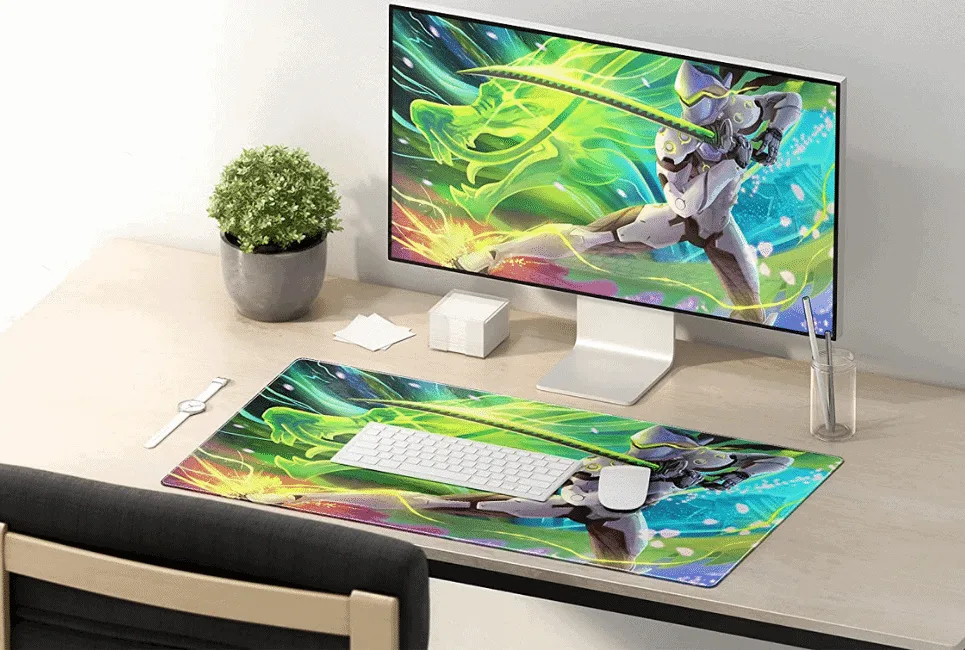 Keyboard, Mouse, and Mousepad
Yes, all these are obvious choices. However, they should not be glossed over – after all, these items are the centerpieces of your entire setup so you'll need to make sure they all match one another stylistically.
For keyboards, you have a choice of either choosing an entirely anime-themed one or customizing the keyboard you already have with a large variety of keycaps with anime symbols, etc. Spacebar cap with an anime character on it is very commonly found here – why not utilize the space of the largest key to the fullest?
As far as the gaming mice and mousepads go, the latter comes in a much bigger variety of styles and anime franchises. Gaming mice are usually depicting non-specific anime characters or no characters at all with its connotation with anime being limited to the colors and design.
This is why more attention should be given to the mousepad where you can let yourself go with manifesting your anime preferences.
From large and wide mousepads portraying an entire cast of characters in your favorite anime series to the ones conventional in size but more "creative" in wrist support design, there's no doubt that you'll find a mousepad that perfectly encapsulates your taste.
Chair
Some could probably argue that a gaming chair doesn't deserve that much attention here, but in my opinion, it makes or breaks the whole setup. As big as a gaming chair is, if it doesn't fit its surroundings thematically or coloristically, it will stick out like a sore thumb and bring all of the negative attention to itself.
Again, just like with the gaming mice, there are not as many gaming chairs dedicated to a particular anime franchise as there are ones with colors and non-specific themes associated with anime.
This, however, is a good thing. Unless your entire gaming setup is centered around one title, then less is more – just let your chair blend in with the rest of the pieces in your setup to compliment it but not steal the whole show.
Alternatively, you can transform the chair you already own with an anime chair slipcover or a fitting kawaii pillow cushion. If paired nicely with regular gaming or office chairs, it can make a great impression as well!
Desk Decor
Here's where you can let your imagination fly to the fullest – with so many different types of anime desk decor to choose from, you'll be able to express yourself in this area.
The most popular in this category are anime character figurines, 3D led lamps, flower pots, pencil holders… well, pretty much everything that's anime-themed and fits on a desk! Don't be afraid to fill up all of the free space there and tell the story – you'll for sure get some compliments on the detailed work you put into the arrangement of your decor.
Another advantage of putting together such a nice display is just to make you feel comfortable in the area in which you'll be spending so much time when gaming. You'll be surprised by just how often your eyes will wander off to appreciate all of the nice decors while waiting for a respawn. And on top of that, you'll always have a small audience to silently cheer you on your successes!
Cat Ear Headset
Last but not least, an accessory that no matter if worn for its actual appeal or entirely ironically has become a staple in every gamer's arsenal. Cat ear headset is a stylish must-have!
Widely popularized by thousands of twitch streamers as well as the largest YouTubers on the platform and mainstream celebrities, cat ear headsets took the market by storm a couple of years ago and still stand strong with manufacturers releasing new models at a steady pace.
Bluetooth or wired, shiny or matte, open or closed back, lit by LED lights or with active noise cancellation… There's so much to choose from that with enough digging, every gamer should be able to find an ideal pair for themselves. However, what matters the most are those cat ears – you can also buy them separately, just make sure that you'll be able to attach them to your regular headset.
How to Choose Your Perfect Setup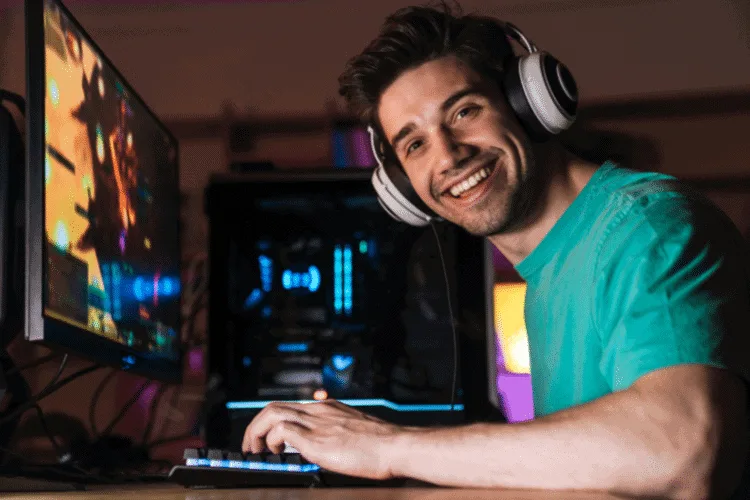 Now that we know what to look for, let's consider the qualities of these items to help you put together a stunning setup that will best represent your personality, taste in anime, and gaming preferences.
Title-Specific or Not?
The first question that you should ask yourself is – do you want to dedicate your gaming setup to one specific anime title or franchise, or would you like to keep things more general, with the connection to anime being more represented by colors and design?
Both have their pros and cons. If you commit your entire setup to your favorite anime (or maybe more broadly to a particular anime genre that you're into), it will be highly personal and secretly envied by gamers with a taste similar to yours. It will also most likely be a smooth sail when it comes to matching the items together with their unified branding and color schemes.
On the other hand, this approach may present some obstacles down the road making you wish that you kept things more non-specific. What if your taste changes and you'd like to add new pieces from other titles but they stick out too much?
Another thing to consider is that as much as you love your favorite anime now, you might simply get tired of too much of the same thing all around in your close surrounding.
What works best in my opinion is a hybrid of these two approaches. You can compare it to making a painting – you need some open spaces and background layers to make the details of your creation pop!
Choosing beautifully designed, colorful, non-branded items will give these more specific pieces a scene to live on and catch proper attention. And on top of that, you'll be able to switch it up and customize it whenever and however you want!
Quality vs Quantity
If you browse the Internet looking for inspiring anime gaming setups, you'll find out that a lot of them could be put in either one of the two categories.
The first one is a minimal gaming setup, with only the necessary items in place and a few decorative pieces included as a finishing touch. Everything is neatly positioned in geometrically perfect alignment, bordering on looking like a high-end fashion, futuristic shrine built in honor of anime spirits.
The second one is quite the opposite – here, the more the better! Multiple screens, an abundance of figurines and plushy mascots squeezed tightly together in every corner of the room, various posters, drawings, LED lights… Which one appeals to you more is entirely subjective. The more items you include in your setup, the more personalized it will become.
However, if you'll push it too far, your setup might get cluttered and overwhelming, negatively impacting its primary functionality – gaming. Keep that in mind when adding new items into your basket – you might need to throw an extra shelf in there as well!
Price to Pay
Let's get real for a second – nothing's free and a complete anime gaming setup isn't an exception. Does that mean that you have to break the bank in the process of putting one together? Not necessarily.
A rule of thumb that I would suggest for anyone planning their budget is to make a distinction between the items that will be actively used and items that will serve solely as eye candy in your setup.
Skimping on stuff like a gaming chair or a headset will very likely lead to you not being entirely happy with it and also having to replace it sooner than expected. The quality and durability of these items are crucial aspects to consider and should be your top priority when making a choice.
As far as the decorative pieces go, there's only one thing to consider – do you like how it looks? If the answer is yes, go ahead and get it! At the end of the day, that's what matters so don't feel obligated to buy only the top-of-the-shelf pieces if you don't mind or can't even see the difference between them and their cheaper alternatives.
Think Bigger!
It may sound obvious when said out loud, but keep in mind that your anime gaming setup will not exist in a vacuum. Apart from all of the pieces of your setup matching one another, you'll also need to consider how your setup will blend in with the rest of the room you'll have it in.
No worries – a little bit goes a long way here and you won't need a full renovation of your bedroom to achieve aesthetic harmony. The best solutions are the simplest ones – get yourself new bedsheets or curtains to match the colors of your setup or revitalize the empty walls with some nicely framed, large-scale anime posters.
Now that we know what to look for, how to choose the individual items and put them together, let's take a look at some great examples of potential purchases in various anime styles to spark your creativity!
Sulanfei Anime Mouse Pad with One Piece Characters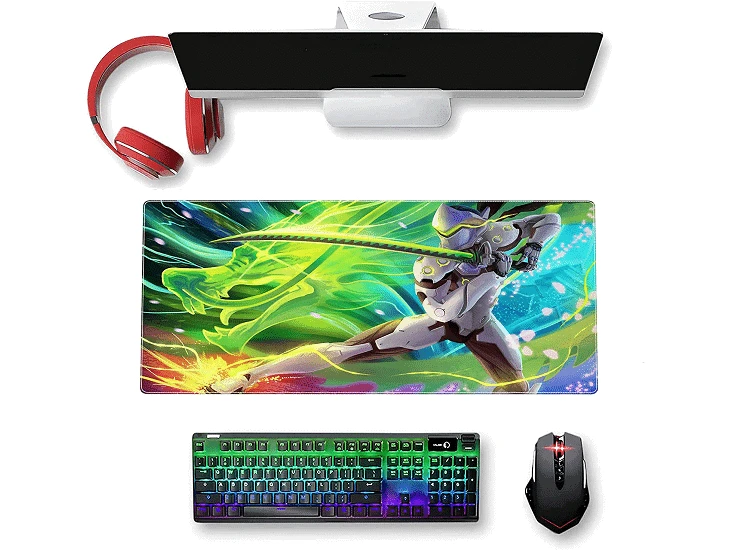 One Piece is one of my favorite anime titles and I just could not resist buying this mouse pad when I saw it while writing this article!
So far I'm more than happy with the purchase. This mouse pad is soft in touch and its rubber base ensures that it stays in place at all times, firmly gripped to the surface of my desk.
Its large surface of 24in x 14in is very convenient and lets you place your hand on it in different positions without moving the pad itself. The mouse glides on it effortlessly which is just so important when it comes to the accuracy and response time of your aim in a large variety of video games.
Of course, the main selling point is the fantastic picture printed on it – so colorful and detailed with all of the main characters on display, it's an amazing eye-catcher.
A mouse pad with such busy imagery looks best when paired with a keyboard and a mouse of simpler designs, but that doesn't mean that you need to give up on the anime aspect there!
You can get yourself some beautifully designed One Piece keycaps for extra flair and an anime gaming mouse in a matching color and voila – time to join the lobby! Just don't get too distracted by how absolutely epic your new rig looks!
Autofull Pink Gaming Chair with Rabbit Ears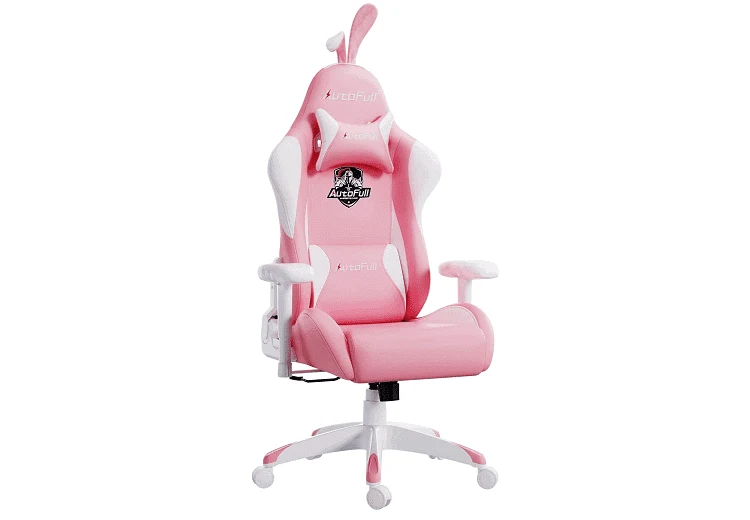 This chair is truly something else and it stole my heart as soon as I saw it. Its price might initially turn you off, but just keep reading and you'll find out that what you get with it is worth every single penny spent!
For starters, design and durability are not sacrificed at the expense of looking extremely cute. It's a perfectly well-constructed gaming chair with a solid metal frame and smooth-rolling caster wheels to ensure long service in your anime setup.
Adjustable head and lumbar pillows and a high-density sponge cushion provide exceptional comfort when gaming for longer periods. So in terms of quality, it delivers on all fronts, and even if you unluckily get a faulty product – it comes with a 3-year warranty so you're covered for a good while!
Now let's get to the anime side of it and let me tell you, it's just so so good. A classic color combination of pink and white makes it easily applicable in a lot of anime-themed gaming setups but it's all the cute details that put this chair in an anime league of its own! Bunny ears catch the attention right away but that's not where it ends!
This chair comes with an adorable, fluffy bunny tail on the back and if you look closely, the armrests are also covered with comfy furriness for the extra layer of coziness. And if you think that's where it ends, guess what – you're wrong! On top of all of that, you also get a matching round rug to go underneath your chair that seals the whole deal.
This chair is an excellent choice for kawaii gaming setups with a lot of pink-colored pieces and cute anime characters from titles like Clannad, Sailor Moon, or Pokemon.
Razer Kraken Headset with Kitty Ears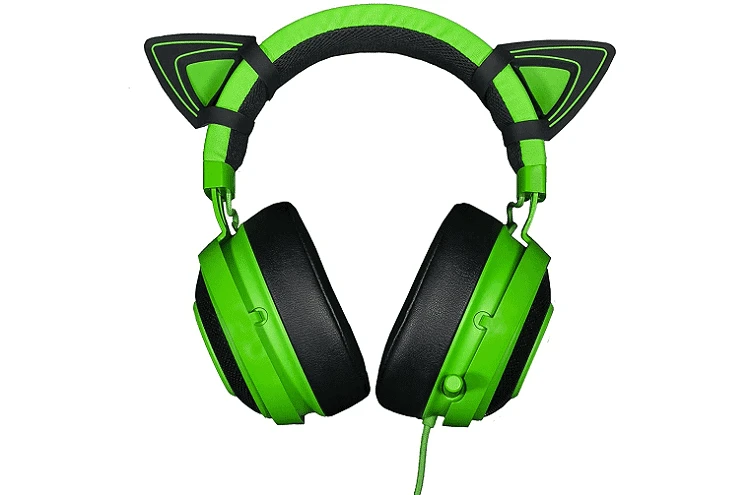 Razer's contribution to gamers' lifestyle all around the world is well-acknowledged, so it's not a surprise to find a quality headset with cat ears in their offering. What stands out right away is an option to choose between Bluetooth and wire as well as the color – pink or black.
Very well thought out as these two factors matter the most in technical and stylish aspects respectively. With these two bases covered already, its chances of making it into your anime gaming setup raise significantly!
As far as the looks go, this headset is simply stunning! It's built with durable materials that look expensive and the earcups are big and incredibly comfortable so you won't have any issues wearing them for hours when gaming or binging your favorite anime.
However, it's the cat ears that are an obvious selling point here, and let me tell you, they went above and beyond to make sure they stand out as they should! The fact that they're illuminated with literally millions of colors to choose from is already fantastic but it doesn't stop there!
With a dedicated app, you can connect your headphones to a stream and have them react visually to whatever pogchamp moments are going down in the chat! Talk about interactivity, am I right?
A question that you might be asking yourself now – for all of the above, do I have to sacrifice a bit of quality on the technical side of things? Rest assured, an answer is not at all! Under all of that cuteness, you'll still find an amazing sounding pair of headphones with great frequency response range and consistency.
THX Spatial Audio functionality brings an additional layer of immersion, and microphones' active noise cancellation makes your voice sound crisp and clean. Not much else to ask for here! And if you're somehow still not convinced, you can just buy the cat ears on their own – they thought about everything.
FAQs
Now that I've had explained what I look for in my anime gaming setup purchases and investigated my three top picks, let's round things off with some quick answers to your most frequently asked questions!
Question: What Are the Best Products for an Anime Gaming Setup?
Answer: There are countless accessories that could contribute to the perfect Anime Gaming Setup, by my best recommendations would be an anime gaming chair, headset, and mouse set.
Question: Is Razer Kraken a Good Brand of Headsets?
Answer: Razer Kraken is well known for producing high-quality headsets for a reasonable price, especially if you are looking for something customizable for an anime gaming setup.
Question: Do Anime Gaming Setups Have to be Expensive?
Answer: Not at all – whilst some anime gaming setup products are quite expensive, why not improvise with cheaper alternatives such as by purchasing an anime chair slip-on cover instead of a completely new chair.
Question: Is Quality or Aesthetic More Important When Buying Anime Gaming Gear?
Answer: This depends – if you just want to add an anime visual element to your setup, aesthetic is going to be more important, but if you are buying technical gear (such as a headset), you should focus on buying something with an excelle
Finally… Assembly time!
I hope that this article helped you get the creative gears in your head turning and you already have your first setup ideas ready to bring to life! With all of the advice and the great examples of specific pieces to start with, you just can't go wrong.
However, if I could only purchase one item on this list, it would have to be the Razer Kraken headset with Kitty Ears. There is just something about the customization, quality, and features of this headset that I simply cannot resist!
I'm sure you'll have a ton of fun in the process of putting it together – remember to make it personal and unique to your taste with various decorative pieces and share it with the world once finished!
All the effort that you put into it will then be rewarded handsomely with compliments and reposts of your magnificent anime setup on anime imageboards and forums all around the Internet. Enjoy the fame! ٩(^◡^)۶
Continue reading:
Purple Gaming Chair Ideas – My Choices for a Striking Aesthetic
Top 10 Best White Gaming Chair Ideas
Corner Gaming Desk Ideas – My Six Picks that Will Improve Your Gaming Setup