The Best Time to Stream on Twitch - When Should You Start Your Livestream?
There are many different opinions about this topic. Some say that late-night streams get more traffic, while others say early morning streams are best. The best strategy for finding out is by doing some research and keeping an eye on your analytics data over a period of day or week of streaming at different times.

Streamers are the people who broadcast to potential viewers.

A viewer is someone who watches your stream.

As a potentially new streamer, you need to ensure that you can get enough viewers for your live stream.

When there are too many live channels and not enough viewers, each channel has fewer viewers on average. This is because more channels mean that there is less of an audience to go around.

This is typically called the Streamer Ratio to Viewer Ratio

It's the average of total viewers per total channel in a set category.

Keep in mind, just because a game is getting an average of 10 viewers per channel doesn't mean your stream will have 10 viewers if you were to stream in that game category.

There are also other factors at play here. An example is popular streamers getting more than the average number of viewers or more streamers than other viewers.

I have found some great tools to track some of this information down and give you a good chance to get more people watching your stream.
TwitchTracker

TwitchTracker has some nice graphs and stats for every type of category there is. They can show you statistics by months of how many concurrent viewers there were, how many concurrent streams there were and how many hours were watched each month.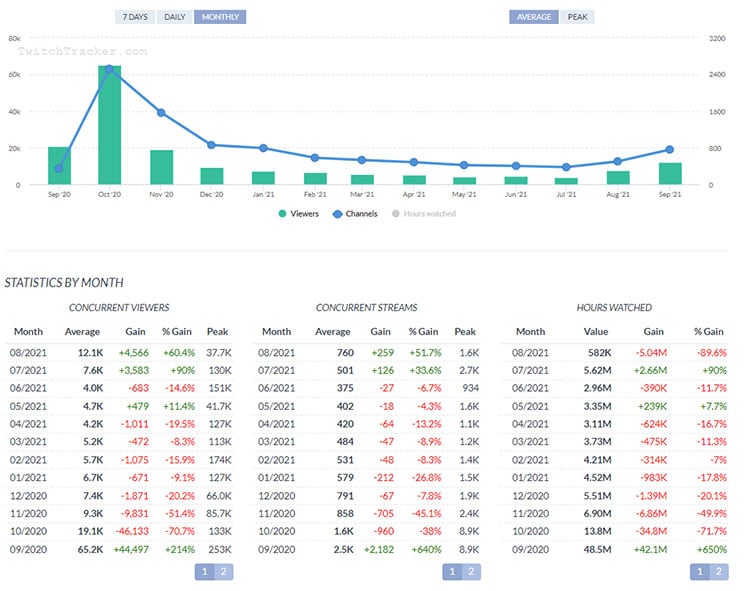 TwitchTracker even provides analysis for each day of the week in a 6-month average timeframe.

This provides amazing feedback on when would be a great time to stream certain games/categories.

TwitchStrike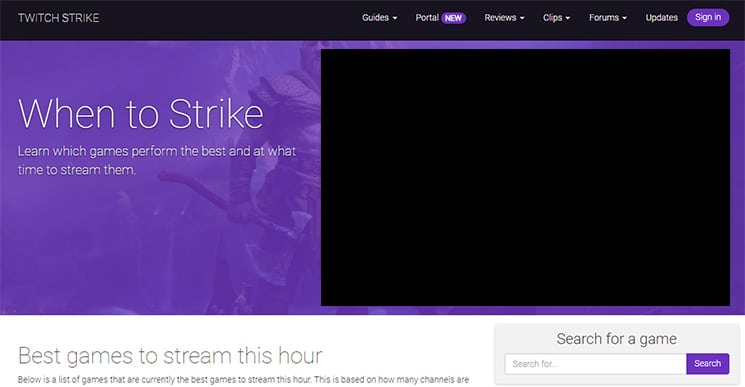 TwitchStrike has useful stats and analytics that may help you determine which games are ideal for streaming at a specific time of day and which games to avoid streaming at said time.

If there is a game you want to stream primarily, you can search for it in the tools, and it will provide you with a lot of information that you can use to make a better choice on when you should stream.

It shows how many current people are streaming (channels), how many viewers in total that game has, and gives you a viewer-to-channel ratio number.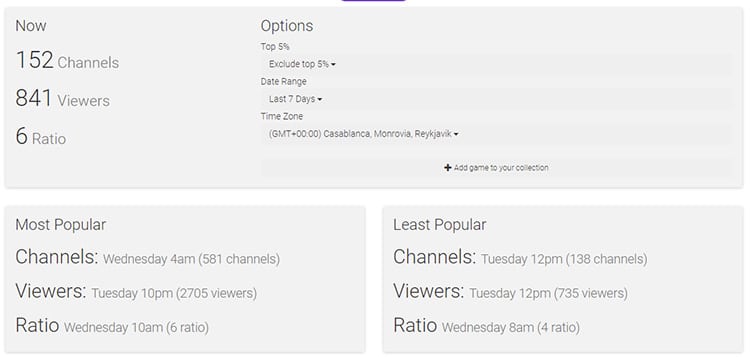 You'll also see which days of the week are the most popular, as well as a Heat map by Day/Hour for either the Channels, Viewers, or Ratio.