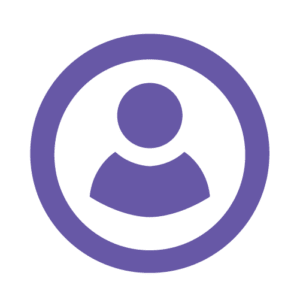 Latest posts by Streamer Startup Team
(see all)
Finding the perfect Twitch name is more challenging than you think. Not only does your name matter to help grow your brand, but it will define your streaming efforts months and years down the line. So, to take away the hard work, I will show you the best Twitch Name generators on the internet.
These generators make finding a new Twitch name super easy, and you won't need to spend hours getting your creative juices flowing to come up with a name for your Twitch account.
I will also explain what you should consider when choosing a new Twitch name.
Bottom Line Up Front: The best Twitch name generator you can use to create a fantastic, brand-worthy handle is SpinXO. This powerful generator takes specific keywords associated with your brand and content to develop an excellent name for your Twitch channel. There are no significant downsides to this generator. It even comes with an in-built name availability checker, which lets you find out if your name is available on YouTube, Reddit, and Twitter.
At a Glance: 6 of the Best Twitch Name Generators in 2022
| | | |
| --- | --- | --- |
| Twitch Name Generator | Best for… | More Info |
| SpinXO | Best overall Twitch name generator | |
| Cool Screen Name | Best for a Twitch badass name | |
| Fantasy Name Generator | Best for fantasy Twitch names | |
| Jimpix | Best for one word Twitch names | |
| NGenerators | Best for different Twitch name nationalities | |
| Cool Generator | Best for ease of use | |
Things to Consider When Picking a Twitch Name
You have your gaming desk, microphone, new computer build, and you are ready to start streaming some excellent content. However, what about your Twitch name? Paying attention to your Twitch name is more important than you might think, so here are a few things to consider when choosing a new Twitch name.
Keep it Brief
One of the major mistakes I see many Twitch streamers make is having a complicated and forgettable account name.
The more characters you put in, the more words you use, and the more complex your username, the more likely people will forget it. The perfect Twitch name is brief and straight to the point; this way, people will remember it and find your content easier.
Think Long-term
Another thing that some streamers get wrong is creating and using a name that has a very short-term appeal.
If you create a Twitch name after a fad or cultural phenomenon, what is relevant now might not be six months down the line. Doing this really impacts the longevity of your name.
It is best to think long-term when choosing a Twitch username. Also, don't limit your Twitch name to a specific game. Even if you play one game religiously, that will probably change a year or two from now, which means you'll need to either change your name or use an outdated Twitch handle.
Avoid Special Characters
It would be best if you also avoided any special characters when creating a new Twitch name.
Don't add any numbers, symbols, or underscores, as it can confuse your potential viewers. Remember, the idea is to keep your Twitch name brief and memorable, so adding in special characters complicates this.
Twitch names that have a lot of numbers or special characters make it difficult to remember, which can hurt your brand and make it harder for people to find you.
Cross Platform
Finally, make sure that your new Twitch username is available across all platforms.
Avoid using names that you can only use on one platform because creating another name for a different platform makes this mightily confusing.
You can verify if your username is available with Namechk.
Selection Criteria
If you search for Twitch name generators, you will find dozens, if not more, available at a click of a button. However, how do you know which one is the best to use and what generators are better for generating specific types of names than others? When creating my list of the best Twitch name generators, I want to ensure only the top generators made my list, so the criteria I used to achieve this include:
Speed – No one wants to spend half an hour going through multiple questions to generate a new Twitch name. All the generators on my list only take a few seconds with some basic information to create fantastic gamer names.
Ease of use – All the generators below are easy to use, and you won't run into any problems creating a new name for your Twitch account.
Free – I have only included high-quality and free Twitch generators, which will give you more money to spend on gaming gear.
6 of the Best Twitch Name Generators in 2022
SpinXO – Best Overall Twitch Name Generator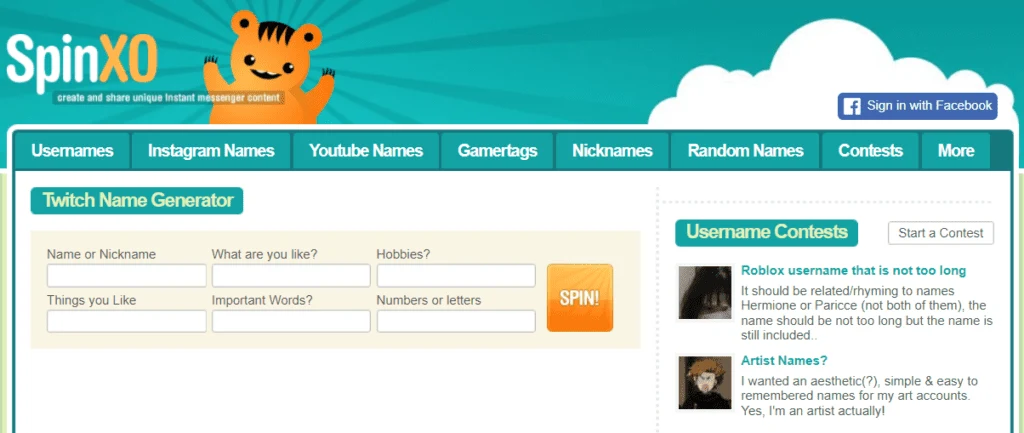 If I could only use one Twitch name generator going forward, I would choose SpinXO.
For me, this is the top Twitch name generator that you can use. SpinXO generates Twitch names by taking things such as your hobbies, games, or other words associated with your streaming brand and interests. From this, the generator will pull up some fantastic Twitch names, and you can regenerate them as much as you like.
Also, there is a cross-platform availability check feature which I think is really cool. It checks your chosen generated name to find out if it is available on Youtube, Reddit, Twitch, and Twitter.
Pros
Powerful Twitch name generator
Creates personalized names based on your keywords
Cross-platform availability checker
You can regenerate names as much as you like
Cons
There are no real downsides to SpinXO
Cool Screen Name – Best for a Twitch Badass Name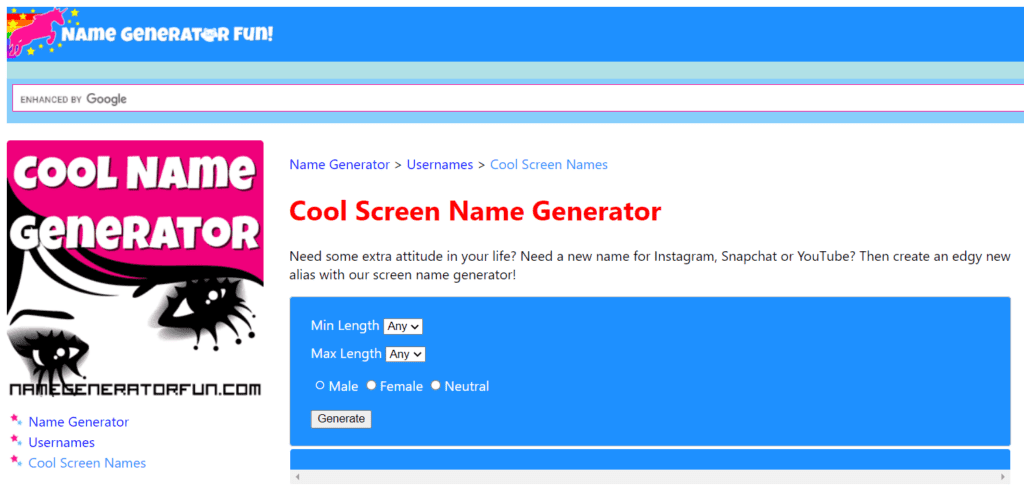 Cool Screen Name is a good choice if you want to create a badass-sounding Twitch handle.
If you are looking for a Twitch like:
Storm Venom
Cody Mystic
Jaden Steel
Dusty Punk
This is the generator to use.
You can choose to generate male, female, or neutral names, and you can also set a minimum and maximum character limit. In fact, you can use this generator to generate names for various purposes.
Cool Screen Generator is a bit basic, and it is very much for creating a 'name' rather than a gamer tag based on your keywords. However, it is ideal for generating a badass-sounding Twitch handle.
Pros
Creates punk-sounding Twitch names
Very easy to use
Can set minimum and maximum characters
Cons
Quite basic and doesn't create a personalized name
Fantasy Name Generator – Best for Fantasy Twitch Names
The fantasy genre is enormous, and it has created a large streamer base, so if you want a fantasy-sounding Twitch name, Fantasy Name Generator is my recommendation.
The great thing about this generator is that you can choose specific fantasy genres to create a name. This includes:
Avatar
Destiny
Dr Who
Warhammer
World of Warcraft
to name just a few.
This is one of the most in-depth generators I have come across as you can drill down into different fantasy games and choose a Twitch name based on a particular character.
It won't work well for general Twitch names, but it works great to create fantasy Twitch handles.
Pros
Ideal for generator fantasy names
Huge list of different fantasy genres and games
Can choose names based on particular characters
Cons
Not ideal for general Twitch names
Jimpix – Best for One Word Twitch Names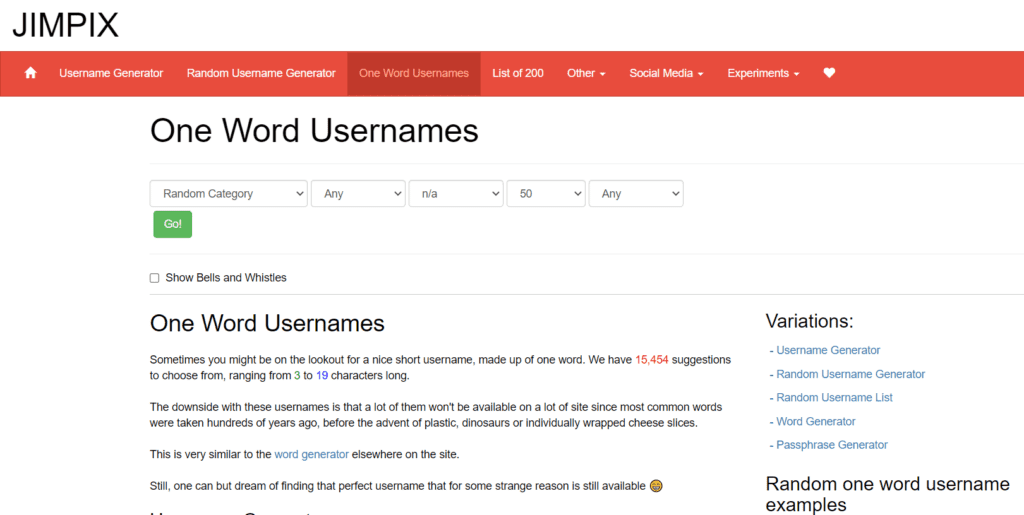 Sometimes the best Twitch names are simply one word; however, coming up with a single word handle for your Twitch streams isn't easy. So, this is why I have included Jimpix on my list, as it is the best generator for one-word Twitch names.
The generator allows you to customize your one-word username as you can choose a category and length and generate names by selecting the first letter.
If you want a more elaborate Twitch name, this probably isn't the generator for you; however, creating a short and snappy username for your Twitch streams works really well.
Pros
Good generator for short Twitch names
Can generate names for different categories
Allows you to select minimum and maximum length
You can generate usernames that start with a specific letter
Cons
Not ideal for elaborate Twitch names
NGenerators – Best for Different Twitch Name Nationalities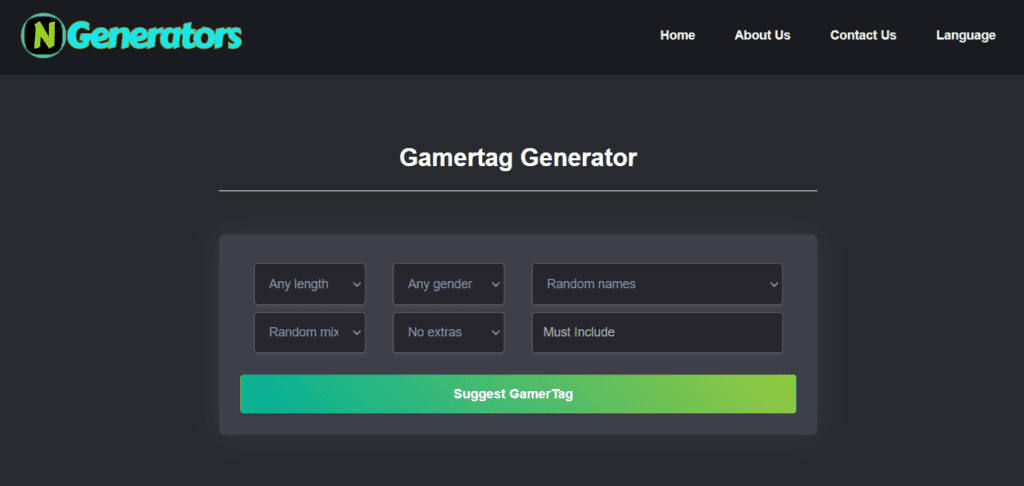 If you're looking for a generator to create a Twitch name based on a specific nationality, NGenerators should be your go-to website.
While you can quickly get a list of random names to use for your Twitch streams, NGenerators allows you to generate names from different countries. This includes:
English
German
Irish
Scottish
French
Spanish
Italian
Russian
So, if you want a particular sounding name from different countries, this is an excellent generator to use. Also, you can set your character limits and also include any keywords that are associated with your brand.
Pros
Ideal for creating Twitch names with different nationalities
Easy to use generator
Can set character limits
You can include keywords
Cons
Often creates the same names even after you regenerate the list
Cool Generator – Best for Ease of Use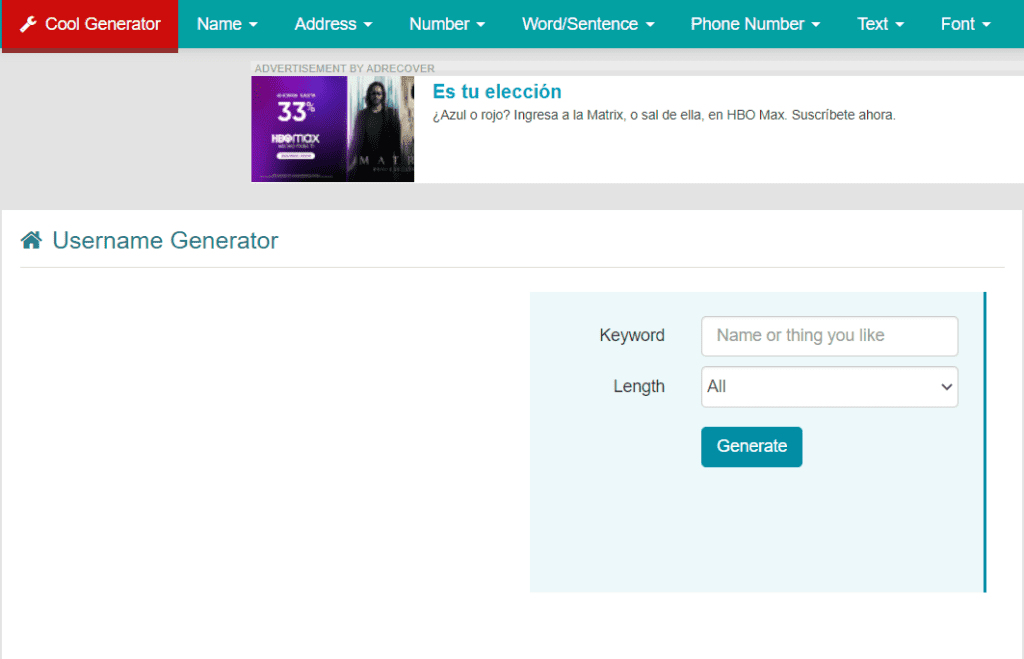 The final Twitch name generator on my list is Cool Generator.
I have included this generator because it is so easy to use. None of the generators on my list are challenging to operate; however, it is hard to go wrong with this one if you want a very simple and straightforward Twitch name generator.
You add in a keyword (if you want one associated with your streamer name) and the ideal length and hit 'Generate.' That is all there is to it, and you will have a good list of words you can scroll through to use for your Twitch account.
This generator doesn't have any advanced features like some other websites on my list, but it is ideal for quickly generating a new Twitch name.
Pros
Very easy to use Twitch name generator
Can generate names in a few seconds
You can add in keywords
Cons
Basic generator without much customization
Frequently Asked Questions
Question: How Important is my Twitch Name?
Answer: Very important. Your Twitch name is how people will find your content and remember to keep coming back. Think of your Twitch name as your own brand that requires careful thought.
Question: What is the Best Time to Stream on Twitch?
Answer: The best time to stream on Twitch depends on many different factors. This includes your audience and where the majority are based and also potentially avoiding the times the most popular streams are online. My guide to the best time to stream on Twitch will help..
Question: Should I use Numbers or Special Characters in my Twitch Name?
Answer: No. You should avoid using numbers or special characters in your Twitch name, as this can confuse people and make it harder for viewers to find your channel.
Question: How Often can I Change my Twitch Name?
Answer: You can only change your Twitch name every 60 days. So, you must choose a suitable Twitch name as changing it can take a while to process.
Question: Should I Use my Twitch Name on all my Social Accounts?
Answer: If possible. Using the same name or gamer tag on all your social media profiles, such as YouTube, Twitter, Facebook, and Reddit, allows you to build a brand and keep consistency across your online accounts.
My Verdict: What is the Best Twitch Name Generator?
I recommend choosing SpinXO to generate some excellent Twitch names as it is the best generator you can use.
SpinXO tailors the names to your hobbies, interests, and any keywords associated with your brand. This makes it the ideal platform to generate a Twitch name that is personalized to you, and it also makes it easy to create a name that people will remember and find your content.
You can generate as many names as you wish. They even have a handy availability checker that will let you know if the Twitch name is available on other social platforms such as YouTube, Twitter, and Reddit.
Continue reading:
The Best Time to Stream on Twitch: The Best Time of Day for a Livestream