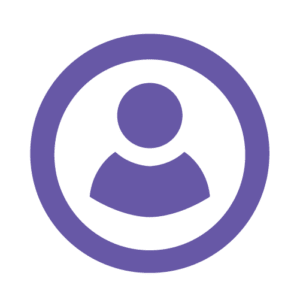 Latest posts by Streamer Startup Team
(see all)
If you're serious about content creation, this is one mic that can take your audio to the next level. Read our review of the Shure SM7B microphone and find out why it's highly rated by professionals all over the world.
Looking for a Professional Studio Microphone?
The original Shure SM7 was one of the best professional mics to hit the market.

Now, The Shure SM7B is making waves around the world for being one of the best mics that professionals turn to! With its pitch-perfect sound quality and robust construction, this mic delivers everything you need in a microphone.

The Shure SM7B is a microphone that has been used in studios all around the world for years. It's considered a "must-have device" by many industry veterans and newcomers alike, but what exactly makes this mic so attractive to sound experts?

That's just what we'll explore today in our review!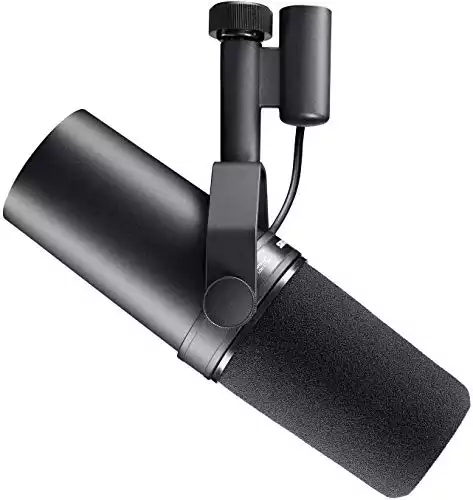 A Bit About The Brand

Before we dive into the thick of things, let's take some time to know a few important tidbits about the brand itself. Of course, we realize that Shure is a company that doesn't really need an introduction for those in the audio industry. Still, we feel it's best to touch upon a few basics.

The company started operations way back in 1925, specializing in selling radio parts and related equipment. Within five years, it transitioned into making in-house microphones. Model 55 was one of its first offerings.

Since then, Shure has garnered a reputation for being one of the most renowned audio equipment manufacturers across the globe. Its microphones have been used for many notable performances, including Michael Jackson's legendary "Thriller" track.

But that's enough about the brand. Now, it's time to get back into the game and learn more about the mic.
Shure SM7B Description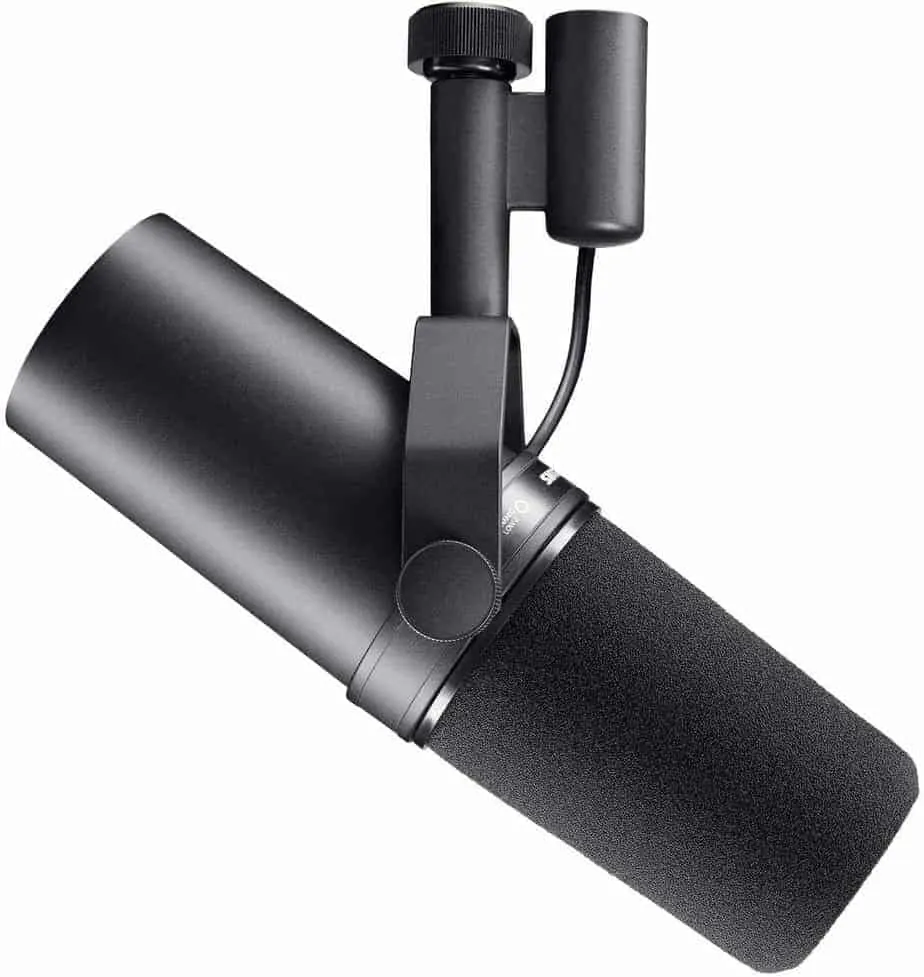 One look at the Shure SM7B, and you'll know that the primary agenda the company followed in its creation is attention to detail. Constructed using durable and premium materials, it boasts three different frequency responses that you can use, depending on your recording needs.

It also comes with a yoke-based mounting system that allows it to be swiftly attached to and detached from any mic stand of choice. Further, the adjustment mechanism of the yoke is exceptionally smooth and provides the right amount of resistance to keep the mic in place.

We also liked how the unit comes pre-fitted with a pop filter, which works nicely to eliminate fricatives and plosives. This allows you to record unencumbered, without needing to monitor your distance with the capsule continually.

In fact, the pre-fitted filter does such an excellent job that you won't need to invest in an external pop filter. What's more, the mic can be paired with the Shure A7WS detachable windscreen to create a more resonant bass.

Moving on to the internal hardware, we found many advancements that help to protect the different components of the device. For instance, it comes with its own air suspension shock apparatus, which prevents mechanical noises from intruding into recordings.

The mic also includes provisions to eliminate electronic hums, such as those produced by computer monitors. As regards the polar patterns, the mic uses the cardioid pattern. This can, however, be altered with the help of the bass roll-off and mid-range boost controls.
How Does The Shure SM7B Perform?
Now that we've taken a look at the primary features and build of the Shure SM7B, let's devote some time trying to decode its performance. And if you take our observations into account, we say that it provides a clean and crisp sound pickup.

We found it to be especially suitable for vocal recordings in a controlled studio environment, using the flat frequency response. It must be mentioned that it does tend to muddle up the presence boost and bass roll-off a bit.

However, if you're using the presence boost, mids and trebles are amplified slightly compared to the bass roll-off. Because of this, the sound comes out different from when using the flat response.

We've already mentioned that the pop-filter ensures you don't necessarily have to maintain a fixed distance from the capsule. However, the Shure SM7B has a distinct proximity effect, which means that lower frequencies are not picked up as easily when it is positioned off-axis.

Apart from the above, it requires a serious amount of gain to get even a nominal level signal. But since this is something you can expect from most dynamic mics, we're really not complaining.
A Close Look At The Sound Quality
We found the Shure SM7B to have a rich and neutral low-end that lends a natural characteristic. This makes it similar to a microphone with high-quality bass. Also, it doesn't exhibit any distortion that usually comes with consumer mics; just a balanced and clean bass.

This ensures that you don't have to compromise between sounding thin or boomy, as it eliminates the lower-end distortion entirely. Especially if you have a low-pitched voice, you can be sure that this is a mic you'll love to use.

Despite providing the above benefits, the Shure SM7B ensures that it doesn't compromise its frequency range. Even the midrange has a neutral shade, with a bit of coloration that is barely detectable.

However, the high-range is wonderful, and despite there being a noticeable dip in the frequency, the highs are warm and smooth. We reckon this is on account of the dynamic capsule, though the overall quality of the mic must also be taken into account.

That said, there are a few disadvantages of the mic being dynamic. For starters, the sound is not at par with that of condensers, and it doesn't have an extended response to the upper limit of the audible spectrum.

Nevertheless, its flat response goes up to 12KHz, which is more than enough for vocal recordings.

Another aspect that must be highlighted is that the transient response isn't anywhere comparable to that of condensers. This means it cannot capture as much detailed sound as a condenser microphone, which is a bit of a damper, but not a deal breaker.

Some even consider this as an advantage since the mic doesn't pick up on every ambient noise. Perhaps this is one of the reasons why it's so very popular, and far more comfortable to use than condenser mics.
The Shure SM7B Recording Patterns
In our previous discussion, you read brief mentions of the Shure SM7B recording patterns and frequency responses. In this and the next section, we're going to take a detailed look at the same and understand the technicalities behind its impeccable performance.

As you might have already picked up, this mic is a dynamic one, which uses a cardioid polar pattern. This means it's highly robust at picking up sounds and is not as sensitive to loud sounds as condenser mics.
In fact, this feature allows it to eliminate signal distortion and audio clippings from louder outputs.

However, it also means that you won't be able to use it for all kinds of recordings. It's best suited for inputs directly in front of the mic, and ignores off-axis sounds.

This makes the Shure SM7B ideal for vocal applications such as announcements, podcasting, and song recording. Also, the cardioid pattern doesn't require you to be highly precise when it comes to the placement, so you can focus less on logistics and more on performance.

Now, let's take a look at the multiple frequency responses that this mic uses.
Overview Of The Shure SM7B Frequency Responses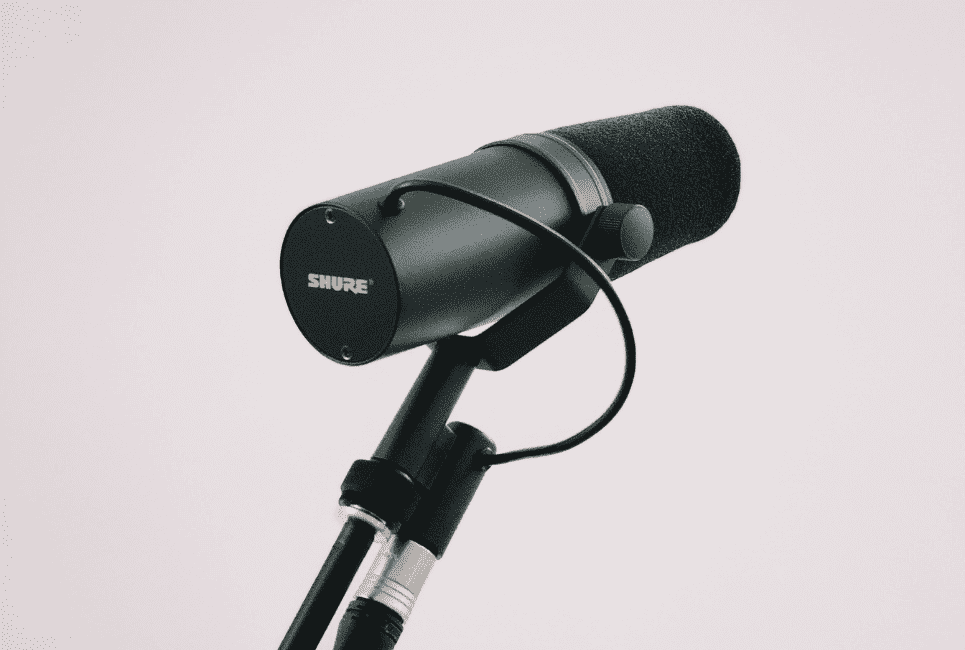 We've already mentioned that the Shure SM7B boasts of three frequency responses. These are Flat, Bass Rolloff, and Presence Boost. However, for those of you who aren't well acquainted with the physics of acoustics, here's a brief explanation of each.
1. Flat Mode
This is ideal for users looking for a natural audio output and can work well for vocals and instrumentals. The only problem you might face is the proximity effect, which will create lower-mid-range recording issues.
2. Bass Rolloff
Using this frequency mode is akin to attaching a high-pass filter on a digital audio interface. This mode lowers the low frequencies, which helps to quieten distortions and hums produced by electrical sources.
3. Presence Boost
Also known as Mid-range emphasis, this response mode is very much like the Bass Rolloff but introduces greater amplification to the mids and treble. This makes it perfect for recording string instruments with high pitch, such as guitars and violins.
Who Is The Shure SM7B Ideal For?
The best professionals who can use the Shure SM7B are vocalists recording in a controlled, studio environment. What's more; users can easily switch between the three frequency modes and get the exact effect they require.

In case you're a professional audio mixer, you also stand to benefit from using the high pass frequency response. This will allow you to minimize hums that might be generated from ambient equipment.

The final effect of this is less work in post-production, as you'd have already eliminated all that extraneous sound.

Podcasting is yet another profession that this device is well suited for. Due to its cardioid pickup pattern, the Shure SM7B has precise vocal and audio reproduction and highly effective off-axis rejection.

This means that even if you're not recording in a studio environment, you can eliminate a lot of the off-axis noise.
Shure SM7B Pros And Cons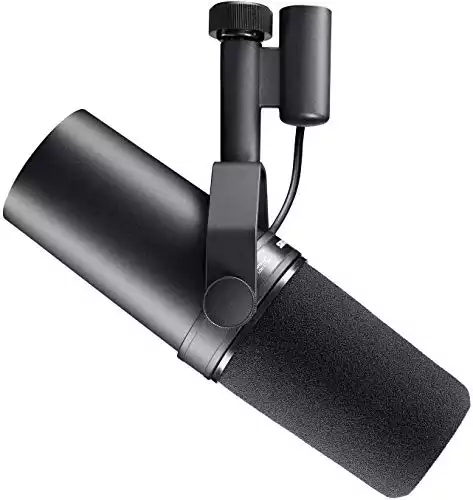 Since we've already covered pretty much everything that needed to be said about the Shure SM7B, there's not much left to discuss. However, in case you're looking for a final weigh-in of the good and not-so-good, here's an unbiased list of the pros and cons of this device.
Pros
Cons
+ Perfect for voice recording and streaming
+ Triple frequency responses
+ Eliminates mechanical noise
+ Built-in pop filter
– Not great for musical recordings
– Requires high amounts of gain
Should You Buy It?
The answer to this question depends largely on your recording requirements and setup. If you're a professional vocalist with a well-established recording studio, then it's highly unlikely that you'd find a better mic than the Shure SM7B.

Even if you don't have a professional studio setup, the Shure SM7B can deliver a decent performance with a bit of tinkering. That said, since this mic isn't built to pick up ambient noises that well, outdoor recordings or instrumentals might not deliver a great outcome.

Overall, if you're looking for a mic that's sure to serve you for long, this is the one to go with. And in spite of a few flaws, we're confident that you won't opt for any other dynamic mic after using it for a while.
Continue reading:
Tonor Microphone – TC-777 Review
5 Best Microphone Boom Arms for Gaming – Best Boom Arm for 2022
Best Walmart Gaming Desks – My Top 6 Picks to Enhance Your Gaming Experience