Latest posts by Streamer Startup Team
(see all)
A comparison between the two most popular XLR mixers, the GoXLR vs GoXLR Mini. Learn about their similarities and differences to decide which is best for you!
Stuck Trying to Figure out Which One Is Best Between the GoXLR vs GoXLR Mini?
The GoXLR vs GoXLR Mini are two very popular audio mixers for live streamers, podcasting, and content creators.

They have a lot of similarities, but also some key differences that you should know about before purchasing one or the other.

In this blog post, we'll talk about which features both mixers share as well as what sets them apart from each other.

We will also discuss how these features can affect your streaming experience so that you can make an informed decision on which mixer is best for you and your stream deck!
Comparing the Specifications – GoXLR vs GoXLR Mini
Preview
Best Overall
Best Budget
Best Overall
Preview
Best Budget
Preview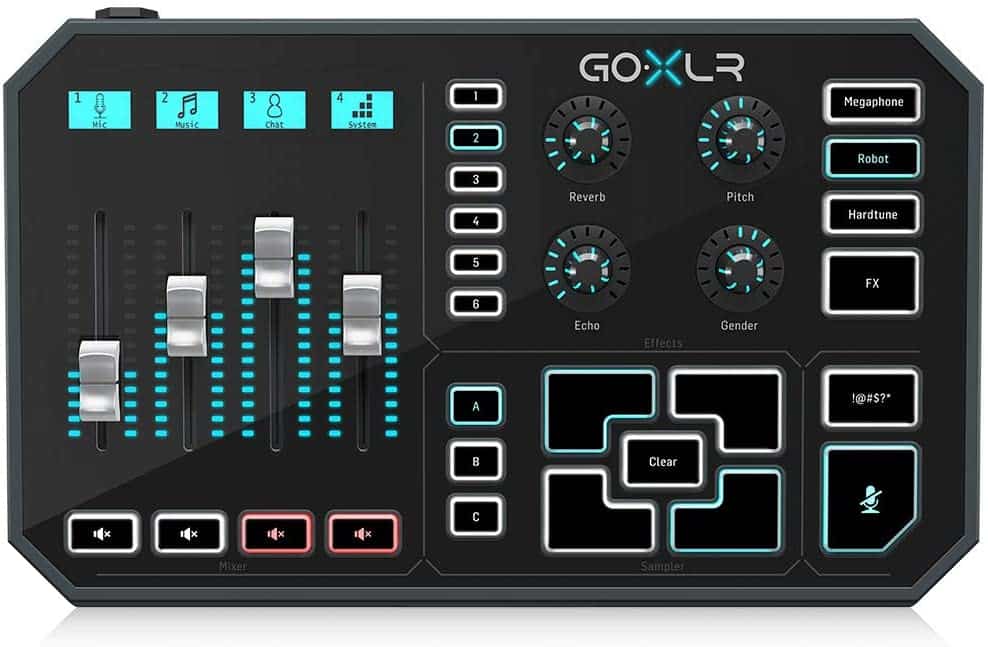 Specs
Multi-channel mixer: Motorized faders let you control mic, game, music, chat, and more for the perfect Broadcast mix
Studio quality MIDAS preamp: Make your XLR mic sound great with 48V phantom power, equalizer, compressor, limiter, de-esser, and Gate
Sampler: Record samples on-the-fly or load your own audio files to engage and entertain your community
Voice FX: Add reverb, echo, pitch shift, megaphone, Robot, and hard tune to your voice in real-time
GOXLR app: You're in control with basic and advanced audio parameters, sample import, and voice FX preset library
Most streamers and online broadcasters use multiple pieces of hardware and software to achieve a professional-sounding mix. This is can be both expensive and time-consuming.
The GoXLR combines the best features from all of your favorite audio gear into one sleek, intuitive package that will change the way you broadcast forever.
With the built-in sampler of the GoXLR, you can capture snippets of voice or other sounds, store them as clips then play it back again on command. You can mix your sound in real-time, change your voice, playback samples on the fly, and engage your viewers in a fun manner.
This USB audio interface has four motorized faders, which make it super easy to mute and control the sound of your mic, your music playlist, friends on Discord, and game sound.
The GoXLR includes a DSP or digital signal processor, which offers things like compression, EQ, noise gates, and de-essing for your microphone and channels. This is all set up in the app.
All this is packed into an elegant USB audio mixer that blends right in with other gaming peripherals while delivering studio-quality sound every time.
This also has 48v Phantom Power for those XLR microphones that need it.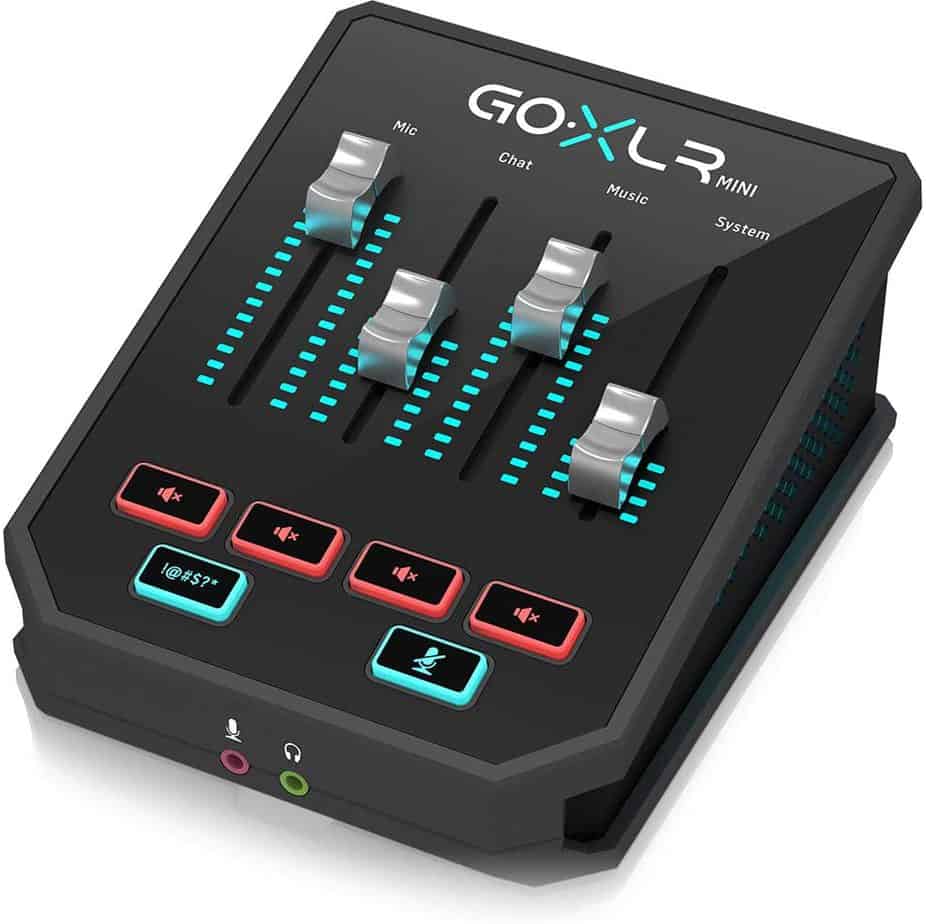 Specs
"Go live" desktop rig for online broadcasters gives you instant control over your audio
Flexible and intuitive USB-based mixing for all of your audio – simple, easy-to-use controls get you up and running quickly
Studio quality EQ, compression and gating help your voice sound its best
PC app lets you control and recall all of your favorite settings
3-Year warranty program – designed and engineered in Canada
Although the GoXLR Mini is smaller and less expensive, it lacks certain features.
The main elements absent are the voice effects panel and sampler. They essentially chopped the GoXLR in half, while keeping the most important features.
The GoXLR Mini features the same low noise pre-amps as its predecessor – they also provide 72dB of gain, but with a smaller footprint. For streamers and content creators, it is an attractive option because it doesn't require as much desk space.
The GoXLR Mini also has all the same features as a GoXLR such as noise gates, equalization, compression, and de-essing. These are set up through the app but they happen on the physical devices themselves which means no impact to your computer.
This means that the sound quality of your microphone through a GoXLR mixer or a GoXLR Mini is absolutely identical. They provide exactly the same excellent audio quality.
In regards to inputs and outputs, both the GoXLR and the GoXLR Mini have an XLR input for an XLR microphone.
They each have a 3.5-mm stereo line-in and stereo line-out, which are especially helpful when you're streaming with a two PC setup. Both come with USB ports for connecting them
The GoXLR Mini features an optical input for consoles, a 3.5-mm microphone jack, and a 3.5-mm headphone output that offers zero-latency monitoring.
Since the GoXLR Mini is much smaller than its predecessor, it allows it to be powered by a USB cable instead of being plugged in with a power cable.
The four faders on the GoXLR Mini are not motorized. So, if you mute your Discord chat, that fader will no longer jump down to the bottom.
Instead, the LED lights on the fader and a mute switch at the bottom indicate a change has been made.
The new GoXLR Mini model now features a more minimalistic design, foregoing the extra LED displays from the original unit. You can still customize what each channel controls in the software but it won't display it on the unit.
What Are the Similarities Between the GoXLR vs GoXLR Mini?
Both mixers have the same following features:
Both the GoXLR and GoXLR Mini have the same inputs and outputs.
They both provide +48v Phantom Power for XLR microphones.
The XLR input gives off 72dB of gain.
Audio processing: Noise Gate and Compressor of the GoXLR and GoXLR Mini are Identical
The number of Faders on both mixers are the same (four)
Able to customize the fader options on both devices
They both have multiple mute modes such as a cough button and a mute button to filter out unwanted noise.
What Are the Differences Between the GoXLR vs GoXLR Mini?
The headphones jack and the microphone jack are located on the front of the GoXLR Mini instead of on the back like the GoXLR
Audio processing: Equalization (10-band Studio Quality EQ for GoXLR and 6-band EQ for GoXLR Mini).
GoXLR has motorized fader options and the Go XLR Mini does not.
The major difference is the size of the GoXLR since it includes a sample pad and vocal effects panel while the Go XLR Mini does not. This allows you to toggle any voice effect you desire.
TC-Helicon Vocal Effects Processor (GOXLR) | Amazon
GoXLR is an all-in-one audio solution for streamers and online broadcasters. What would take dozens of pieces of hardware and software can now be achieved in one sleek and intuitive package. Mix your audio in real-time, change your voice, playback samples on-the-fly, and engage your audience like never before.
Buy at Amazon.com
We earn a commission if you make a purchase, at no additional cost to you.
07/07/2022 12:05 am GMT
Final Words
The GoXLR vs GoXLR Mini are both excellent audio mixers and are likely the best USB audio interfaces you can get on the market for streamers.
If you want something simple that improves your audio and stream quality, I think you'll be very happy with either one of these audio mixers.
That being said, my advice for new streamers would be to start off with the GoXLR Mini and then buy the GoXLR later on if they feel they need it.
Continue reading: