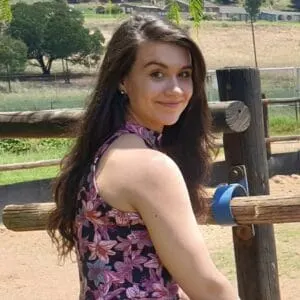 Latest posts by Christine Kent
(see all)
As somebody who occasionally enjoys gaming with my husband, I suffer from horrible sore necks, weary shoulders, and the lack of desk space from basic study tables.
I absolutely hate it when I'm so invested in the game and my sore neck kicks in because of the monitor placement. I want my desk to be spacious, where I can at least navigate my things or clear my head to focus on my game or work.
But I didn't want to buy a conventional-looking gaming desk; I mean, who wants something basic in an aesthetic room, right ladies? And like any other girl, I wanted a desk that could at least fit my aesthetic while giving me the solutions to my problems. And so, I've scoured through the internet to find the perfect pink gaming desk money could buy.
And if we are on the same boat, how about we take a look at the list of pink gaming desk ideas I found?
Bottom Line Up Front
Do you love everything pink, and having a pink gaming desk has always been your dream? Well, in this guide, I will provide you with the best gaming desk ideas so that you can turn your dreams into a reality. My favorite pink gaming desk in this guide is the Seven Warrior Gaming Desk with LED strips and power outlets
not only will this gaming desk save you space, but it will also ensure that you game in comfort. And the best part is that it comes with LED lights to set the gaming mood and contribute to the aesthetic. This pink gaming desk will take you from underdog to superstar.
But before we dive into the pink gaming desk ideas, let us first have a look at things to consider before buying your pink gaming desk:
The Shape and Size
Will the shape and size of the gaming desk work in your gaming room or your apartment? Do you need to save some space and maybe need to consider an L-shaped desk?
The Price
What is the price range you are looking at? Do you have a budget?
Adjustability
Let's be honest here, guys and girls, you don't want to spend hours and hours in the same position because this can lead to health issues in the long term. If you have an adjustable desk where you can adjust its height, you can move around comfortably without doing any harm to your body.
Material
When choosing a gaming desk, the material plays an important role because this is what is going to make it durable and contribute to the aesthetic as well. So what is your preference, wood, glass, etc.?
Benefits of a Gaming Desk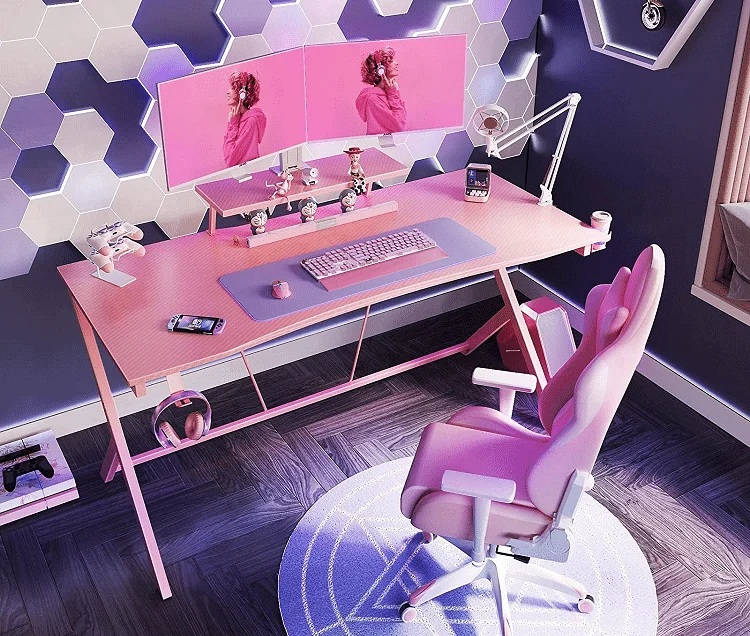 It provides you with a lot of space and storage options

It is stylish and makes any room look aesthetically pleasing

It makes gaming comfortable and enjoyable
Cool Gaming Desk Accessories You Need
Cable management system:

No one likes tangled wires, and with a cable management system, you no longer have to worry about your cables looking untidy because it will keep them organized.

LED lighting:

This just enhances your gaming experience and makes your gaming room look even more aesthetically pleasing.

USB port:

Now you can charge your phone while you are gaming away and also use it for other gaming equipment. And the best part is that it is so easy to set up.

Cup holder:

If you are clumsy like me, you can't afford to spill your favorite drink on your gaming setup, and this is where cup holders come in handy.

Headset holders:

Keeping your headset on the desk might look a bit untidy; that is why having a headset holder is a great accessory to have.
DESIGNA Pink Gaming Desk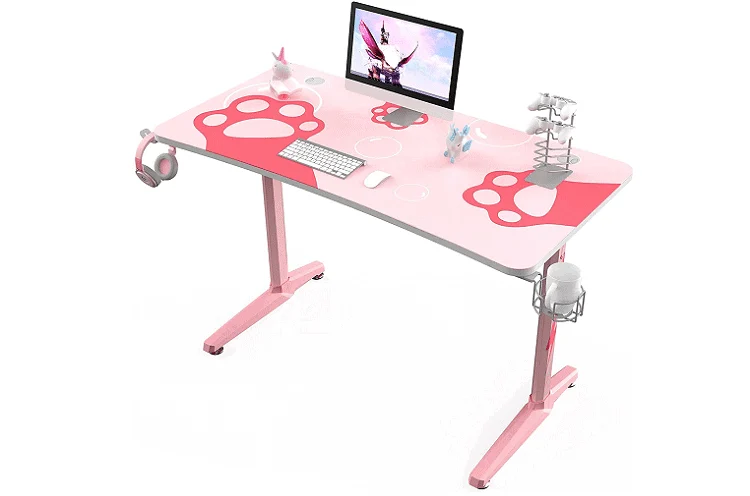 This desk will surely fit your standards if you are up for a minimalist look. It is designed to have an elegant and minimalist look with excellent durability in mind.
And speaking of the minimalist look, it is made with a cable management armor system underneath the desk that would help keep those annoying wires out of the way and keep your computer setup looking neat and organized.
It also comes with a power socket holding and two cable grommets that help with the wires underneath.
Let us have a look at the pros and cons of this pink gaming desk:
Pros
It comes with a cup holder.
Quite convenient if you ask me since I don't like putting my cups on my desk. I don't want to risk putting a cup of water near my computer. I'm pretty clumsy, and I really don't want to end up with a wet and damaged PC.
It also has a headphone holder.
I don't want to keep putting my headphones on the desk since it looks untidy, and we don't want that messy look on our beautiful computer setup now, do we? You can easily place your headphone on the holder, and voila, an easy way to keep your desk tidy.
It is effortless to install
Cons
The surface of the desk has a soft mat layer.
This is something I don't like on a desk. It's inconvenient if you're a student since it's really not suitable for writing unless you have a clipboard or something hard and smooth underneath your paper, then it's good to go. Also, you can't remove the mat cover as it diminishes the desk's durability.
MOTPK Gaming Desk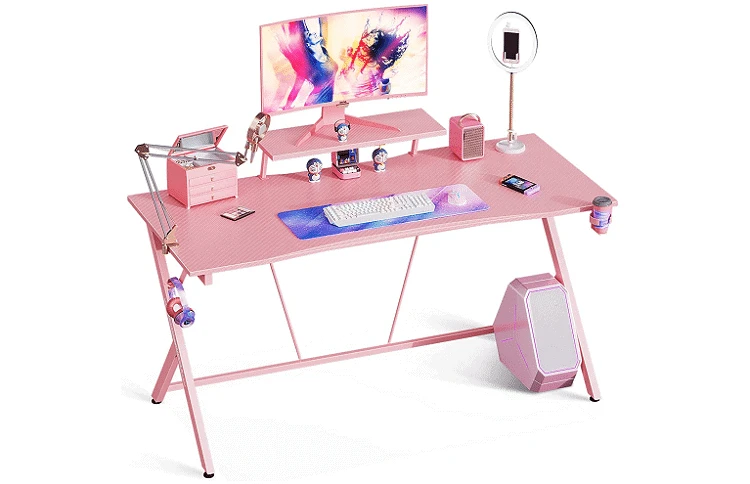 This desk is one of my favorites. The design is sleek, and its R-shaped steel frames provide better stability and could easily hold up to 330 lbs. It has adjustable legs and metal bars that make it even sturdier when placed on uneven carpets or uneven floors. Like the Designa Gaming computer desk, this also comes with a cup holder and a headphone holder.
This gaming desk is also painted in carbon fiber, making it durable. The carbon fiber material also protects the surface from anything. Research shows that carbon fiber materials can handle more pressure than any other cheap alternatives. It also makes the desk waterproof and heatproof. And this is definitely something you need as a gamer.
The desk's surface is smooth and is suitable for students who do gaming while studying. It is spacious, and you get plenty of room to move things around. It also offers excellent ergonomics.
The cup holder is movable on either side. If your dominant hand is your left, you can move it to the left, and if it is right, you can have it on your right. Very convenient if you ask me.
Let's looks at some pros and cons of this gaming desk:
Pros
The desk has a sturdy monitor stand

The desk is available in different sizes, but I do recommend getting the biggest size for you to have more space.
Cons
The only con is that this desk does not have a cable management system, grommets, or a power socket to keep your wires nice and tidy underneath the desk.
Charavector Pink Ergonomic Gaming Electric Standing Desk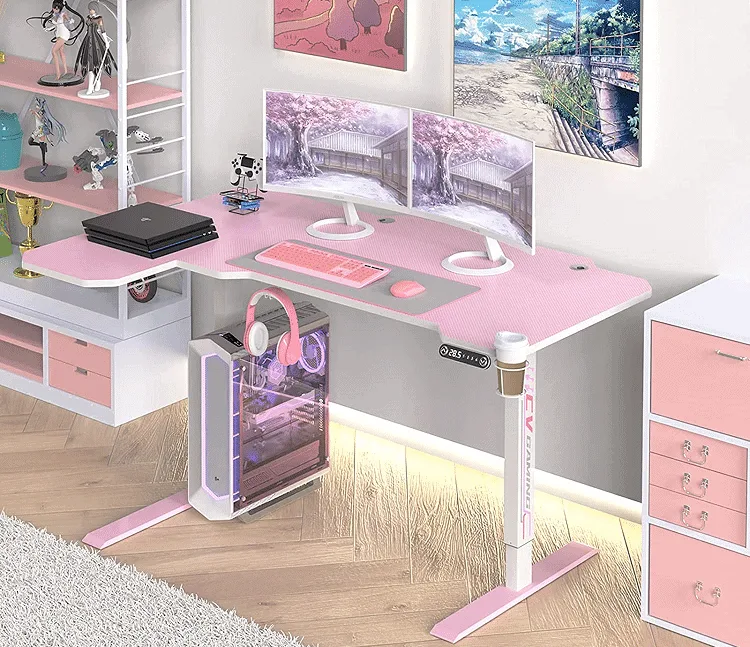 Small apartment? Small room? Why don't we utilize the corners of your room? This gaming desk is perfect for those who have limited space in their apartments.
Are you the short kind of gal? No problem, this desk is a perfect fit for you as this desk is equipped with an electric lifting system that is customizable in height.
Let's get to the pros and cons of this gaming desk:
Pros
It is made of durable material

It is comfortable

It has its own cupholder so that your iced coffees have their own space

It has cable grommets so that you can keep your wires organized and tidy

The desk is wide enough for you to move your things around with ease
Cons
The headset holder is on top of the desk, which makes it look a bit untidy.
Tangkula Pink Gaming Desk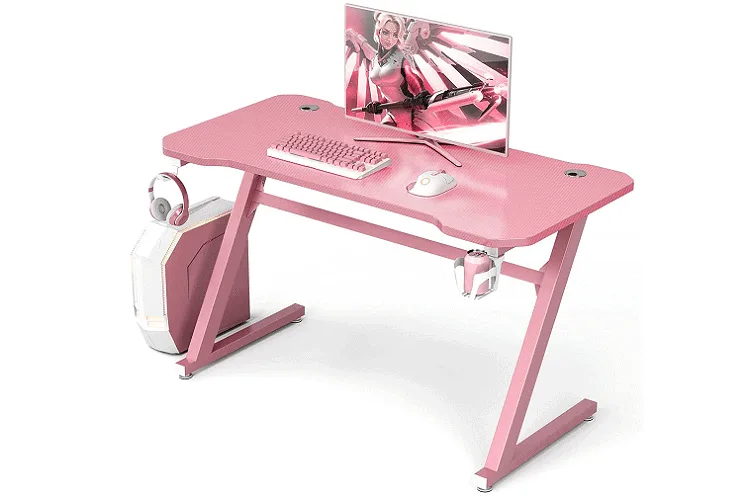 Are you in need of another spacious desk? Tangkula Pink Gaming Desk offers 47"×23.5"×27.5"(L x W x H). Pretty big for a desk, right?
I know I've been repeating this, but I really love a neat and organized gaming setup. That's why desks with cable management systems are such a big plus for me. This desk has two cable grommets that can help you hide your untidy wires underneath the desk. We don't want those wires to tangle themselves up and show it to the world, right?
And while we don't like untidy setups, we also don't like unsturdy desks. Tangkula Pink Gaming Desk has been built with Z-shaped frames made of high-strength metals, making it durable and steady enough to carry a weight of 330 lbs. This desk is also equipped with four adjustable footpads if you have the floor or carpet that is uneven.
Let's hop right to the pros and cons of this pink gaming desk:
Pros
It has a headphone holder and cup holder

It has an ergonomic build, which makes it perfect for working, studying, and gaming.

It is easy to clean

The assembly is straightforward
Cons
It does not have a power socket holding.
Seven Warrior Gaming Desk with LED Strips and Power Outlets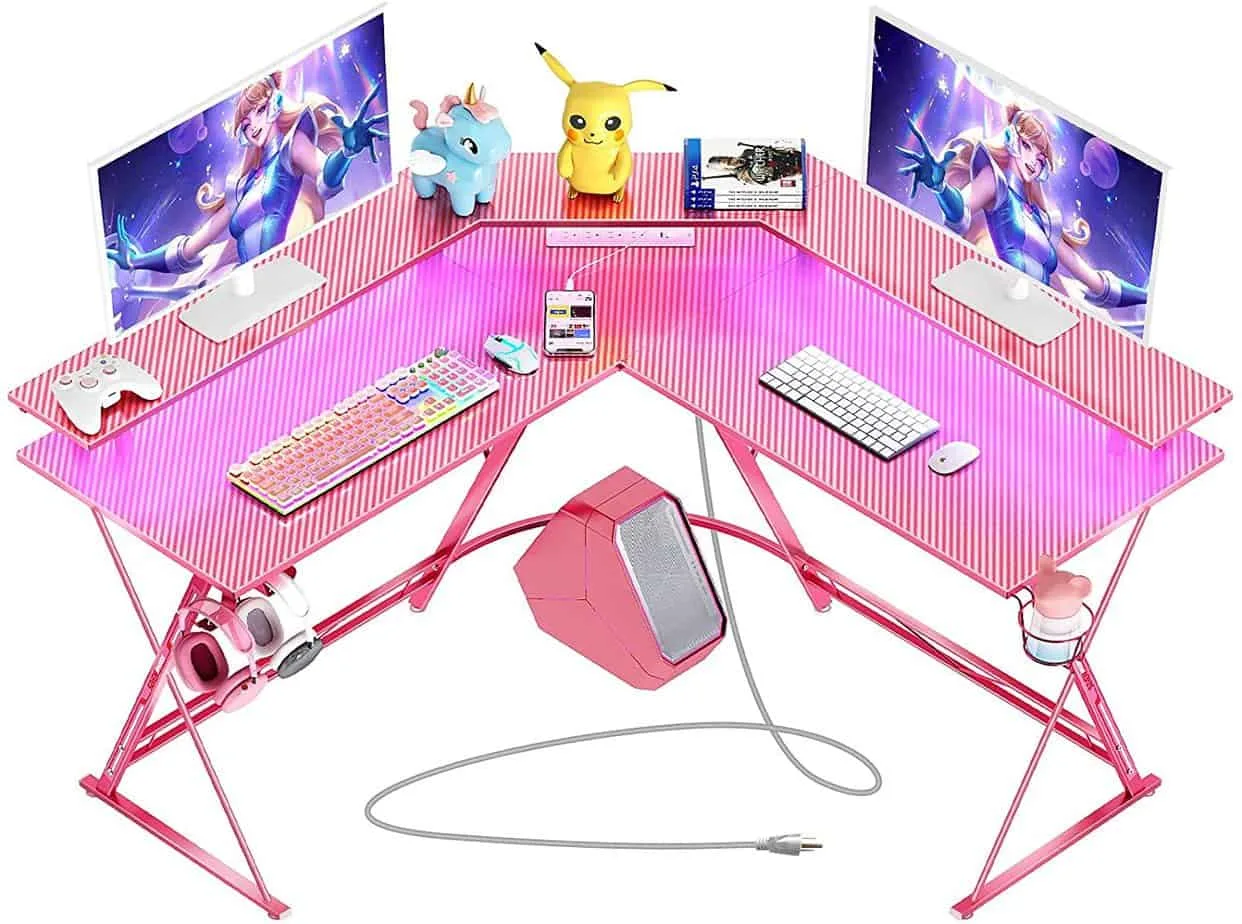 This is my favorite pink gaming desk on the list. This pink gaming desk is an L-shaped desk that could easily fit snugly on the corner of my room while giving me the satisfaction of having a bigger desk space.
It is also equipped with a full monitor stand to help clear up the space for your gaming equipment and other things.
Now, this baby includes power sockets with four outlets, and you could quickly charge up your smartphone and tablet with an additional 2 USB ports built with it. And like the gaming desks I've mentioned, it's also built with a cup holder and a headset holder, which can be moveable to whichever side you are comfortable with. If this isn't convenient, tell me what it is?
Now the reason why this is my absolute favorite desk will blow your mind. This desk comes with an LED strip that can be controlled via 44 keys, remote control, and controller box. So you know you are feeling in the gaming mood when these LED lights are on.
Let's get to the pros and cons:
Pros
The assembly of the desk is pretty straightforward

The desk comes with so many cool features and accessories

It is easy to clean

It saves space
Cons
The LED lights do not come pre-installed, so you will need to install them.
My Opinion
I love the last gaming desk mentioned as it fits my taste and what I need. But honestly, these gaming desks offer a lot of things. And our tastes and the things we require in a gaming desk differ. If you prefer to save space in your apartment or bedroom, the L-shaped gaming desk will best suit you.
If you like the elegant and minimalist style, the Designa Gaming Desk could be suitable for you. If you want convenience, you'd probably like the gaming desks with built-in power sockets.
Frequently Asked Questions
Question: Is it Worth it to Buy a Gaming Desk?
Answer: Yes. Absolutely yes! I've always felt there was no need to buy such an expensive table. But realizing the many benefits a gaming desk could provide, such as the comforts in gaming, working, or just even studying, the space, and not to mention the power outlets or power sockets that come with the table, plus a free cup, and headphone holder. That's why I have decided to acquire one. Isn't it great?
Question: What Kind of Gaming Desk Should I Get?
Answer: Honestly speaking, it depends on what you personally need. I bought a large gaming desk simply because I needed the desk space for my work, hobbies, and gaming. The usual study tables didn't suit my needs because first, they don't fit my aesthetic, and second, they lack desk space. So if you require a lot of desk space, or if you want the aesthetic gamer girl vibe, you can buy a gaming desk.
Question: What's a Good Size Gaming Desk?
Answer: Well, according to google, a good-sized gaming desk is 60 width x 30 depth x 30 height. But honesty, it truly depends on what you really need. If you have two monitors or a big monitor, you probably need a bigger gaming desk.
Conclusion
In conclusion, gaming desks are designed for the convenience of users. The color and its uses vary. Some give you the convenience of adjusting the height of the table to a suitable size you prefer. Some save space for your tiny apartment or bedroom. Some save you the time to get up from your chair to find a charger with a built-in power socket.
Others are just to satisfy your needs of having your gaming set up complete with an aesthetic gaming desk. What is the reason you want a pink gaming desk? Let us know in the comments below. Happy gaming!
Continue reading:
Pink Gaming Chair Ideas – Brighten up Your Gaming Room with These Top Picks
Pink Gaming Setup Ideas For Aesthetically Pleasing Gaming Stations
Kawaii Gaming Setup Ideas – How to Create a Cute Gaming Room