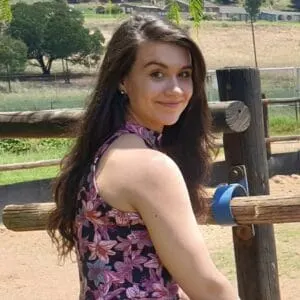 Latest posts by Christine Kent
(see all)
Gaming as a couple has become a new form of bonding and spending time together in recent times, amplified with the onset of Covid-19. Gaming allows us to escape the harsh reality of what is happening but also bonds us together in a virtual and physical sense.
Being confined to our homes and having more free time has forced us to think outside the box and come up with new ideas on how to fill our days and spend these empty hours with our loved ones. Now, if you are like me and have a partner and some fur babies, this involves not only coming up with ideas for my partner and me but also involves keeping the fur babies occupied so that we can have endless hours of fun.
Keeping a balance is, however, crucial, as we as a couple enjoy our gaming time immensely. So today, I want to share with you some ideas for your couple's gaming setup. This will include themes of rooms, gaming accessories, and some alternatives to spice up your gaming room. So fasten your seatbelts because this is going to be a long ride.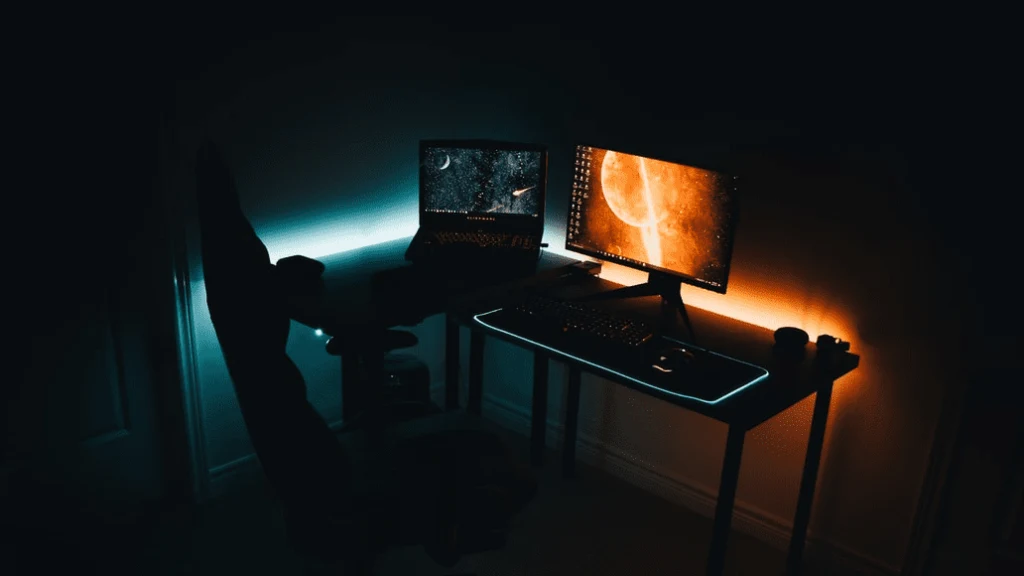 Bottom Line Up Front
Make gaming even more fun and transform your gaming setup fantasy into a reality with your partner. My personal favorite couple's gaming room idea is the family game room. Enjoy hours of fun with your partner while spending quality time with your family. Whether this is with your fur babies, your kids, your family, or friends.
My favorite product of the gaming setup ideas is definitely the footrest that comes under our gaming desks. Because this allows me and my partner to enjoy hours of gaming without any aches or pains.
Where do you as a Couple Start?
Before deciding on what setup would suit you best, you and your partner need to first determine what your needs will be. Communication and compromise are key. The gaming room has to practically work and also, as far as possible, meet everyone's expectations. Some considerations before you start with the ultimate setup are:
What Room in the House will be Ideal?
Looking for an unused space is challenging at the best of times. So make sure that the space you choose will allow you and your partner to use it as a couple or as individuals. If you have a family, their wishes should be considered as well.
Does the Chosen Space Provide all the Necessary?
The ideal gaming setup should not only work for you as a couple but has to work in the space. So here are some things you need to consider when setting up your couple's gaming setup.
Power outlets:

Gaming requires power. Electrical outlets should be ample and well-spaced in the room.

Desks:

How will the desks be positioned? Space can be an issue as side-by-side gaming desks require the room to be more rectangular in shape. Alternative options are back-facing desks or even L-shaped desks.

Noise:

Gaming can be noisy. Soundproofing, although expensive at times, can solve this challenge. There are some practical tips available to address this and even make it a fun family DIY project.

Lighting:

Some gamers like to game in the dark, whereas others prefer some background ambient lighting. You guys should make this decision according to your needs keeping in mind that power outlets can again be a challenge. A possible solution to this problem is power switches.

Personal space:

As much as we enjoy gaming as a couple and a family, personal space can sometimes be an issue. Make sure you keep this in mind to ensure everyone feels comfortable playing and spending time in the gaming room and everyone has enough space to meet their requirements.

Different types of games:

The type of games the gaming room is intended for is an important factor in choosing the appropriate space. If the game room is primarily for virtual gaming purposes, space becomes less of an obstacle. But, if the room will also be utilized for the more traditional pastimes such as board games, puzzles, and maybe even an arcade game or a foosball table, you can quickly run out of space. The above factors are only a few, and the order of importance will very much depend on what you want your dream gaming setup to look like and include.
How Will the Space Look?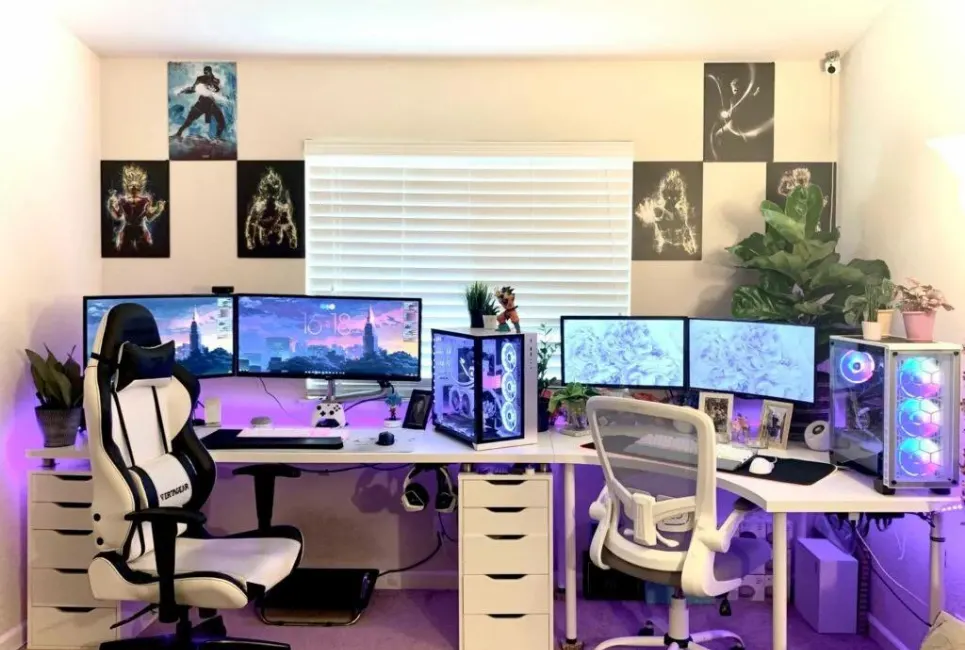 Couples' gaming is a team sport, there for all the team members' views should be considered on the general appearance and look of the room. One of the main considerations for my husband and me was comfort. We wanted to not only feel comfortable in the room but attempt to create a space where we could relax and enjoy gaming and spend time together.
Additional aesthetic elements you and your partner need to consider include:
The theme of the room

Lighting required

The general layout

All the different gaming options you would like to include

Storage and seating
Your list will very much depend on what your requirements are, and it is advisable to start with a wish list keeping space and other practical considerations, such as budget, in mind.
What Else do we Need in and Close to the Room?
Gaming can go on for hours, and as such, all the necessary comforts such as a seating area to relax – think bean bags – come into play. Refreshments can also come in very handy, so if the space allows, consider a refrigerator and snack bar.
Can I Afford to Set up the Room?
Gaming can become an expensive hobby, and budget constraints could have a negative impact. Be realistic about what you can afford and work within your means: shop around and look out for promotions or special deals. In time your ultimate couple gaming setup will become a reality.
Let us have a look at some couples' gaming setup room ideas.
Couples Gaming Setup Room Ideas
Once you have a clear idea of where the room is going to be, what you already have to include in the room, and what you still need, we get to my personal favorite part; what exactly will the room look like. Here are a few of my favorite suggestions and options for you to consider when designing your ultimate couple gaming setup:
The Modern Game Room
Think clean lines, little to no clutter with ample storage, all the necessary gadgets to take your couples gaming to a whole other level. The industrial look jumps to mind with lots of bright colors but very little out in the open. Everything can slide in and out and be hidden from view when not in use.
Gaming and Exercise Setup
As mentioned before, gaming can go on for hours, and recently more people have started combining gaming and exercise, especially after the various lockdowns we all have lived through. Maybe think of adding a ping-pong table that will ensure hours of fun. Having a small space in the room for an exercise bike or a yoga mat to unwind and relax can elevate your gaming setup to new heights that are not only good for the body but also for the mind.
Work From Home and Gaming in One Space
This could be a challenge for even the most imaginative and creative of us, but it is far from impossible. L-shaped desks make this a feasible option to clearly define each space for its specific intended purpose. I guess the only obstacle here might be if your partner wants to work and you want to escape to the virtual world of gaming.
Earphones for the gamer or a sound-eliminating headset for the worker bee could resolve this problem quite easily. Couples' gaming is a team sport, and all the members of the team should have an equal say in how and when the space is utilized.
Themed Game Room
The options are endless. From a retro eighties game room to a clearly defined his and her space you can customize to your hearts' content and ensure that both your identities are brought to life.
Artwork and lighting play an important role here as this can enhance the overall theme of the room and communicate exactly what your vision was to start with.
Retro Movie Theatre Gaming Room
You can add to your gaming setup an area that can be used as a movie theatre. Most gaming rooms already have almost everything needed to create a unique movie experience. Adding a retractable screen that can be stored away when not in use can introduce another element of together time. Also, consider, if space allows, a couple of comfortable cinema-style chairs or couches to enhance the movie/gaming experience even more.
Family Game Room
Now for my and my partner's needs, and of course the rest of the family, the only way to go would be the family gaming room. Here everyone has a space to make their gaming dreams come true.
A clearly defined area if you have little ones with ample storage for games and puzzles makes cleaning up an easy job. Ensuring that there are no exposed cables or obvious dangers that can lead to accidents is very important. This ultimate gaming setup caters to all ages, from a designated play area filled with building blocks and toy cars to a puzzle corner for the older ones that can easily be converted into a board game area. You can even add a climbing wall where your kids can play safely, whatever the weather.
As a couple, we enjoy being active, and an exercise corner with a stationary bike, a yoga mat, and some light dumbbells for weight training is high on the list of our priorities. The aim of this particular gaming room is gaming for not only an individual or a couple but for the whole family to spend time together and enjoy game nights.
Now that we have looked at different themes for couples' gaming rooms, I want to share with you some product recommendations that are a must to include in your couple's gaming setup. Here we go:
Okay, gamer couples, I'm sure you are very excited to see the couples gaming setup ideas that I have in store for you, so let's get started!
Gaming Chair
So, you might think that you don't need a gamer chair and that any other chair will be suited for you and your partner's gaming needs, and that is where you are wrong. Having a gamer chair will not only be comfier, but it will increase your gaming experience. So let us have a look at some great gaming chairs: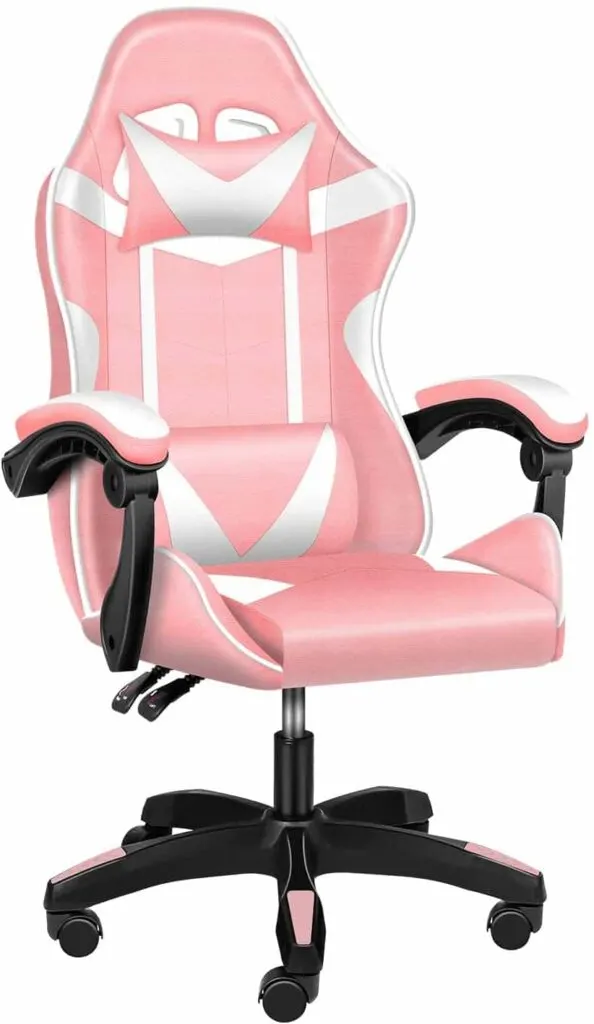 Ladies first! Okay, ladies, here is a super cute pink gaming chair so that you can match your bae in style. This gaming chair is made to be comfortable by its headrest and lumbar cushions, padded seats, and adjustability.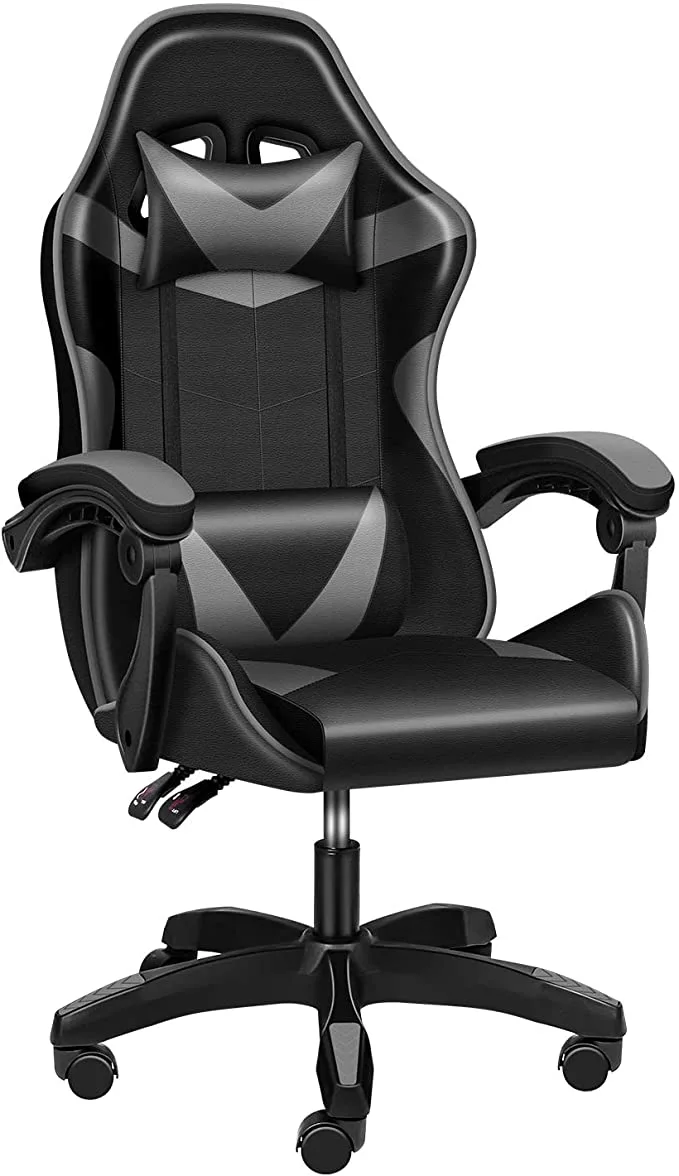 Don't worry, guys; it is not only the girls that get a stylish gamer chair recommendation; you do too. The only difference is the color of the gaming chair. Now you can game in style with your matching chairs and take your gaming experience to the next level as a couple.
Because these are the exact same gaming chairs, just different colors, let us have a look at some pros and cons of these gaming chairs:
Pros
It has an ergonomic design

It is stylish

It has adjustable features

Great quality
Cons
Not suited for very tall people
Gaming Desk
Apart from your gaming chair, what else do you need for your gaming set up as a couple? That's right, a desk!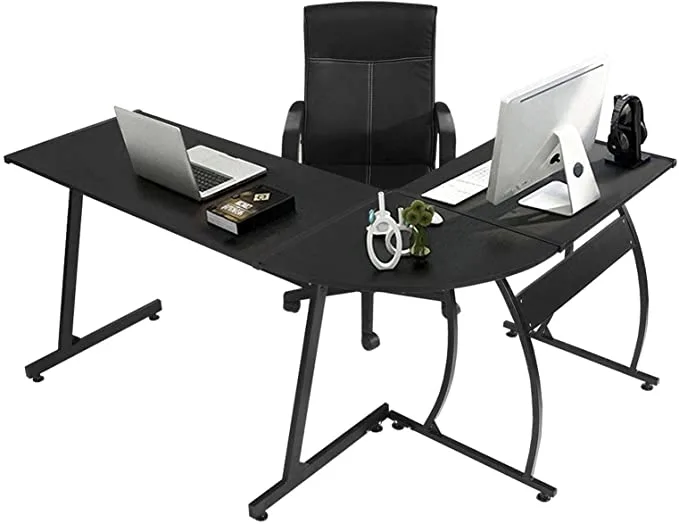 No need to buy 2 separate gaming desks for you and your partner. This L-shape desk will do the job. It has enough space to support both you and your partner's monitors and keyboards, and other accessories. Let us have a look at the pros and cons of this desk.
Pros
Because it is L-shaped, it can free up some space if you put it in the corner of a room.

It is spacious

It is stable and solid and can hold both partners gaming equipment

It is easy to clean.
Cons
You will need someone to help you with the assembly of this desk.
Keyboard and Mouse
Next, you will need a keyboard and mouse for your couple's gaming setup.
Girls, you are up first.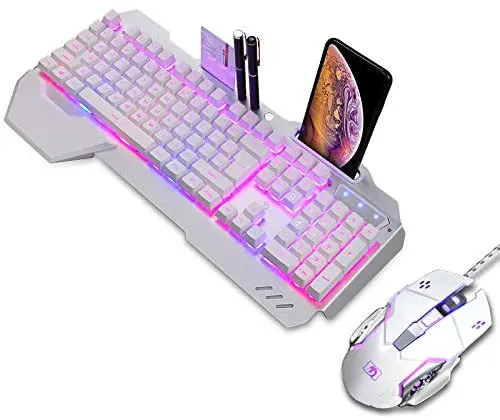 We want our setup to be aesthetically pleasing and all cutesy when it comes to our gaming setup, right ladies? And that is precisely what this gaming keyboard and mouse is all about.
Here is something exciting about this gaming keyboard mouse set. It has a stand for your pens and phone. So no need to worry about bae complaining about you taking up too much space with your accessories. Let us have a look at the pros and cons of this set.
Pros
It has a phone and pen stand

Backlight keyboard '

Backlight mouse

You can adjust the height of the keyboard

Stable design

Aesthetically pleasing

It is beautiful
Cons
Some say it has a cheap feel to it.
Now a gaming keyboard and mouse for the guys.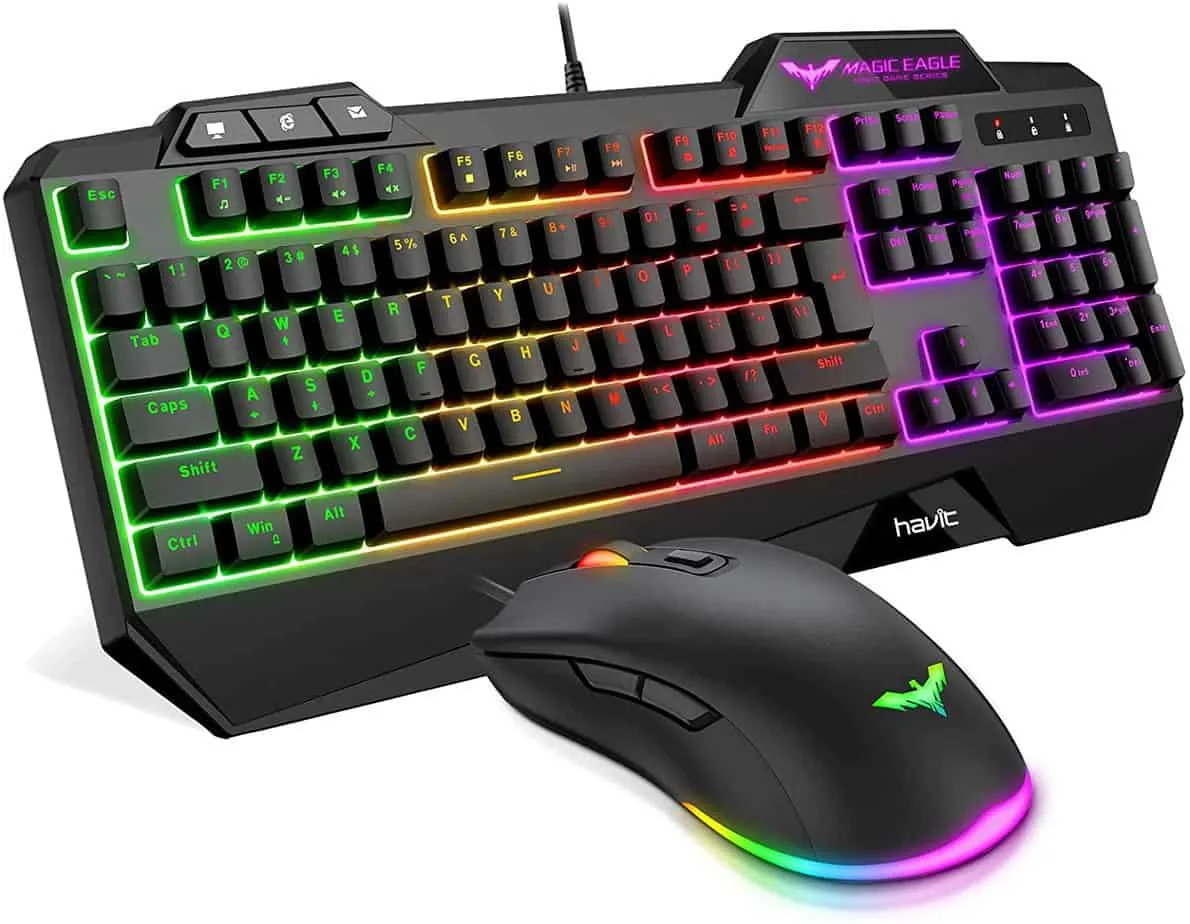 This rainbow gaming keyboard and mouse has a way to make you feel relaxed and get you in a gaming mood. The gaming keyboard has a wrist rest which allows hours of gaming in comfort without experiencing any discomfort.
Let us have a look at the pros and cons of this set.
Pros
Backlit gaming keyboard and RGB mouse

Ergonomic design

It has multi-functional keys and anti-ghost keys

It is aesthetically pleasing

It is affordable

Excellent quality

It has a sturdy built

The mouse has a comfortable feel
Cons
Keys can sometimes be uncomfortable when you are playing fast-paced games

Not very easy to clean
Controller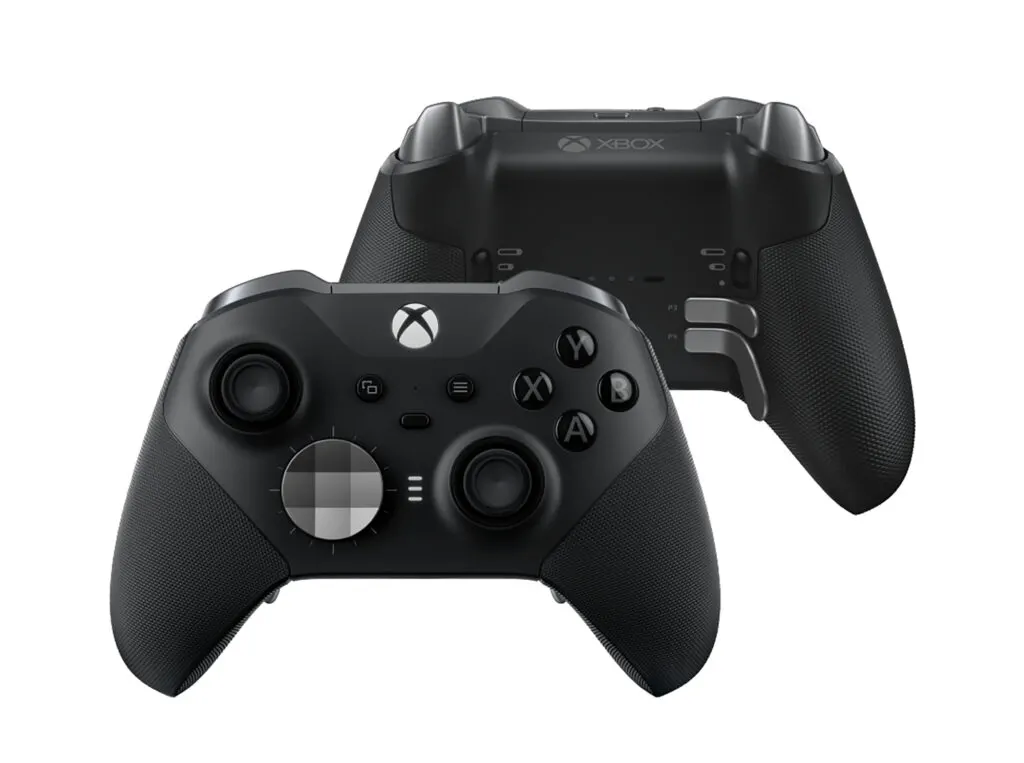 If you are a competitive gaming couple, this controller is for you. Now you and your bae can take on the pros with confidence. And what makes this game controller even more worth it is customization. You will never want any other controller again. Let us look at some pros and cons of this bad boy.
Pros
It has a lot of customizable options

It is rechargeable and comes with its own charging dock

Comes in a nice storage case

Adjustment thumbstick tool

Comes with extra accessories
Cons
It is pricey

It has a heavy feel
Headset
When looking for a headset, you want something that is of great quality, is adjustable, and also noise-canceling so that if your dog barks at himself, it won't distract you from your game. Let's have a look at a gaming headset that will be perfect for your couple's gaming setup.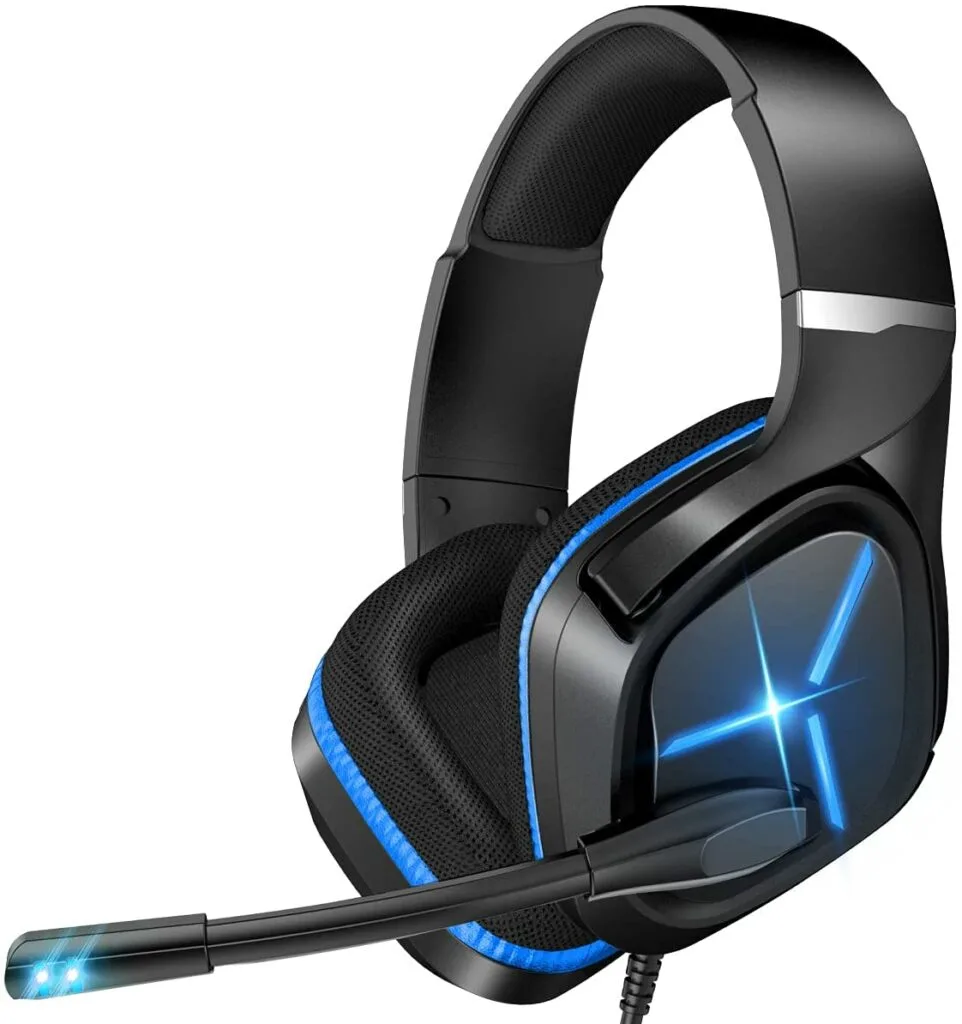 With these gaming headphones, you will be able to hear your enemies in stereo. Its headband is comfortable and retractable. It is also lightweight, so it won't feel as if it is weighing you down. The headphones also have a flexible cable which allows for comfortable gaming.
Don't worry, girls, I have not forgotten about you. Here is a pink version of this gaming headset so that you can match your bae in style.
Let us have a look at some pros and cons of these gaming headphones.
Pros
It is comfortable

It is made of great quality

It is noise canceling

Excellent surround sound

It has a flexible cable

It has a LED light

It is lightweight
Cons
For some, it might be a bit pricey.
Gaming Desktop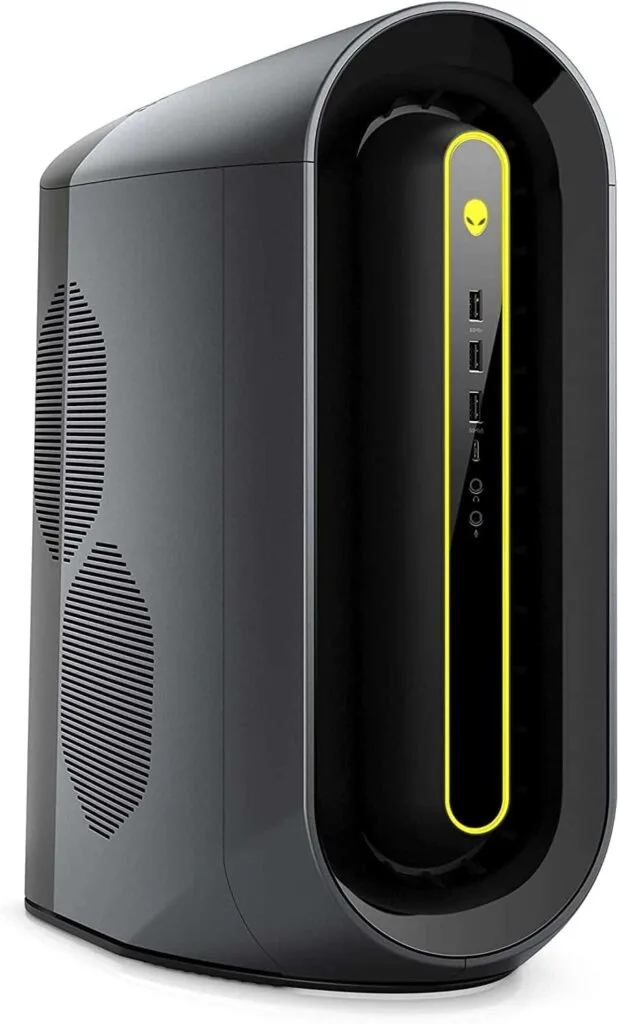 The quality of your gaming desktop will make or break your gaming experience. That is why today, I want to present you with the best of the best so that you can enjoy your gaming experience to the fullest. So let us have a look at some of this gaming desktop's features.
It is a powerful desktop that you can expect high performance from when gaming. It has a modern and sturdy build, and its audio quality is out of this world! But before I bore you too much, let's get to the pros and cons of this big boy!
Pros
The case of the desktop is very well ventilated, which prevents the device from overheating

It has a very fast processor

It has a sturdy and modern design

Economical power usage

Amazing audio quality

It has a fast HDD Data Drive
Cons
It is pricey

It can be a bit noisy
Monitor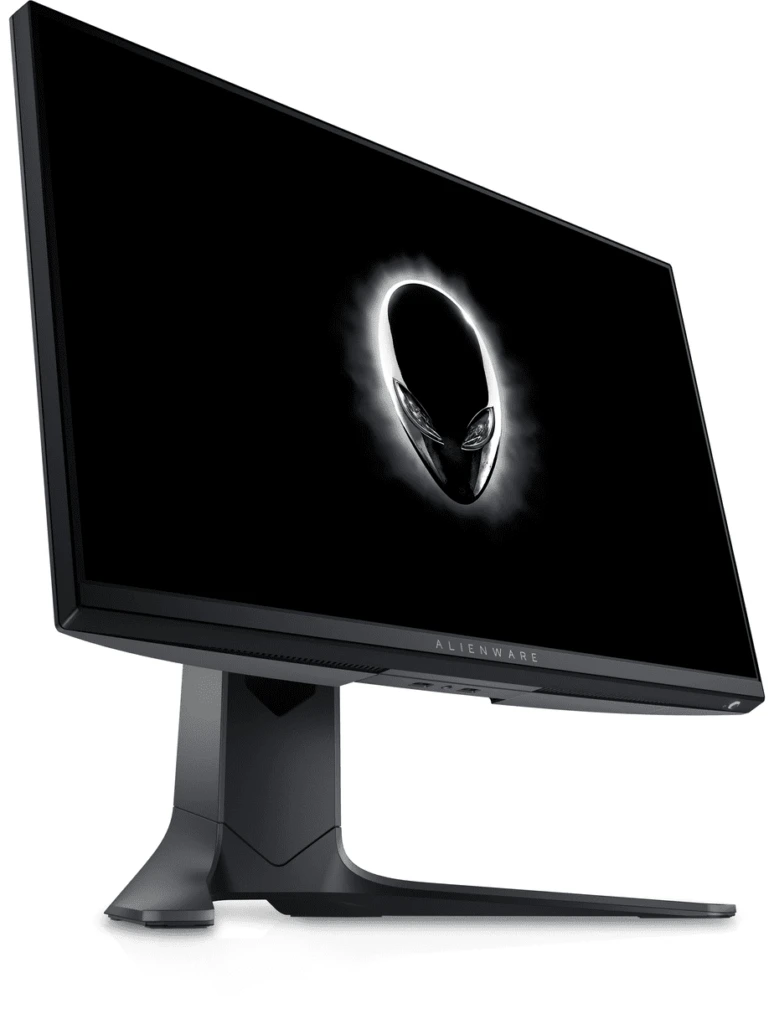 Ooh! This Monitor is definitely a treat, and I'm going to have a hard time coming up with cons for it because it is just that great! So let me tell you more about this masterpiece.
Its refreshing rate is faster than Lightning McQueen with 240 Hz; how crazy is that? And if that doesn't blow your mind, it has a response time of 1ms.
But let's get to the pros and cons before I get too excited and can't stop rambling:
Pros
Fast refreshing rate

Fast response time

Images are so clear that they look lifelike

It is lightweight

High-quality
Cons
Let us look at some alternative options you need for your couple's gaming setup.
Alternative Couples Gaming Setup Ideas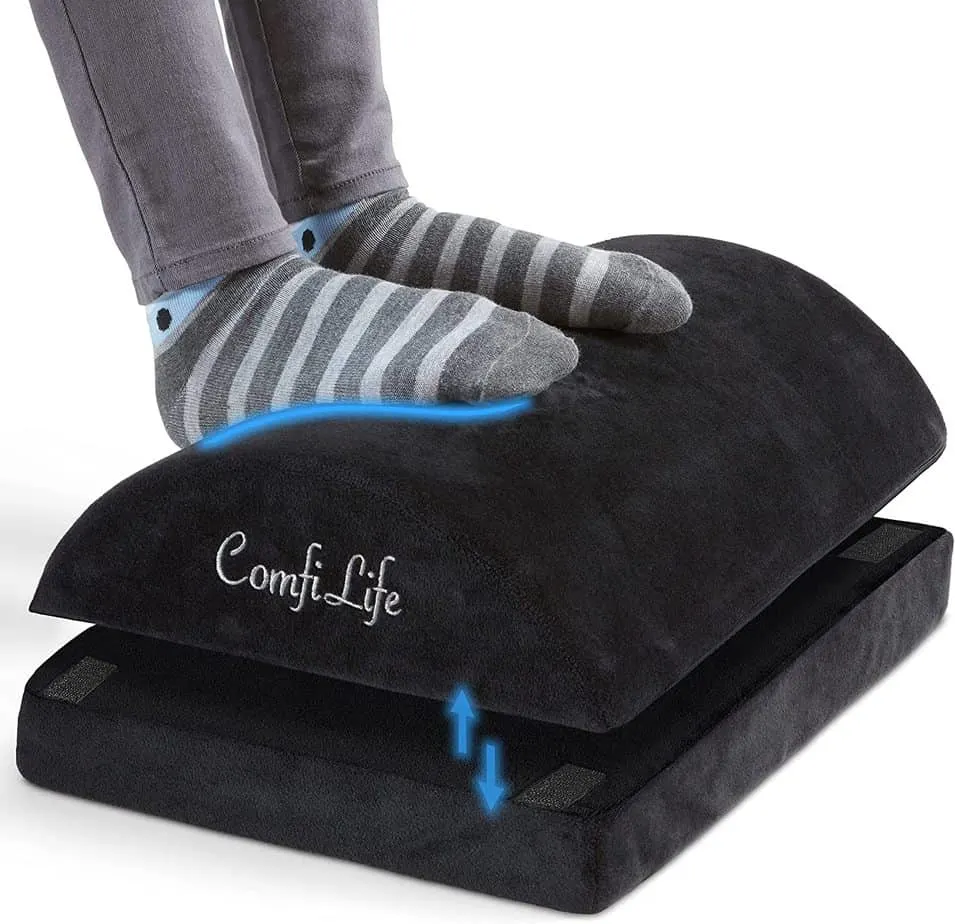 If you as a couple are gaming for hours on end, you need something that will support your back, feet, and knees. And this ComfiLife footrest does precisely that. Now you can game for hours without experiencing discomfort or pain.
Let us have a look at some pros and cons.
Pros
You can use it for resting your feet or put it under your knees for support

It is super comfortable

Relieves pain

It is adjustable

It is lightweight, so it can easily be carried around if you need to travel somewhere

It is soft

It is durable

Perfect for keeping your feet from dangling when you are short
Cons
For some, it might be a little pricey.
Lighting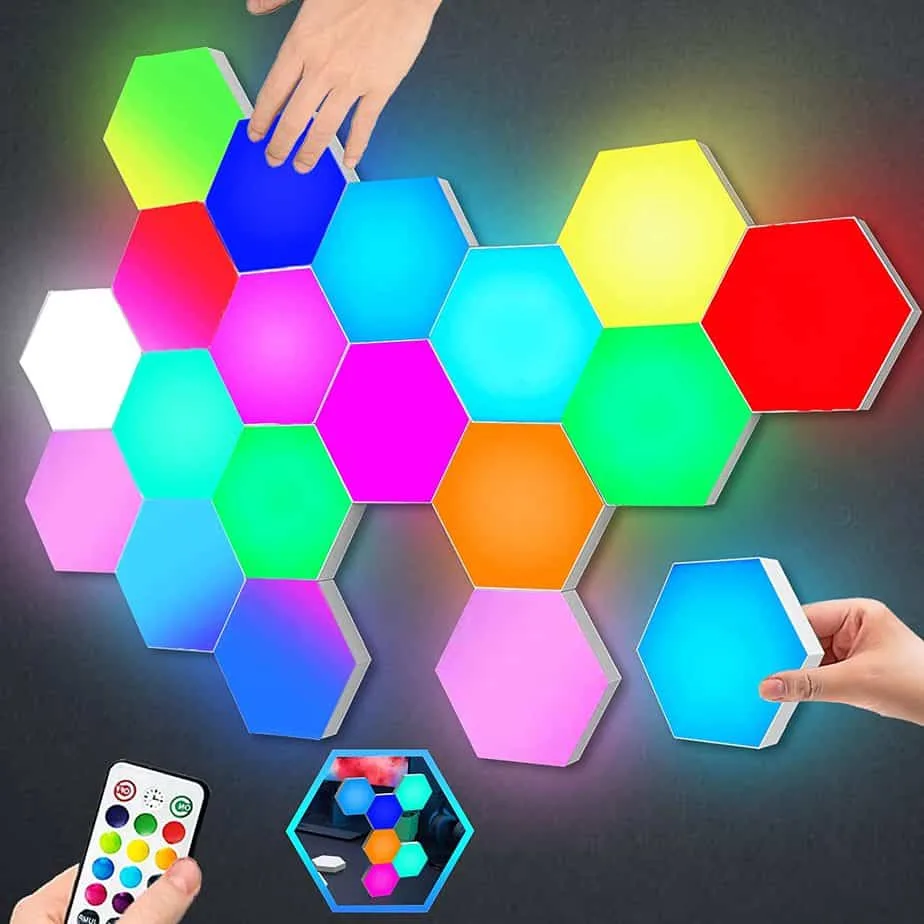 If you loved playing with jigsaw puzzles when growing up and still do to this day, you would love these Hexagon lights that fit into each other. These LED lights are entertaining and set the gaming mood. What makes these lights so remarkable is that you can turn them on and off by touch. So let us look at some pros and cons of these LED lights.
Pros
It can turn on and off by hand

You can create unique layouts with these lights

USB powers supply makes it easy because you can even connect it to your power bank

It looks amazing

It is very easy to set up
Cons
For some, it might be a bit pricey.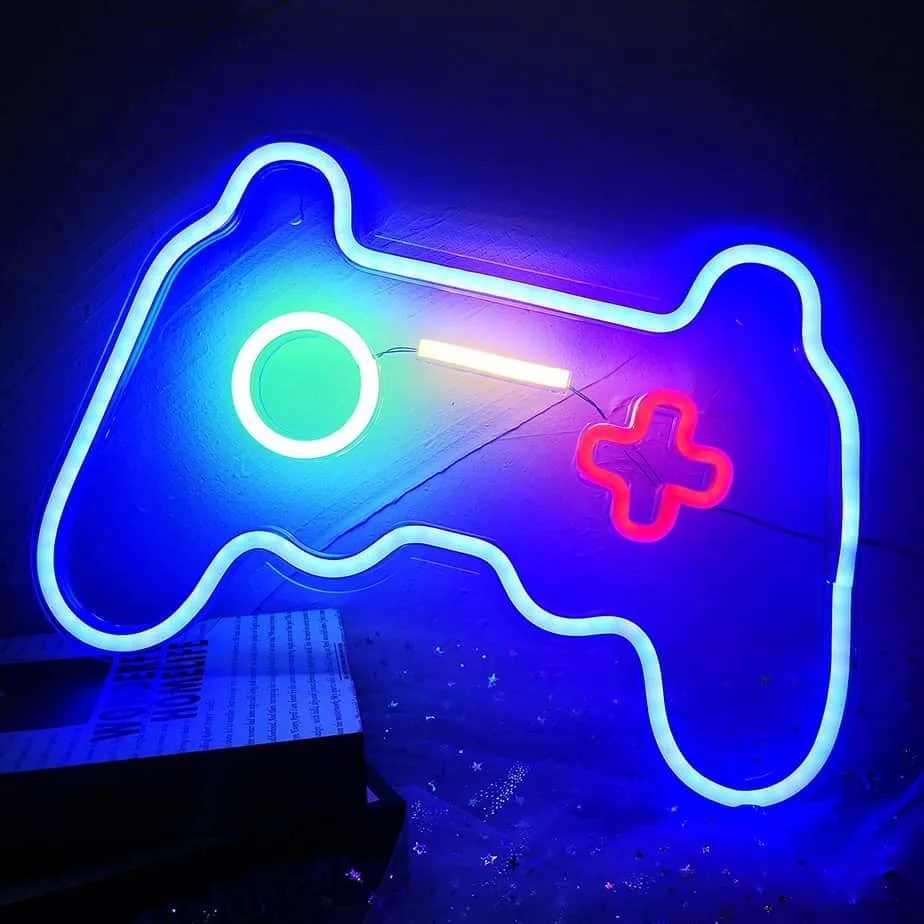 This Neon sign gaming light is perfect for your couple's gaming setup. It will create a relaxing gaming environment and take your gaming to the next level. Let us have a look at a couple of the pros and cons.
Pros
It looks amazing

It is perfect for your couples gaming room or man cave

It is affordable
Cons
It might attract bugs due to the blue light.
Conclusion
If none of the above ideas quite describe what your vision is, consider adding some of the alternative options mentioned above. The options for a couples' gaming setup are endless, and the process of finding the one or different elements within different setups that will meet your needs is part of the fun. The ultimate gaming setup for couples very much depends on what your wants and needs are as a unit.
In the long run, this is your gaming setup fantasy, and no two are exactly alike. Communicate, compromise, and have fun. The process of creating the ultimate gaming setup is part of the journey to endless hours of playing together as a couple, having fun, and making memories. So get the sketchpads out and start imagining and planning your dream couple gaming setup.
FAQ
Question: What is the First Thing I Should Buy for my Couple's Gaming Setup?
Answer: The first thing you have to invest in is the right computers that meet the needs of you as a couple. This will very much depend on your personal requirements and will be unique in every way. Next, I would recommend high-quality chairs as you will be spending a lot of time in them. The third and fourth most important items are the monitors and the desk. This will depend on a number of factors, including what you want versus what you can afford. The list can become very long very quickly but start with one thing and slowly build up – before you know it, the space will be fit for a gaming king and queen.
Question: I Have the Ideal Space but Only one Power Outlet; What Now?
Answer: Think power banks and cable ties. There are some very ingenious ideas and solutions available on the market before you need to get the builder and the electrician out. Do your research and investigate all the available options on the market before you take on a costly and time-consuming building project.
Question: The Ultimate Couple Gaming Setup is Expensive. What Now?
Answer: "Rome was not built in one day." Plan the room carefully and add as you can afford. Decide beforehand what the most important elements are and what you can buy immediately, and then add on. If you have a clear vision of what the end product should look like, a tight budget is not a deal-breaker. The only risk here is that you change your mind as technological advances are made and new, better gaming options become available. Keep the course, and in time your vision will become a reality.
Question: My Partner and I Have Very Different Ideas on What the Perfect Gaming Room Setup Should Look Like. How do we Solve This?
Answer: As mentioned before in the article, communication and compromise are key. Discuss the various options available to you and find something in the middle that will satisfy both your gaming needs and not cause unnecessary conflict. Any new addition or change to the current design of your home can be stressful so try to focus on the elements that you do agree on and compromise on the rest.
Find more inspiration by checking these guides below:
Purple Gaming Setup Ideas – How to Create a Stunning Modern Gaming Room
Corner Gaming Desk Ideas – My Six Picks that Will Improve Your Gaming Setup