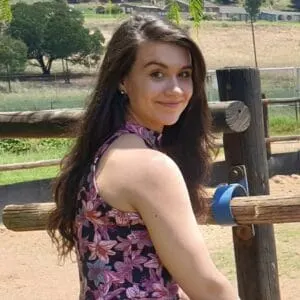 Latest posts by Christine Kent
(see all)
If you're crazy about gaming, the last thing you want is to get distracted by your background as you focus on what you love doing best.
So if you're a gamer and a clean desk and bright battle station are your top priorities, consider a white setup, although it's not complete without a white chair. A comfortable gaming chair is essential as you will be sitting for many hours. This article focuses on white gaming chair ideas, a chair that complements your white décor and enhances the room's general aesthetics.
Additionally, the ultimate setup should be a factor to consider when looking for an optimal environment for gaming. The best gaming layouts are best known for relaxation, well-being, and overall enjoyment as one is gaming.
Best White Gaming Chairs – Bottom Line Up Front
White gaming chairs are not for everyone, but if it's for you, I have the perfect option! The AKRacing Masters Series Arctica is a high-end chair that is of high quality and will definitely tick all of your gaming needs. Not only does it look beautiful, but it is super comfy. And the best part is that this chair will serve you for a couple of years, making it great value for money!
But before we get to the different white gaming chair ideas, I want to share with you some things you need to consider when choosing a white gaming chair.
Some Things to Consider Before Buying a White Gaming Chair
Style
When it comes to the style of the white gaming chairs, it is all about personal preference. But Ladies and Gents, don't get fooled by the gaming chair's premium look. Make sure that it ticks all of your gaming requirements.
Comfort
Keep in mind that you are going to spend hours and hours sitting in this white gaming chair, so you need to make sure that it is comfy. So my best advice is to ask your gamer friends what gamer chair they will suggest when it comes to comfort. Also, do some research and read reviews to get an overall idea of which gamer chair will be perfect for you.
Shapes and Sizes
Here is where your height and weight play a role. You need to look at gaming chairs that will suit your body's specifications; otherwise, you will hurt your health in the long run.
Features that you need in your white gaming chair:
Head and lumbar pillows that can detach

Well built armrests

The right dimensions for your specifications

Adjustability

Ergonomic built

Cushions that are comfortable

Upholstery that is of high quality
Read on for the best white gaming chair ideas, and have fun gaming!
Different White Gaming Chairs Ideas
Luckily, there are wide varieties to choose from. Below is a list of different white gaming chairs ideas on the market today.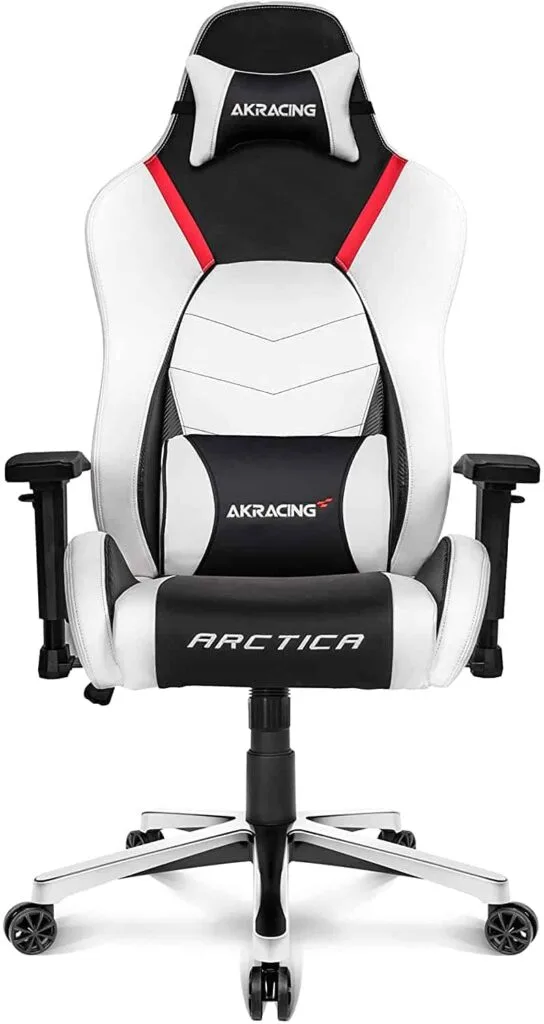 This chairs brand produces seats in the conventional racing chair style. On the corrosion-resistant steel frame sits a high-density foam and PU leather upholstery. Its seat and backrest contain side panels, and when you step into the chair, you experience a magical feeling similar to a friend's warm embrace.
This chair has just the proper padding to provide maximum relaxation, yet not so much padding as uncomfortable. Also, the PU leather upholstery is soft and, at the same time, long-lasting and relatively easy to clean; therefore, you don't have to worry about spillage.
Virtually everything can be adjusted on this series to add to the seat's general comfort and is characterized by 4D armrests making it easy to move your arms from one position to the next.
Pros
Very comfy

Mounting it is pretty easy

Its cushions support the lumbar and neck.

Beautiful design
Cons
It has narrow side supports

The price is not pocket friendly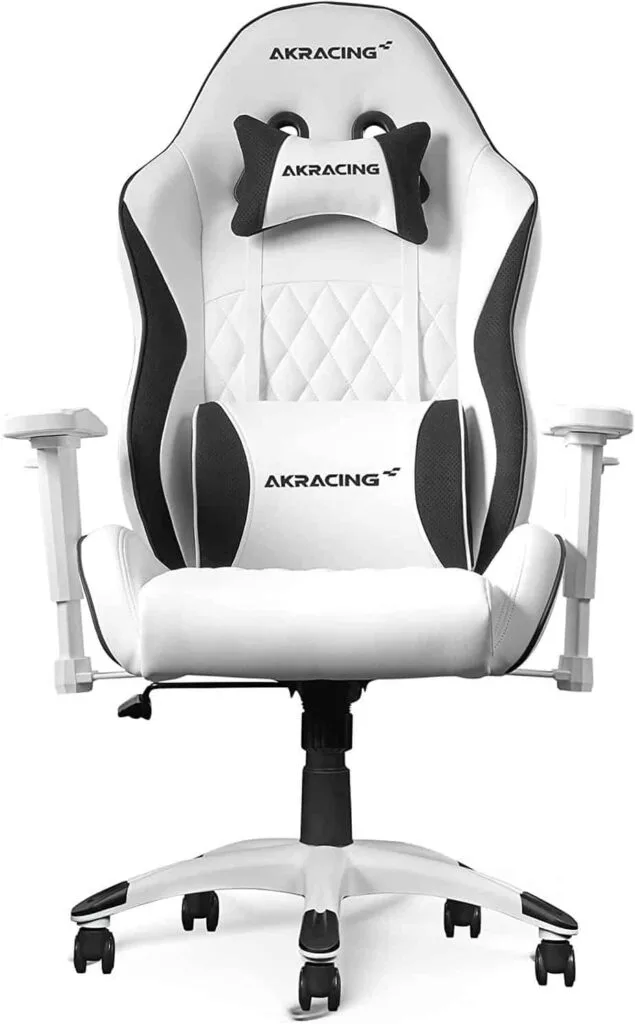 This comfy seat designed for gamers has some incredibly sturdy features. Looks good and works great. This is a perfect white gaming chair for someone with having a more diminutive stature, height, and weight.
The AKR California Laguna seat features a pure snow-white style highlighted with several black logos and borders.
Its top-notch metal frame has a coating of anti-corrosion paint for durability, while its high-density foam provides a remarkable degree of comfort. And its PU leather cover quality is similar to the automotive sector one, gentle to the touch yet sturdy and easy to clean.
Pros
It looks Beautiful

It is extremely comfy

It is completely adjustable

It has a lumbar pillow and a headrest

Quality build
Cons
Not suited for users over 5ft 6."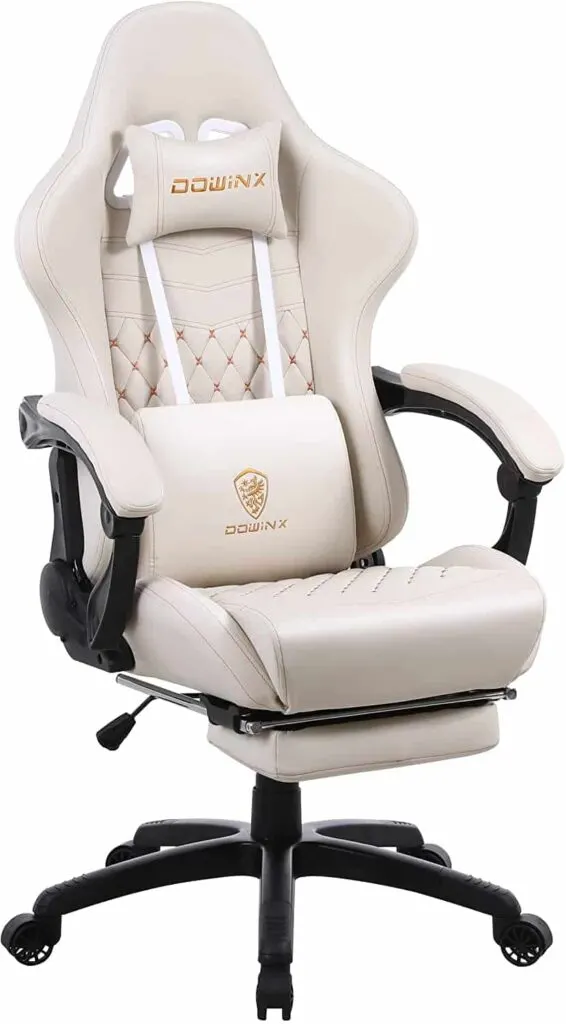 This gaming chair is absolutely luxurious. And it's also very comfy! If you are looking for a luxury gaming chair at a fraction of the cost, then here it is.
This chair comes with a footrest and a PU leather upholstery made of high quality. It is less susceptible to dirt, and its grip is better than other materials. Also, its texture feels more natural, and its high-quality embroidery gives it an excellent and professional look.
This chair's high-density foam is solid enough to offer your back a lot of support as you game for hours. It also lasts longer than traditional filling materials.
Also, the armrest of the Dowinx gaming chair is soft to the touch, making you even more comfortable and the gaming more enjoyable.
Generally, this is a fantastic gaming seat, and we would recommend it, especially when the price is a top priority to consider.
Pros
Its texture feels more natural

Has a great professional appeal

It is long-lasting

Its price is pocket friendly

It's comfy

It's soft to the touch
Cons
Not suitable for taller gamers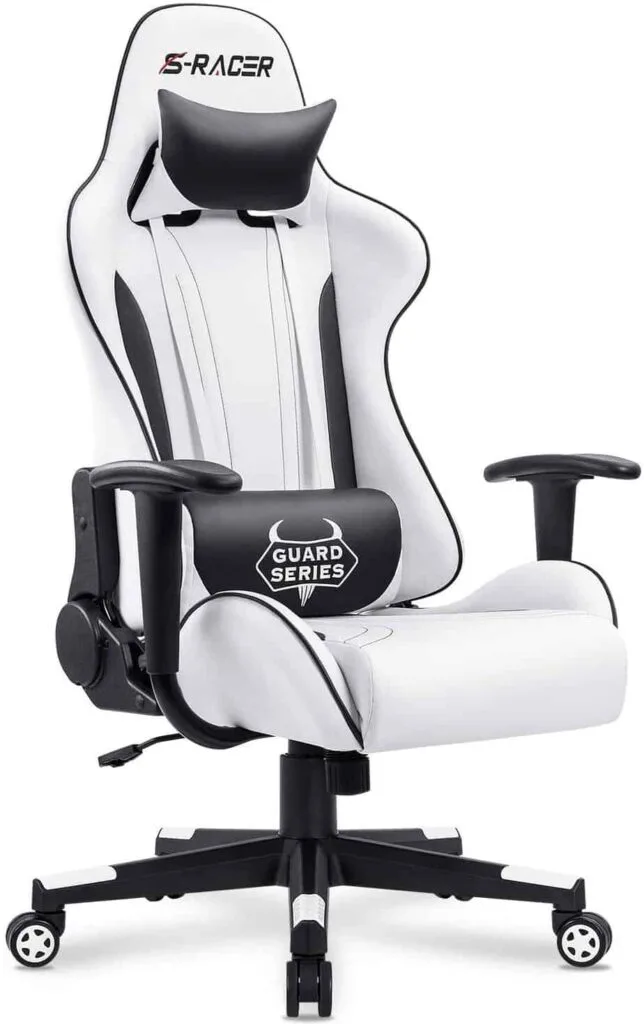 Gamer boys and girls love the aesthetic when it comes to gaming, so this is definitely something you want to add to your collection.
Homall ensures you get more than only looks. Homall offers a lumbar support pillow to relieve back pain. It also comes with a soft headrest pillow to relax your neck. The armrests are just as comfy; you will have to adjust the height.
This beauty is a little more expensive compared to other similar chairs. But considering what you get, the price is more than reasonable.
Pros
The PU leather upholstery is soft

Stylish yet sporty look

Offers excellent comfort and has a 300 lb. capacity
Cons
Armrests can't be adjusted.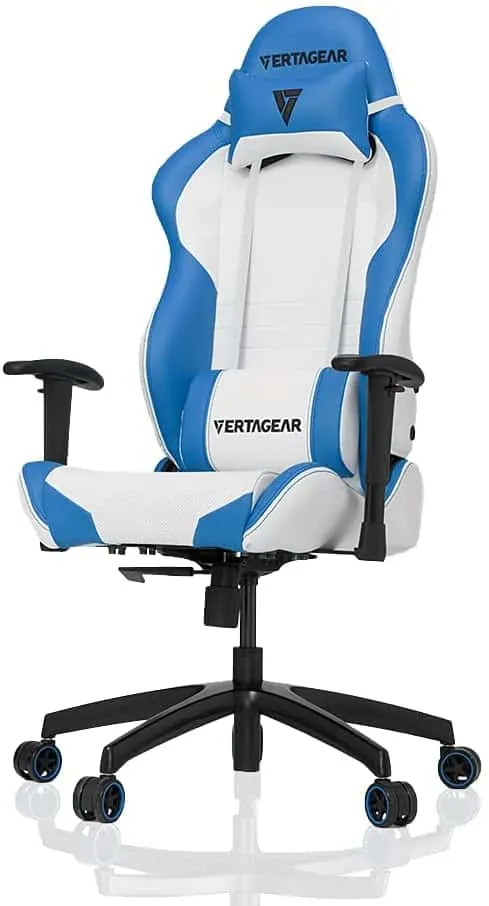 This simple-to-install gaming chair is ready to use in only two steps and offers ease of use at an affordable price.
Its features are of a high-end gaming chair. Its snow white PU leather and PVC fabric are contrasted with blue to create an attractive appeal that feels soft, long-lasting, and very easy to clean.
The fabric blend offers you both worlds of comfort and cleanliness as you focus on gaming. It feels a little stiffer than most gaming chairs in the market but is still comfy enough to get you through a few quiet hours.
Although the bolsters are low on the backrest and the gaming chair, seating is tight. To say the least, the SLine 2000 pieces of equipment are just perfect and durable.
The adjustable recline feature enables one to move in either of the four lockable positions, and the gaming chair comes with a wide range of heights, making it an excellent choice for gamers of all sizes.
Pros
It is a quite easy design

Comfy yet a firm fit

Solid aesthetic

You can adjust the lumbar cushions and neck
Cons
The firm fit may not suit everyone

When it comes to quality, it has a few issues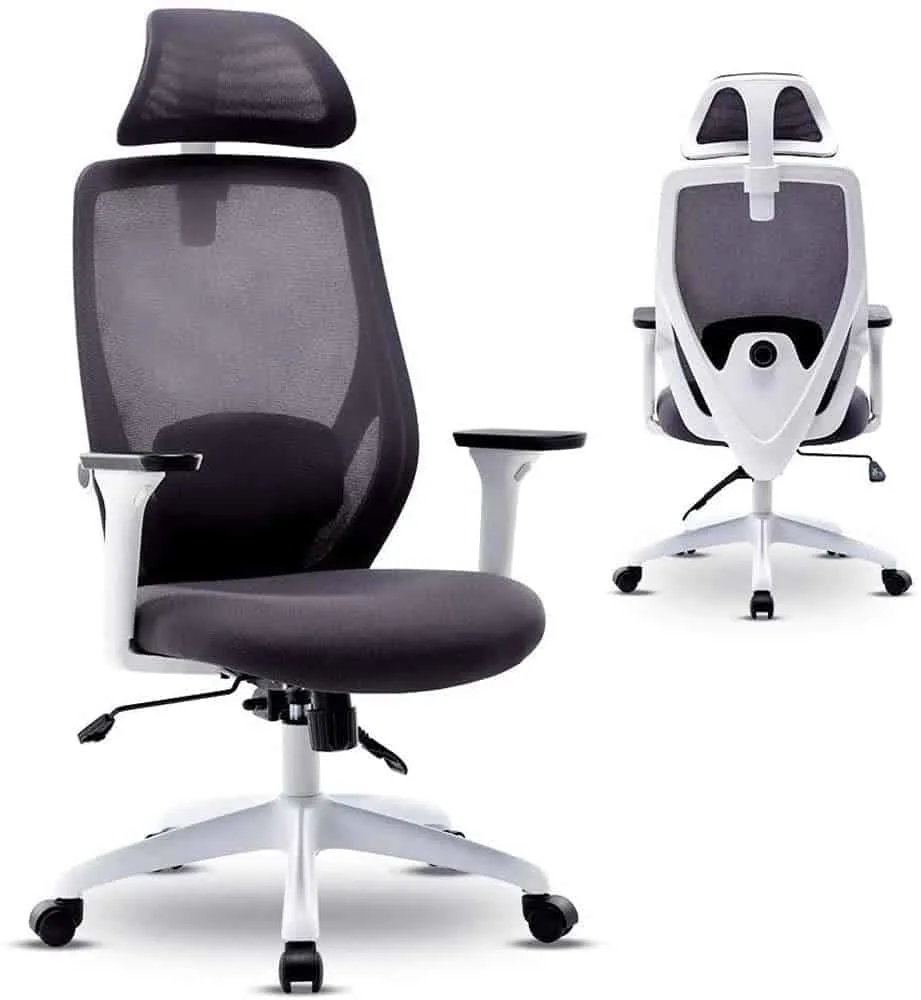 The Merax chair designed for gamers is a comfy three-in-one white chair with beautiful characteristics and a peculiar design made for living room gaming rather than in your rig's.
With a racing-like high back and side panels at the back, this chair is definitely a gaming chair to go for. The side walls at the back are pretty steep, making you feel secure.
Merax gaming chair has a base with a circular stationery design, and it features a fully connected, foldable footrest. It looks like a cross between a recliner, cinema seat, and a racing chair, making it a unique design.
This gaming chair supports 275 pounds. While the white choice appears like a pile of fresh white, which maintains spectacularly with black at the borders, it is covered with cloth instead of PU leather or PVC. It's available in the most excellent quality; you can easily fit it into your living room or theatre and be more than happy.
Pros
Offers excellent lower back and neck support

Quality design

It is very comfortable

Simple to assemble

Beautiful to look at
Cons
It has non-adjustable armrests.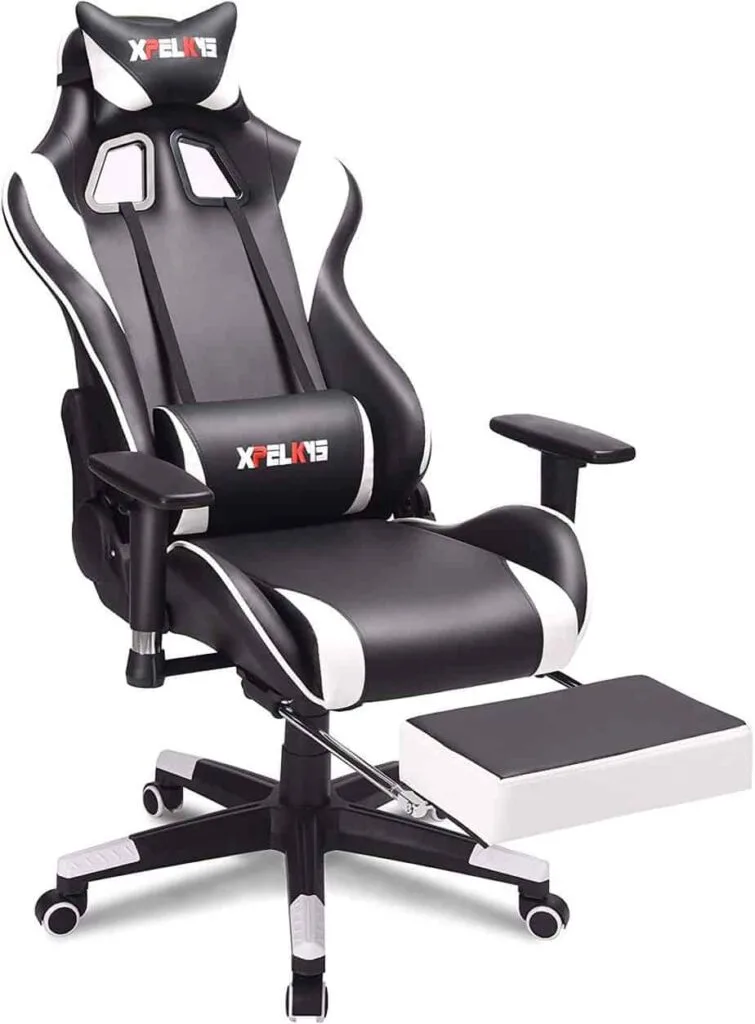 This chair is a tremendous entry-level gaming seat at a pocket-friendly price. This gaming chair offers excellent quality and a general solid value for an affordable chair.
On the chair's seat, however, the side panels are nearly entirely vertical, and with a slimmer seat, there's a chance it will feel tight if your hips are wider or if they stretch out.
This chair looks like a high-end gaming chair, a beautiful mix of black and white. Sturdy feeling. Wrapped in PVC, you will get the advantages of comfort and easy and clean, and long-lasting coverage.
Pros
It is comfortable

Has headrest, footrest, and lumbar cushions

Economical

Many color options are available if you are not a fan of white

It is simple to assemble
Cons
It has some durability issues

Not suitable for taller and plus-size people

It has smaller side panels
Alternative White Gaming Chair Options
If a white gaming chair isn't your cup of tea or you find getting a white gaming chair quite a challenge, we've got good news for you. There are alternatives: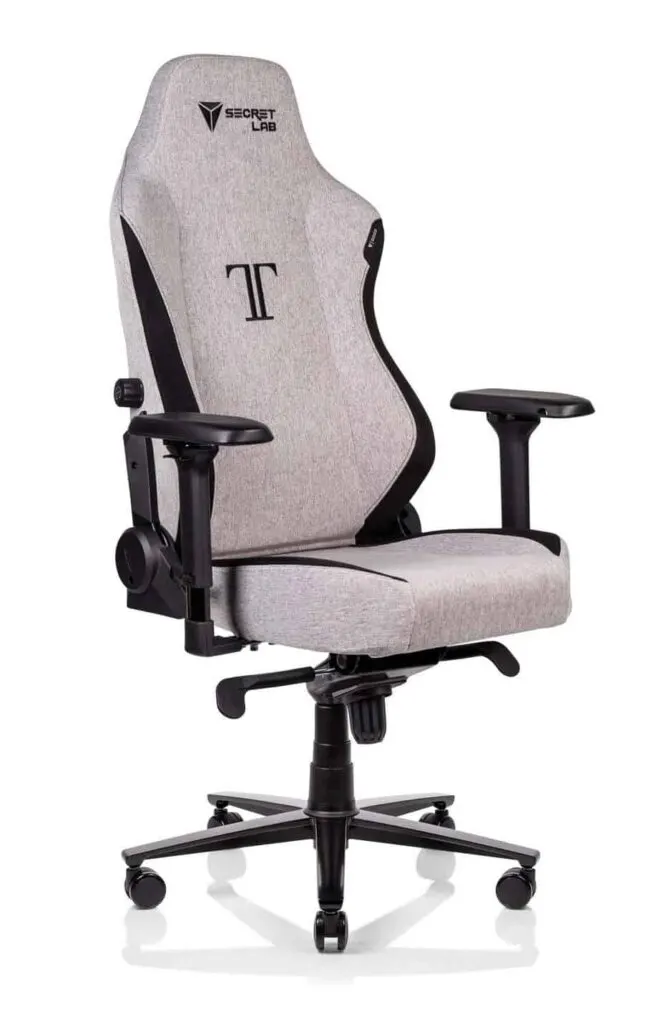 Despite the list you check out, this chair is always one of the top five gaming seat contenders, and it's clear to see why. The design of the racing seat is not as flashy as numerous other gaming chairs in its class. And while the price might seem steep at first glance, you'll definitely get what you pay for with this one.
Reasons why you should buy this gaming chair:
It has adjustable lumbar support

It is of high-quality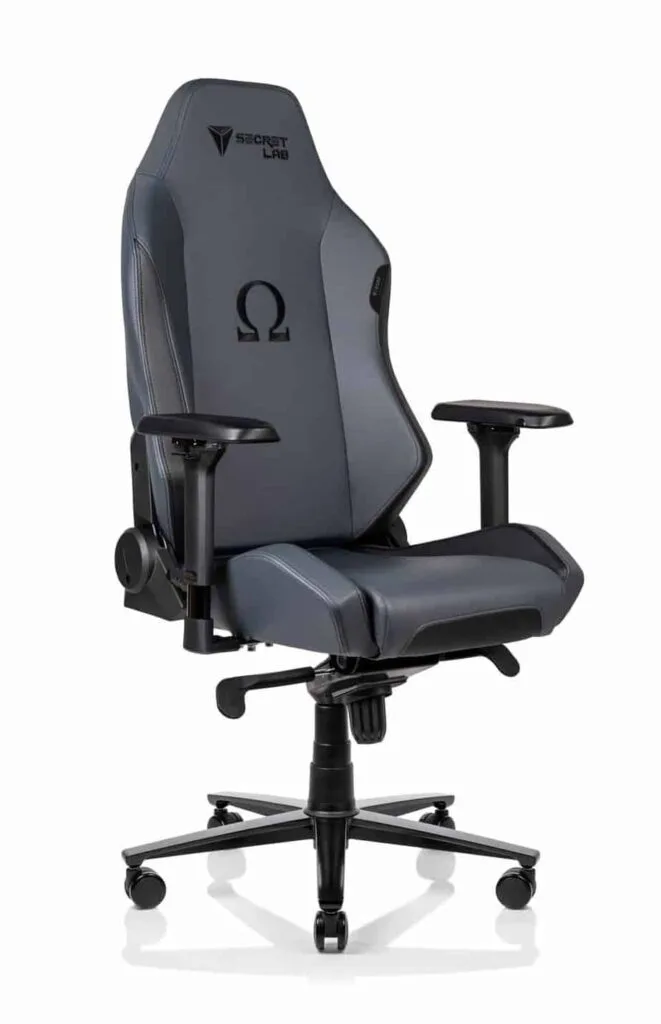 This gaming chair is simply breathtaking, especially if you choose the premium Napa leather or PU leather models. But this chair isn't just about looks. The lumbar and the head pillows are made of memory foam, providing even better support than most of its predecessors.
Reasons to buy this gaming chair:
Lumbar cushions and extremely mellow pillows

It is a reasonable price

It has a high-quality design
Favorite White Gaming Chair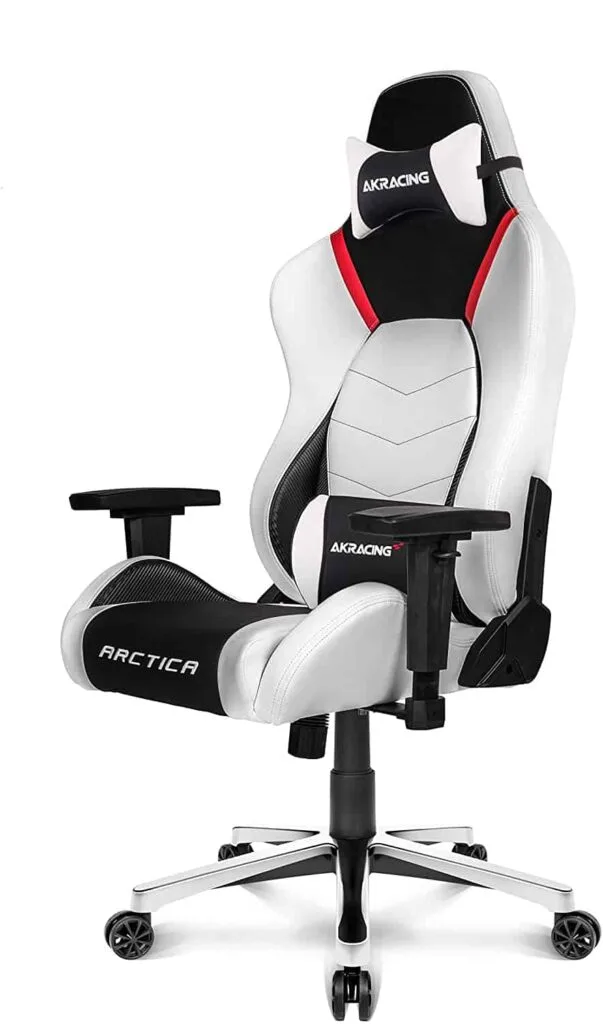 AKRacing is a respected chairs brand with numerous stunning chairs under its belt. By looking at the chairs' heavy metal frame, you can tell it's a high-end chair that costs hundreds of dollars. The seams are of the highest quality. They contain breathable PU leather upholstery, and the chairs are guaranteed to serve you for at least five years. Now you can understand why I have added this gaming chair as my favorite.
FAQ
Question: Is Cleaning a White Gaming Chair Hard?
Answer: To clean a white gaming chair, you only need to dampen a sponge or cloth with warm, soapy water and gently scrub the stained and dirty areas. Also, you can use detergents to disinfect them, especially if you sit and play for days without showering. So, to answer your question, no, it is not hard to clean a white gaming chair you just need the right cleaning supplies.
Question: Are Gaming Chairs Good for your Posture?
Answer: Maybe it's now clear that gaming chairs are perfect for your back. Whether you sit for a few hours or longer, gaming chairs support your back, making your posture straight while strengthening your core muscles. They are a great solution to sitting sickness.
Question: What Should you Consider when Looking for a Gaming Chair?
Answer: Picking the right chair for you will depend on several factors. You will need to keep your height and weight in mind, the depth and the width of the seat, the lumbar support, its upholstery, and of course, the general aesthetic. If you keep these factors in mind I can assure you that you will find the perfect white gaming chair for you!
Best White Gaming Chair – Conclusion
Most people assume that a gaming chair isn't necessarily a requirement for the gaming setup, but you can clearly see it is from our white gaming ideas article. A white gaming chair not only brings elegance and character to the room but also offers adequate back support for your posture and protects you against back pain. My favorite pick from this list is the AKRacing Masters Series Arctica chair! It's amazing!
The perfect gaming chair should take your gaming to a higher level. The best gaming chair provides comfort and ergonomic support, allowing you to concentrate on achieving a lap record rather than worrying about back pain.
Continue reading:
Couples Gaming Setup Ideas Guide
Purple Gaming Setup Ideas – How to Create a Stunning Modern Gaming Room