Latest posts by Streamer Startup Team
(see all)
What are the differences are between the HyperX Quadcast vs Blue Yeti? Go through our comparison review and find out which is the best fit for you.
HyperX QuadCast vs Blue Yeti – Which Is a Good Fit for You?
Whether you're a podcaster looking to make it big, or a pro gamer searching for the best live streaming equipment, you can't do without a good mic.
And when it comes to mics, USB plug-and-play devices are the easiest and best options available. While there are many such mics available in the market, we've recently faced a lot of questions about the HyperX QuadCast vs Blue Yeti.
So, which is the better USB mic that should you go with between the Blue Yeti vs HyperX QuadCast? 
Today we're going to compare the details of both. Fair warning: these two mics are quite similar, and you'll have to pay attention to understand the differences between the two.
Well, let's not dally any longer and get the show on the road. Check out the comparison chart below for starters.
Comparing the Specifications – HyperX QuadCast vs Blue Yeti 
Preview
Best Budget
Best For Streamers
Title
HyperX QuadCast Microphone
Polar Pattern
Cardioid / Bi-Directional / Omni-Directional / Stereo
Cardioid / Bi-Directional / Omni-Directional / Stereo
Best Budget
Preview
Polar Pattern
Cardioid / Bi-Directional / Omni-Directional / Stereo
Best For Streamers
Preview
Title
HyperX QuadCast Microphone
Polar Pattern
Cardioid / Bi-Directional / Omni-Directional / Stereo
HyperX QuadCast vs Blue Yeti – Battle Of The Microphones

Tri-capsule array – 3 condenser capsules can record almost any situation.
Multiple pattern selection – cardioid, bidirectional, omnidirectional & stereo.
Frequency Response of 20Hz – 20kHz
Sample Rate of 16-bit/48kHz
Gain control, volume control, mute button, and zero-latency headphone output.
Perfect for podcasting, streaming and voiceovers.
Pros
Cons
+ Perfect for voice recording and streaming
+ Built-in analog to digital conversion
+ Built-in headphone amplifier
+ Solid build quality
– Not great for musical recordings
– Heavy and bulky product
– Only has XLR microphone capabilities
Blue Yeti Basics
The Blue brand is mostly known for its higher-end mics, but the Yeti is one of its most affordable and most reliable microphones. 
The Yeti is a plug-and-play USB microphone, which means you can just plug the unit into your PC, and you're ready to record. There's no need to install any dedicated drivers or special software.
Another fact that works in favor of the Yeti is that it's compatible with both Windows and Mac systems. This lends it a certain versatility that you don't see with many other mics.
At the same time, the mic's construction is rather sturdy, and looks very professional. The build and sound quality is rather impressive, and it should last a pretty long time provided it's maintained the right way.
Furthermore, it is easy to set-up and use, and has a crisp audio quality and capturing capability. 
On top of it all, it's affordable, which makes it within reach of those just starting in the audio circuit.
Blue Yeti Microphone | Amazon
Yeti is the world's #1 premium USB mic, producing clear, powerful, broadcast-quality sound for music, podcasts, Twitch streaming, YouTube videos, and Zoom calls.
Buy at Amazon.com
We earn a commission if you make a purchase, at no additional cost to you.
04/01/2023 07:08 am GMT
Blue Yeti Performance
When it comes to performance, the Blue Yeti is a clear winner. It has four different pickup patterns, namely: cardioid, omnidirectional, stereo, and bidirectional. This makes it perfect for recording everything from podcast episodes and live streaming to musical ensembles.
The USB microphone also sports zero-latency headphone output and comes with a physical mute button that only lends to its already convenient set-up. All this means you don't need high-end technical expertise to use it and can get it working without much hassle.
Coming to the sound quality, the four different polar patterns make this a highly versatile unit. The mic is extremely sensitive, and can pick up even low-range frequencies clearly. This makes it particularly useful for recording conversations and voice audio.
Regarding musical recordings, the stereo pickup pattern can help you, but the sounds aren't as bright and crisp as with normal voice. However, the difference is subtle, and mostly won't even be picked up by untrained ears.
The only thing we found lacking in this USB microphone is that it doesn't come with a shock-mount or pop-filter. This increases the amount of static and background noise; simultaneously, it pushes up the overall cost should you decide to buy a shock-mount and pop-filter separately.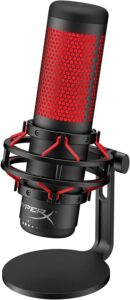 Pros
Cons
+ Built-in shock mount
+ Great sound quality
+ Solid build quality
+ Has customizable RGB lighting
– Can't turn the light off when in use
– Only has XLR microphone capabilities
HyperX Quadcast S Basics
If the Blue Yeti is primarily aimed at podcasters and YouTubers, one look at the HyperX QuadCast and you'll know that this one is clearly for the gamers. The mic has a futuristic design, and glows red when it's recording.
The colorful look makes it seem more informal than the professional appearance given off by the Blue Yeti. Still, for gamers and live streamers, the red-black combination should be more suitable and appealing.
Like the Blue Yeti, the HyperX QuadCast is a plug-and-play USB unit and can be used with any laptop or PC straight out of the box. It's also compatible with Windows as well as Mac devices.
Similar to the Blue Yeti, the HyperX QuadCast sports the same four polar patterns; though we daresay, for gaming you won't need anything else but the cardioid. Still, it's nice to have the options available.
Perhaps the one aspect where the HyperX QuadCast has a clear edge over the Blue Yeti is that it comes with a desk stand, which also has a shock-mount built-in. This helps to reduce table vibrations while recording.
What's more, this mic includes a pop-filter, which helps to muffle percussive frequencies. Together with the shock-mount, this enables the HyperX QuadCast to record good sound quality content.
The QuadCast also comes with a gain dial set right at the bottom of the microphone. While the Blue Yeti also comes with one, we found the one on the QuadCast model smoother and easier to use.
The rear-end of the microphone provides access to the USB connection and headphone jack for zero-latency monitoring. Plus, the top of the mic also comes with a touch-sensitive mute button that makes the recording process more comfortable.
HyperX QuadCast Microphone | Amazon
The Quad Cast includes its own anti-vibration shock mount to help reduce the sound of any movements. It has a built-in pop filter that reduces any muffles or popping noises for clearer voice quality. Instantly know your mic status with the LED indicator and with the tap-to-mute to easily mute yourself without any delay.
Buy at Amazon.com
We earn a commission if you make a purchase, at no additional cost to you.
04/01/2023 06:42 am GMT
HyperX QuadCast Performance
The HyperX QuadCast is just perfect for recording the spoken word. Whether you're looking to record a podcast interview or stream live on Twitch, the HyperX QuadCast will deliver reliable performance and great audio quality. The sounds are full and need very little editing post-recording.
That being said, we don't really recommend using this mic for musical recordings. Yes, the four polar patterns make it theoretically possible, but the music simply does not come across as clear as the voice.
Another problem that we discovered involves the pop-filter; it's undoubtedly a welcome addition, but it doesn't offer that great a filtering capability. In case you need to speak directly into the microphone, you'll have to purchase an external pop-filter to get the best results.
That small glitch apart, we like the touch-sensitive mute button of this mic. In most USB mics, you need to turn the gain dial entirely to mute the device. Here, you can just pause and resume recording at the literal touch of a button and return to the same recording levels.
We also like how the mic lights up when it's recording, as this allows the user to have a visual indication of the recording process. Plus, it looks cool; this makes it something gamers would love to have as part of their streaming ensemble.
Overall, for those looking for a mic solely for live streaming, the HyperX QuadCast is an excellent option.
Is The HyperX QuadCast Worth It?
From the above comparison, one thing is clear: both the mics are similar in terms of features and operation. Both are good at capturing voice, but falter slightly when it comes to recording musical arrangements.
That being said, the sophisticated appearance and red lighting features of the QuadCast do make it more aesthetically pleasing than the rather chunky looking Blue Yeti. Plus, it also comes with a pop-filter and shock-mount, which is more than what the Blue Yeti offers.
All things considered, if you're a gamer who's a stickler for looks and don't mind shelling out the extra dollars, the HyperX QuadCast is definitely worth it. 
But if sheer performance is what you're looking for, then go with the Blue Yeti without a doubt.
Blue Yeti vs HyperX Quadcast –

Closest Alternatives?

If neither of these condenser microphones have tickled your fancy, there are a few other products on the market that you could consider. 

If you are looking for something up market, you could try the Elgato Wave3. The third iteration of the Elgato Wave is a condenser microphone that has real time monitoring, multiple mute modes, a max sample rate of 96 khz and has a crossfade option on the dial. If you aren't going to go for the two above, this is a great choice
Elgato Wave:3 Premium USB Condenser Microphone | Amazon
Wave 3 is a premium microphone and digital mixing solution that fuses plug-and-play convenience with broadcast-grade circuitry. Never clip again thanks to proprietary anti-distortion technology.
Buy at Amazon.com
We earn a commission if you make a purchase, at no additional cost to you.
04/01/2023 08:02 am GMT
Then if you want something that is great with a smaller budget, you might want to consider the Blue Yeti Nano. Its durable, sounds great and it's a fraction of the price. What's not to love? 
Blue Yeti Nano Premium USB Microphone | Amazon
Inspired by the legendary Blue Yeti, Yeti Nano combines 24-bit sound quality with powerful Blue voice vocal effects for professional recording and streaming. Yeti Nano features a compact design with a premium finish and plug 'n play operation for instant streaming with your Mac or PC.
Buy at Amazon.com
We earn a commission if you make a purchase, at no additional cost to you.
04/01/2023 09:57 am GMT
Then lastly, if you want a Blue yeti device that takes you into the upper echelons of what this mic company offers, you could try the Blue Yeti X. This device offers quality sound, a wealth of extra features, a much sleeker design than the original Blue Yeti and offers superior sound pressure, an LED Indicator for sound level and more polar options. It's a perfect option for Youtube creators, Twitch streamers looking for a new gaming microphone that's compatible with Streamlabs OBS and best of all, it won't break the bank either.
Blue Yeti X Professional Condenser USB Microphone | Amazon
This is a state-of-the-art USB microphone for professional-level gaming Twitch streaming podcasting and YouTube productions. With an all-new four-capsule array inside Yeti X delivers Blue's legendary sound with greater focus and clarity than ever—in four versatile pickup patterns.
Buy at Amazon.com
We earn a commission if you make a purchase, at no additional cost to you.
04/01/2023 08:38 am GMT
Continue reading: 
AT2020 vs AT2035 – Our Best Pick
Logitech C920 vs C922 (Updated For 2022)