Latest posts by Streamer Startup Team
(see all)
We take a look at an entry level Tonor Microphone, the TC-777. You don't have to shell out hundreds of dollars for a good microphone. Check out our review.
This review was sponsored by TONOR – They sent me the product to review it for them.
Tonor TC-777 | Amazon
With a USB 2.0 data port, the TC-777 is plug and play, no additional driver is required. Ideal for conference, distance learning, streaming, chatting, podcasting, recording, Zoom, Skype, YouTube video, etc.
Buy at Amazon.com
We earn a commission if you make a purchase, at no additional cost to you.
08/10/2022 12:06 am GMT
Looking for a Budget Entry Microphone?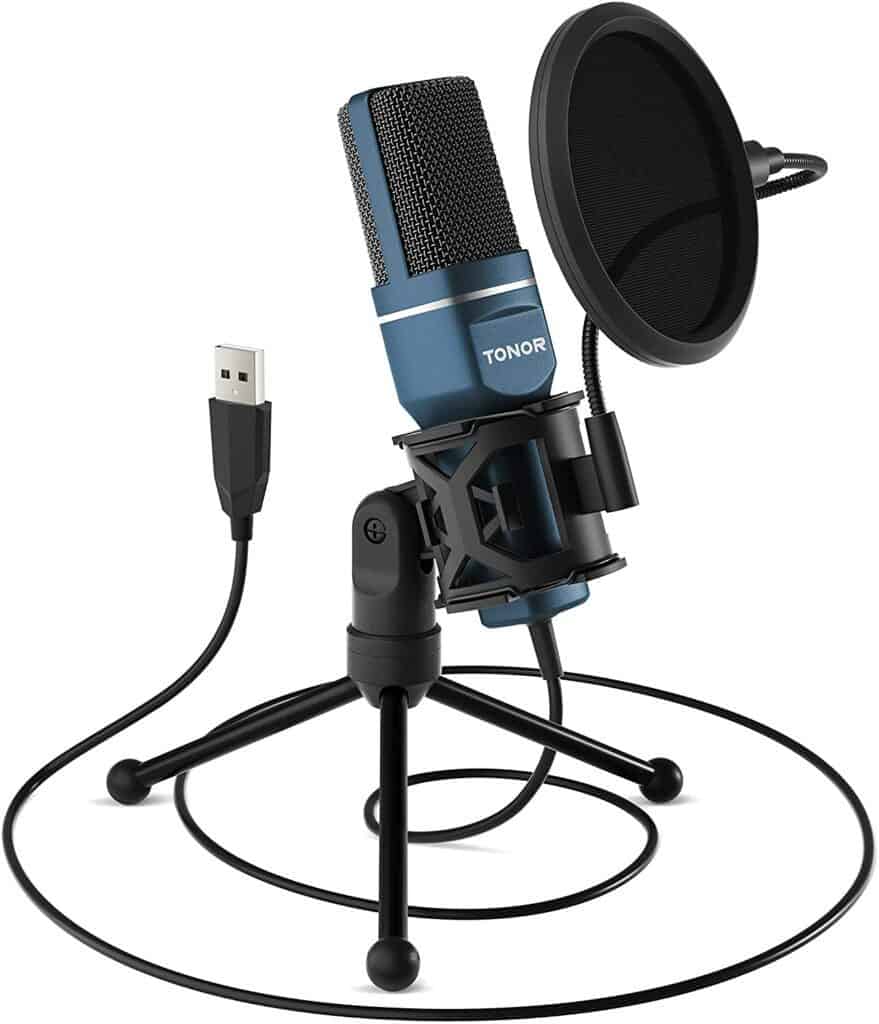 Are you searching for an affordable microphone that has a better sound quality than the built-in microphone on your laptop? Or are you tired of fielding complaints about the low quality on your mic?

You probably are if you've recently started gaming, live streaming, or attending Zoom conferences.
Simply put, the built-in microphones on laptops are terrible. They pick up too much popping and the overall quality of the audio is just plain bad.

Fortunately, you don't have to shell out hundreds of dollars on a microphone to avoid that problem. There are microphones out there that work pretty well for a great price. 

The TONOR TC-777 is one of those microphones. And in this article, I will review everything about this microphone.
Warranty
TONOR includes a 2-year warranty on this microphone that covers any manufacturing defects that might arise. TONOR has an excellent customer service reputation, so warranty claims are not an issue.
 
More importantly, TONOR has a 30-day hassle-free return policy. If you aren't satisfied for whatever reason, then you can return the microphone for a full refund. You will have to pay shipping costs, though.

The warranty on the TONOR TC-777 is also 10/10. 

The 30-day hassle-free return policy is also great. Granted, you probably won't use it because you will like this microphone.
Performance Review
First, this is a budget microphone. This budget is taken into account when reviewing the microphone. You shouldn't expect a professional-level microphone at this price point. It's simply not feasible.

Anyway, the TONOR TC-777 actually performs pretty well considering its budget price. You shouldn't hear much humming in your recordings, the sound quality is crisp and clear, and you don't have to be 2" away from the mic for it to pick up sound.

How does it produce such clear audio?

A few different ways.
Rubber Feet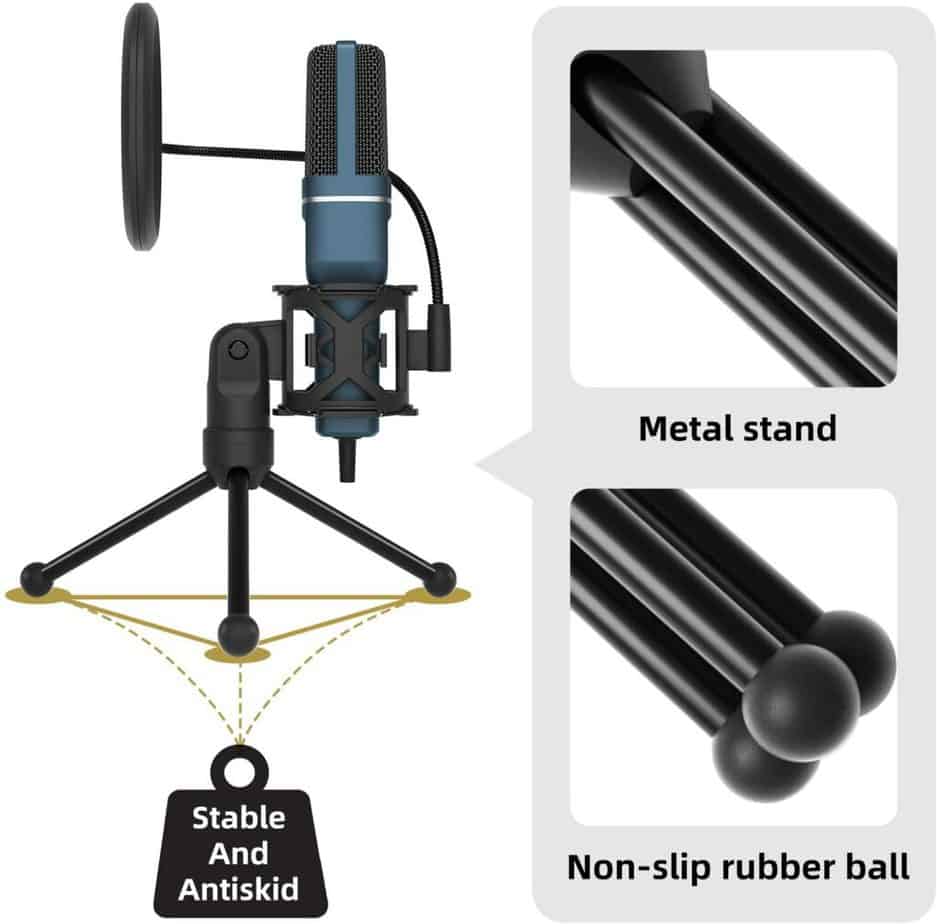 The rubber feet greatly reduce vibrations that often result in unclear audio. I know, rubber feet doesn't sound like it would help, but those vibrations often result in a soft popping sound that can aggravate listeners.
Pop Filter
This microphone has a built-in pop filter on the shock mount. The pop filter works great for reducing the amount of air that you breathe onto the mic. 

That reduction in the air hitting the mic results in much less of the hard "pops" that you often hear on budget microphones or built-in laptop microphones.

Everyone has heard that popping sound. It often occurs when someone uses the built-in microphone on their laptop. It's annoying and hurts your ears if listening with earphones.
Foam Cover
A foam cover, also known as a windscreen, that reduces the amount of air that gets on the mic is included with this microphone. Admittedly, it's not the best foam mic cover. The pop filter does most of the work, anyway.

That said, it will still stop any wind from an overhead fan in your room and some of the air you produce when speaking from hitting the mic, which is nice. 

Just don't expect this to work very well if you're outdoors. You shouldn't be using any microphone outdoors if you want good quality audio, though.

All things considered, it's nice that TONOR included a foam cover with the microphone. 

Many microphones in this price range don't come with a foam cover, and it's better to have a foam cover than not have one on your mic.
Cardioid Polar Pattern
This microphone has one polar pattern: cardioid.

Fortunately, a cardioid pattern is the best polar pattern for the average user. Why is a cardioid pattern so great?

It mostly picks up sound from the front of the mic instead of the back, which reduces the amount of ambient sound that gets picked up. And most people speak into the front of a microphone rather than the back of it. 

The pattern on the TC-777 is approximately 140° – a standard cardioid pattern.

It does give a little bit of hum because the pattern picks up some sound from the sides, but it's not that much humming.
Final Verdict – Performance
This microphone earns top marks for its performance. 

Most of the quality comes from all the add-ons that come with the microphone. The shock mount, foam cover, and pop filter really add quality to the audio recording. Add the cardioid polar pattern to an already decent microphone and you get the TC-777.

This microphone earns a 9/10 (price adjusted) for performance. 

The only downside is that it has some humming as it does pick up some ambient sounds.
Tonor TC-777 | Amazon
With a USB 2.0 data port, the TC-777 is plug and play, no additional driver is required. Ideal for conference, distance learning, streaming, chatting, podcasting, recording, Zoom, Skype, YouTube video, etc.
Buy at Amazon.com
We earn a commission if you make a purchase, at no additional cost to you.
08/10/2022 12:06 am GMT
What Do I Like About the TC-777?
There's a lot to like this about this microphone.

My favorite feature is the price. As I've mentioned before, you won't find a microphone with this level of clarity at this price. 

And that leads to my other favorite feature of this microphone, the audio quality. This sounds more like a mid-range microphone than a budget microphone. 

It's crisp, clear, and has minimal humming. 

Finally, this microphone comes ready to use right out of the box. You don't need to attach it to the shock mount, assemble the microphone, or install any drivers (plug and play). 

The only assembly required is attaching the foam cover, and that isn't even necessary because of the built-in pop filter.
What Don't I Like About the TC-777?
For the price, this microphone has just about everything. You can't expect too much at this price point.

However, I wish TONOR included an on/off switch on this microphone. That is the only major downside of this microphone. 

An on/off switch makes recording live streams and conference calls much easier, especially if you have to sneeze or cough. Fortunately, most recording software has a mute future that can be utilized instead of an on/off switch.

Another complaint, albeit a minor one, is that the TC-777 does not have a removable USB cable. The cable is 59", which should be long enough for most setups. But it could be problematic if you have a setup with your computer or PS4 far away from your desk or chair. 

Thankfully, a USB extender cable is compatible with the included cable.

Other than those two complaints, this microphone is great. The sound is clear and the price is great.
Continue reading:
Tonor Microphone – TC-777 Review
Blue Yeti vs AT2020 – Best One to Get in 2022?
Frequently Asked Questions
What Is the Ideal Distance for This Mic?
Given the sensitivity of this microphone (-38dB±3dB), I would recommend being closer rather than further for the best recording quality. A distance of approximately 6" works best for most people. 
But any distance less than about 18" will record clear audio if you have a loud voice.
Can the TONOR TC-777 Record Music?
Not at a high-quality. It simply isn't sensitive enough for recording music at a high level. It will still work for music, though. Just don't expect studio-level quality.

Most microphones at this price point aren't suitable for recording music, so this isn't even a negative.
Does It Have an On/Off Button?
No. This microphone does not have an on/off button.

In my opinion, this is the biggest drawback of this microphone. However, at this price a microphone with an on/off button isn't common.
Can I Use the TC-777 With My Gaming Console?
The TENOR TC-777 is compatible with a PS4. Simply plug it into the USB port on your console. No drivers are required.

Unfortunately, this microphone is not compatible with an XBOX.
Is It Chromebook Compatible?
Yes. The TC-777 will work with a Chromebook. It actually works with any computer that has a USB port.

If your computer doesn't have a USB port, then you will need a USB to Type-C converter cable.
How Tall Is the Microphone in the Tripod?
The microphone in the stand is about 9" from the base of the tripod to the top of the mic.