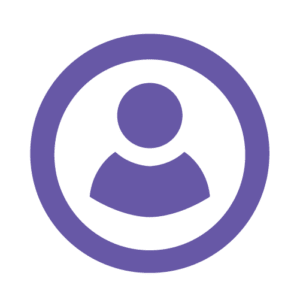 Latest posts by Streamer Startup Team
(see all)
You're looking for a stable mic arm stand to support your new microphone, and you might be wondering which best microphone boom arm to get. We have the answers.
Finding the Best Microphone Boom Arm for Your Needs Is Never Easy
Spent most of your money buying that new fancy condenser microphone with a little leftover to buy a microphone boom arm?

Your budget is tight, or you're just trying to get your money's worth. Everyone has been in this situation before, likely for different things, though.

You want something stable to support your new boom microphone, and you might be wondering which mic boom arm to get. These are essential for streaming, or even using as a podcast mic stand.

Depending on how much you are willing to spend, there are plenty of options available to you. The benefits of using one are very noticeable, and it also gives you a sense of professionalism. It did for me anyway.

It felt awesome having a bunch of extra room on my desk and being able to position the boom mic exactly where I want it.
Comparison Table – Best Microphone Boom Arm List
Preview
Best Overall
Best Budget
Best Under Budget
Title
Knox Gear Professional Microphone Studio Stand
NEEWER Adjustable Microphone Suspension Boom Scissor Arm Stand
Blue Compass Premium Tube-Style Broadcast Boom Arm
Best Overall
Preview
Preview
Best Budget
Preview
Title
Knox Gear Professional Microphone Studio Stand
Best Under Budget
Preview
Title
NEEWER Adjustable Microphone Suspension Boom Scissor Arm Stand
Preview
Title
Blue Compass Premium Tube-Style Broadcast Boom Arm
Best Boom Arm Overall – Rode pSA1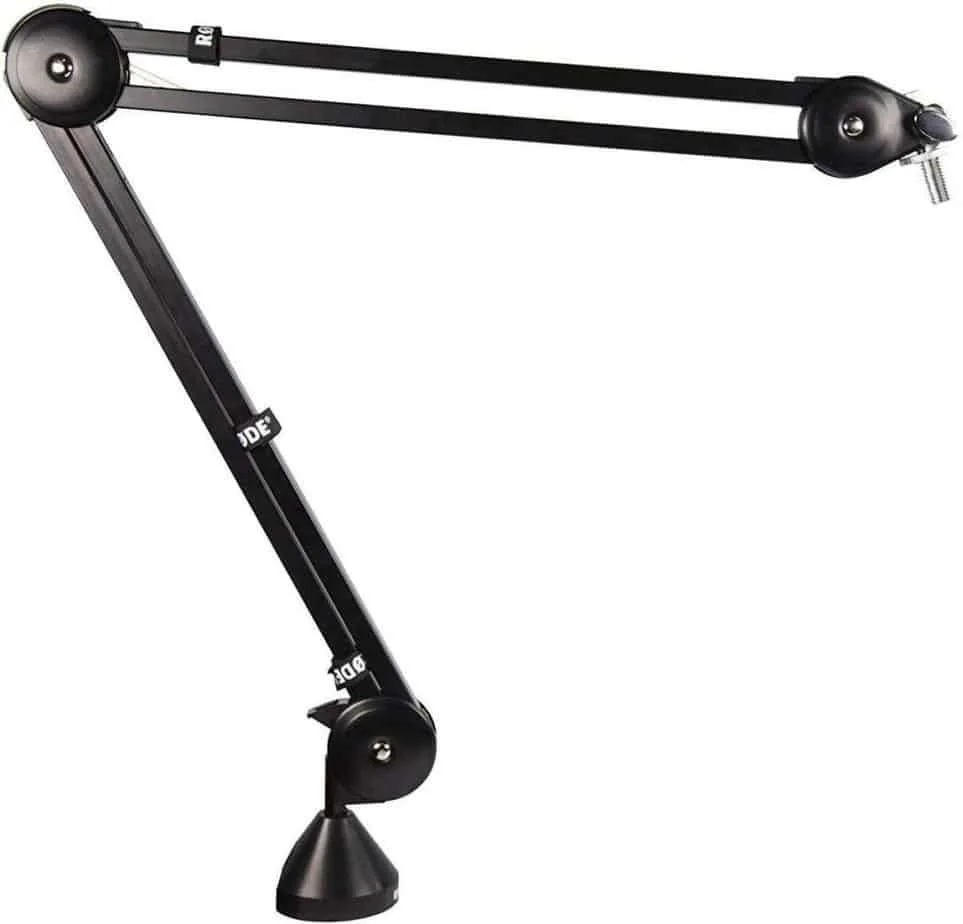 The Rode PSA1 is usually the go-to microphone stand to get as it holds up very well in terms of quality.

This boomarm is little bit bigger, the arm is a little bit sturdier, and the joints are all high quality. You don't have all the excess noise that occurs if you bump it by accident as do the budget-friendly alternatives. It even allows you to manage your XLR cable and tie it to the mic arm itself.

You can effortlessly move it around (rotates 360 degrees). It also includes a 2-axis swivel-mount, which allows you to place the microphone suspension boom arm in any position you wish to set it in. It also comes with a table mounting clamp for an easy set up on your desk.

Chances are, if you get this microphone stand, you will not need to upgrade it for a very long time. It can be considered cost-effective by going this route.

However, for the price of this stand, the Rode PSA1 is not a budget-friendly stand to buy, but it is the finest overall heavy duty boom arm that I can recommend, perfect for heavier microphones.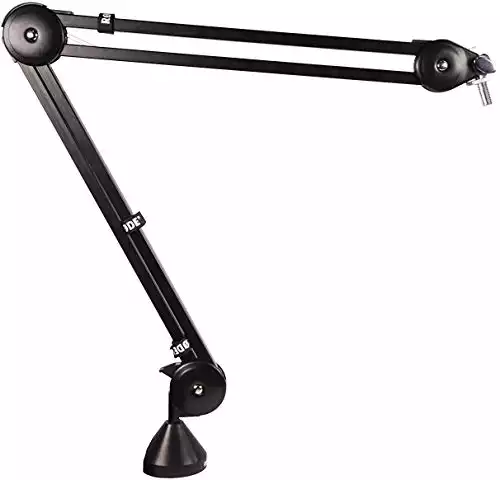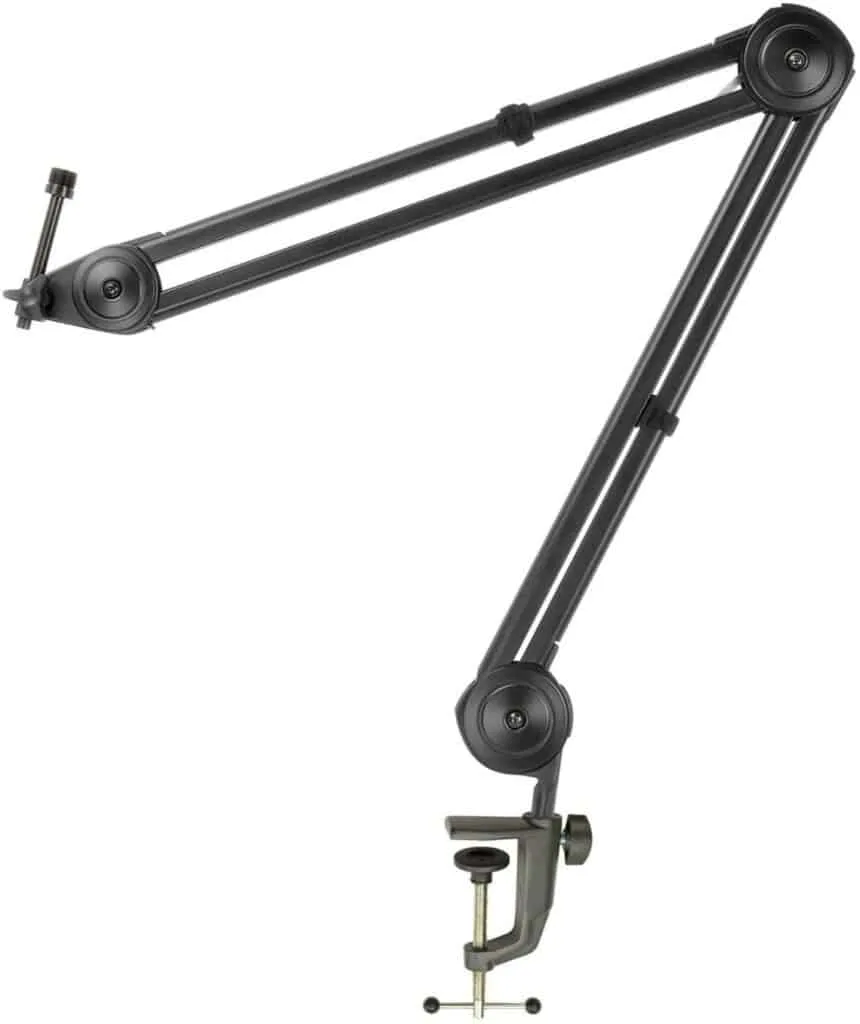 High grade steel tubing, ensures the arms won't bend, break or crack easily
Fully adjustable with 360 degrees rotation and a two axis swivel mount
30 inch scissor arms makes it fully adjustable and extendable
Comes with the standard 5/8 inch adapter
Supports up to 5 lbs
The Knox Gear Professional Microphone Studio Stand is very similar to my previous pick. It has the same 5/8 screw, the same range of motion, and has a durable frame, which makes it one of the best boom arms.

This mount can hold up to 5 lbs, which makes it way better than the previous one. So why did I decide to make this the runner up?

I have found a small percentage of people complaining about the screw connector just falling off the table mounting clamp and causing their microphones to fall. That is a little risky for my taste, but they do provide a 1-year warranty on this product. So you can perhaps overlook the shoddy mic clip for this reason

Above all, I do believe that defective studio boom arms do happen. The seller is providing fantastic customer support in offering a replacement mic desk mount if it does happen to anyone. They will send you a replacement at no charge. Good customer service makes this the best mic boom arm for the budget shopper.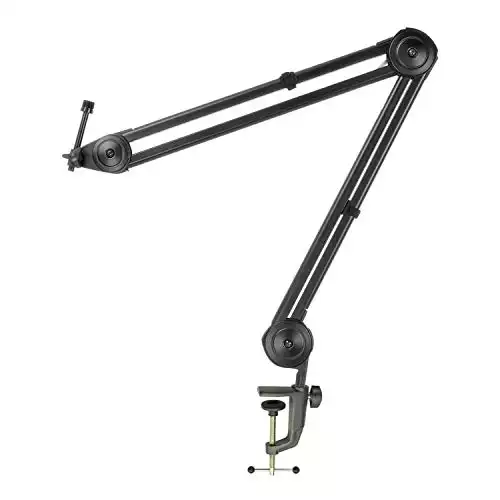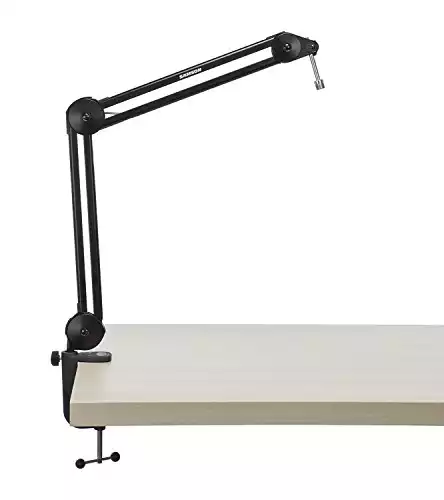 The Samson MBA28 Microphone Boom Arm comes with a flexible suspension boom scissor arm made of firm metal and strong springs. It also includes a table mounting clamp so you can set it up as a desk mic mount.

The mic stand comes equipped with double-braced microphone arm clamps that allow it to excel in multiple situations.

Compared to other boom arms, this one has a durable aluminum alloy structure, which makes it much sturdier and durable than its predecessors. The downside is that you cannot strap in your XLR cable to the frame so the cable will be loose.

The stand comes equipped with a standard 5/8-inch screw metal adapter, which makes it compatible with a Blue Yeti microphone product. The screw adapter has a 315-degree range. The boom arm is rotatable up to 360 degrees, and the arms are also flexible up to 180 degrees.

In other words, it will meet your requirements or expectations. The Samson models offer different arm lengths and sizes as well for their boom arms. This is great for bigger home studio setups.

The mic mount desk holds just as much as the best microphone boom arms. The boom for mic has an impressive weight load of 5 lbs.

This boom arm strikes everything I would be looking for in my first purchase (price, aesthetics, durability, weight load, etc.). In short, this is why I am recommending it for this category.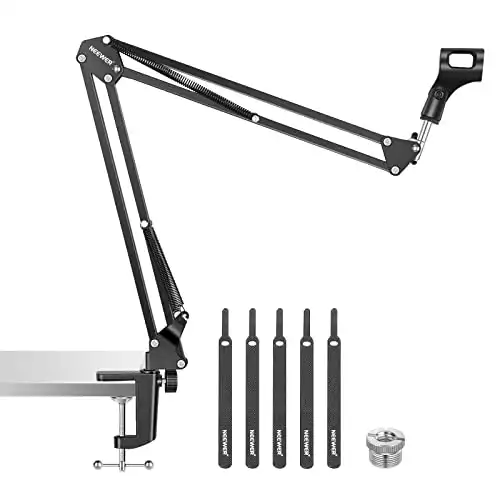 Neewer Microphone Arm Stand | Amazon
Conveniently adjust the angle and height of this mic boom arm to suit your vocal recording need—just loosen the adjustment knob and adjust the boom arm.
Buy at Amazon.com
We earn a commission if you make a purchase, at no additional cost to you.
12/04/2023 05:29 pm GMT
The NEEWER Adjustable Suspension Desktop Boom Mic Stand can fit comfortably on any desk with its upgraded table clamp and protective cushion. Also, the scissor arm stand consists of a high-quality steel frame, which makes it sturdy and durable.

It can hold approximately 1 kilogram worth of weight, which would be your microphone and filter/shock mount combined. It does not have a cable management system for your XLR cable.

For the price, this is a great boom arm. It would be tough to find a better microphone desk boom than this one. NEEWER themselves even upgraded their original model as it kept breaking at the base connector.

Now they made it even more sturdy, which solves most of the issues this stand has had in the past.

Unfortunately, those of you with a full-sized Blue Yeti Microphone will need to spend a bit more to get the upgraded version of this Boom Arm. Currently, the standard version will not correctly support the weight of a full-sized Blue Microphone.

Some people are saying the Blue Yeti works fine with this suspension boom arm, and other users are saying that it cannot support the weight and had reports of it dropping and breaking. If you still want to use this desktop boom mic stand with the Blue Yeti microphone, it will be at your own risk.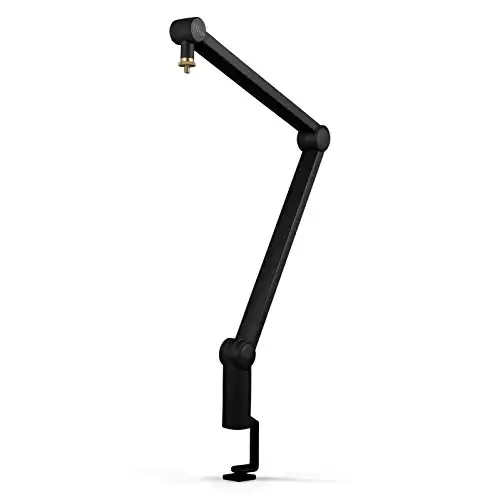 The Blue Compass Premium Boom Arm is a pretty solid alternative to the other boom arms. It has a different design that does not use a scissor suspension boom arm to support the weight of the mic.

It comes with an all-tube inclusive design where the springs are internal, and it uses friction-hinges, allowing the microphone desk clamp to be hand tightened.

The boom arm also has a proper hidden cable management channel. The mic stand comes with a C-Clamp for easy installation and includes the standard 5/8 inch threading (and an adapter for 3/8 inch threading).

This microphone arm desk mount can hold a total of 2.4 lbs (including the mic and shock mount). This is a great quality microphone arm stand.
Best Microphone Boom Arm – In Conclusion
Now, I need to mention this. There are plenty of cheap and budget-friendly low profile boom arms out there that will meet your needs, whether it's streaming or as a podcast arm. I just wanted to point out some of the best microphone boom arms that I found.

If you've done some research into getting a mic boom arm, you might have read about some horror stories of some of them just letting go and dropping the microphones on the desks.

Just some words of advice, if you do get a cheaper alternative, make sure you follow the arm weight recommendations of the boom arm stands to avoid issues like those mentioned above from happening to you.

The best microphone stands can differ for everyone. The quality of the arm can make a big difference in supporting your mic. You don't want to cheap out and get something that won't be able to hold your setup and risk breaking anything.
I hope you found this list of best desk mic stands to be useful! Best of luck with your new studio boom arm.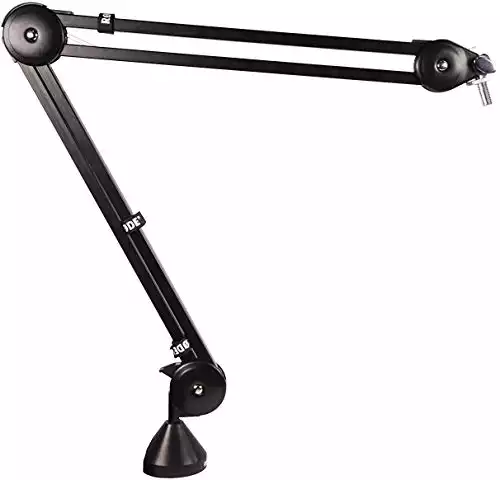 Continue reading:
AT2020 vs AT2035 – Our Best Pick