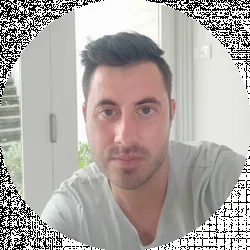 Latest posts by David Borgogni
(see all)
Purple is an excellent color choice to create a modern and bold gaming rig, and you can combine it with both lighter and darker shades. My purple gaming setup ideas will show you the best furniture and accessories to start building your gaming room.
I'll run through the things you need to think about to create your purple gaming room, the best purple gaming products on the market, and you can find some answers to common gaming room setup questions at the end.
So, let's get started with an overview of the purple gaming room setup ideas that have made my list.
Bottom Line Up Front
The Magiacous Smart Light Bars is the best way to create a purple gaming room within your existing space. These light bars are perfect for a purple gaming setup with different customizable modes, a reasonable price, and stunning visuals. You can also combine these lights with new gaming furniture and accessories while maintaining a predominantly purple aesthetic.
At a Glance: 6 Purple Gaming Setup Ideas
What do you Need for a Purple Gaming Setup?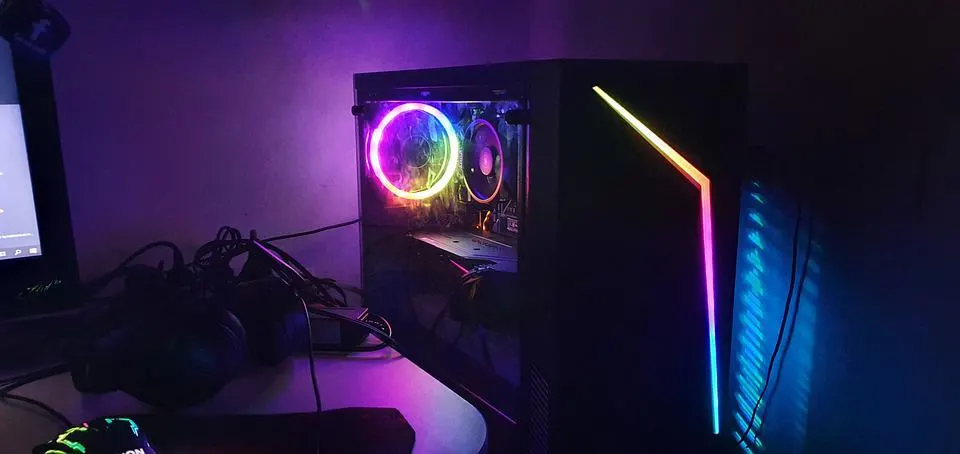 Aside from the obvious – buying furniture and accessories in purple! – there are a few things to think about to create the perfect gaming setup.
Desk
Your gaming desk is one of the central focal points to your setup; however, you need to consider a few things before buying a new desk.
Gaming desks come in three different styles – a Z-shaped desk, L-shaped or corner desk, and a U-shaped gaming desk.
A Z-shaped desk has a fairly standard office desk style, and it is a good option if you only have a small space for your gaming setup. L-shaped or corner desks are a great choice if you need more space or want a surround setup. They will take up more room; however, they provide a more extensive desk area for your computer and accessories.
U-shaped gaming desks provide the most space for a gaming setup, but these desks often cost more money as they are larger.
You can also look at different gaming desk features if you want enhanced functionality or better aesthetics. Some of these features include:
Storage shelves and drawers
Cupholders and headphone hooks
USB ports to charge up your devices
Cable management to hide your cables
LED lights
Black gaming desks usually work excellently with a purple gaming setup.
Chair
A good gaming chair is vital for a comfortable setup, but it is also important to achieve your aesthetic, especially to blend in with a purple design.
If you are using a gaming desk, you should get a racing gaming chair. The other option is a rocker that sits on the floor, but this isn't suitable for using a desk.
Gaming chairs should have a superior level of padding, and some have extra comfort features, including a massager. You can also find gaming chairs with great functionality, including inbuilt speakers, a footrest, cupholder, and audio connections.
While comfort should be the first thing you consider when buying a new gaming chair, also look at the different features it offers.
Keyboard and Mouse
You may think that a keyboard and mouse don't play a major role in the overall design of a gaming setup, but they certainly do.
One of the best ways to achieve a purple gaming setup is to choose a keyboard, mouse, and other accessories that fit into this aesthetic.
A good idea is to buy a LED-backlit gaming keyboard as this can help to achieve a purple design without being overwhelming. I have included a fantastic backlit keyboard on my list below. Also, a purple mouse can help create an overall purple design for your setup and be highly functional for gaming.
Other Accessories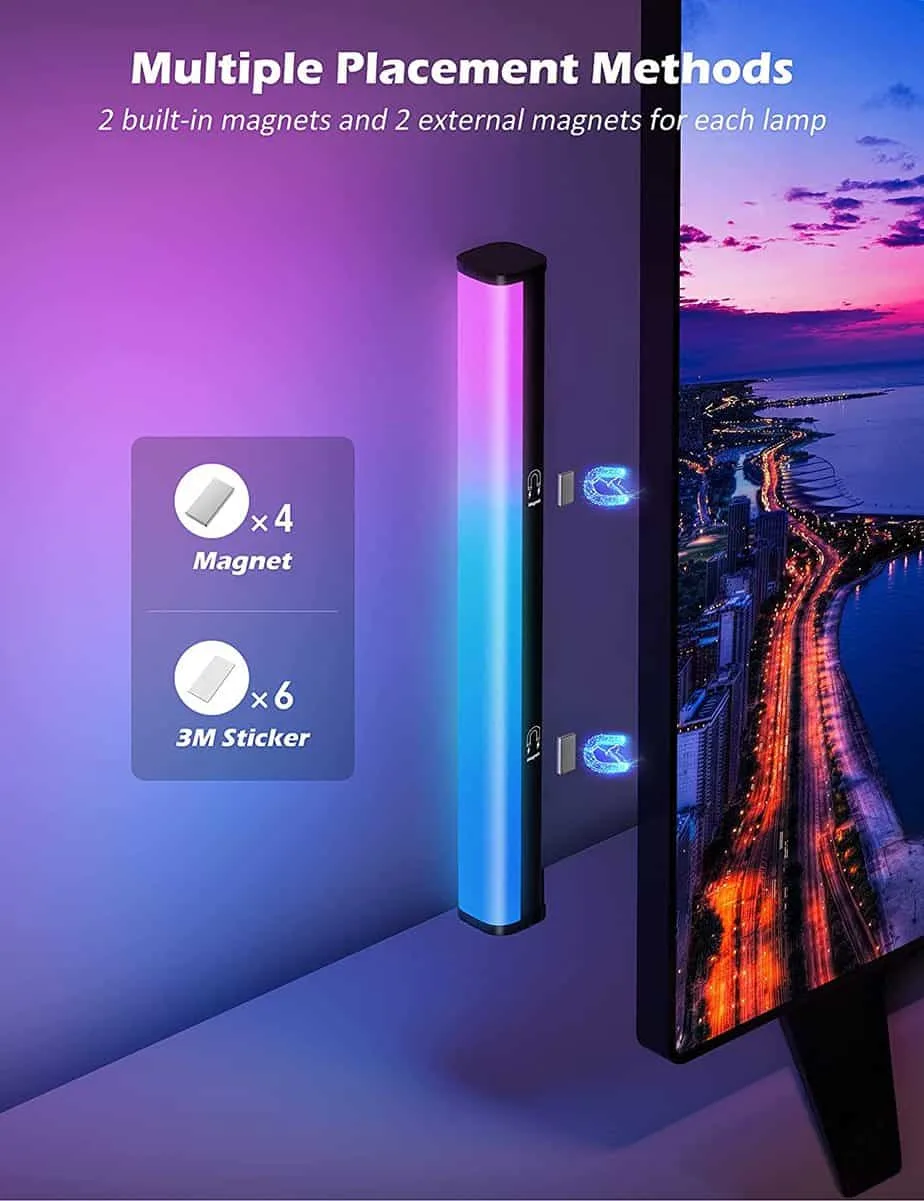 You can add other accessories to your gaming space that can help achieve a purple style.
Headsets are ideal for gaming, especially if you need a microphone to play with others or stream your online exploits. Many great purple gaming headsets are available that come with a range of functionality.
A few other accessories you can add to your gaming setup include:
A phone stand for your gaming desk
Desk lights and speakers
Oversized gaming mousepads
These are just some ideas that you can add to your gaming room to make a purple style.
Selection Criteria
Creating a purple gaming setup requires you to think a bit differently about the furniture and accessories you buy. I used some criteria to filter out irrelevant and poor gaming products to ensure that you get only the best purple gaming ideas. This included:
Purple Style
As you want to create a striking purple gaming setup, all the products on my list have a purple shade. Some will have more than others to create a nice aesthetic balance without being overwhelming.
Top-rated
The gaming items on my list have all been rated highly by users, and I haven't included any that have poor performance or durability.
Cost
Purchasing a lot of new equipment for a gaming room can become pretty expensive, so I have tried to include cost-effective products but still offer great features.
6 Best Purple Gaming Setup Ideas
Magiacous Smart Light Bars – Best for Creating a Purple Gaming Setup
The easiest way to create a purple setup for your gaming room is to add Magiacous Smart Light Bars.
These lights can sit on your gaming desk and emit a beautiful, striking, and modern purple color that will reflect your room. If you don't want to use a lot of purple furniture, these lights are ideal for creating a purple effect and look fantastic on streams.
The light bars have four music modes that vibrate to the rhythm, or you can have them remain static in one of the 16 million colors. Different models create unique effects, and the Smart Life app gives you complete control over the operation.
I feel like the highest brightness setting can seem slightly dim, but the overall effect was still there. The Magiacous Smart Light Bars are the quickest way to achieve a purple gaming setup without investing in lots of different furniture and accessories.

Pros
Quick way to create a purple aesthetic in your gaming room
Millions of colors and different effects
Easy to control via the app
Cost-effective gaming room lights
Cons
The highest setting could be a bit brighter
Cooler Master Caliber R1 Gaming Chair – Best Purple Gaming Chair
The Cooler Master Caliber R1 Gaming Chair is the perfect starting point for purple gaming furniture as it isn't overwhelming and instead offers a refined style. You can go all out with an entirely purple gaming chair; however, I enjoy the subtle purple shade as it won't overpower the other purple gaming accessories and furniture in your room.
I have reviewed this chair before, and it is so good that I have included it on this list.
The first thing I noticed about this gaming chair is its exceptional comfort level. The PU leather is perfect for gaming sessions, and there is plenty of padding, lumbar, and neck support. This chair can also recline back 180 degrees for added comfort, while the height is adjustable, allowing you to find the ideal height for your gaming desk.
The chair lacks a few extra features that I would like to have. This includes an extendable footrest, and even inbuilt speakers would be great too. However, this chair provides fantastic levels of comfort, and the understated purple design isn't going to overwhelm the rest of your gaming setup.
If you want an aesthetically pleasing purple gaming chair that still offers a lot of functionality, the Cooler Master Caliber R1 Gaming Chair is my top recommendation.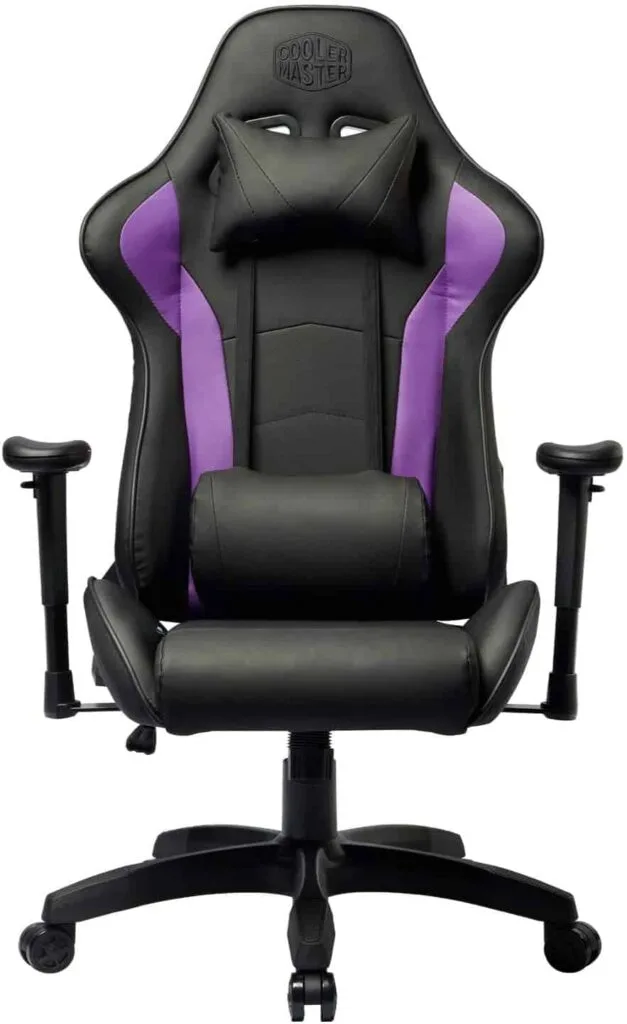 Pros
Extremely comfortable gaming chair
Adjustable height and armrests
Made from PU leather
Provides a brilliant purple aesthetic
Cons
Lacks some extra features such as a footrest
EUREKA ERGONOMIC Z2 Gaming Desk – Best Desk for a Purple Gaming Setup
Gaming desks are an integral part of any setup. While you can use a standard desk for gaming and streaming, purchasing a desk with many gaming features is recommended to get the best experience.
To fit in with the purple aesthetic of a gaming room setup, I have chosen the EUREKA ERGONOMIC Z2 Gaming Desk. When you combine this desk with the Cooler Master Caliber R1 Gaming Chair, you get a bold design with purple tones that isn't overwhelming. I think the desk and gaming chair complement each other well, and the LED lights fit in with the purple style we are going for.
This desk doesn't have as much space as a corner desk; it comes packed with many gaming features. There is a cupholder, and a headphone hook which I think are both excellent additions, and you can house a wide monitor, keyboard, mouse, and other accessories with ease. The desk is 50 inches wide, so there is plenty of room.
There is a mobile device slot to store your phone or tablet and the carbon fiber textured surface area provides a good level of durability.
One of the best features of this gaming desk is the cable management system, and it is easy to keep your space tidy by hiding leads and wires.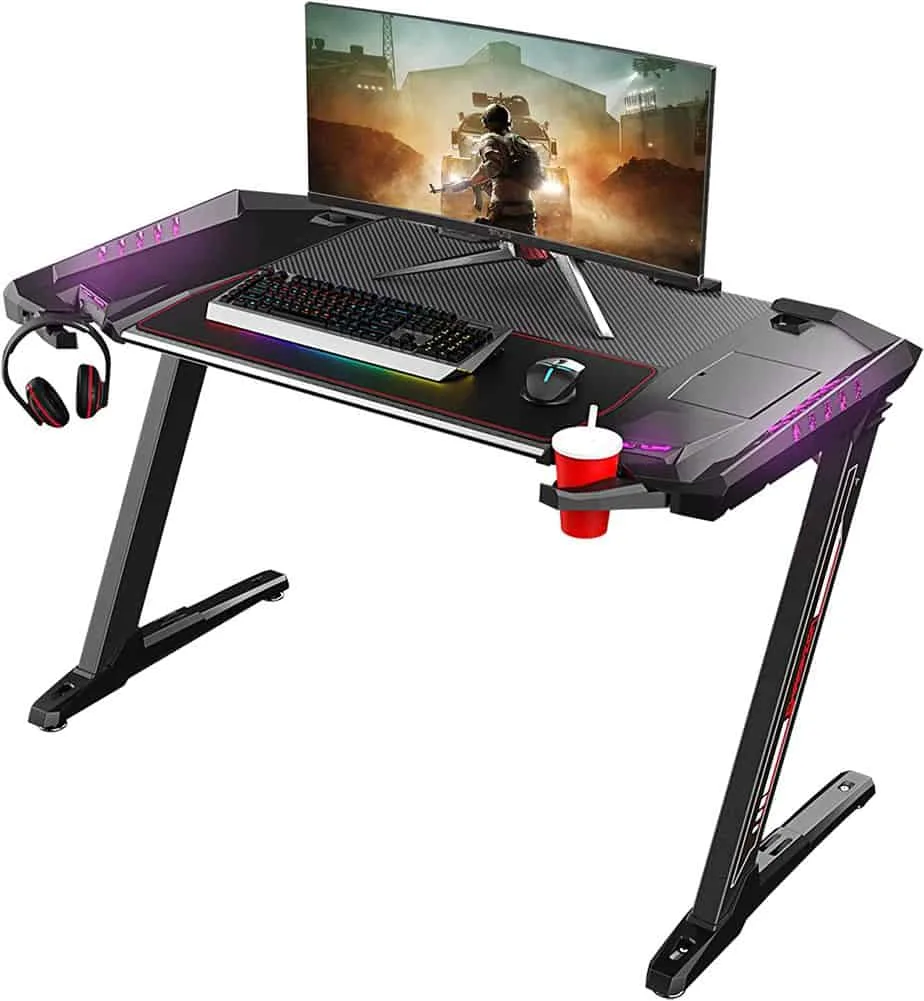 Pros
Comes with a lot of gaming features
Striking design with purple LED lights
Cable management system to hide wires
Height is adjustable
Cons
Doesn't offer as much space as a corner desk
Turtle Beach Recon Spark Gaming Headset – Best Headset for a Purple Gaming Setup
The first two purple gaming setup ideas on my list have a darker color scheme, so to brighten things up a bit in your gaming room, I have included the Turtle Beach Recon Spark Gaming Headset.
You still get the purple aesthetic, but the mainly white design will ensure that your gaming space isn't all purple and black.
These headphones are compatible with all major consoles and PCs, and the 40mm over-ear speakers have superior audio. Whether you are trying to pick up faint sounds or thundering noises during your gaming sessions, these headphones are optimized to produce an immersive experience.
I also found these Turtle Beach headphones very comfortable as they have memory foam ear cushions. Some headsets can get annoying after a long period, but you hardly notice this model even after a few hours, which is fantastic.
You can adjust the audio with the easy controls, and the flip-up mic is great for playing with friends or streaming content on Twitch.
The only downside is that this purple-styled headset isn't wireless, and you will need to plug it in via the 3.5mm jack. However, this means that you won't suffer any unexpected sound loss from a battery needing to be charged.
This Turtle Beach headset is perfect for your gaming setup with a bright design, good audio quality, and exceptional comfort.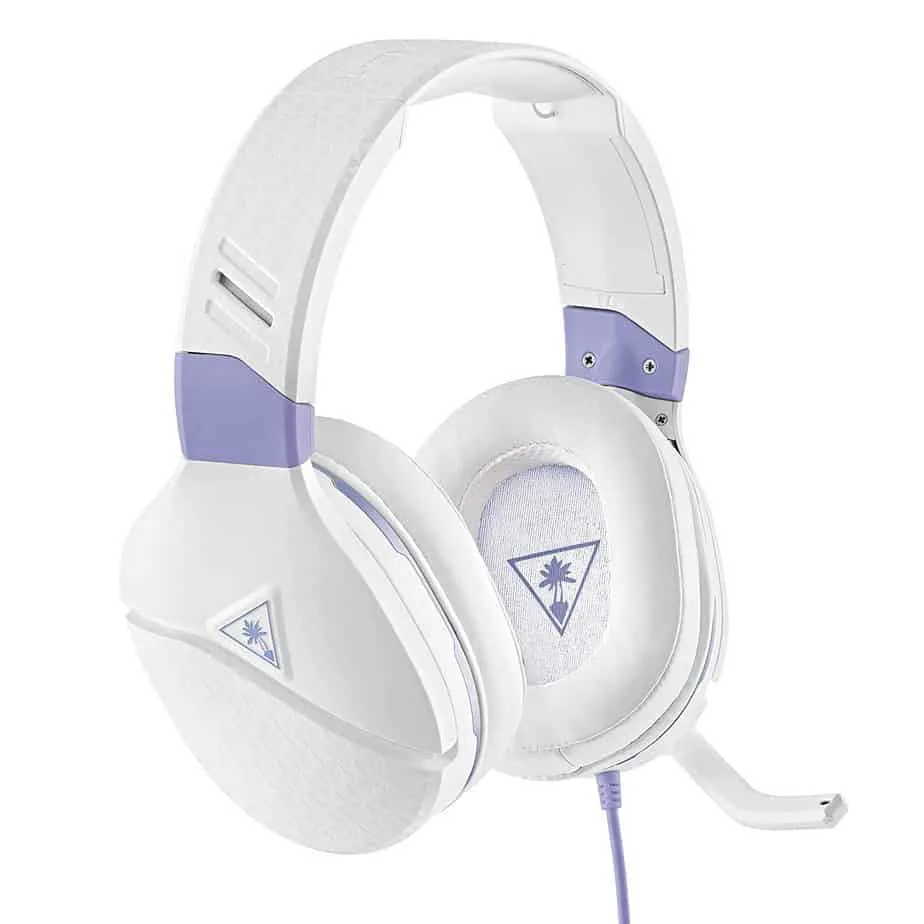 Pros
Has excellent comfort levels
Compatible with consoles and PCs
Easy audio control
Flip-up microphone
Cons
These headphones don't have wireless connectivity
HK GAMING GK61 Mechanical Gaming Keyboard – Best Keyboard for a Purple Gaming Setup
Remember I wrote above that you shouldn't ignore the design of a keyboard and mouse for your purple gaming setup; this is why I have included the HK GAMING GK61 Mechanical Gaming Keyboard on my list.
This keyboard has a grand lavender color scheme that will blend in with a purple-themed gaming setup. The keys are illuminated with a backlit LED system that will add a colorful and bright style to your room. You can choose from different color modes for the best effect, which is ideal for providing something unique when streaming.
The optical switches ensure a high durability level, and they are tested for up to 100 million keystrokes. You won't need to replace this keyboard anytime soon, even with repeated use. Also, the response time of 0.2ms is perfect for gaming and ensuring no lag.
This keyboard is available at a decent cost, and if you want a purple accessory for your gaming setup, this isn't going to break your budget. The software to configure this keyboard isn't as to find, install, or use for the first few times.

Pros
Durable and responsive mechanical keyboard
Backlit LED lights that can be customized
Optical switches and cost-effective price
Cons
The software to configure the keyboard is poor
HK Gaming Mira S Ultra Lightweight Honeycomb Shell – Best Mouse for a Purple Gaming Setup
The final purple gaming setup idea on my list is the HK Gaming Mira S Ultra Lightweight Honeycomb Shell gaming mouse.
Aside from the lavender color (which fits in with the gaming keyboard above), this mouse is incredibly lightweight. Overall it comes in at just 61 grams, and this plays a significant role in being able to use this mouse responsively and reduce any fatigue over long sessions.
The six-button design lets you configure this mouse for gaming and provides ample controls. The honeycomb design also helps grip and ensures this mouse won't slip during important moments. With the software, you can configure up to five profiles with onboard memory, and you can also tailor the color of the RGB scroll wheel for extra effect.
This mouse isn't wireless, which can put some people off. The wired design might hinder you if you don't want cables taking up your desk space. However, in terms of overall functionality, style, and the cost of this customizable gaming mouse, it would make an excellent addition to a purple gaming setup.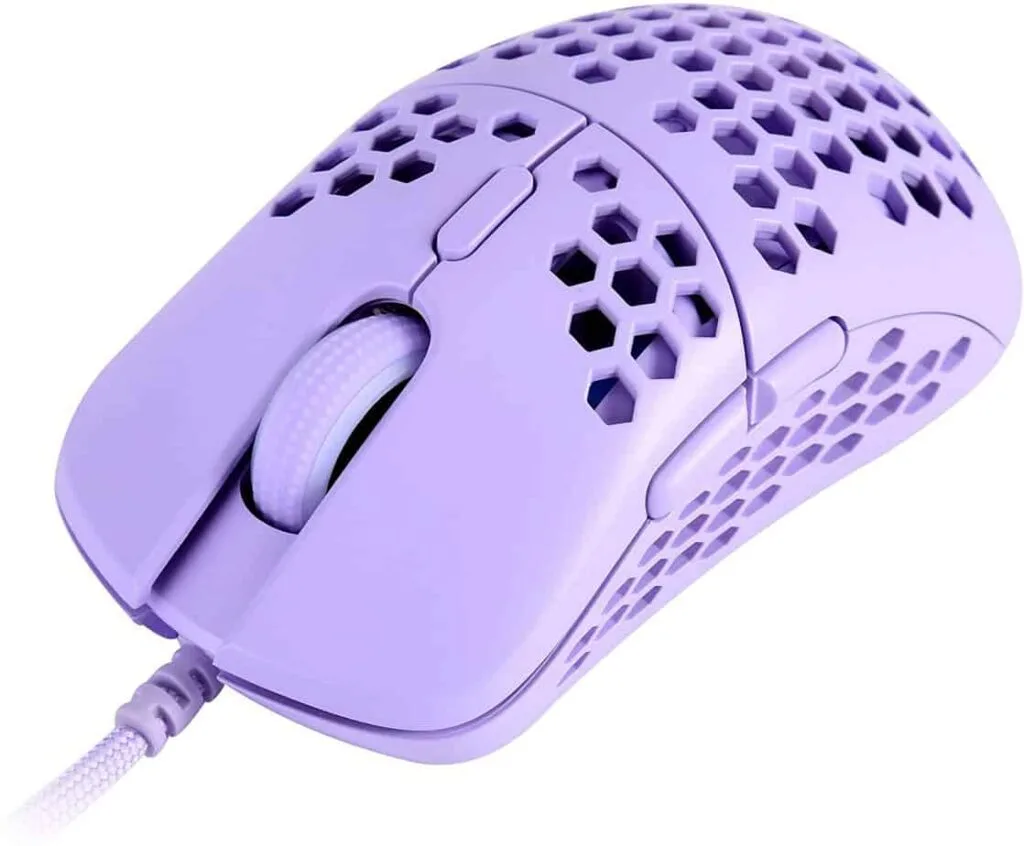 Pros
Weighs only 61 grams
BUttons and controls can be customized
Comes in an elegant lavender color
RGB scroll wheel
Cons
Frequently Asked Questions
Question: Should all my Gaming Furniture and Accessories be Purple?
Answer: It depends on how much you want to incorporate purple into your gaming room. You can create a purple setup with just a few hints of this color, or you can go all-out and introduce many different purple-colored gaming accessories.
Question: Can Gaming Lights Create a Purple Gaming Space?
Answer: Yes. Desktop lights are perfect for illuminating a gaming space in any color, and you can easily change the whole look and feel of your room with well-laced gaming lights.
Question: Are Purple Gaming Accessories More Expensive?
Answer: Not really. Most gaming accessories and furniture, such as chairs and desks, will have a purple option. This shouldn't cost more than other color schemes.
Question: Do Professional Streamers use Purple Gaming Setups?
Answer: Some do. Purple is a trendy and bold color that is excellent for creating a streaming backdrop. You can find some professional streamer setups on my blog.
Question: What Other Colors Can I Use in a Purple Gaming Setup?
Answer: Too much purple can be overwhelming; however, you can combine purple with lighter and darker colors. Black and white are two colors that work brilliantly with purple to create bold and fresh aesthetics.
Question: Which is the Best Purple Gaming Setup Idea?
Answer: If you want to quickly create a purple gaming room, go for the Magiacous Smart Light Bars.
These light bars can sit on your gaming desk and produce stunning visuals, which can turn your whole gaming rig and room into a bold and modern purple color scheme. With various modes, including music and scene presents, you can easily customize the look and display of these lights.
Combine these lights with some other purple gaming accessories to create a fantastic aesthetic for your streams.
Find more inspiration below:
Kawaii Gaming Setup Ideas – How to Create a Cute Gaming Room
Pink Gaming Chair Ideas – Brighten up Your Gaming Room with These Top Picks