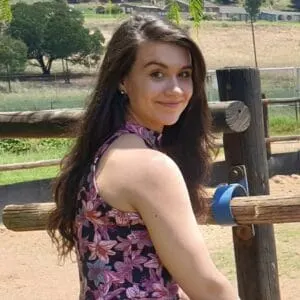 Latest posts by Christine Kent
(see all)
There is something about white gaming desks that hits differently. They make the entire room look clean, professional, modern, and futuristic. Now if you are a gamer, you want your gaming space to look aesthetically pleasing. And what better way than getting a white gaming desk?
I love the white gaming setup look. I think it creates a calm environment for you to relax while you game for hours on end.
Best White Gaming Desk – Bottom Line Up Front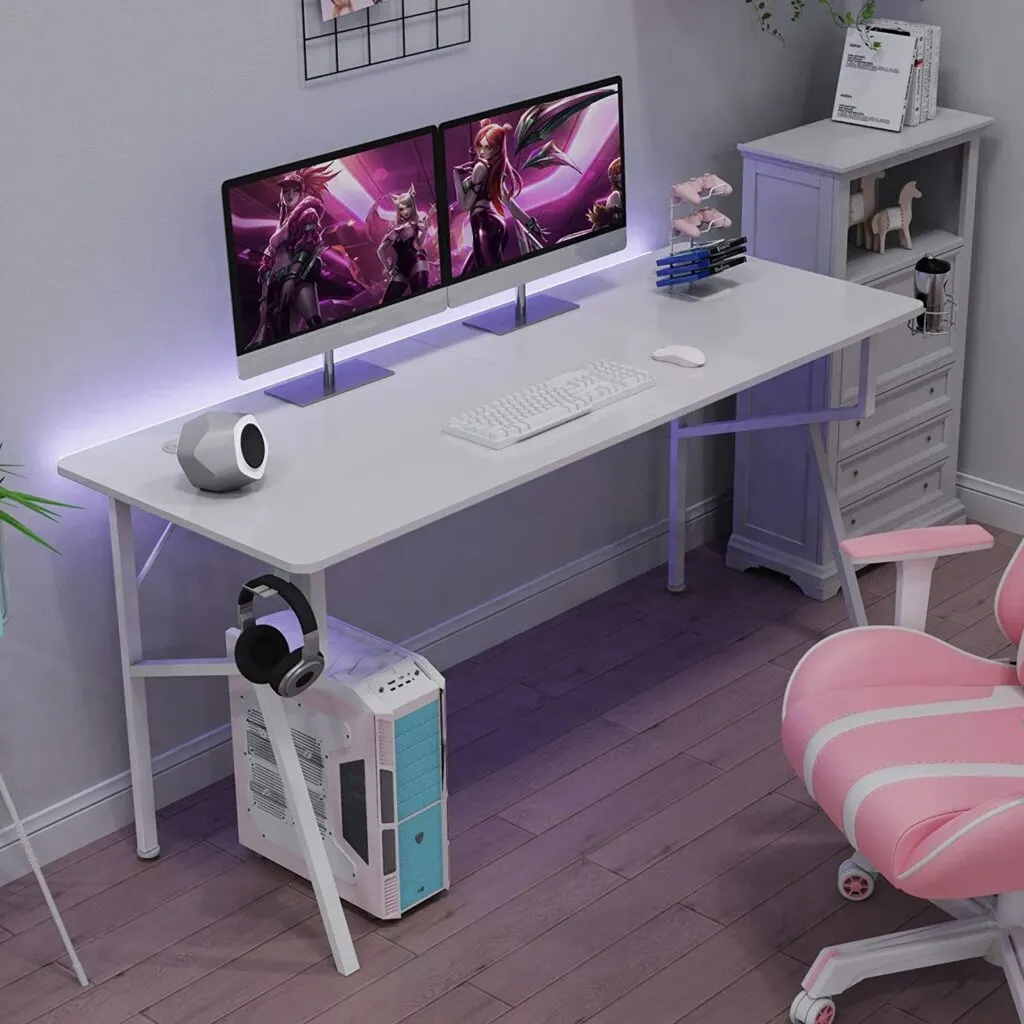 Are you looking for a white gaming desk that will not only look good in your gaming room but will provide you with comfort and improve your gaming skills? You have come to the right place! My favorite white gaming desk is the NTENSE Xtreme Riser, Ergonomic, Home Office, Work Table, Computer, Gaming Room Desk, Monitor Stand, Cup Holder, Headphone Hook, White.
Not only is it comfortable, but it comes with so many features that will just improve your gaming experience even more. If you don't like playing in the dark, you need your phone on you and charged at all times, and you need a place to put your drinks, then this is the perfect desk for you. Read on to get more details on this amazing desk!
Benefits of Buying a White Gaming Desk
Ladies and gents, you will need to clean this white desk often because white will show dirty very quickly, but this is a good thing because your gaming area will always stay clean and fresh.

There are many white gaming desk options to choose from.

You don't have to worry about things not matching because white goes with everything.
What Should I Look for When Choosing my White Gaming Desk?
Types of Gaming Desks
Are you looking for an L-shaped desk, a rectangular desk, a corner desk, or a U-shaped desk? Knowing which type of gaming desk you want will make the process of finding your ideal white gaming desk so much easier.
Dimensions
This is all about the depth and width, and height of your gaming desk. Remember, you want to be comfortable while gaming. So the best advice I can give you is to sit on your gaming chair and see if your arms can rest comfortably on the desk and whether your PC and monitor are within comfortable reach of you.
Shape and Size
This is very important when looking for a gaming desk. You need to think about what shape gaming desk will look best in your gaming room. And of course, the size too, you don't want it to take up all of your space.
Accessories to keep in mind when buying your white gaming desk that will improve your functionality and your level of comfort. So let us get right to it!
Trays and Holders
Having a tray for your keyboard or a holder to put your headset or controller in, will provide you with more space to use on the desk itself.
Integrated lighting
Gaming in the dark is normal for many gamers, but this can cause strain on your eyes; that is why having a gaming desk that comes with integrated lighting will be very beneficial not only for your eyes but also for your gaming experience.
Monitor Mount
This will allow you to adjust the monitor's position, angle, and distance independently from the gaming desk.
Slots or Grommets
A gaming desk with slots or grommets will help you manage your cables and help them stay organized.
Materials to choose from when looking for your ideal gaming desk:
Wood

Commercial-grade steel

Carbon fiber

Glass
Okay, now that you know what features and accessories to look for, let us get to the part you all have been waiting for!
Our Top 5 White Gaming Desk Ideas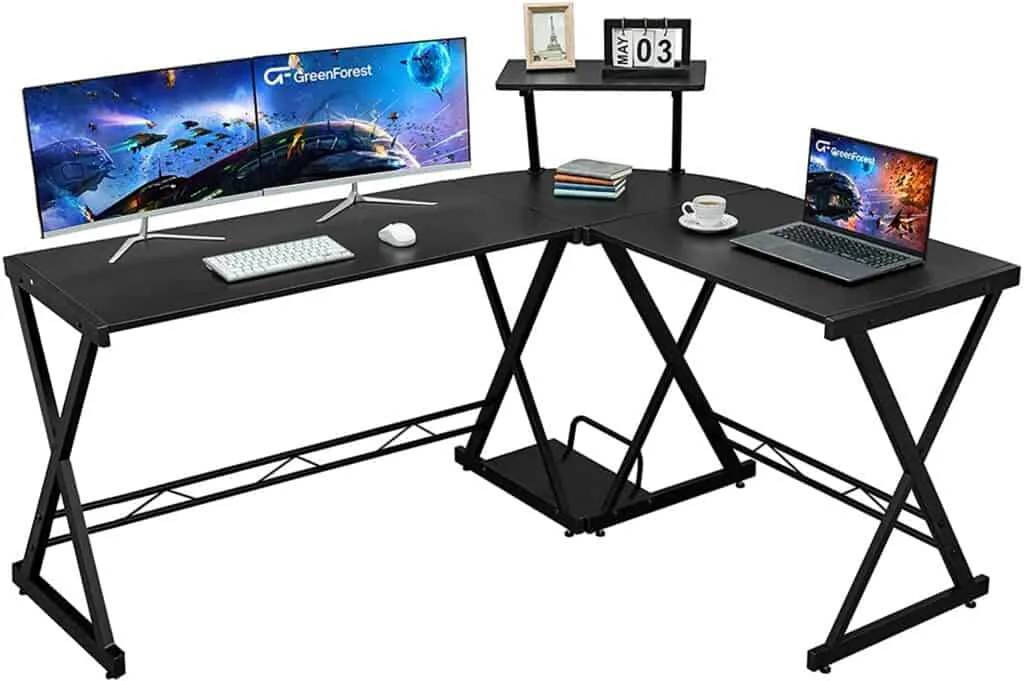 This white L-shaped desk is perfect if you want to save some space in your gaming room. Put the gaming desk in the corner of your room or detach the corner panel and have two separate gaming desks. This sounds like an excellent option for a gaming couple.
The desk is strong and can hold three monitors and even your printer without having to worry about your gaming equipment ending up on the floor.
Let us have a look at some pros and cons of this white gaming desk:
Pros
The desk is strong

It can be detached and form 2 separate gaming desks

It is scratch-resistant, so you don't have to worry about your desk looking like your cat played more on it than you

The desks save space

It is made of high-quality materials

Great stability
Cons
It will take anywhere from 30 to 60 minutes to assemble.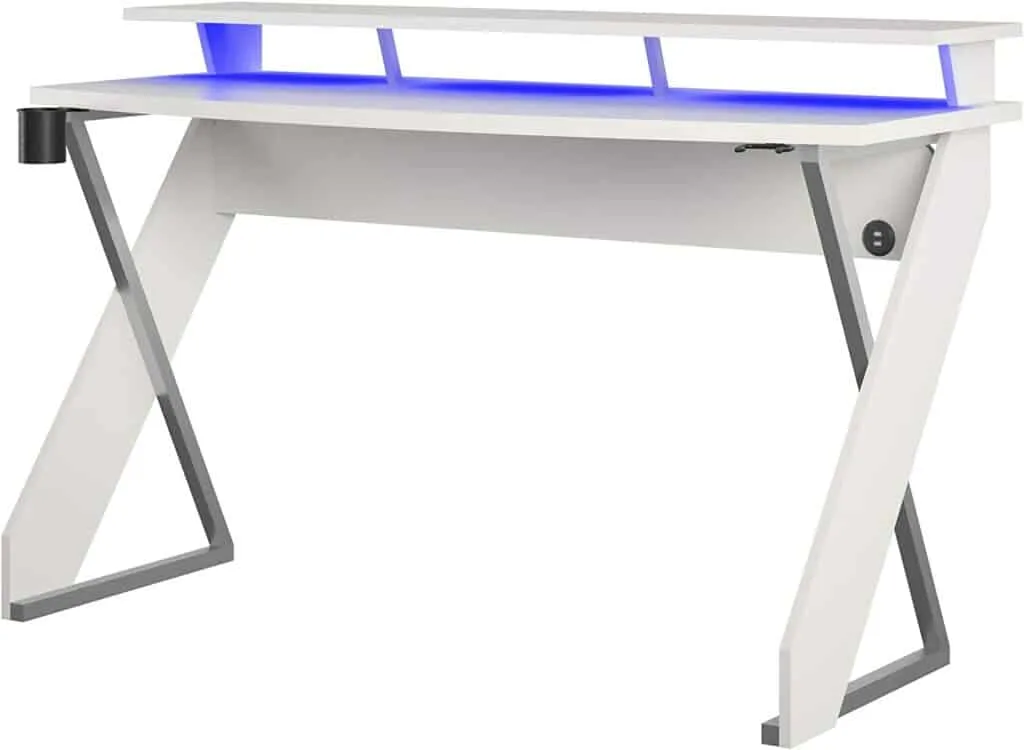 This white gaming desk is personally my favorite! Why? Because it caters to all my gaming needs and has everything, I need to make my gaming experience even more enjoyable. The desk has RGB lights which means I no longer have to strain my eyes by playing in the dark. Wire management is below the desk to keep all your cables organized and in place. It even has a USB port to charge your phone and give power to other USB peripherals. If you thought this desk could not get any better, it can. It even has a cup holder and a hook for your headphones. So if you're a gamer who spends hours gaming without taking a break, this gaming desk will be perfect for you!
Let us get to the pros and cons of this bad boy.
Pros
Cup and headphone holder

USB port

RGB lights

Cable management

It has a riser which means you have more place to put your equipment
Cons
You will need someone to help you to assemble the desk.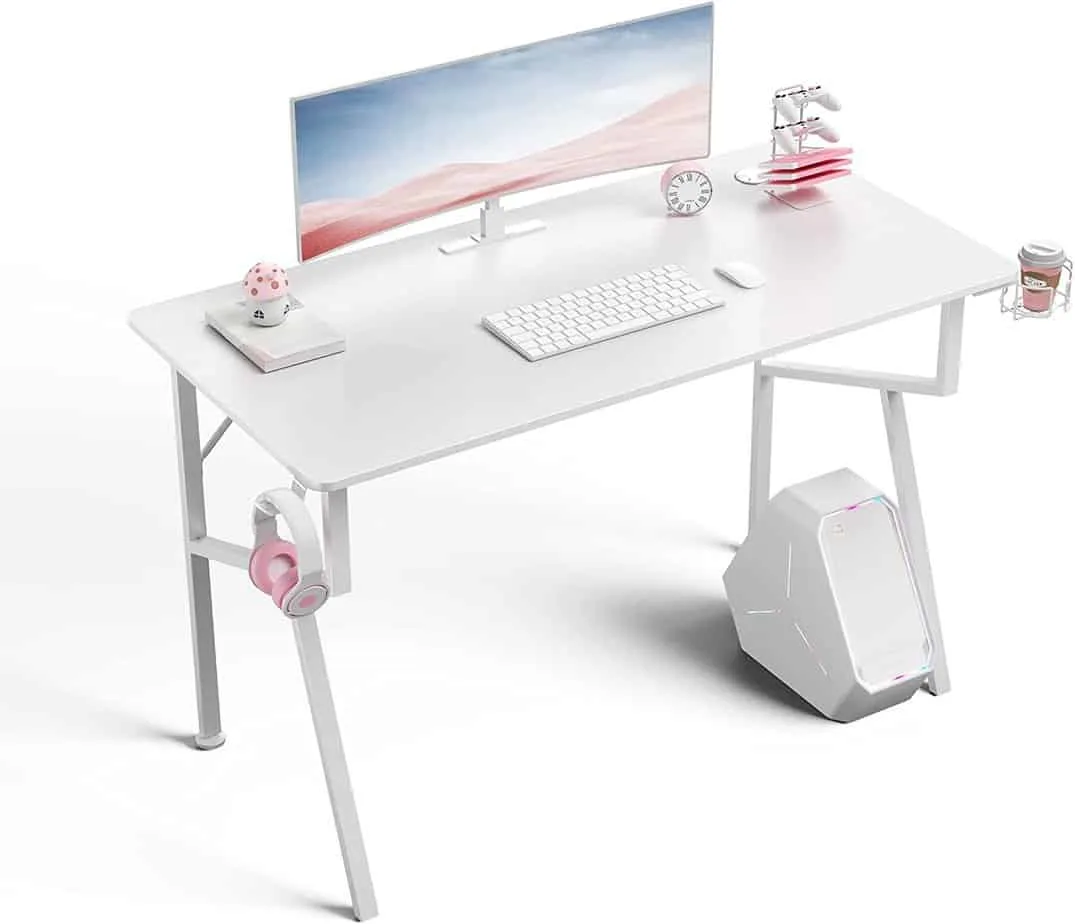 Suppose you are all about aesthetics. Then this white gaming desk will be perfect for you. It is sleek and stylish and will definitely enhance your gaming environment. Its ergonomic design allows you to game more efficiently and comfortably.
Because of its large gaming surface, you don't have to worry about space for your monitors, keyboard, console, and other of your gaming gear. And if you are looking for a desk with a lot of extra features, this is it. The desk has a cup holder, a stand for your controller, a hook for your headphone, an extra-large mouse pad for your mouse and keyboard. What more do you need?
Let us have a closer look at the pros and cons of this white gaming desk.
Pros
The desks come with plenty of features.

Great support

Large gaming surface

Ergonomic design

Aesthetically pleasing
Cons
The style of the desk might not be for everyone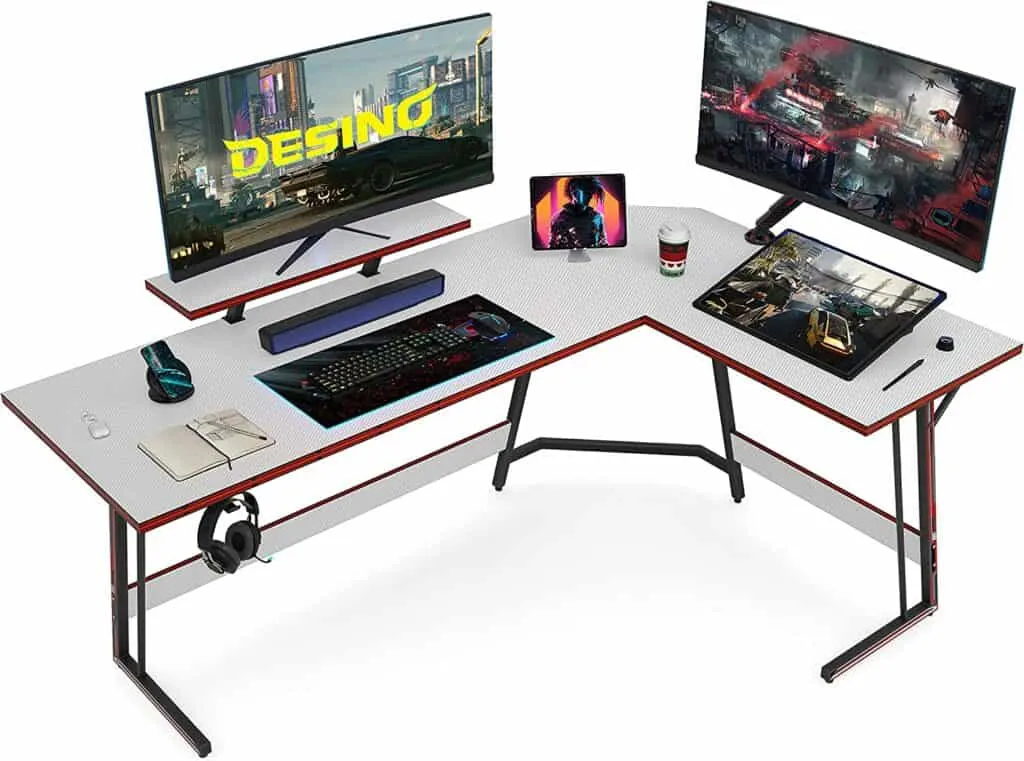 This gaming desk is sturdy and durable. You can even add struts or diagonal braces to make this gaming desk even more stable. When gaming, are you always thirsty, but you are too scared to place your cup on the desk because you might bump it and ruin your gaming equipment? With this white gaming desk, that is a worry of the past because it has a cupholder. The monitor stand riser also creates more free space for you to enjoy.
Now let us look at this desk's pros and cons.
Pros
It is very durable

It is spacious

It is multifunctional with the cup holder, and the monitor stand riser

Ergonomic design
Cons
The carbon fiber texture of the desk might not be for everyone.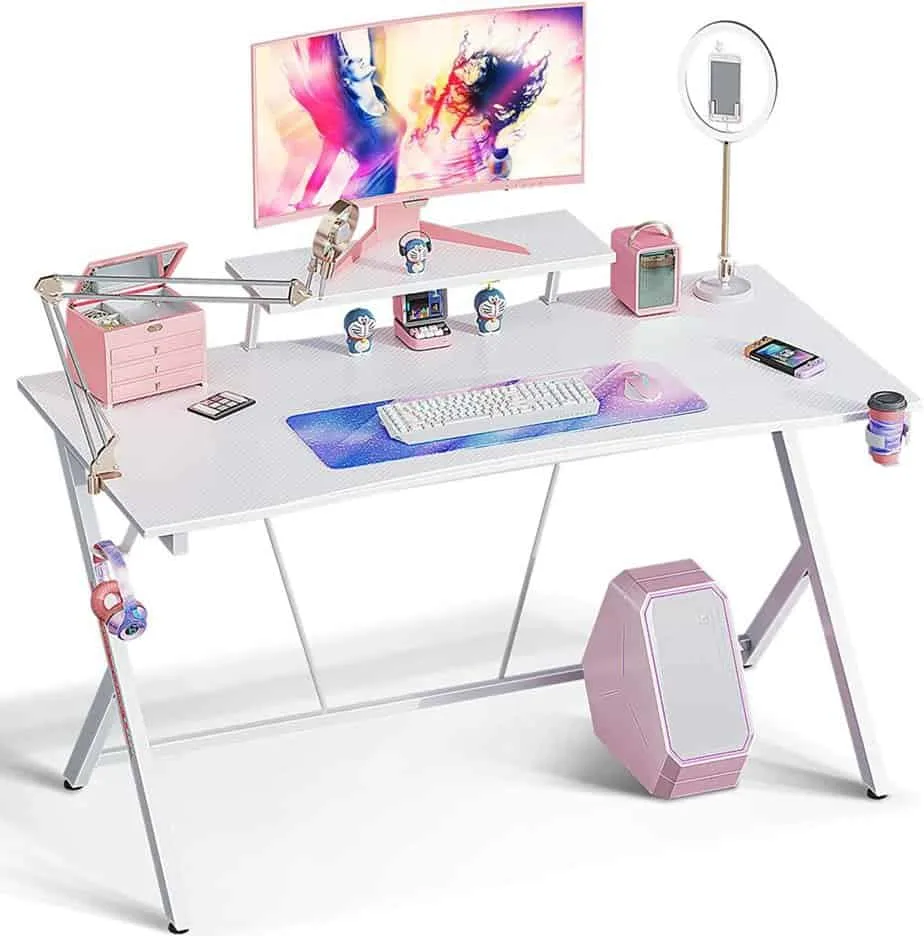 Are you a girl gamer and want a gaming desk that will make your girly gaming dreams come true? Well, I have the perfect white gaming desk in mind for you. You can have your girly desk, and your partner can have theirs. This gaming desk has a large gaming surface which means you can have your monitor, keyboard, mouse, headset, and some decorations on your desk too. Maybe add a candy floss-scented candle to contribute to the aesthetic.
Let us get to the pros and cons of this desk:
Pros
It has excellent support for all of your gaming equipment

It has a unique texture

It has a large gaming surface that allows for more space

The desk has a sturdy frame
Cons
The desk might not be everyone's style.
Frequently Asked Questions
Best White Gaming Desk – Conclusion
There is such a wide variety to choose from when it comes to white gaming desks, from different shapes and sizes to desks that come with additional features. But at the end of the day, it is all up to your preference and which white gaming desk will fit your gaming needs the best.
I hope this white gaming ideas guide helps you decide what gaming desk is suitable for you. And if the white gaming desk ideas are not your cup of tea, there are always other alternative gaming desk options to choose from. Happy gaming desk shopping!
Continue reading:
Corner Gaming Desk Ideas – My Six Picks that Will Improve Your Gaming Setup
Top 6 L Shaped Gaming Desk Ideas for Immersive Gaming