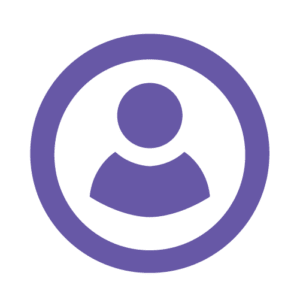 Latest posts by Streamer Startup Team
(see all)
Are you looking for the best microphone for streaming? Which one is the perfect fit for your streaming needs? Choose from our top picks from this year.
What's the Best Microphone for Streaming?
If you're looking for a microphone that could be used in streaming, podcasting, or recording music on your PC, you might feel overwhelmed. There are so many options out there!

Whether you're streaming the latest MMO or working on that next hit podcast episode, a quality microphone is a must-have!

The sheer number of choices can make it hard to choose the best microphone for your needs.

After all, no matter how good your gaming headset is, its primary focus is on audio output and not input. That means the headset mic might be good enough for in-game chatting, but when it comes to streaming your own audio, you need specialized equipment.

From high-end professional gaming microphones to entry-level ones like Blue Snowball or Blue Snowball Ice and Blue Yeti Nano which are perfect for beginners; there are plenty of options out there for gamers who want more than just the basics while they create content.

A standalone streaming microphone will provide you with a better frequency response range, not to mention different pickup patterns that can help remove background noise.

With so many options available, how do you know which one is right for you?

Thankfully, there are many streaming mics that you can choose from, and today we've narrowed down the search and found out which best microphone for streaming is right for you.
Comparing the Specifications – The Five Best Microphones for Streaming
Preview
Best Overall
Best Budget
Title
Audio Technica AT2020 Microphone
HyperX QuadCast S Microphone
Polar Pattern
Cardioid / Bi-Directional / Omni-Directional / Stereo
Cardioid / Bi-Directional / Omni-Directional / Stereo
Cardioid / Omnidirectional
Preview
Polar Pattern
Cardioid / Bi-Directional / Omni-Directional / Stereo
Preview
Title
Audio Technica AT2020 Microphone
Best Overall
Preview
Preview
Title
HyperX QuadCast S Microphone
Polar Pattern
Cardioid / Bi-Directional / Omni-Directional / Stereo
Best Budget
Preview
Polar Pattern
Cardioid / Omnidirectional
The Five Best Microphones For Streaming
1. The Blue Yeti – The Best All-Around Microphone

Tri-capsule array – 3 condenser capsules can record almost any situation.
Multiple pattern selection – cardioid, bidirectional, omnidirectional & stereo.
Frequency Response of 20Hz – 20kHz
Sample Rate of 16-bit/48kHz
Gain control, volume control, mute button, and zero-latency headphone output.
Perfect for podcasting, streaming and voiceovers.
The Blue Yeti is an excellent microphone for just about any recording and streaming need. With an easy plug-and-play setup, this mic will help you capture great audio in any environment without having to spend a fortune.
Essential Specs
Frequency response: 20Hz-20,000Hz
Multiple polar patterns
USB connection interface
Includes pop filter
Pros
An ideal combination of quality performance and affordability
Real-time sound monitoring
Hardware gain knob
General Description
The Blue Yeti USB microphone is without question the most famous USB mic on the planet. Its excellent recording quality and capabilities, paired with a sleek design that comes in multiple colors, make it perfect for any situation.

One of the great features of this USB microphone is that it's entirely made out of metal, making it highly durable.

The rubber pads on the bottom help keep it in place when you put it down on a flat surface- which will be helpful to streamers who might accidentally push against their microphone without realizing it!

The Blue Yeti microphone base is perfect for those who want the best audio quality and noise-free recordings. It has a standard 3.5mm headphone jack, a mini-USB port for powering your microphone, and a threaded base that lets you attach it to most microphone stands.

What's more, if you invest in a shock mount for extra stabilization and unwanted noise prevention, this USB microphone can't be beaten!

The Blue Yeti is great for recording anything from your voice to live music. It has four different modes, each with a specific purpose: cardioid mode is best for capturing direct voice, while the stereo mode is perfect for live music recording.

The omnidirectional mode picks up the sound around you in a 180-degree radius, and the bidirectional or figure-eight pattern offers two intersecting points of capture (one front and one rear) so you can use it as a true surround microphone.

Finally, the Blue Yeti has a dedicated gain knob that helps to adjust the volume of your voice captured by the microphone.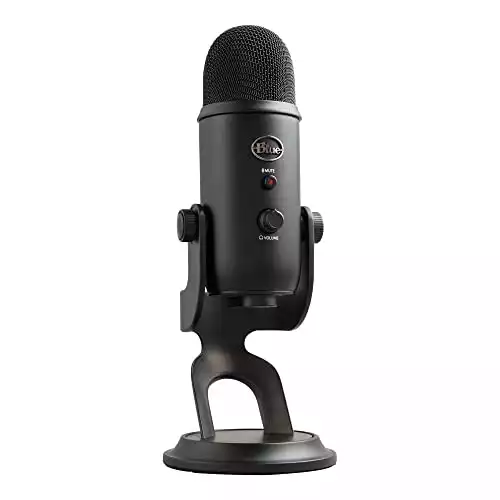 Blue Yeti Microphone | Amazon
Yeti is the world's #1 premium USB mic, producing clear, powerful, broadcast-quality sound for music, podcasts, Twitch streaming, YouTube videos, and Zoom calls.
Buy at Amazon.com
We earn a commission if you make a purchase, at no additional cost to you.
12/04/2023 10:43 pm GMT
Special Feature
The Blue Yeti is a magnificent microphone that can easily be used for anything from recording a podcast to creating your own musical masterpiece. With real-time monitoring and built-in features, the Blue Yeti is an amazing choice for all of your sound needs.

In short, if you're looking for a microphone that can help you with any kind of recording, then the Blue Yeti is one of the best microphones that won't let you down.

If you're looking for a mic that will produce high-quality vocals, the Audio Technica AT2020 is the way to go. This XLR mic shines brightly and offers better quality than competitors like USB mics.

The only downside is that it requires a dedicated XLR cable and an audio mixing board, but if you are willing to make this effort then your recordings will sound amazing!

In case you're intent on sticking with a USB microphone, then the AT2020USB+ can be what you are looking for. You also won't need to buy an audio mixer either.
Essential Specs
Frequency response: 20Hz-20,000Hz
Cardioid polar pattern
XLR/USB connection interface
Sensitivity: -37dB
Pros
Clearly defined audio output
Low mass diaphragm
Extremely affordable price tag
General Description
XLR mics are often shunned as they're not as easy to use as USB mics. However, if you can handle the bit of tinkering that accompanies them, XLR mics are ideal for audio recording and improving vocals.

The AT2020 is a great condenser XLR microphone that works to deliver crystal-clear sound on both XLR and USB interfaces (AT2020USB+). It's perfect for those who want clear vocal recordings without worrying about setup or compatibility issues when used with different devices.

It's always hard to find a good microphone, but this mic is an amazing choice for those who want something lightweight and easy to use. The AT2020 comes with a leather carrying pouch and has a mic stand adapter right in the box!

To operate the AT2020, you'll need a mixer with 48V of phantom power. We also recommend getting a microphone stand, this will help reduce ambient vibrations. But once you get all that set up, the results are bound to be impressive.

As far as looks are concerned, the AT2020 is a plain, front-facing mic without any cosmetic frills. But the all-metal build and grille ensure rugged performance. It does a great job of capturing vocals and delivers a much more precise and warm quality sound output than some of the best USB microphones.

Another aspect of this microphone that we must mention is the Sound Pressure Level (SPL) of 144dB. This allows it to record louder voices with the least amount of distortion. It also has a low self-noise level and a diaphragm that enhances the transient response.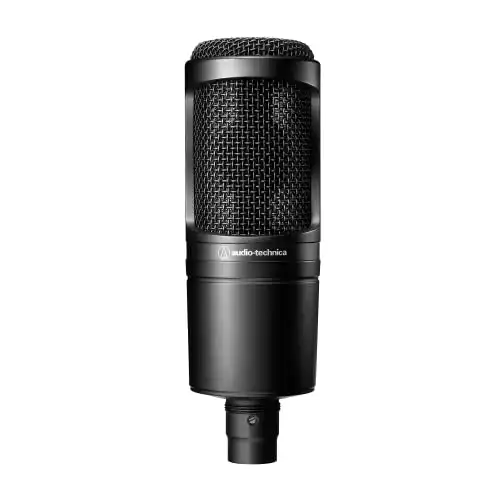 Audio Technica AT2020 Microphone | Amazon
With rugged construction for durable performance, the microphone offers a wide dynamic range and handles high SPLs with ease. The AT2020: the new standard for affordable side-address studio condensers.
Buy at Amazon.com
We earn a commission if you make a purchase, at no additional cost to you.
12/05/2023 05:15 am GMT
Special Feature
As we've already mentioned, the AT2020 is one of the better condenser microphones, making it perfect for recordings in a studio setting. It works great to capture higher frequencies and subtle sounds, which is undoubtedly advantageous when streaming games.

At the end of the day, if you can put up with a bit of technicality and wiring setup, then the Audio Technica AT2020 is your best bet for recording vocals thanks to its amazing sound quality that it provides.
3. Shure SM7B – the Best Overall Microphone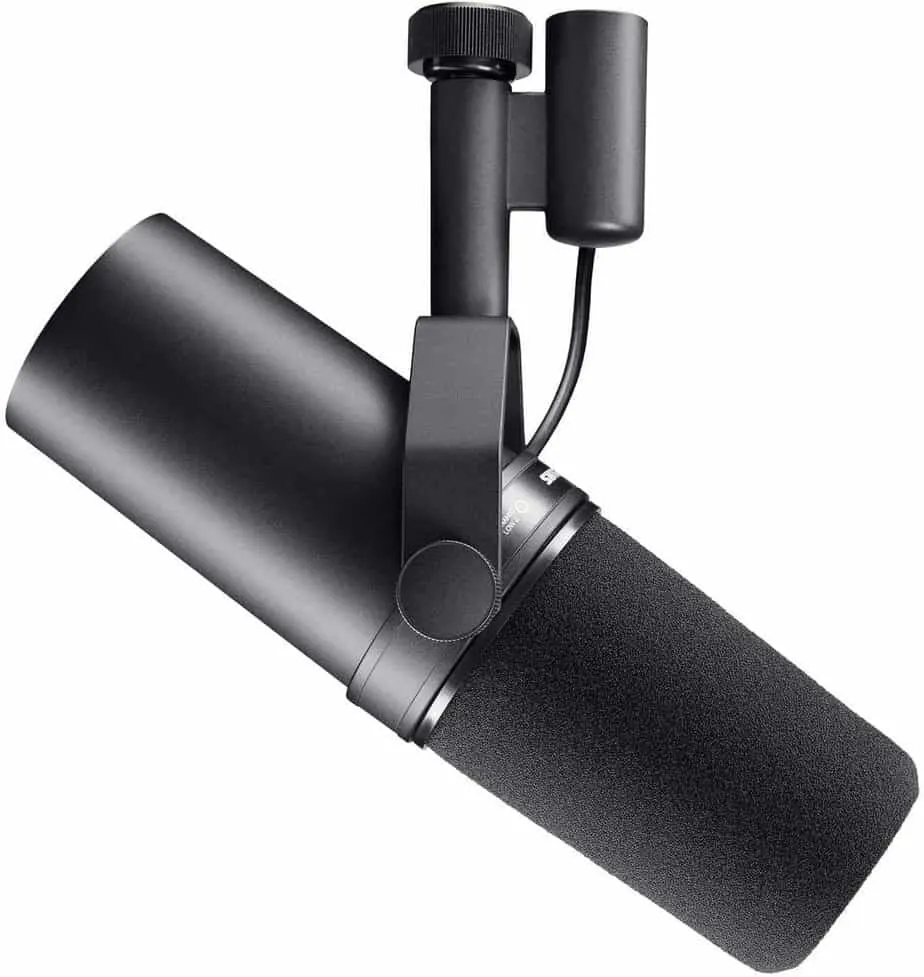 Flat, wide-range frequency response for exceptionally clean and natural reproduction of both music and speech
Bass rolloff and mid-range emphasis (presence boost) controls with graphic display of response setting
Improved rejection of electromagnetic hum, optimized for shielding against broadband interference emitted by computer monitors
Internal "air suspension" shock isolation virtually eliminates mechanical noise transmission
Highly effective pop filter eliminates need for any add-on protection against explosive breath sounds, even for close-up vocals or narration
The Shure SM7B is a state-of-the-art dynamic XLR microphone that has been the choice of many professionals over the years. It produces great quality audio and warm sound with bass roll-off which prevents you from sounding too boomy. It's no wonder it's one of the best microphones around.
Essential Specs
Frequency response: 50Hz-20,000Hz
Cardioid polar pattern
XLR connection method
Includes a pop filter
Pros
Stellar background noise rejection
Clear audio outputs
Robust build quality
General Description
The Shure SM7B is an XLR mic with premium performance. This heavy-duty microphone is so powerful that professionals in any industry can use it. The SM7B offers a mutable frequency response toggle to give you three different settings: bass roll-off, presence boost, and flat.

The bass roll-off will have more low end and less high end than average, meaning it's perfect for live instruments like drums or guitar amps. The presence boost will bring up the high frequencies to make vocals stand out louder during recordings and performances.

And lastly, there's flat – which has a linear frequency response that delivers no boosting or cutting across all audible frequencies. This means you'll always have excellent audio for your project, whether you're streaming a video game, creating content, or recording music!

The mic also comes with a yoke mounting mechanism that lets you attach and remove it from any standard mic stand. We also like how the yoke offers a smooth adjustment and provides just the right amount of resistance for holding the mic in place.

Let's now take a look at the great sound response of the Shure SM7B, and as you might have guessed, here also it scores full marks. If you're recording in a studio environment using the flat frequency response, then expect crisp, clear audio outputs that dazzle.

If you are looking for a microphone that is clear and crisp but has the ability to change its tone depending on how hard you push it – the Shure SM7B is the one for you.
Special Feature
The Shure SM7B Microphone is a highly versatile dynamic microphone used in virtually any setting. For starters, it includes a high-quality pre-installed pop filter which makes it, so you don't have to maintain a fixed distance from the recording capsule.

This product also boasts minimal handling noise during production and playback: so say goodbye to distracting pops and clicks in your content!

All the above advantages ensure that the Shure SM7B is the ideal choice for pros and beginners alike. No matter your streaming needs, this is one of the best mics you can use for Shure!
After looking at two XLR variants, it's now time to take a look at the HyperX Quadcast S, a USB gaming mic that's suitable for streaming, gaming, and as well as podcasting. With stylish RGB lighting, this one is dedicated to hardcore gamers and streamers.
Essential Specs
Frequency response: 20Hz-20,000Hz
Multiple recording patterns
Included shock mount
Programmable RGB lighting
Pros
Gaming focused design
Smooth and crisp performance
Dedicated app for lighting control
General Description
This USB microphone is an excellent addition to your streaming setup, and it is super sleek!

This gaming mic has a lot of really cool features that make it stand out. You will never have to worry about unwanted popping sound again because the upper half of the mic cylinder has metallic grilles that form a mesh over a translucent foam, which doubles as an internal pop filter.

The top cap works as the mute button, while the bottom cap works as the gain wheel. It also has a four-position dial that lets you choose between the four polar patterns and a USB Type-C port just below the dial.

We think it's thoughtful of the manufacturers to include a stand with a built-in shock mount. Plus, you also get a regular 3.5mm headphone jack for zero latency monitoring.

This condenser microphone is excellent for direct gaming and streaming. The audio is crisp and clear, and the internal pop filter ensures the absence of any noticeable sibilance. You'll get a clean signal response that's ideal for professional content creation.

The combination of onboard gain adjustment, headphone monitoring, and shock mount makes this one of the best microphones for streaming. However, if you ask us, the highlight of the model remains the eye-catching RGB lighting.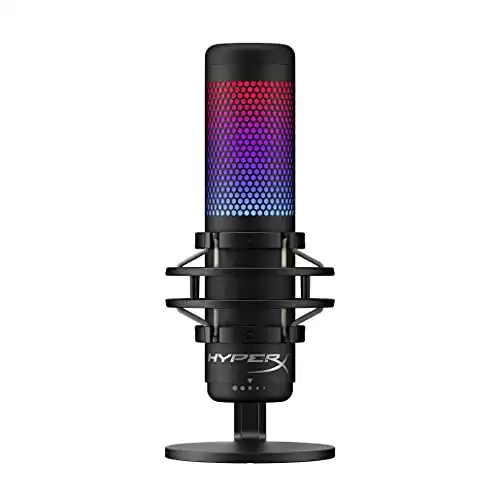 HyperX QuadCast S Microphone | Amazon
The HyperX QuadCast S is a USB condenser microphone that both sounds great and looks great. The supremely stunning RGB lighting and dynamic effects will add style and flair to any stream or setup and is customizable via HyperX Ngenuity software.
Buy at Amazon.com
We earn a commission if you make a purchase, at no additional cost to you.
12/05/2023 03:44 am GMT
Special Feature
Let's face it: which gamer doesn't like a bit of RGB magic? The HyperX Quadcast S casts a veritable RGB rainbow that forms a smooth gradient in the mic cylinder's middle. It even comes with a dedicated HyperX Ngenuity software that lets you choose from multiple color effects and options.

You can use the app to change the lights' intensity, create wave effects and turn it off. It even has volume control levels, though we didn't find any filters in the app. But we guess you can't have everything.
5. Blue Snowball – The Best Entry-Level/Best Budget Microphone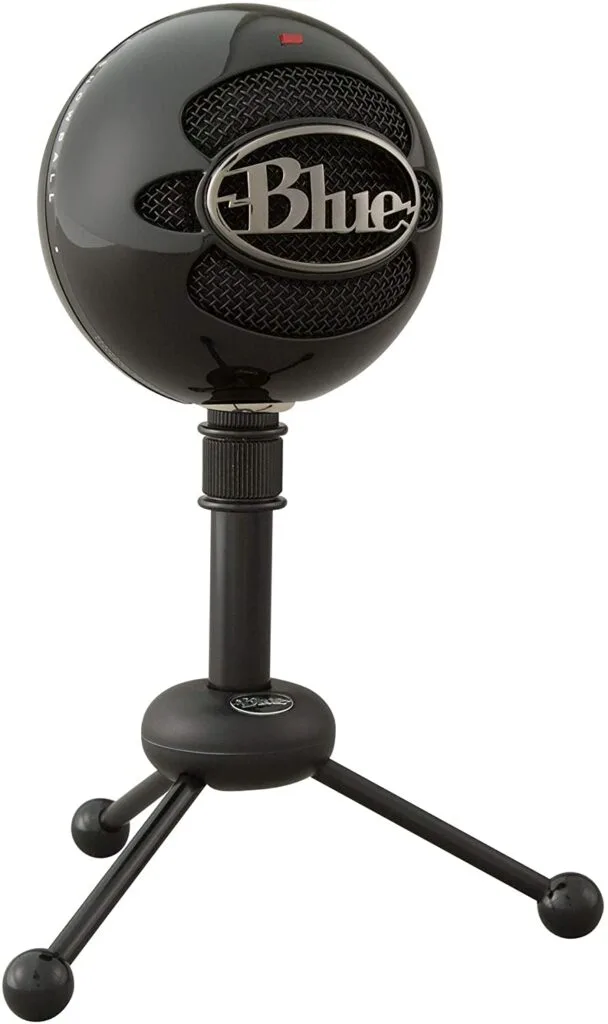 To end the review, we'll be looking at the Blue Snowball, an entry-level offering from the same brand that kicked-off our list. The Blue Snowball or Blue Snowball Ice is for beginner streamers who're just getting their act off the ground.
Essential Specs
16-bit/44.1kHz sample rate
Triple capture patterns
Spherical design with threaded base
Pros
Extremely affordable model
Simple plug-and-play operation
Crisp and clear audio output
General Description
Despite being an entry-level device, the Snowball works to capture natural and accurate audio. It comes with a desktop mount and has three capture patterns: omnidirectional, cardioid, and cardioid with a -10dB pad. Let's take a look at when you should use which.

In case you're speaking into the USB mic directly, as you'd do when streaming on Twitch or recording a podcast, we recommend the cardioid pattern. The omnidirectional pattern is useful in capturing sounds from all directions, while the -10dB pad helps capture the best sound quality in loud-noise situations.

Switching between these capture patterns is simple using a 3-position slider located on the back of the USB mic. And although it is spherical, you still get the standard threading that accepts most microphone mounts.

The Blue Snowball and Blue Snowball Ice come with a USB Mini-B connector similar to the Yeti. Considering that both are from the same brand, this is expected. And in case you're worried about build-quality, rest assured that though made from high-quality plastic, this is one for keeps.

Performance-wise, the standard 16-bit sample rate is less than ideal for professional uses, but then again, this is not a microphone that's aimed at the pro crowd anyway. We also like how the microphone is available in multiple color choices, such as neon green and stark white.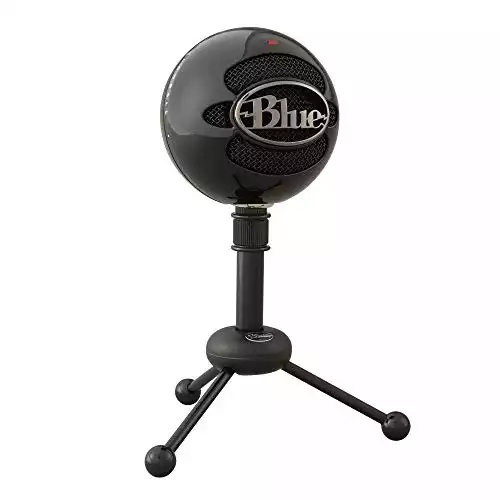 Blue Snowball USB Microphone | Amazon
Capture studio-quality audio for podcasting, YouTube videos, game streaming, Skype calls and music with the popular Snowball USB microphone. Snowball utilizes two custom mic capsules tuned for legendary Blue broadcast sound. The simple USB connection lets you plug right in and start recording and streaming in amazing quality.
Buy at Amazon.com
We earn a commission if you make a purchase, at no additional cost to you.
12/04/2023 11:00 pm GMT
Special Feature
The one thing that sets the Snowball apart from other microphones is its extreme portability and ease of use. You can easily lob it into a backpack and carry it anywhere. Plus, the operation is simply plug-and-play, and you don't have to worry about setting it up or dealing with any technicalities.

Long story short: if you're thinking about getting into the streaming business, then the best microphone we could recommend would be the Blue Snowball as it's the best budget microphone out there.
Final Words
That's it for now! We hope we've been able to answer your most important questions regarding the best microphone for streaming. At the same time, we're also confident that whatever your microphone or recording needs are, you can select one from our list of the best five.

That said, we always recommend factoring in your needs and budget in the equation before making a decision. In case you're still in two minds, here are our top recommendations to go with.

For those who want a jack-of-all-trades, the Blue Yeti is one of the best microphones around.

However, in case you're a newcomer to the world of microphones and are operating on a tight budget, get the Snowball from the same brand. And if gaming is your poison, then the HyperX Quadcast S offers the best performance.

That's it for today then. Keep streaming!
Frequently Asked Questions
Question: What Is A Microphone Polar Pattern, And How Does It Affect How I Sound?
Answer: In simple terms, it determines from which direction and angle your mic audio input will sound the best. In general, there are three main polar patterns that you need to know about.
A. Cardioid Polar Pattern
This polar pattern is best suited for capturing sounds directly from the front of the mic. Mics using this polar pattern help eliminate unwanted ambient sounds/audio and remove sound waves coming from the unit's sides or back.
Cardioid microphones are almost always the primary choice for live streaming as they help block surrounding noise. Just imagine the clatter of your keyboard getting into the audio stream: not really music to the ears, right? Cardioid can help you avoid that.
The cardioid pattern itself can be subdivided into two subtypes, namely hyper-cardioid and super-cardioid. These patterns have narrower sensibility angles and work to reject ambient sounds more effectively.
B. Omnidirectional Polar Pattern
As the name suggests, an omnidirectional pattern helps to pick up sound waves from all directions with equal sensitivity. With an even 360-degree sound sweep, this kind of mic doesn't need to be aimed.
This polar pattern is best suited for capturing audio during meetings when many people speak from all directions. However, it can also pick up unwanted sounds from the surroundings.
C. Bidirectional Polar Pattern
This type of sound capture is also known as the figure-8 sound capture pattern. Put simply, it captures all sounds from the front as well as the back of the mic. This makes it ideal for podcasting and live stream interviews.
In addition to the above, there's another polar pattern, the Stereo Pattern, which is also recognized. Stereo patterns are best suited for recording live music, such as drums and acoustic guitars.
Question: Should I Use A Boom Arm, Shock Mount, and Pop Filter With My Microphone?
Answer: Before answering whether you need any of the above accessories, ask yourself this: does your mic perform well under all circumstances? After all, if you have to hold it at a particular angle and position to get the best performance, that can hardly be sustainable for live streaming.

What you need is a mic that operates well under different conditions. At the same time, if you're a gamer, you'd undoubtedly want a mic setup that doesn't clutter up your rig in any way. This is where a boom arm can come in handy.

Boom arms help to position mics at better angles in front of the speaker. In case you're using a cardioid-type mic, a boom arm keeps the mic in place by clipping onto the desk-sides and ensures that the mic setup remains handy and clutter-free.

Now let's consider pop filters; put simply, these are noise protection filters that work to eliminate popping noises that may occur due to plosives and fricatives. In case you want crystal clear sound quality at the receiver-end, then a pop-filter is a must-have.

Finally, there are the shock mounts, which help to mount the mic on a boom arm or mic stand. Shock mounts protect the mic from unnecessary contacts with the help of suspensions.

But why should you consider using one? Well, any unwanted contact with the mic may result in low-frequency rumbles, also known as structure-borne noise. These can occur due to wind, movement of cables, or even a truck passing by. Such disturbances cause unwanted noises in your recordings.

A shock mount helps eliminate all these problems and provides a safety net against vibrational pickups. You might not always need it, but it does pay to be sure than see your content creation efforts go down the drain.
Question: Should I Be Spending A Lot On A Microphone?
Answer: Well, the answer to this depends on your streaming needs. For professionals who are streaming on platforms such as Twitch or YouTube, a high-end mic is essential. Here, you might decide to splurge a bit and get one with all the bells-and-whistles.

However, if you're just starting and the budget is a real constraint, we recommend getting an affordable mic like the Yeti Snowball. This way, you won't have to burn a hole in your pocket, and at the same time, you will be able to get some practice before working with more expensive models.
Question: What Should You Look For In A Microphone For Streaming?
Answer: As with any technology, when you're shopping for mics, it's very easy to get sucked into the wormhole of searching for the best device. You should know that the best recording doesn't mean you need to use the most expensive mic. To help you understand the factors you need to consider, here's a brief guide.

The very first question you'll need to answer is what you are going to use it for. If you're going to do nothing but stream, then just a cardioid pattern mic will do. However, if you need to record meetings and interviews, then select one with multiple polar patterns.

The next aspect you'll need to look after is the microphone type. Based on their construction technology, mics can be divided into two major types: dynamic mics and condenser mics. If you need multiple polar patterns, then condenser mics are the way to go.

Condenser mics provide excellent capture and sensitivity. This makes them great in a controlled, quiet environment; however, condenser mics don't perform well if there's a lot of ambient noise.

Dynamic mics aren't as sensitive as condenser ones and have excellent noise rejection properties. They also provide a warm sound quality output and can filter out background noise easily.

The final aspect to think about is the connection interface. As you've no doubt already understood, USB microphones are easier to connect and use. For streamers looking to expand in the future and apply special effects using mixing boards, XLR is the way to go.
Continue reading: