Latest posts by Streamer Startup Team
(see all)
Don't overlook how important and effective lighting can be for the overall quality of your webcam. Lighting plays a significant part in how you look on your stream.
Is Your Stream Quality Still Mediocre?
If you're like 90% of other streamers, you're probably streaming with a webcam.

You plug it in, and you fire it up only to have it look bland and grainy. Does this sound spot-on?

This is the typical camera quality for streamers to have and one that you can fix with some proper lighting.

Streamers tend to overlook how effective stream lighting is and focus on upgrading their stream quality by buying more expensive equipment. The truth is that lighting plays a significant part in establishing how you look on the stream.

Everyone else will be spending money on upgrading their webcams only for it to look the same in the end.

Meanwhile, you will be ahead of the game by improving your lighting for streaming, which will result in you having a better-looking stream and saving money in the long run.

I've researched and found some great lighting products to use during your streams to help improve your streams quality.

Let's compare some of the best lighting for streaming options that I've found below.
Comparing the Specifications – Our Top 5 Products
Preview
Our Pick
Streamers Choice
Best Budget
Title
Neewer Bi-Color Advanced 2.4G 660 LED Light and Stand Kit (2 Pack)
Viltrox Led Light and Stand Kit (2 Pack)
EMART Photography Softbox Lighting Kit (2 Pack)
HPUSN Softbox Lighting Kit (2 Pack)
Our Pick
Preview
Title
Neewer Bi-Color Advanced 2.4G 660 LED Light and Stand Kit (2 Pack)
Streamers Choice
Preview
Preview
Title
Viltrox Led Light and Stand Kit (2 Pack)
Best Budget
Preview
Title
EMART Photography Softbox Lighting Kit (2 Pack)
Preview
Title
HPUSN Softbox Lighting Kit (2 Pack)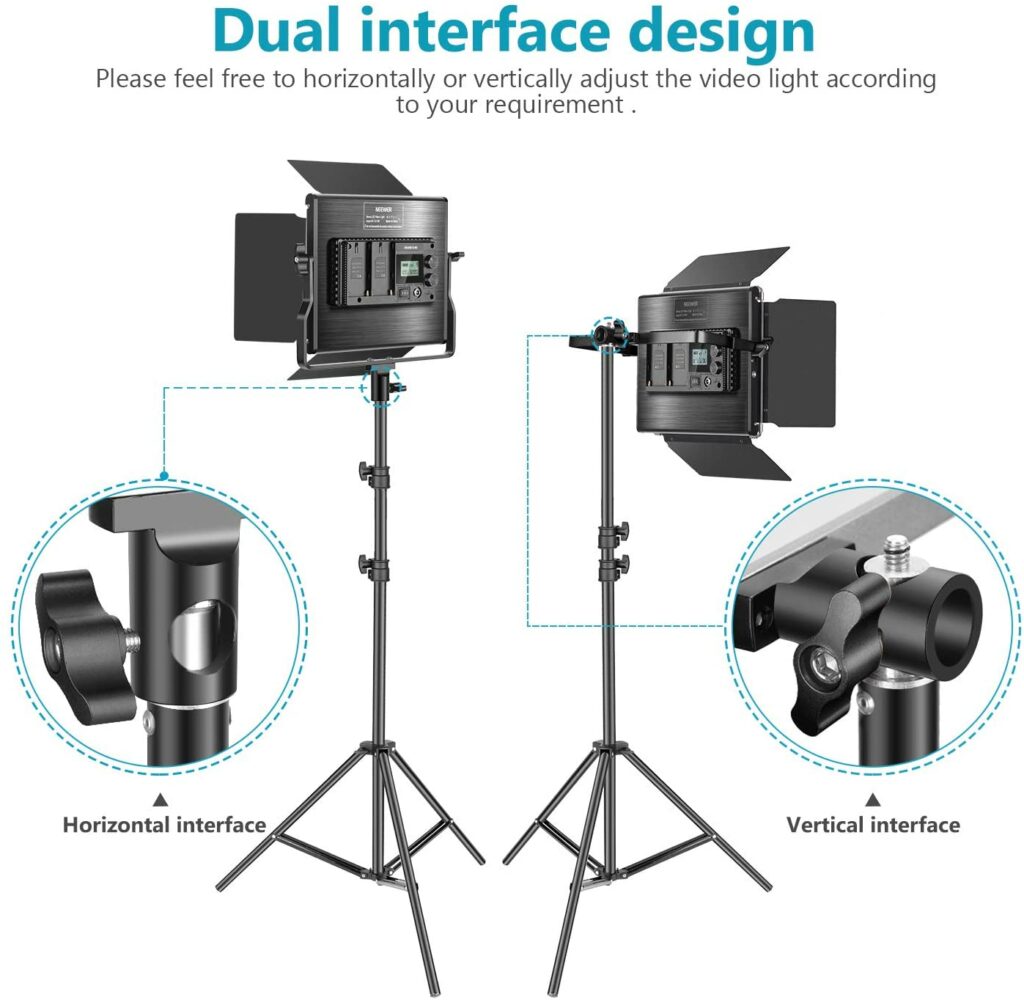 Pros
Cons
+ Excellent quality at an affordable price
+ Control your lights wirelessly
+ 2 Pack (Great Value)
– Requires space to set up the tripod stands
If you're in the market for a streaming product to help you create awesome content for your Twitch stream or for your content creation needs, the Neewer Bi-Color Advanced 2.4G 660 LED Video Light and Stand Kit is a good choice.

Lighting is a vital component of your streaming activities. You can either choose to use fluorescent bulbs or LED lights but for the best results, we recommend the LED bulb option. This is because panels are not only cheap but produce high-quality light, are easy to transport, and even easier to set up. 

This is what you get from these lights. It gives you the best stream lighting results on a comparatively lower budget.

Neewer LED light panels are designed to improve your photography or video quality significantly. Each panel comes with long-lasting white and yellow 660 LED beads and is controlled by a wireless remote or dimmer knob in the back of the panel that allows you to adjust brightness and color temperatures. 

You can adjust the two sets of LEDs to vary overall brightness and color temperature from 3200K to 5600K.

The lighting set is made of strong, durable, and lightweight aluminum alloy. It comes with tripod light stands. Their detachable leaf barn doors help to improve light quality.

Pros
Cons
+ Large temperature range
+ Easy to set up (desk clamp mount)
+ One of the best lighting setups to save space
– For the cost of one Elgato Key Light, you can get two packs of similar models and get better lighting in general.
The Elgato Key Light is known as the top choice for live streaming for most streamers, for a good reason. It works well to give you the best lighting for streaming results with high quality and consistent camera lighting for your twitch stream. It is also one of the strongest and sturdiest streaming lighting systems.

It comes in a strong and durable metal frame and gives you 2500 lumens light. It's a versatile video streaming light system designed for a wide range of uses including filming, photography, live stream, and video creation.

The Elgato Key Light has a good range of color filter options from 2900k to 7000K, which is an impressive range from the lowest to the highest. The large range means that the system can be used all situations for any type of project.

The desktop clamp light stand allows you to place the light on your desk. This will save you a lot of space and you can get a nice optimized lighting setup this way.

The Elgato Key Light uses a direct Wi-Fi connection to your PC. Through the Control Center app, you can adjust your lighting setup directly on your PC allowing you to go from soft light to bright lights in an instant. You can even sync as many Key Lights as you want. It is also programmable with a Stream Deck.

The only downside in this streaming light system is its high price tag. However, it's a great option that delivers value for its price. A lot of twitch streamers use this one as it saves a lot of room for their setups.
Elgato Key Light | Amazon
Quality lighting is the secret to making your camera feed shine. From the way you smirk and celebrate to the way you focus and freak out, viewers want to see every expression in detail. And with the key light, they instantly know you're a pro.
Buy at Amazon.com
We earn a commission if you make a purchase, at no additional cost to you.
04/01/2023 06:12 am GMT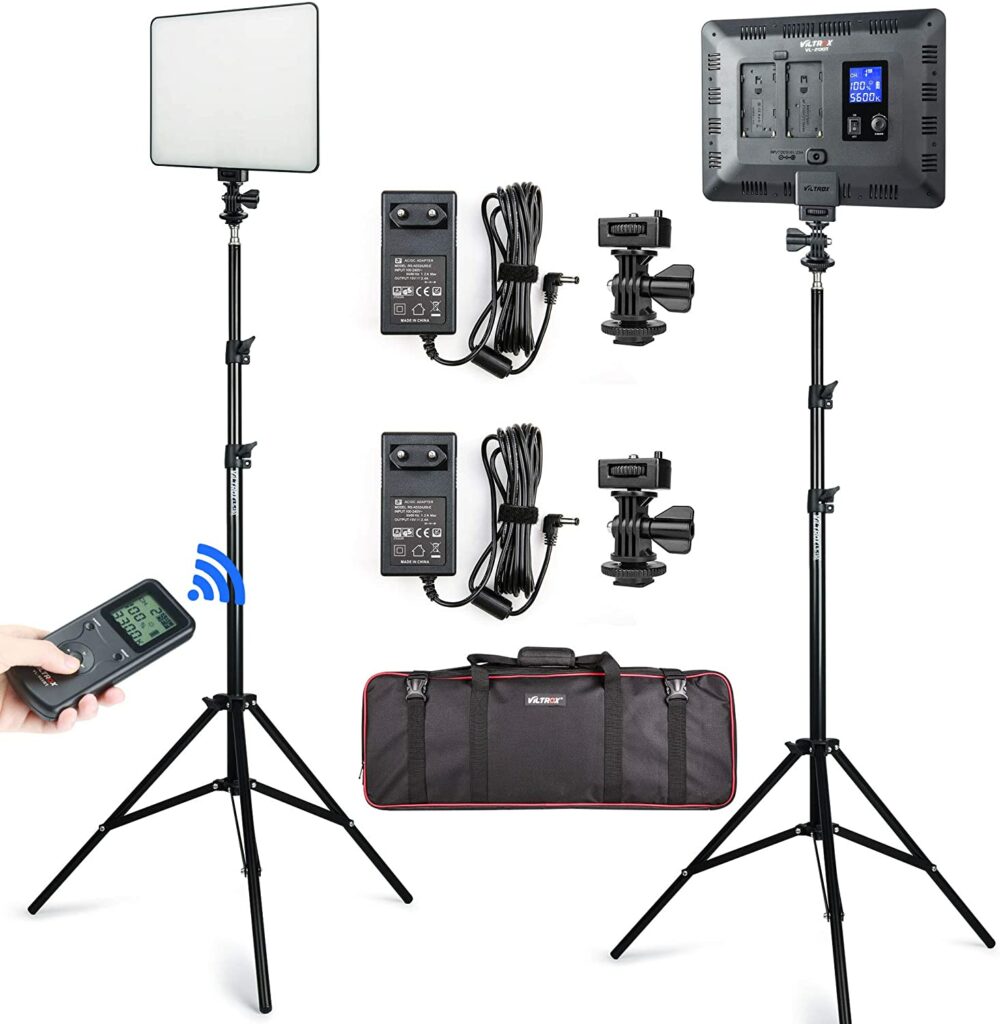 Pros
Cons
+ Large temperature range
+ Wireless remote to control lighting
+ Easy to adjust
– Low brightness can only go to 20% only
– Brightness takes time to adjust
This is an inexpensive dual-color LED panel light designed for entry-level and beginner video and photography users. The LED panel light offers excellent brightness, performance and quality lighting for streaming.

Some of its key features include an adjustable and accurate color temperature range of 3300K to 5600K and brightness control from 20% to 100%. It comes with a wireless remote controller. Also included is an adjustable tripod stand to give you perfect height and angles for your photo and video shoots.

Another great thing about the Viltrox LED Panel Light is its clear and intuitive LED digital panel screen for easy operations and adjustment. The light is powered by a DC adapter which is included in your purchase or by Lithium batteries which would need to be bought separately.

It's a fantastic light panel with great features for all your streaming or content creation needs.
Viltrox Led Light and Stand Kit | Amazon
Brighten your subjects with this slim VL-200T Bi-Color LED Light kit with stand. This soft, bi-color LED light features a high CRI of 95 for accurate color rendering, an adjustable 3300 to 5600K color temperature, 20 to 100% dimming, and a maximum brightness of 2500 lumens.
Buy at Amazon.com
We earn a commission if you make a purchase, at no additional cost to you.
04/01/2023 12:22 pm GMT
Pros
Cons
+ Versatile bulbs with freely adjusting brightness
+ Uses durable LED bulb lighting 
+ Two soft box reflectors with diffusers
– Have to manually set up the color temperatures of each light (no remote control)
This budget lighting system is primarily designed for photography but still provides the best stream lighting performance for its price. It's a dimmable LED bulb lighting kit available in a 2 pack.

If you are just getting started or need some budget lighting for your stream, the EMART photography softbox is a good lighting option. It's a perfect addition to your twitch streaming needs.

The lighting system is designed for photographers and videographers of all levels from beginners to advanced users but can also be used by streamers. It comes with two types of color temperature adjustments with a single touch operation, and two LED bulbs. You can adjust its brightness from 1% to 100% just by turning a dial.

The EMART dimmable photography soft box delivers 5500K pure white light and 2700K warm light. The variation is ideal for both video and photo studio lighting. It also comes with a built-in cooling fan for better heat dissipation. It runs quietly and safely for a long period of time.
EMART Photography Softbox Lighting Kit | Amazon
Choose Emart Bi-color dimmable softbox. A phenomenal addition to any photo/video studio providing professional maximized light spread at a competitive convenient cost. Suitable for any level photographers, with powerful features and simple operation.
Buy at Amazon.com
We earn a commission if you make a purchase, at no additional cost to you.
04/01/2023 02:07 pm GMT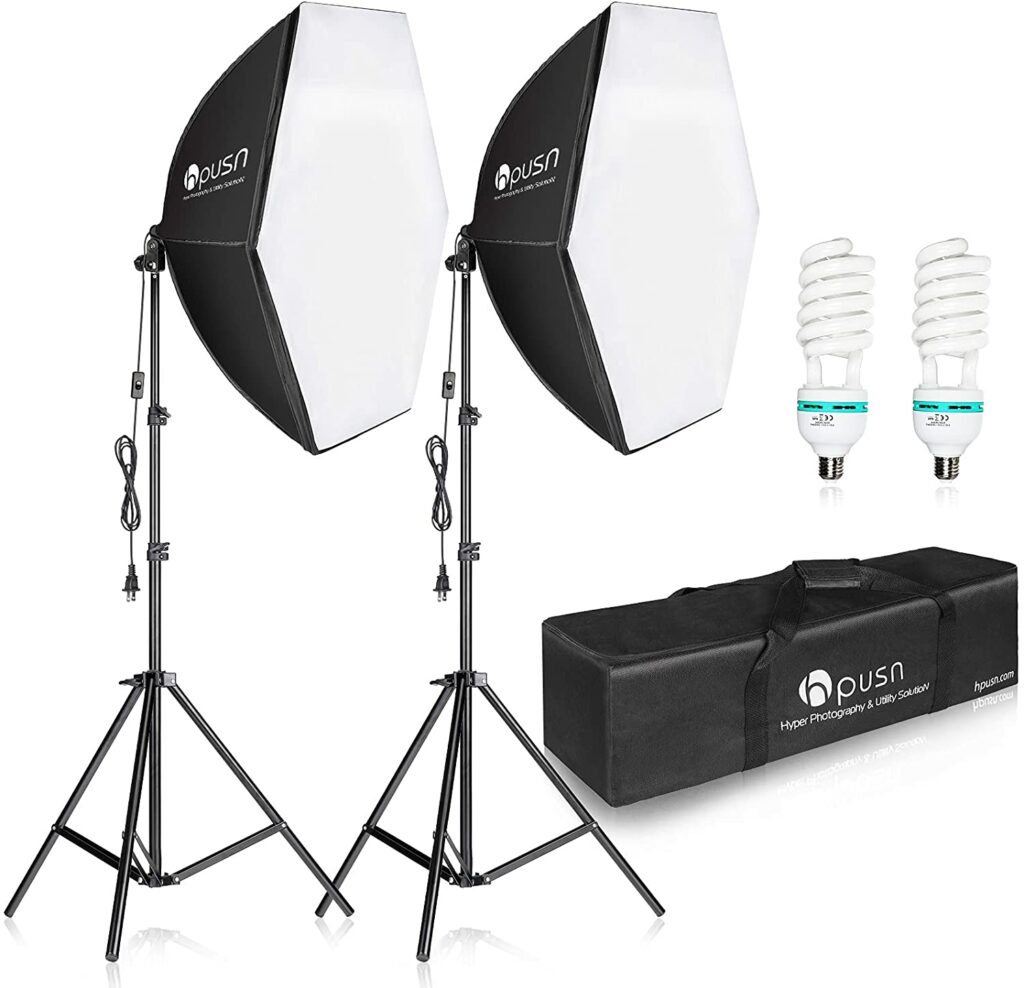 Pros
Cons
+ Comes with energy-efficient bulbs included
+ It has a rotatable head and adjustable stand
+ Easy lighting setup
– It cannot be used with LED lights and strobe lights
– Only 1 color temperature (unless you get different bulbs)
With so many options available, I wanted to include a basic softbox lighting kit. Fortunately, I found a decent entry kit for live streaming, so you can cut down on research time with this HPUSN Softbox Lighting Kit.

It comes with high energy-efficient light bulbs that last up to 8,000 hours. This lighting kit is designed for beginners and advanced photography enthusiasts but can easily be used for streaming and content creation. This kit provides excellent stream lighting for its price.

The HPUSN kit is very easy to set up. The softboxes open and close with ease and can be put on top of the tripod stands by screwing them on. All you need to do once the softboxes are in place is just to screw in the bulbs, attach and set the velcro front diffusion cover, and you are good to go.

It's a versatile and durable softbox for anyone on a budget. However, keep in mind that the softbox can only be hooked on a stand and can't be used with LED or strobe lights.
HPUSN Softbox Lighting Kit | Amazon
The hexagonal softbox has smooth light and a wide range of illumination, which can eliminate shadows and make the light more suitable for photography lighting. Using the E27 socket, you can directly connect a bulb or other type of lamp to provide light.
Buy at Amazon.com
We earn a commission if you make a purchase, at no additional cost to you.
04/01/2023 03:10 pm GMT
In Conclusion
A good light source also makes it easier for your camera or webcam sensor to capture high-quality frames. It will also help to manipulate shadows, create more prominent contrast, and improve the overall quality of your twitch streaming content.

The products reviewed above provide some of the best lighting for streaming. With everything said, we recommend the Neewer Bi-Color Advanced 2.4G 660 LED Video Light and Stand.

You now have the option to make thousands of dollars of upgrades to your webcam by spending under 200$ dollars for some new lights instead of buying a DSLR camera.
Continue reading:
How to Find Your YouTube Stream Key in 2022
A Quick Way of How to Find Your Twitch Stream Key