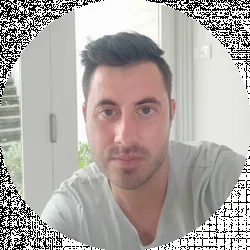 Latest posts by David Borgogni
(see all)
Corner gaming desks offer a fantastic amount of space, and they can fit in with any room design. My corner gaming desk ideas have everything you need if you want some inspiration to enhance your gaming room.
I will look at some things to consider before you buy a new corner gaming desk, the best gaming desks you can buy, and I'll also answer some frequent questions.
If you want a quick snapshot of the corner gaming desk ideas on my list, have a look at the table below.
Bottom Line Up Front: Choose the Seven Warrior Gaming Desk if you want the best all-around corner gaming desk that offers fantastic features and strong durability. Not only does this gaming desk look the part with its stylish design and LED strip lights, but it provides plenty of additional functionality, including a cup holder, headphone hook, two USB ports, and four outlets. With the Seven Warrior Gaming Desk, you can game and stream in absolute comfort.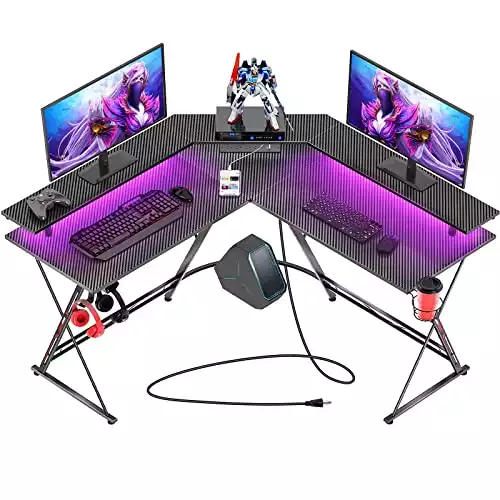 At a Glance: 6 Best Corner Gaming Desks
| | | | |
| --- | --- | --- | --- |
| Gaming Desk | Best for | Dimensions | More Information |
| Seven Warrior Gaming Desk | Best overall corner desk | 18.9″D x 50.4″W x 29.6″H | Buy at Amazon |
| Elephance Large L-Shaped Computer Desk with Shelves | Best corner gaming desk with storage | 21.65″D x 56.96″W x 29.5″H | Buy at Amazon |
| SHW Gaming Desk | Best budget corner desk | 51″D x 51″W x 28.5″H | Buy at Amazon |
| EUREKA ERGONOMIC L Shaped Gaming Desk | Best corner desk for cable management | 43.88″D x 61.13″W x 30.13″H | Buy at Amazon |
| Homfio L Shaped Desk | Best corner desk with different styles | 44.29″D x 58.27″W x 29.52″H | Buy at Amazon |
| L Shaped Desk with Storage Shelf | Best large corner gaming desk | 19.68″D x 78.74″W x 29.5″H | Buy at Amazon |
Things to Consider When Buying a Gaming Desk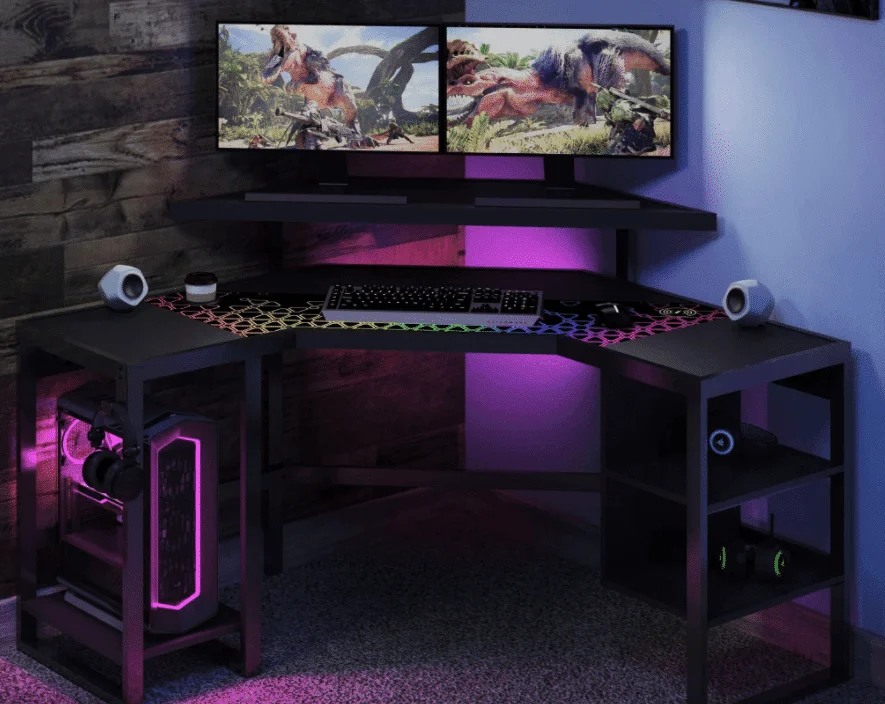 Corner gaming desks are very popular as they not only offer a lot more space than a traditional desk, but they also provide a modern aesthetic. You can use a corner desk in most room designs; however, there are some things to think about before you purchase one.
Size
One thing to note with a corner gaming desk is that it will take up more room than a desk with a traditional design.
Corner desks come in many different sizes, from compact models to sprawling desks that take up a lot of space. You should pay close attention to the dimensions of each desk before purchase, as this will ensure that you buy one that fits into your room.
I have listed all the dimensions of the desks on my list in the table above to save you from having to hunt this information down yourself.
Height
While the overall size of your gaming desk is important, the height is something you should pay close attention to.
The height of your gaming desk will help with comfort levels. Too high or too low, and you may find yourself hunching over or stretching to use it effectively; this can cause many issues with posture and become generally uncomfortable.
Also, check if the desk height is adjustable. Having an adjustable height is a fantastic feature that can allow you to set the perfect height, especially if you have a gaming chair that isn't adjustable.
Storage
Some gaming desks come with a vast amount of storage, while others are minimal beyond the desk space.
If you have many gaming and streaming accessories – such as a microphone or headset – you'll need somewhere to store these. Look for gaming desks that come with drawers or at least adequate storage space if you do have a lot of accessories.
Corner gaming desks with significant storage can sometimes cost more money, but keeping everything neat and tidy in your gaming setup is worth it.
Other Features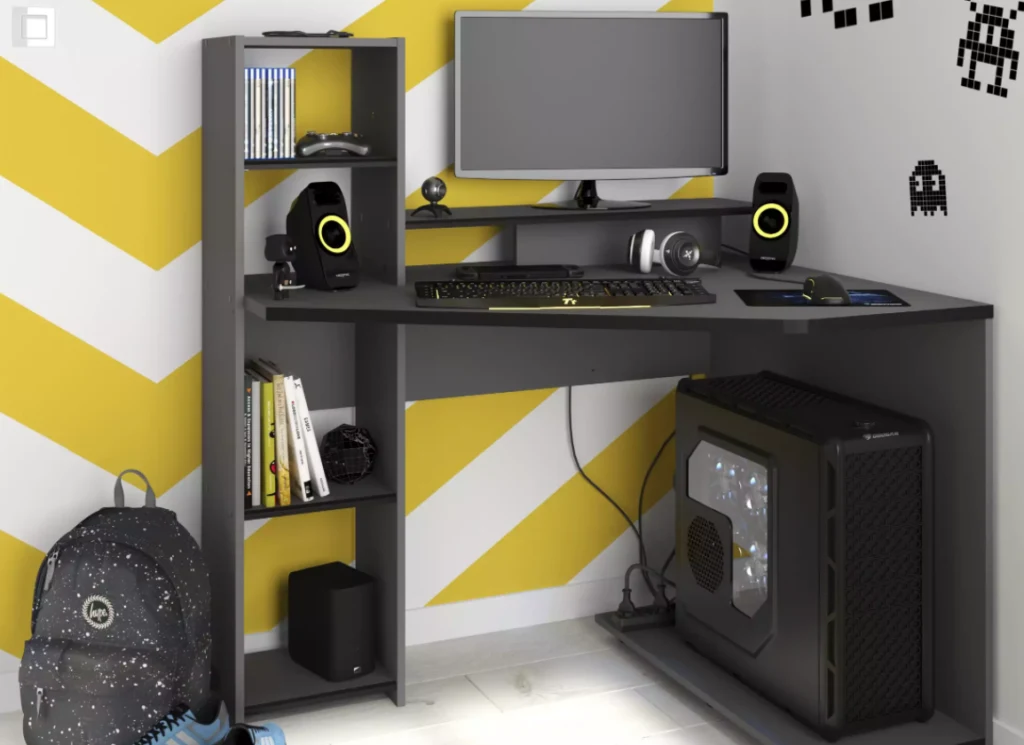 Gaming desks differ from a standard office desk because of the extra features. Instead of just having a standard desk space to house a monitor, keyboard, mouse, or laptop, many gaming desks come packed with great features to help your gaming and streaming experience.
These extra features can include:
Many other gaming desk features can help with the overall functionality of your desks and create a fantastic setup for streaming content.
LED lights
Cup holders and headphone racks
Monitor mounts to help with posture
USB ports to charge up your gaming devices
Cable management to keep your space clean
Some gaming desks have a few extra features, and some will have a lot, impacting the overall price.
Selection Criteria
Instead of listing every corner gaming desk I could find, I applied some criteria to my picks. This ensured that only the top corner gaming desk ideas made it onto my list. The criteria I used included:
L-shaped desks – Obviously, as this guide is focused on corner desks, I didn't include any U and Z-shaped gaming desks.
Ergonomics – All the corner gaming desk ideas I have listed are built with comfort and ergonomics in mind. This has been backed up by using these desks and the reviews of other people who have used these desks for gaming.
Cost – While none of the corner gaming desks on my list are particularly costly, I have included models across the pricing spectrum. This diversity ensures there is a corner desk for all budgets, especially if you are trying to stream cheaply.
Features – I tried to include gaming desks that come with additional features (such as lights, USB ports, cable management, etc…).
6 Best Corner Gaming Desks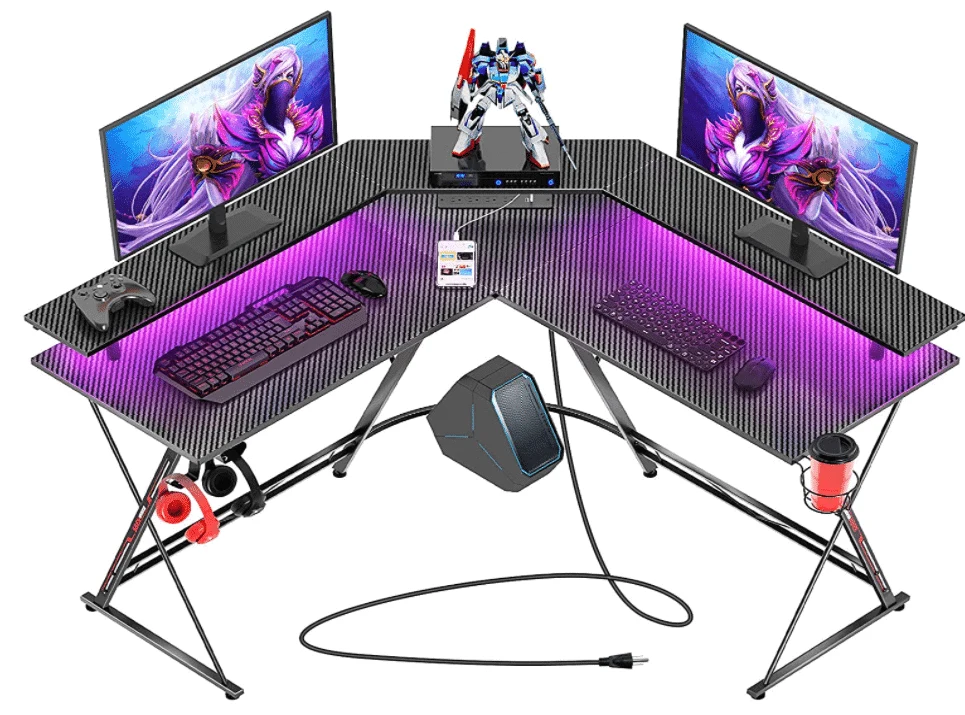 Hands down, the Seven Warrior Gaming Desk is the best corner gaming desk you can buy.
The style and aesthetics of this gaming desk are beautiful, and I love the LED strip lights that go underneath the monitor stand. They provide a striking and modern aesthetic that easily enhances any gaming setup.
Even though I think the style of this desk is brilliant, I also like its overall functionality. The x-shaped leg design and construction ensure that this desk is highly durable, and the solid steel frame adds to this. There is plenty of desk space, too, and the L-shaped design means you can have several monitors and all your gaming accessories and still have some room to spare.
Other features that further cement the Seven Warrior Gaming Desk as the best corner gaming desk include two USB ports, a cup holder, and a headphone hook. Really this desk provides everything you need, although monitors with wider stands may encounter a bit of a tight fit and a monitor shelf is a bit narrow.
If you want an excellent corner gaming desk that comes packed with many different features, is stylish, and durable, the Seven Warrior Gaming Desk is my number one choice.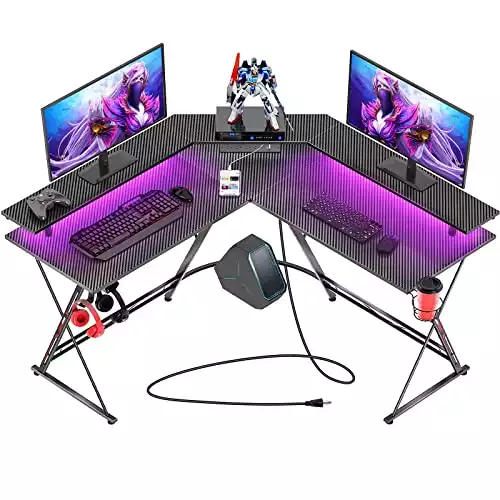 Pros
This desk has great aesthetics with LED lights
It offers plenty of room
Has good features including USB ports and cup holder
Durable and well-constructed
Cons
The monitor shelf could be wider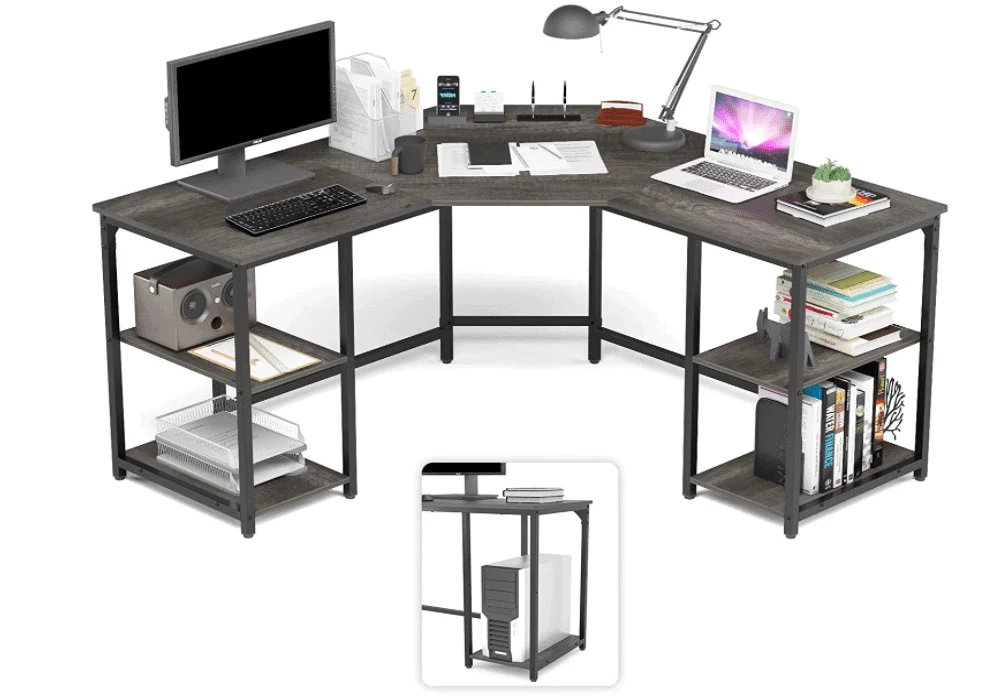 One thing I wish more gaming desks had was additional storage options. Maybe I just like things to be neatly stored away, but it is something that is lacking on many desks. However, the Elephance Large L-Shaped Computer Desk with Shelves doesn't have this problem as it comes equipped with extra storage for all your gaming accessories.
This desk has several shelves which are ideal for putting a desktop tower and other accessories you have lying around.
The overall size of this desk is good as it isn't too large, but it isn't small either; it fills a nice space while providing plenty of room. Stability and durability come from the P2 class particle board with adjustable leg pads, and I like the overall modern aesthetic this desk offers.
I had a few issues getting this desk assembled, and it is trickier than it needs to. It isn't a huge issue, and you will get there in the end, but some of the screws make it harder than other desks to put together.
Pros
It offers plenty of storage with shelves
Spacious desk with a nice design
Durable and well-made
Quite budget-friendly
Cons
The assembly can be a bit tricky at times
SHW Gaming Desk – Best Budget Corner Gaming Desk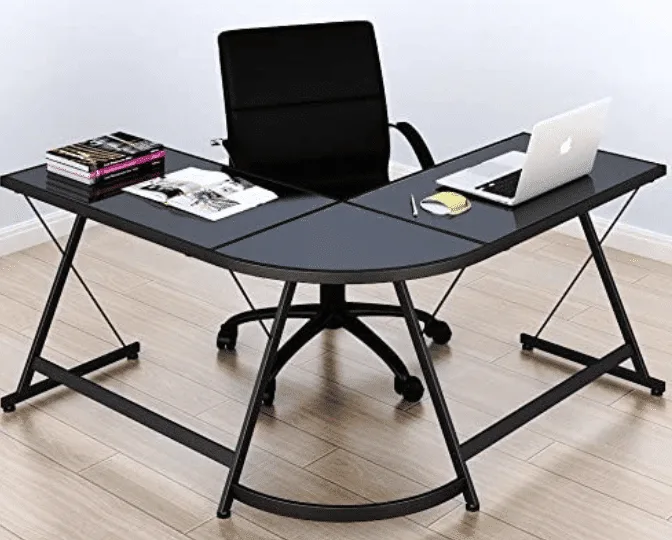 Gaming in comfort and beginning to stream content doesn't require you to spend a ton of money, as many of the most successful streamers started small. This is why the SHW Gaming Desk has made my list, as it is an ideal budget option.
You won't find many additional features on this corner gaming desk; however, its modern design will fit in with any gaming room. Although the overall style is a bit basic, it still works well for a budget setup.
This gaming desk hasn't many additional features (compared to the number one choice on my list). Still, it does an excellent job of housing your computer monitor and other accessories. The footrest along the bottom of the desk frame is a nice addition and certainly adds to comfort levels. The powder-coated finish with tempered safety glass ensures this desk will stay in top condition.
If you want a gaming desk that comes with many extras or provides a significant amount of desk space, this model isn't for you. However, if you want a cheap corner desk to get you started, it is difficult to find a better desk for the price.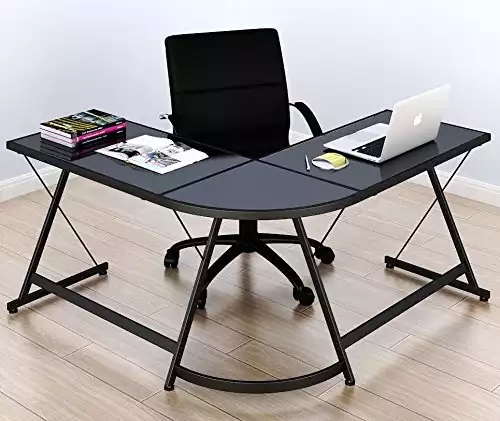 Pros
Decent gaming desk at a budget price
Sturdy and durable
It has a footrest along the bottom
Cons
There aren't many additional features with this desk
Experienced games might find it very basic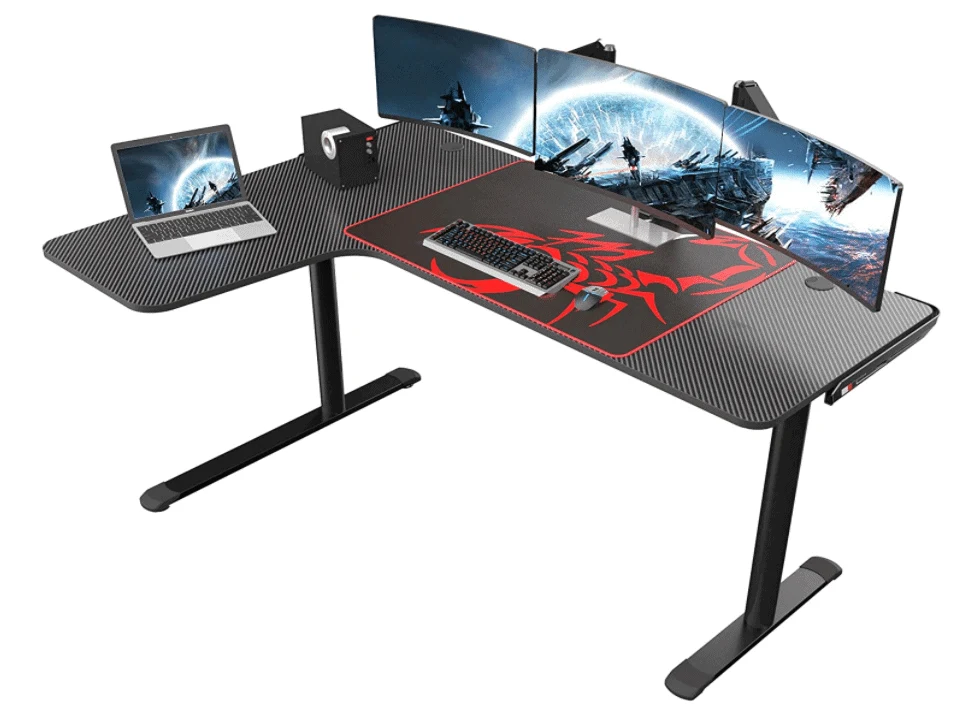 Most of us hate having messy cables clogging up our space and generally making things look untidy. The EUREKA ERGONOMIC L Shaped Gaming Desk is the best corner desk for cable management as it has an integrated power strip storage box and two cable grommets. This keeps all your power leads and other cables out of sight.
I like many other things about this gaming desk beyond its cable management feature. The design is really nice, and it offers a trendy and modern aesthetic to boost your gaming setup.
At 60 inches, this corner gaming desk has plenty of room to house several monitors and other accessories without feeling cluttered. Overall the construction is great, and the feet are adjustable if you need added stability.
I like the large mouse pad area, and I felt that the assembly was relatively straightforward even though it had some potentially tricky parts.
While this desk doesn't come packed with loads of additional gaming features (a cup holder or headphone hook would be nice), this is a top desk if you care about having messy cables lying around.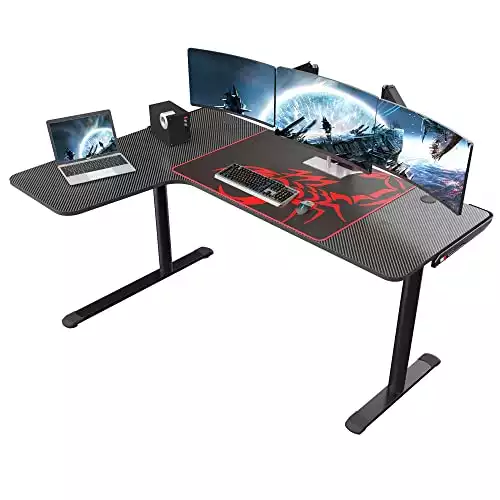 Eureka Ergonomic L Shaped Gaming Desk | Amazon
The Eureka gaming desk has a wide 60 inch L-shape carbon fiber textured desktop with plenty of surfaces for your gaming monitors, gaming keyboard, and other gaming gear.
Buy at Amazon.com
We earn a commission if you make a purchase, at no additional cost to you.
12/05/2023 10:20 am GMT
Pros
Provides great cable management solutions
The desk is nicely designed and modern
Durable and has a large mousepad area
Cons
Lack of additional features and general storage
Homfio L Shaped Desk – Best Corner Desk with Different Styles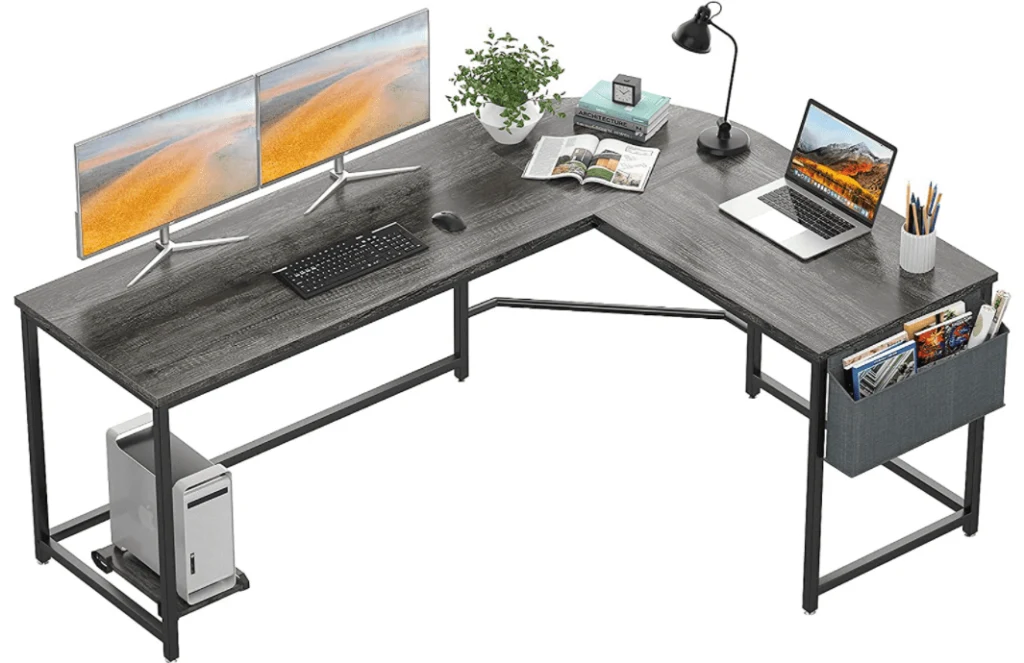 The Homfio L Shaped Desk is a good choice if you want to have a few different styles to choose from. Many gaming desks come in one design for that model, but you get three with the Homfio L Shaped Desk.
This includes plain black, a beautiful black oak, and white and black. So, you can match the style of this desk to your existing gaming room design.
The construction is outstanding as the L-shaped desk is manufactured from P2 MDF with a steel frame, so you don't need to worry about this desk falling apart. Also, the assembly was pretty straightforward, and there should be no significant issues putting it together.
You get a handy storage bag (which sits on the edge of the desk) and a desktop stand; both add to the overall usability.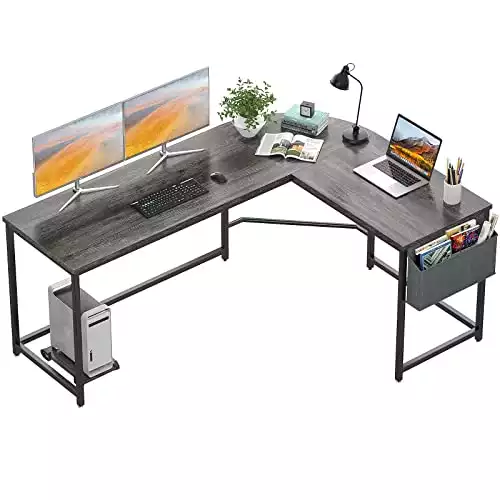 Homfio L Shaped Desk | Amazon
Wide desktop & space-saving, the office computer desk can provide massive space to lay 2-3 monitors or screens, books, papers, documents, and plants on the spacious desktop.
Buy at Amazon.com
We earn a commission if you make a purchase, at no additional cost to you.
12/05/2023 10:01 am GMT
Pros
Fantastic looking gaming desk available in different styles
It comes with some storage options
Easy to assemble
Well-constructed
Cons
It doesn't have many additional gaming features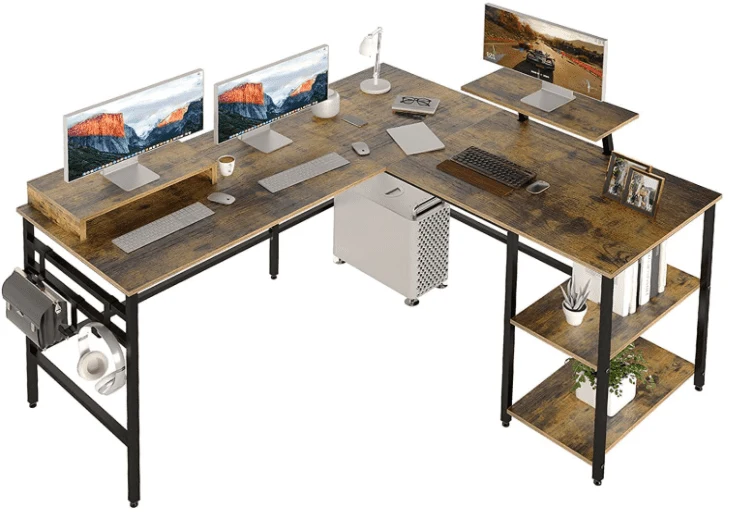 For anyone that needs a lot of desk space or has a large part of their room to fill, the L Shaped Desk with Storage Shelf is an ideal choice.
This is the largest corner gaming desk on my list, and its whopping dimensions (19.68 "D x 78.74 "W x 29.5 "H) make it perfect if you need a larger surface area.
You will find many storage options with this gaming desk, including shelves, monitor stands, and a double-layer movable hook. You can easily store controllers or headphones on the hook, while the shelves are perfect for putting games or a microphone.
The adjustable leg pads are suitable for putting this desk on an uneven floor or enhancing its stability. I thought this desk was well-made, and it provides a rustic-like style that would fit into a traditional and modern design.
While this desk isn't suitable if you don't have a lot of room, it is perfect for anyone who needs extra space for their gaming and streaming setup.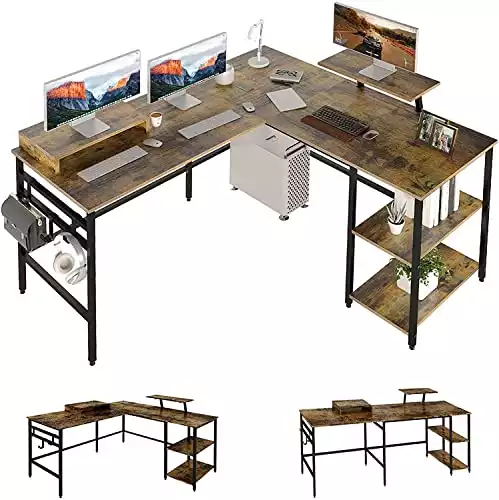 L Shaped Desk with Storage Shelve | Amazon
Spacious corner desk provides an abundance of workspace for your multiple monitors, laptop and other office supplies, and with 2 tier open storage shelf offers a large workspace with easy access place and store all your files, documents, Cpu stand, electronic gadgets, etc, Double-layer movable hook, allows you to place headphones or personal items more casually.
Buy at Amazon.com
We earn a commission if you make a purchase, at no additional cost to you.
Pros
Large surface area
Has several storage options
Great design and well-made
Cons
This desk isn't suitable if you are tight on space
Frequently Asked Questions
Question: What are the Benefits of a Corner Gaming Desk?
Answer: A corner gaming desk, or L shaped desk, provides a lot more space than other styles. This allows you to have several monitors and other equipment while the design will fit into most rooms.
Question: Do Professionals use Corner Gaming Desks?
Answer: Some do. L-shaped desks are very popular, and you will find professional streamers who use this type of gaming setup. You can find out what equipment some of the pros use on my blog.
Question: Do Corner Gaming Desks Have Additional Features?
Answer: You can find corner gaming desks that have a ton of extra features to enhance your gaming and streaming experience. This includes things such as USB ports, headphone hooks, LED lights, a cup holder, or cable management to keep everything tidy.
Question: Do Corner Gaming Desks Cost More Money than Regular Gaming Desks?
Answer: Not necessarily. Even though you will come across some corner gaming desks that are pretty expensive, there are many budget options available, and most don't cost more than a Z-shaped desk.
Question: Are Corner Gaming Desks Good for Small Spaces?
Answer: Yes. If you don't have a ton of space to house a gaming desk (but you do have an empty corner), an L-shaped desk can really improve your gaming setup and provide much more desk and storage space in your games room.
Question: Are Corner Gaming Desks Ergonomic?
Answer: Yes. Corner gaming desks are created to provide comfort for long gaming sessions. Some corner desks have an adjustable height so that you can find the perfect fit for your gaming chair.
Which is the Best Corner Gaming Desk?
The best corner gaming desk you can buy is the Seven Warrior Gaming Desk.
If you want a brilliant combination of both style and functionality, this is the desk to choose. It looks fantastic with its overall design coupled with the LED strip lights, and the construction of this desk means it will last for years, even with regular use. I also love the additional gaming features, including a headphone hook, USB ports, outlets, and the cup holder is an excellent addition.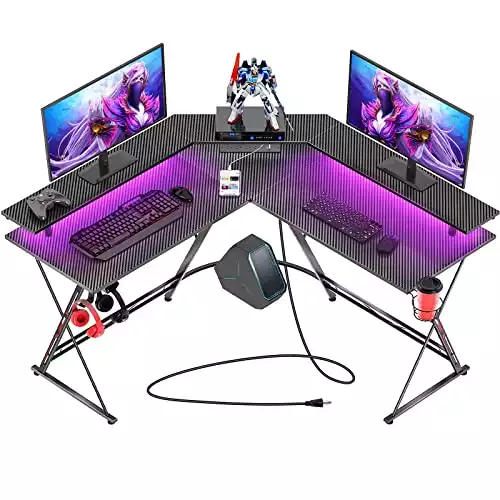 Overall, it is hard to find a better corner gaming desk on the market.
Continue reading:
AT2020 vs AT2035 – Our Best Pick
5 Best Microphone Boom Arms for Gaming – Best Boom Arm for 2022
Best Gaming Desks on Amazon – My Top Picks for Better Gaming and Streaming