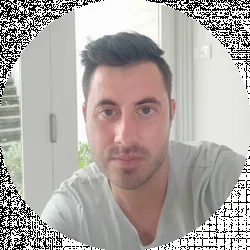 Latest posts by David Borgogni
(see all)
Gaming and streaming on Twitch or Youtube requires a high-quality desk, and my list of the best gaming desks on Amazon will show you the top models you can buy today.
There are countless gaming desks available on this giant e-commerce retailer, and researching them all is challenging. This is why I have done this for you, and I'll review the top gaming desks you can purchase on Amazon.
I'll also list some things you should think about before you buy a new gaming desk, but if you want to quickly find out the desks that made my list, have a look at the table below.
Bottom Line Up Front: I have bought many gaming desks from Amazon in my time, and the best one I have come across is the Seven Warrior Gaming Desk. This gaming desk is stunning with LED strip lights, and its L-shaped design is perfect for providing adequate space without taking up a lot of room. The Seven Warrior Gaming Desk offers the ideal balance between aesthetics and functionality for you to start streaming amazing content in comfort.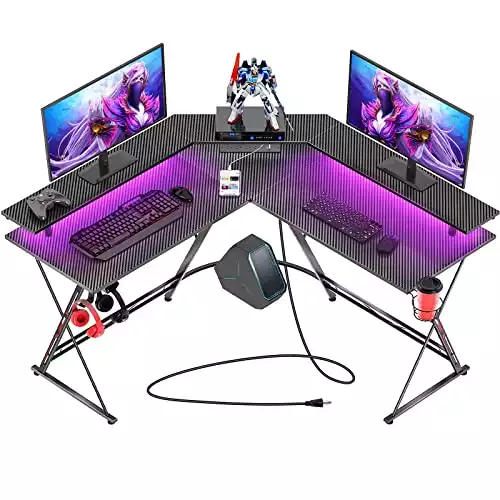 At a Glance: 6 Best Gaming Desks on Amazon
| | | |
| --- | --- | --- |
| Gaming Desk | Best for | More Information |
| Seven Warrior Gaming Desk | Best overall Amazon gaming desk | Buy at Amazon |
| FLEXISPOT Gaming Desk | Best adjustable Amazon gaming desk | Buy at Amazon |
| SHW Gaming Desk | Best budget Amazon gaming desk | Buy at Amazon |
| DESIGNA Gaming Desk with LED Lights | Best Amazon gaming desk with lights | Buy at Amazon |
| MADESA Computer Desk with Shelves | Best Amazon gaming desk with storage | Buy at Amazon |
| EUREKA ERGONOMIC RGB LED Gaming Ladder Desk | Best Amazon ladder gaming desk | Buy at Amazon |
Things to Consider When Buying a Gaming Desk
Gaming desks come in various shapes, sizes, and materials. You can also buy gaming desks with additional comfort and enhanced functionality features. So, here are some things to consider before you purchase a gaming desk from Amazon.
Size
The size of the gaming desk you buy will depend on how much space you have available.
Also, the shape of your room often determines the shape of the gaming desk (I'll show you the different styles later on).
Ensure that you pay close attention to the dimensions of the gaming desk in the product description before you make a purchase. This will avoid any nasty surprises when you try to fit your new desk into a space that isn't big enough.
Height
Some gaming desks will have an adjustable height, which ensures that you are as comfortable as possible. This can be vital if you spend long sessions gaming and streaming content.
While most people tend to focus on the size, material, and additional features of a gaming desk, height is massively important. If you have a desk that is too short that you need to hunch over, you can suffer from poor posture.
So, if the height isn't adjustable, make sure you buy a gaming desk with the correct dimensions for your size and your gaming chair.
Shape
This is one of the main things people look at when buying a new gaming desk. These are the main gaming desk shapes that you will find. Several shapes and styles are available, with their own pros and cons.
L Shaped – L-shaped gaming desks are very popular as they provide a significant amount of space, allowing you to have several monitors or an extra-large screen. Also, L-shaped desks are perfect if you need a lot of space and accessories, for example, headphone holders or storage for a microphone boom arm.
U Shaped – Some gamers prefer having a U-shaped desk as they offer the most space, and you can operate a proper surround setup. The downside to a U-shaped desk is that it can be more expensive, and you will need a larger room to house it in.
Z Shaped – Lastly, we have Z-shaped or rectangular gaming desks. This type often has limited desk space; however, it can still fit a couple of screens or a large monitor. You can usually find Z-shaped desks slightly cheaper than L or U-shaped gaming desks, and they are much better if you are short on space.
Storage
Another feature you may consider when buying a gaming desk is the available storage options.
Many gaming desks don't offer much storage, but if you have many accessories and devices you want out of sight, looking for a gaming desk with drawers, shelves, or hooks is better.
If you want to store away your microphone or a webcam, it makes sense to look for a gaming desk that offers at least some storage options. This can increase the price depending on what storage you need, but it can be well worth it to keep your gaming setup neat and tidy.
Other features
Many other gaming desk features can help with the overall functionality of your desks and create a fantastic setup for streaming content.
Some additional things you can look for in a gaming desk include:
LED lights to create some visually stunning aesthetics
Cup holders and headphone racks
Monitor mounts to help with posture
USB ports to charge up your devices
Cable management to keep your space uncluttered
You might not need all of these features, but one or two additional options can help improve the functionality of your gaming rig.
Selection Criteria
You can easily find many gaming desks on Amazon; however, I have to use some criteria to ensure that only the top models made my list. The things I used to filter out below-par gaming desks, so only the best models are listed below, includes:
Comfort – All the desks I have included are comfortable to sit at, and if you spend many hours gaming and streaming content, you won't damage your back or neck with poor posture.
Cost – I have listed gaming desks to suit all budgets. Whether you have hundreds of dollars to spend or simply want a cheap battle station, there is a gaming desk for you.
Styles – The most popular gaming desks styles are L, U, and Z-shaped desks, and I have included all three in my list of the best gaming desks on Amazon.
Durability – All the gaming desks below are durable and made from materials that will last even if you do spill liquid or use them for long periods.
6 Best Gaming Desks on Amazon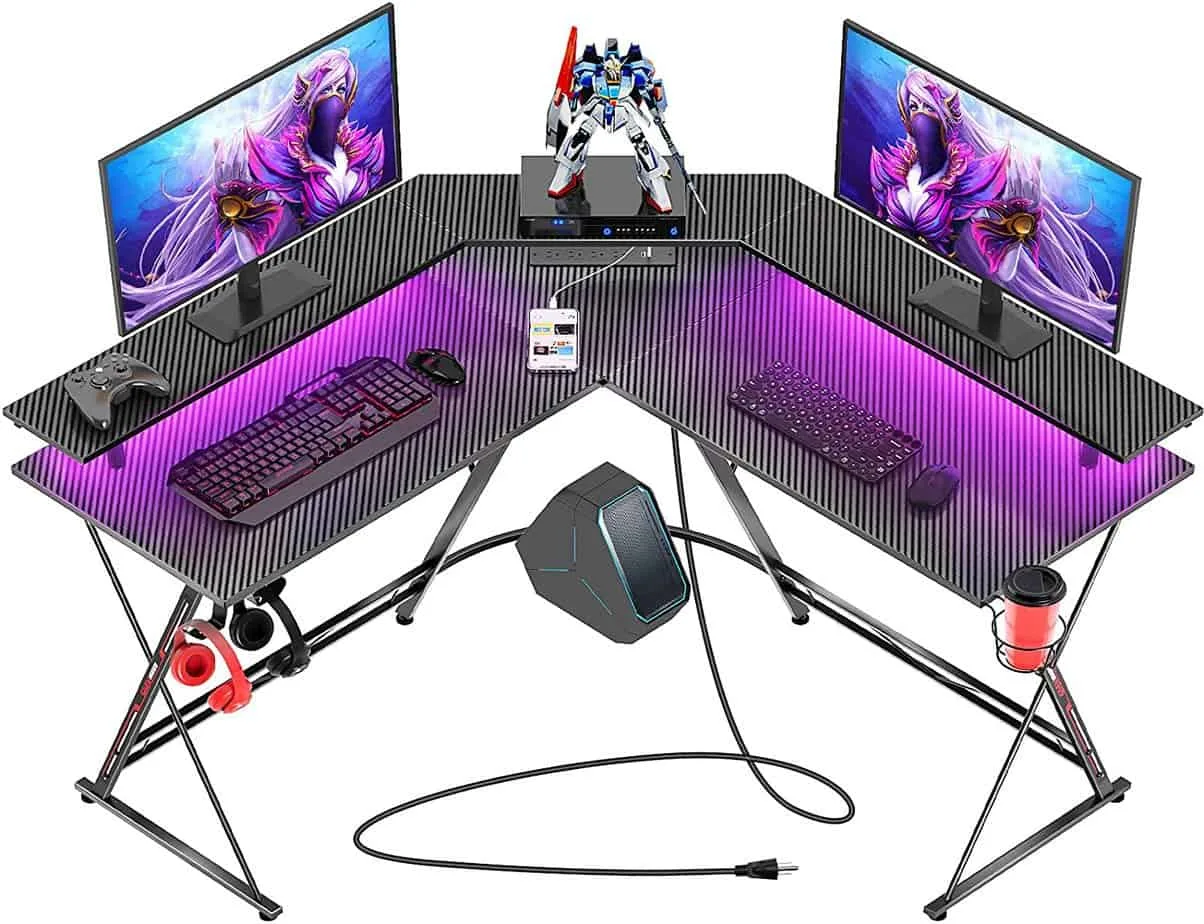 My number one choice of gaming desk on Amazon is the Seven Warrior Gaming Desk.
The first thing that stood out for me about this desk was the aesthetics. Gaming desks should look great and provide brilliant functionality, and this desk does both. The LED strip lights that run underneath the monitor stands are stunning and offer unrivaled visuals to your gaming setup.
However, it isn't just aesthetics that puts this Seven Warrior desk at the top of my list. The construction ensures that it is durable, particularly with the X-shaped leg design, which keeps everything stable. The L-shaped style of the desks allows you to have several monitors active at once while still retaining plenty of desk space.
Additional features that make this desk stand out include the built-in socket with four outlets and the two USB ports. Also, there is a cup holder and headphone hook.
The only downside with this gaming desk is if you have a screen with a wide stand as the monitor shelves are a bit narrow.
Overall, this is a brilliant gaming desk on Amazon that ticks all the right boxes and will have you set up to stream your gaming adventures in no time at all.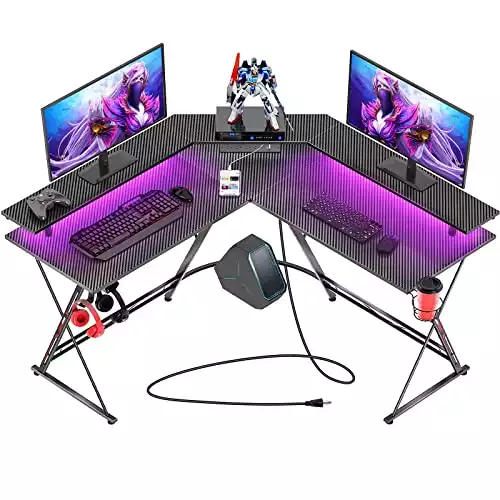 Pros
Visually stunning gaming desk
Has many additional features
Well-built and stable
The L-shaped design offers plenty of room
Cons
The monitor shelf could be wider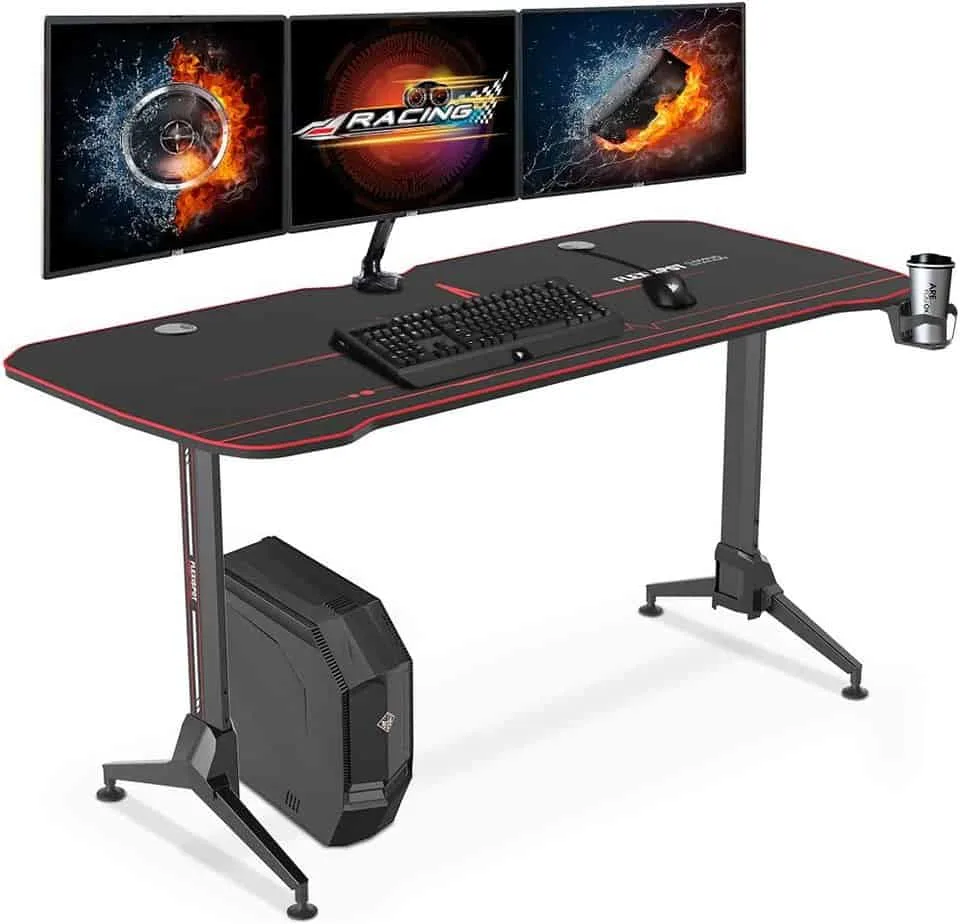 The FLEXISPOT Gaming Desk is my pick if you want more control over the ergonomics of your setup. This desk is adjustable, which means you can adjust the desk's height, and it only takes loosening the screws and adjusting the height as you see fit.
This rectangular desk offers plenty of space as the overall 63-inch space is perfect for an extra-wide monitor, and it has room for up to three screens. I'm also a big fan of the additional features this gaming desk comes with, including a cup holder, headphone hook, and cable management system.
The aesthetics of this gaming desk are decent, too as it offers a modern and sleek design. While it doesn't have LED lights as standard, you can fit them on if you wish. Also, the price of this gaming desk is slightly on the high side; however, if you want an adjustable desk for the perfect fit, the FLEXISPOT Gaming Desk is my recommendation.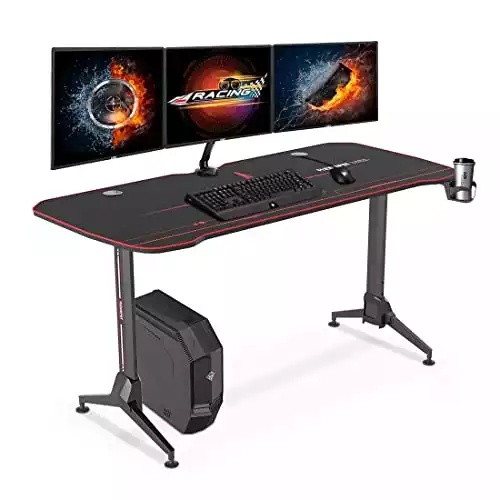 FLEXISPOT Gaming Desk | Amazon
The FlexiSpot gaming desk has a 63" environmental-friendly desktop which could easily hold up to triple monitors and other essential gear to support your fiercest battle.
Buy at Amazon.com
We earn a commission if you make a purchase, at no additional cost to you.
Pros
You can easily adjust the height
Great aesthetics and comes with extra features
This model offers a lot of desk space
Cons
There aren't many storage options
It is quite expensive
SHW Gaming Desk – Best Budget Amazon Gaming Desk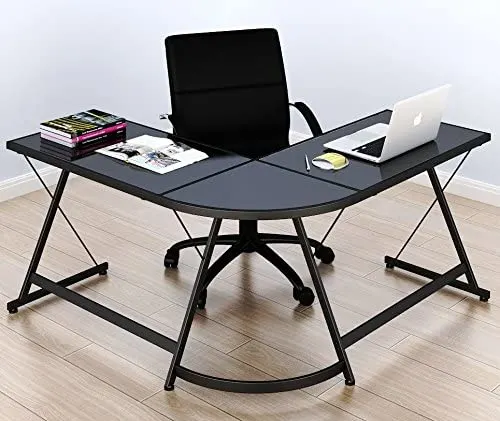 Streaming your gaming activities doesn't necessarily require you to spend a ton of money (especially if you can combine a cheap gaming desk with various freebies).
The best budget option on Amazon is the SHW Gaming Desk, a cost-effective desk that still offers good functionality. This is an L-shaped gaming desk that has a modern design, although overall, the style of this model is very basic.
You won't find many additional features or functionality with the SHW Gaming Desk, but it does the job if you need a cheap starting point. I do like the footrest that adds an element of comfort, and the powder-coated finish with tempered safety glass adds to the overall durability of this desk.
If you are a serious gamer and have some money to spend, you might want to look elsewhere; however, this is an ideal gaming desk that you can buy if you are on a budget.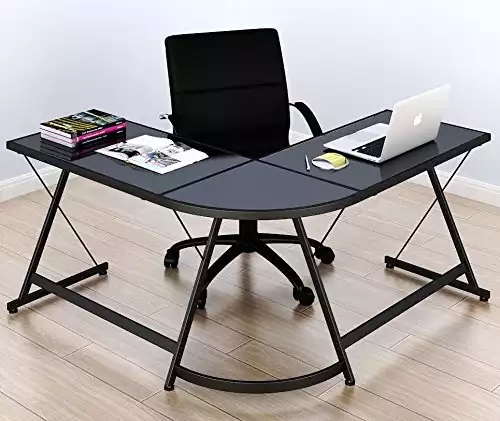 Pros
Modern styled budget gaming desk
Offers good comfort with a footrest
Durable and has a powder-coated finish
L-shaped design
Cons
There aren't many additional features with this desk
Experienced games might find it very basic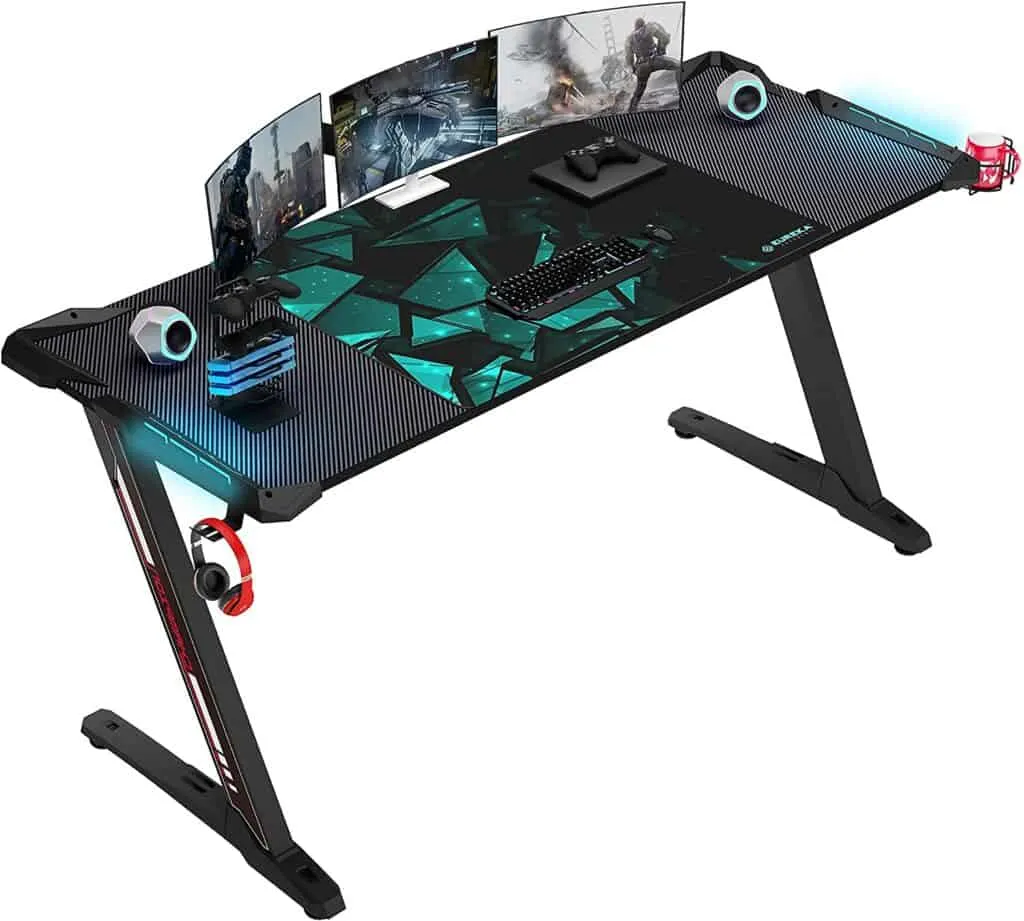 LED lights provide a stunning aesthetic and can give off the impression of a serious gaming rig. This is why I have included the DESIGNA Gaming Desk with LED Lights, as it is one of the best-looking desks I have come across on Amazon.
The cool blue lights are USB-powered, so you don't need any additional plugs to get them going. Also, the carbon fiber texture and large size of this rectangular desk offer plenty of room for your monitor (or monitors), keyboard, mouse, and other gaming or streaming accessories.
One thing I love about this desk is the assembly. When looking at the DESIGNA Gaming Desk with LED Lights, you would think that it will take a long time to set up, but that isn't the case. I managed to assemble this gaming desk in no time, which is also a big bonus.
Some people might find this desk out of their price range as it isn't a budget option; however, if you want a visually stunning gaming desk that comes with all of the above and adjustable feet and cable management, this is a great option.
DESIGNA Gaming Desk with LED Lights | Amazon
The home office computer desk comes with LED lighting. Plug the LED Lighting into your Gaming PC or Laptop with a USB. The LED lighting glows with a cool blue light for a better leisure & gaming experience.
Buy at Amazon.com
We earn a commission if you make a purchase, at no additional cost to you.
09/24/2023 04:50 pm GMT
Pros
Beautiful gaming desk with LED lights
Large size to fit all your computer parts and gaming accessories
This desk can be assembled in around 30-minutes
Cons
The cost is quite high compared to many budget models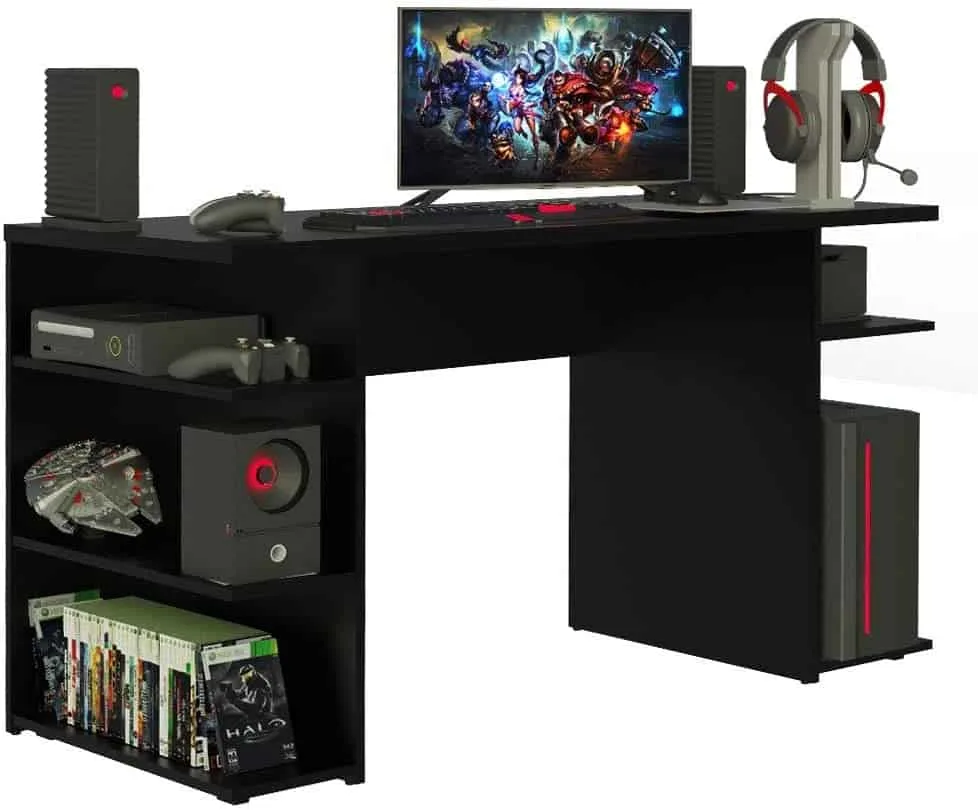 Sometimes we need places to store all our gaming equipment, and if you want a desk with adequate storage, you should go for the MADESA Computer Desk with Shelves.
One gripe I have with many gaming desks is that they don't provide much storage, but this one is different. You have several shelves and storage compartments with this desk to put games, speakers, and much more to keep everything tidy.
The desk is large enough for several monitors, and it is pretty durable due to the engineered wood construction. The assembly instructions could be a bit clearer as the different panels aren't labeled – I had to use a measuring tape to determine which section was which. However, it isn't a massive deal, but it adds some time to the assembly.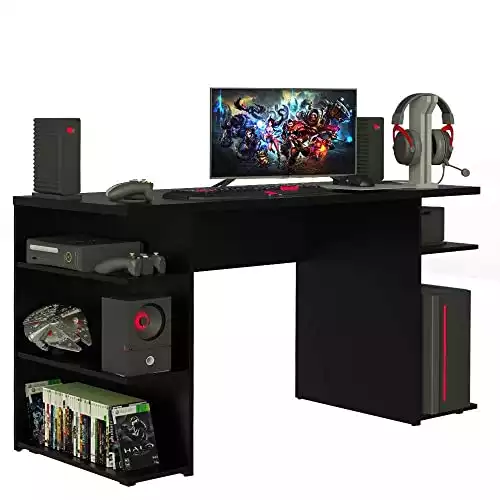 Pros
Provides substantial storage options
Durable desk made from engineered wood
Large enough to fit several monitors and accessories
Cons
The different sections could be better labeled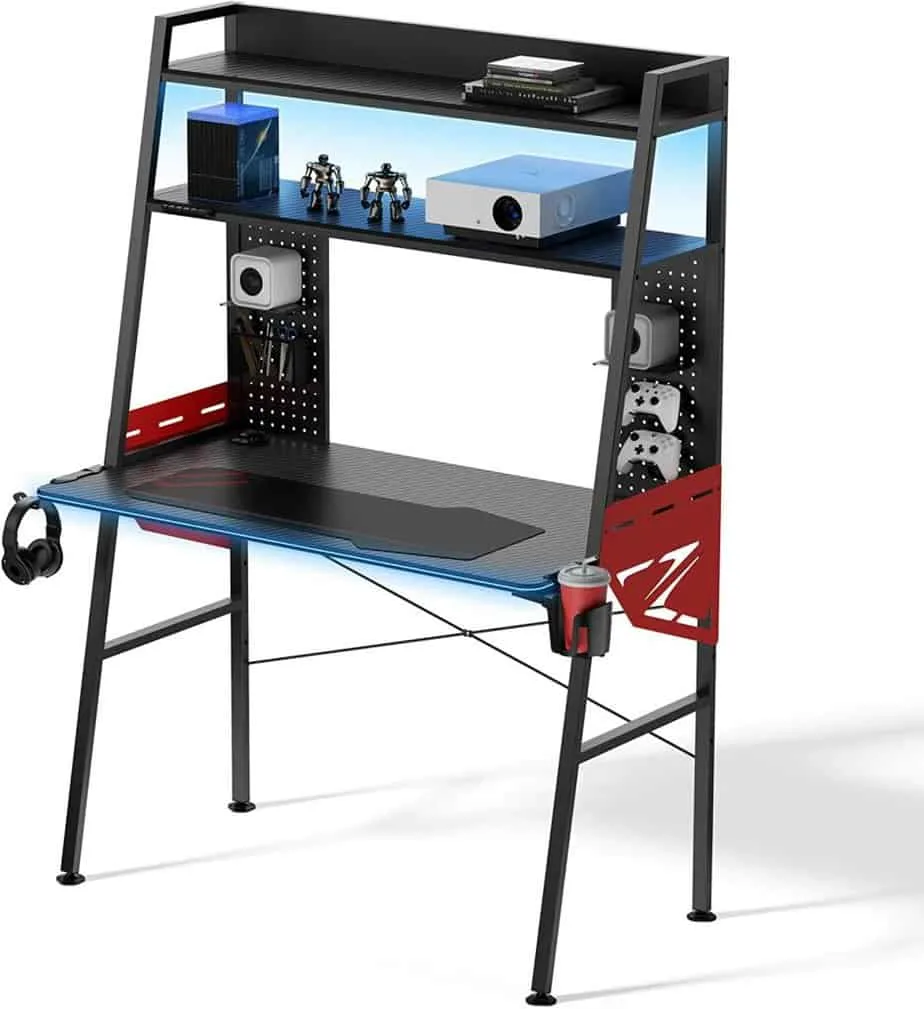 Ladder desks aren't usually that popular for gaming; however, they can solve many issues if you are short on space. This is why I've added the EUREKA ERGONOMIC RGB LED Gaming Ladder Desk to my list.
The desk can fit into a small area and offers some great gaming addons, such as a cup holder and headphone hook, and I like the RGB LED lights that provide a nice aesthetic. The storage options are ideal for storing games, accessories, and other items, while the carbon fiber textured surface is ideal for gaming.
If you need a much larger space with multiple monitors, you probably want to look at a bigger gaming desk, but for the price and if you only have a small room at home, this is an ideal model.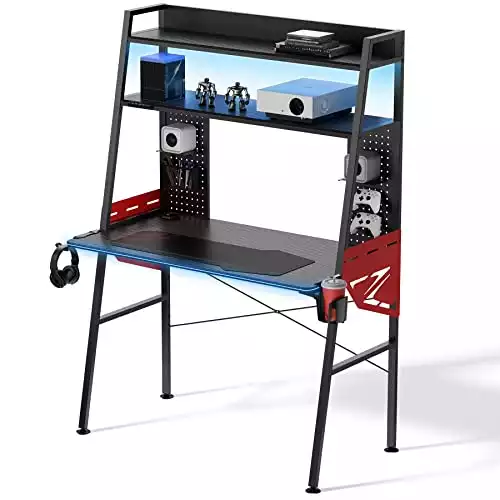 Pros
Offers decent storage options
Has RGB LED lights for visuals
Well-made gaming desk for a small space
Cons
Won't suit you if you have several screens
Frequently Asked Questions
Question: Does Amazon Sell Many Gaming Desks?
Answer: Yes. You can buy many different gaming desks on Amazon ranging from budget models to expensive desks packed with fantastic features.
Question: What is a U-shaped Gaming Desk?
Answer: A U-shaped gaming desk is a desk that has three sides, and it is ideal for a surround setup. This desk type can cost more money as it is larger than most gaming desks, and you will need a significant amount of space at home.
Question: What Additional Features Should a Gaming Desk Have?
Answer: Some additional features that will boost the functionality of a gaming desk include cup holders, headphone hooks, LED lights that can provide stunning visuals, and USB charging ports are very useful.
Question: Are Gaming Desks Durable?
Answer: It depends on the material. In most cases, gaming desks have been designed for long sessions, so they are durable and withstand heavy usage. Always check the material that the desk is made from before you buy.
Question: What Material Should a Gaming Desk be Made From?
Answer: Some of the materials that gaming desks are made from include metal, plastic, and MDF. The more durable the material, the higher the cost, but some budget models are crafted from strong materials.
Question: Should I Spend a Lot of Money on a Gaming Desk?
Answer: If your goal is to create a streaming setup cheaply, you can start streaming on a budget without spending lots of money on a gaming desk. There are many cost-effective models available, especially on Amazon, that can get you started without spending much.
Which is the Best Gaming Desk on Amazon?
My top pick for the best gaming desk on Amazon is the Seven Warrior Gaming Desk.
This gaming desk has everything you need to become a streamer, producing great content and comfortably playing your favorite games. Not only does this desk look stunning with the LED lights and L-shaped design, but it has a ton of brilliant features, including USB ports, cup holder, headphone hook, and more.
If you want to invest in a gaming desk that has everything you need, go for the Seven Warrior Gaming Desk.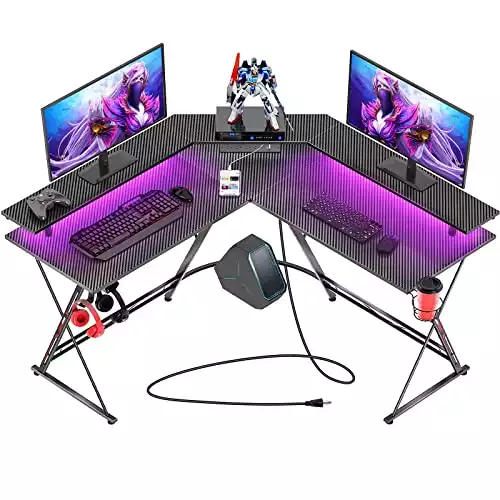 Continue reading:
Corner Gaming Desk Ideas – My Six Picks that Will Improve Your Gaming Setup