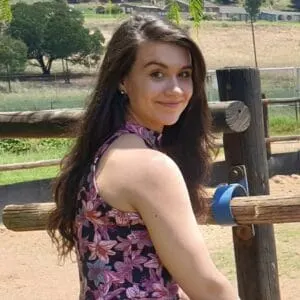 Latest posts by Christine Kent
(see all)
If you're an avid gamer, I'm sure the thought of gaming professionally and getting paid while pursuing your passion has crossed your mind several times. Luckily, all you need is an excellent background, a comfortable chair, and a spacious desk- the L-shaped desk and before you know it, you will be a pro gamer.
There are plenty of L-shaped gaming desks today on the market, but in this ideas guide, we'll share L-shaped gaming ideas, several of our best picks, and where to get them at the best prices.
L-shaped gaming desks enable you to have more than just one configuration; on one section, you could have a console and computer on the other. You can even position a workstation next to your battle station or different setups you prefer.
Additionally, L-shaped desks provide better arm support as you're working on your computer. They allow you to reach nearly everything without tiring your arms quickly.
Best L-Shaped Gaming Desk – Bottom Line Up Front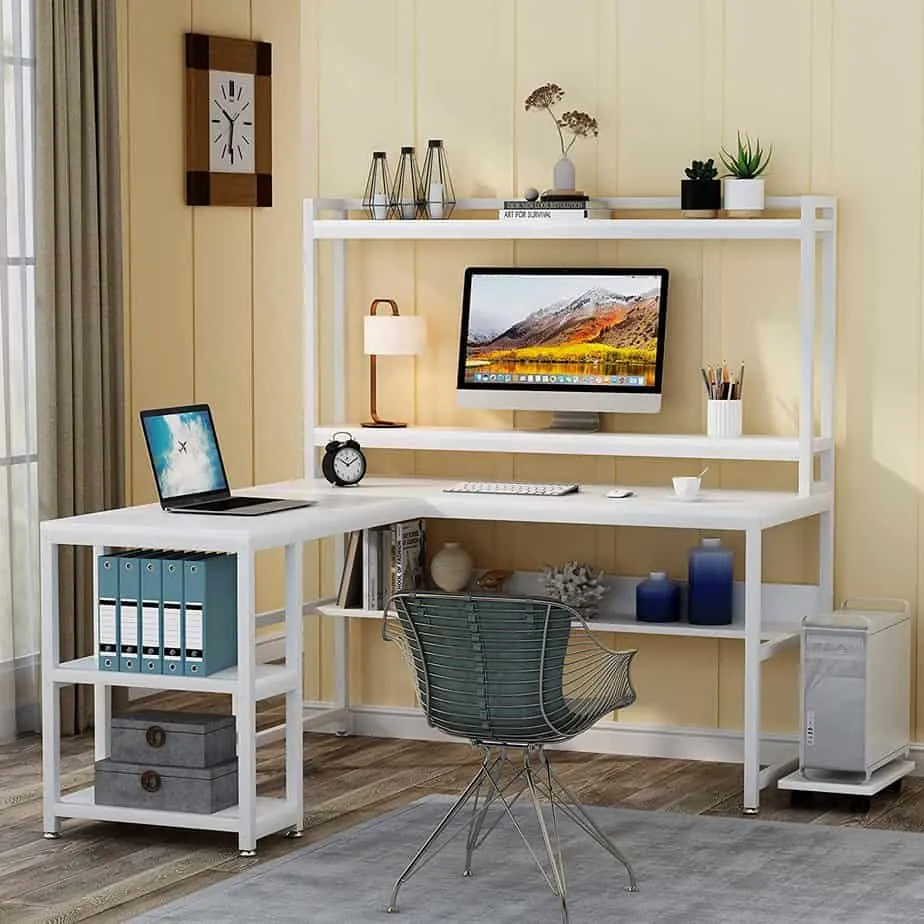 If you are looking to save some space in your gaming room, an L-shaped gaming desk is a great way of doing so. My favorite L-shaped gaming desk is Eureka's ergonomic gaming desk L60 because not only is it a very spacious desk, but it is elegant and aesthetically pleasing. You can't go wrong with this L-shaped gaming desk, so place your order today!
The Things to Consider When Buying an l Shaped Gaming Desk
If you want to buy an L-shaped desk for yourself, take a look at the following factors for you to consider:
Dimension
L-shaped gaming desk set configuration tables provide you with a customized experience. They are designed in various sizes to allow players to enjoy a comfy and lengthy game.
When considering an L-shaped gaming desk, you should choose your options based on the space available to play. Also, it's essential to think about the PC size or the console you'll be using for gaming.
Material
Materials represent another element to consider when buying an L-shaped desk. So if you're passionate about gaming, an L-shaped alloy desk with a glass-topped worktop is an attractive choice.
Storage
First of all, most modern gaming desks have a smooth surface and minimal storage space. Most desks lack pull-out drawers for keyboard trays, essential for every user. Before purchasing a desk, pre-determine the amount of storage you will need.
Features of l Shaped Gaming Desk
When you're looking for an L shaped gaming desk, you will encounter the following features:
Large Surface
The 90° angles of L-shaped desks make moving from one desk's side to another easy and quick. In addition, with L-shaped desks, you can easily reach everything.
Storage
Storage is an important feature that l shape gaming desks possess. Although buying physical copies of games isn't necessary anymore, this does not mean that the storage space is outdated.
Keeping extra accessories comes in handy, like power bars, extra batteries, or headphones. One day you may need something, and you don't want to waste your time rummaging around the house to find what you're looking for that needs fixing.
Grommets and Sockets
L-shape gaming desks have plenty of cable management alternatives! Go for an L-shaped desk for an aesthetically pleasing and excellent gaming desk setup without many knotted cables showing. It comes with rubber bands and grommets that are enough to hide and organize cables.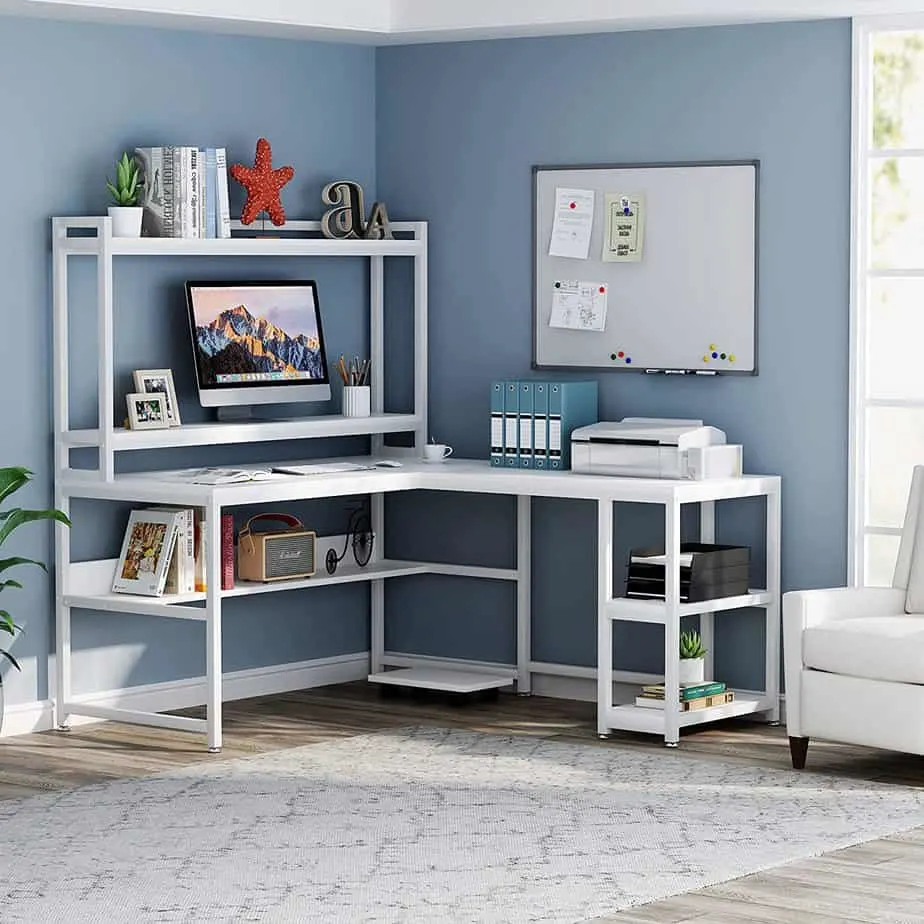 Selection Criteria
As you ponder on the type of l shaped gaming desk to acquire, using the criteria below will enable you to choose the ideal style that will best suit your needs:
Durability: When looking for longevity, the choice of material is a crucial factor. Choose an exterior desk frame made of either steel or aluminum.
Design: The style of your gaming desk will determine the space you require. In general, you need to go for an L shape desk that will enable you to the game, watch movies or TV, etc., simultaneously.
Price: Price is an essential factor to consider. The cost of the L-shape gaming desk will be determined by factors like the design and the work surface size.
Comfort: You have to sit for hours while gaming leading to back or joint pains. Therefore, comfort is vital for maximum support.
L shaped Gaming Desks Ideas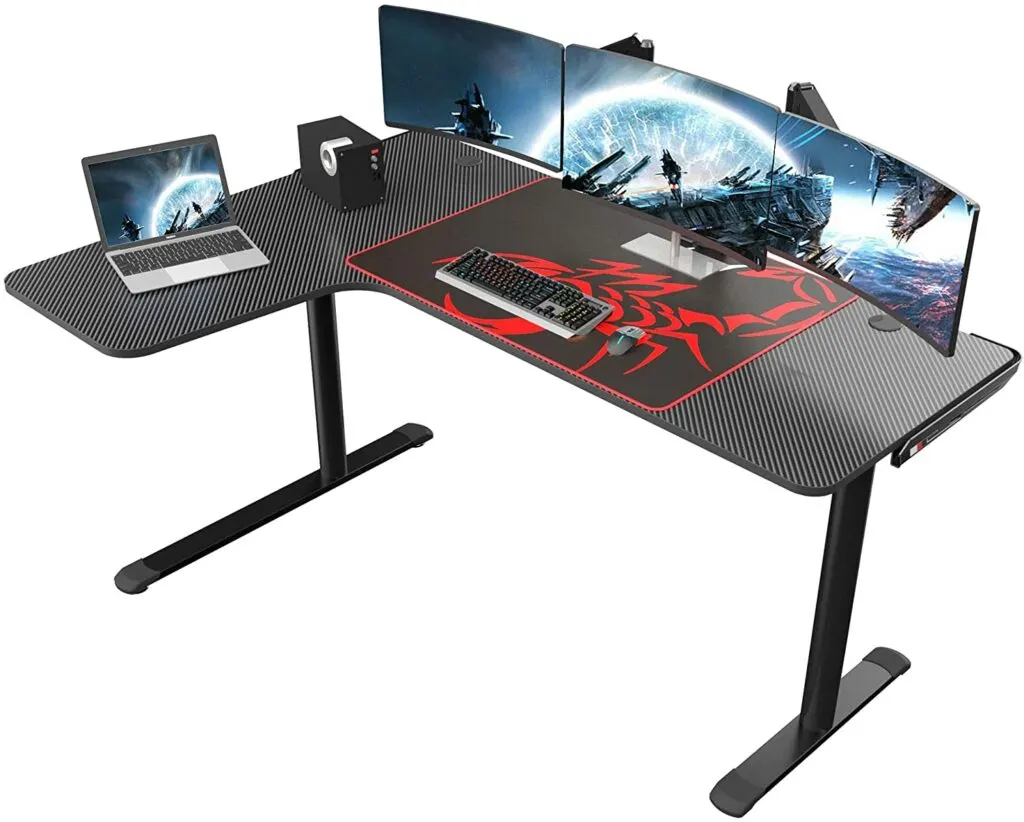 This is currently among the most excellent gaming desk options. It's a 60″ wide, 30.2″ high desk with an L-shaped carbon fiber structure and plenty of space for gaming keyboards, speakers, monitors, and other devices. It comes with an integrated multibox and a pair of grommets for easier cable management.
The gaming desk is available in dual assemble parts, tools, full instructions, and assembly will take only a few minutes. Moreover, upgrading the L60 desk with desk accessories is easy since you can purchase them separately for an even more eye-pleasing gaming desk.
Pros
Space for an extra-large mouse pad

The desk is very strong

The desk is easy to assemble

The desk makes it easy to manage your cables
Cons
You will need to ensure that the screws are tightened again after assembling the desk

You won't be able to flip the shape of the desktop.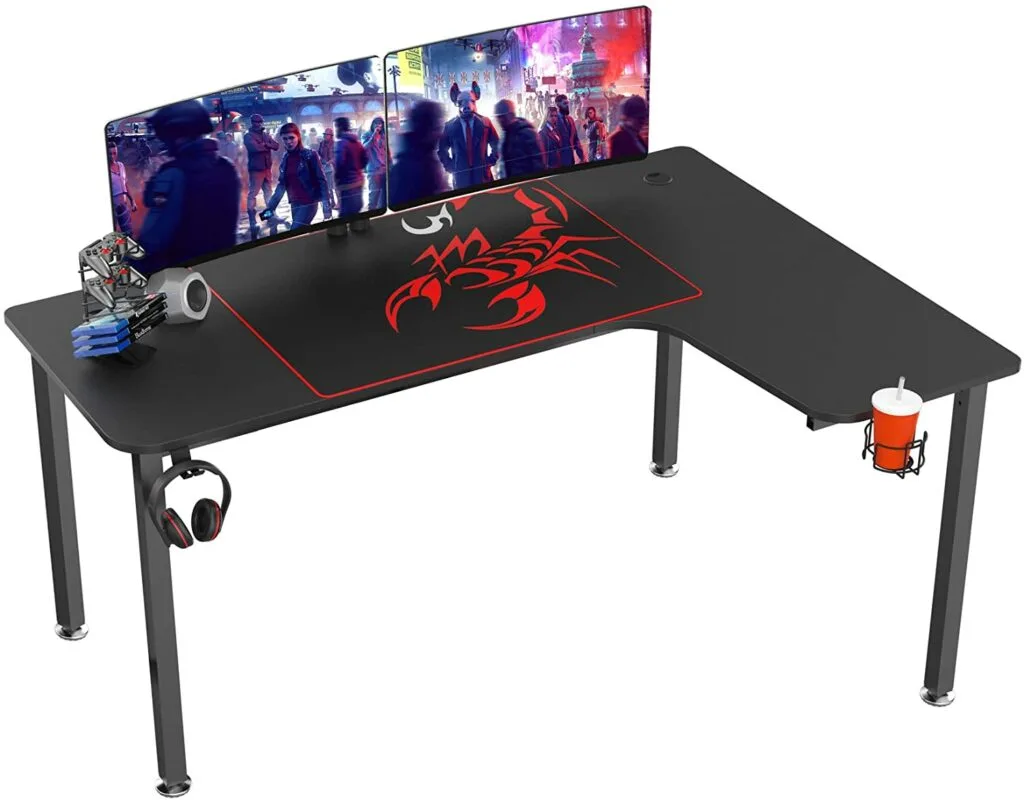 This gaming desk has a width of 60, and it's made of plywood. It offers your gear and a mouse pad plenty of room for more effortless cursor movements. It's 29.5 inches tall, leaving plenty of leg space to stretch out and rest comfortably. Also, the gaming desk has a cable management system in eco-friendly, scratch-resistant, and waterproof material.
This ergonomic gaming desk is durable and constructed with a metal frame with a heavy-duty powder-coated steel frame. It can support a 500 pounds load, and the leg rests are adjustable to keep the gaming desk stable.
Pros
The desk is spacious

It has a strong metal frame

It has a cable management system
Cons
It is easy to get dirty and challenging to clean.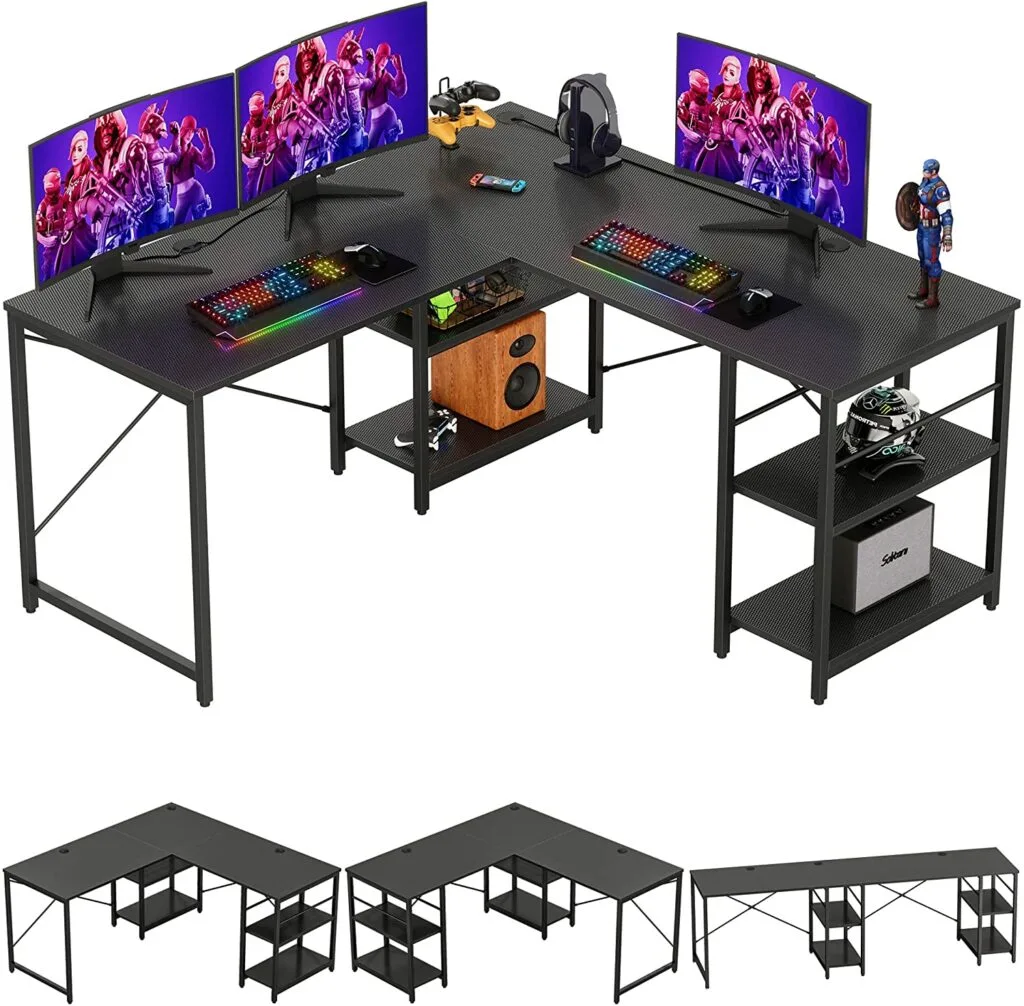 This gaming desk is a 95.2-inch reversible carbon fiber corner desk. You can easily adjust it to larger or smaller sizes to suit your gear requirements. It is unusually long and fits two people or two sets easily. You can change the ladder shelves to the left, right, or center as the desk transitions from straight to L-shape. Although it comes with shelves, it still has plenty of leg space to sit comfortably with more ample storage spaces.
Bestier L-Shaped Gaming desk is made from 100% sound wood with P2 standards and is CARB certified. It's solid and has a metal Xframe support made of substantial steel tubes that withstand pretty heavy loads. Also, It contains three cable holes for better cable management, and the environmentally friendly material is an attractive choice for environmentally conscious people.
Pros
It is environmentally friendly

Spacious surface and storage

It is strong
Cons
Not a good option for individuals with limited space

It can be a bit tricky to setup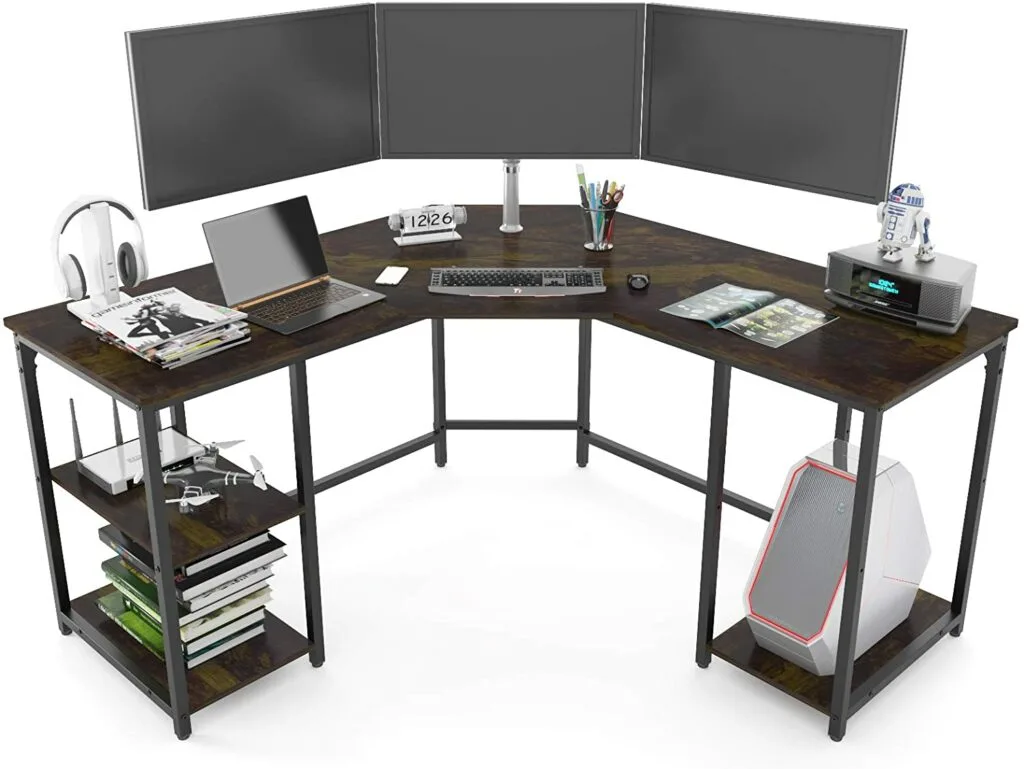 The Earth Sign L-Shaped Gaming Desk features a 56.96-inch medium-sized wooden desktop and four shelves to increase storage space. The desk is stylish and has space for many docking stations, monitors, a mouse pad and keyboard, and other accessories. You can adjust all four shelves as needed since they are removable, and they are constructed as two-tier shelves on either side of the gaming desk.
It is a high-quality, robust desk designed in a 15mm P2 grade wood grain laminated chipboard that is water and scratch-resistant. The bracket and metal frame are steel made of between 0.7 and 1mm thickness. Also, the gaming desk is pretty easy to set up, with detailed instructions and tools made available for you.
Pros
The desk is sturdy

Made from an environmentally friendly material

It is easy to setup

It has lots of storage space
Cons
Not enough space for larger gaming setups

Lack of cable management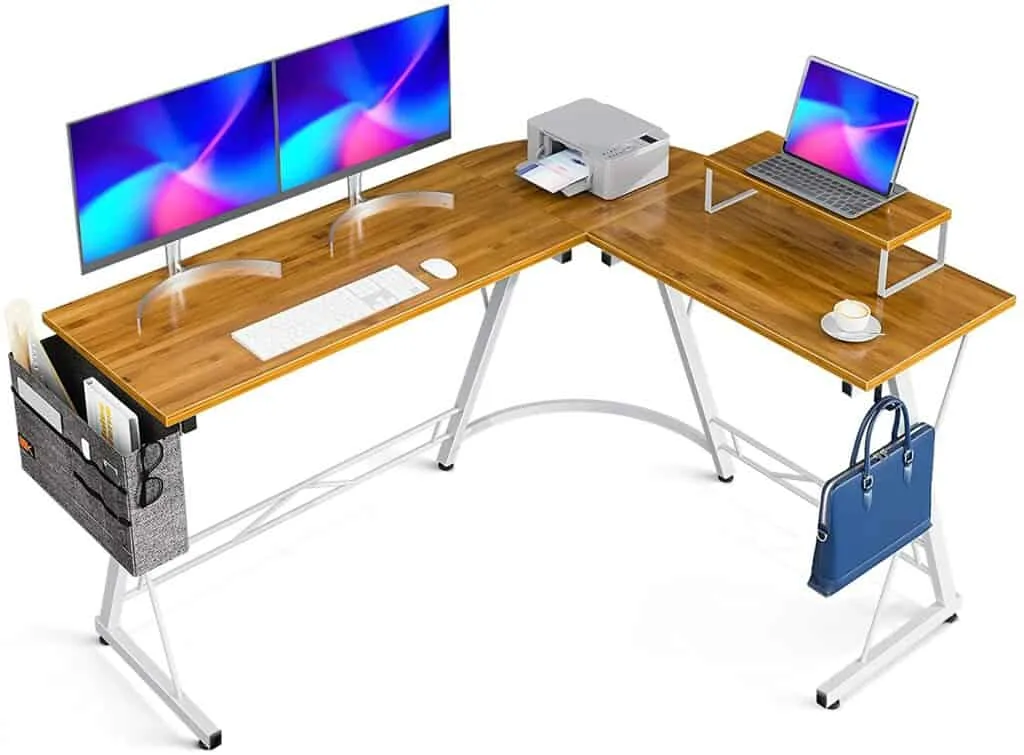 The modern L-shaped desk from Cassaottima is ideal for gaming. It's available in several customizable colors and dimensions. The desk comes with a monitor stand making it ergonomic and space-saving, and an iron hook that expands the desk space for more gaming gear storage. So as you can see, space won't be an issue for you.
The gaming desk is easy to set up, all tools are provided, and it takes about 30 minutes to assemble. It is solid, and it is made from a durable material to ensure that it suits all its gaming gear. In addition, it is highly flexible to use since you can rotate the monitor support as needed, and you can install the iron hook depending on the use on each side of the desktop.
Pros
Three dimension size options

Many color options

It has a three-year warranty

The desk space can be expanded and flipped
Cons
The desk lacks a Cable management system.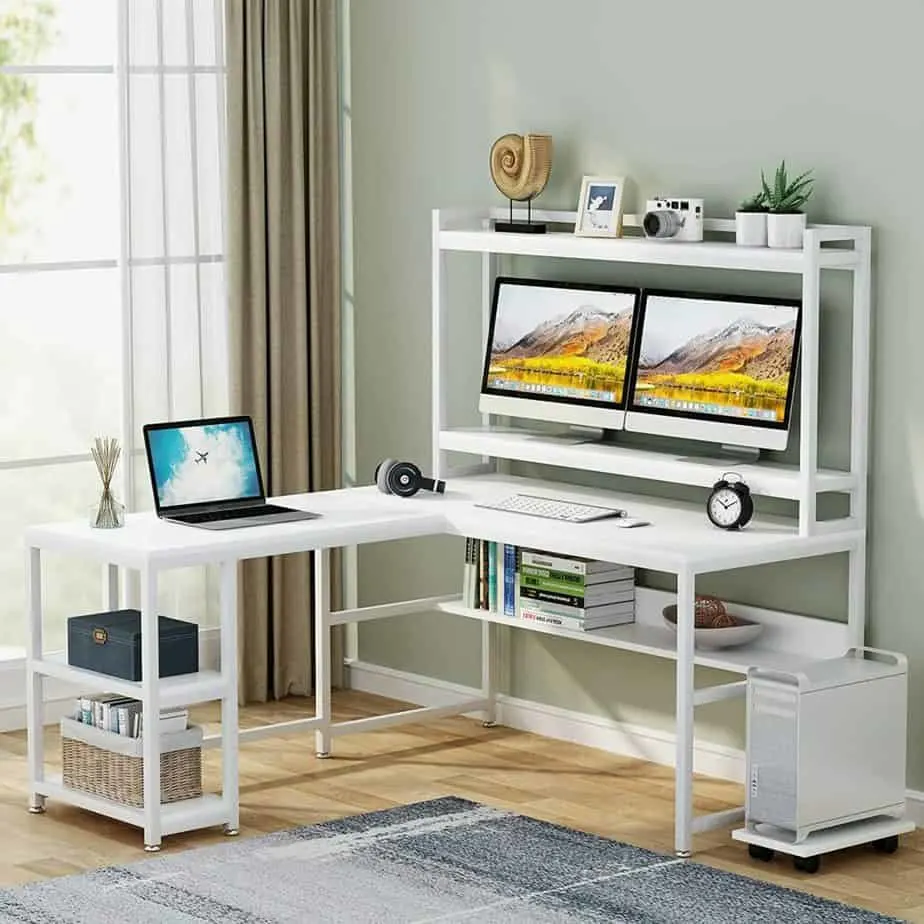 Tribesigns L-shaped 59″ corner desk comes with a cubicle, monitor stand, and storage compartments. It is compact and well-built; it integrates three open shelves, two PCs desks, and a CPU holder to maximize your working space. The desk is reversible and spacious, so you can easily install it on the right or left side corner. The monitor stand supports up to two 24-inch monitors, providing an ergonomic eye-level view and more desk space.
There are a bookshelf and two open shelves under the desk to keep other essentials within reach, and also a host stands that slides freely and is included to keep moisture out. It is robust, dustproof, and relatively easy to clean. Assembly is easy to do for two people in about 40 minutes using the tools provided.
Pros
Spacious; monitor stand and multiple shelves

Easy to clean

Reversible right/left corner desk
Cons
You will need someone to help you set up the desk.
Alternative L-Shaped Gaming Desk Ideas
L-shaped gaming desks are known to occupy a lot of space, so if the space in your room is limited; you can opt for the following alternatives:
U-shaped Gaming Desk
With the U-shape gaming desk, you are able to look in all directions when you have several monitors, and you can game without any distractions. This sounds perfect, doesn't it?
Curved Gaming Desks
Curved gaming desks offer space for your wrist and prevent strain and carpal tunnel. Designed with the best possible reach zone, avoid unnecessary bending over and help enhance your posture. Make your gaming comfortable and watch as you become a pro.
Standing Gaming Desks
These gaming desks have proven physical advantages, including reduced neck, back, and shoulder pain, better circulation of blood, increased energy use, and better posture.
My Favorite
Eureka's ergonomic gaming desk L60 is a very spacious desk, both under and above; it is elegant and resistant. It gives the gaming gear a lot of space and comfy leg space, and it is even easier to store your cables.
It comes in black with a beautiful foil finish, making it aesthetically pleasing and efficiently removing stains. What is not to love? So if you are looking for an ergonomic gaming desk for a consistent and comfortable gaming experience, this desk, in my opinion, is perfect.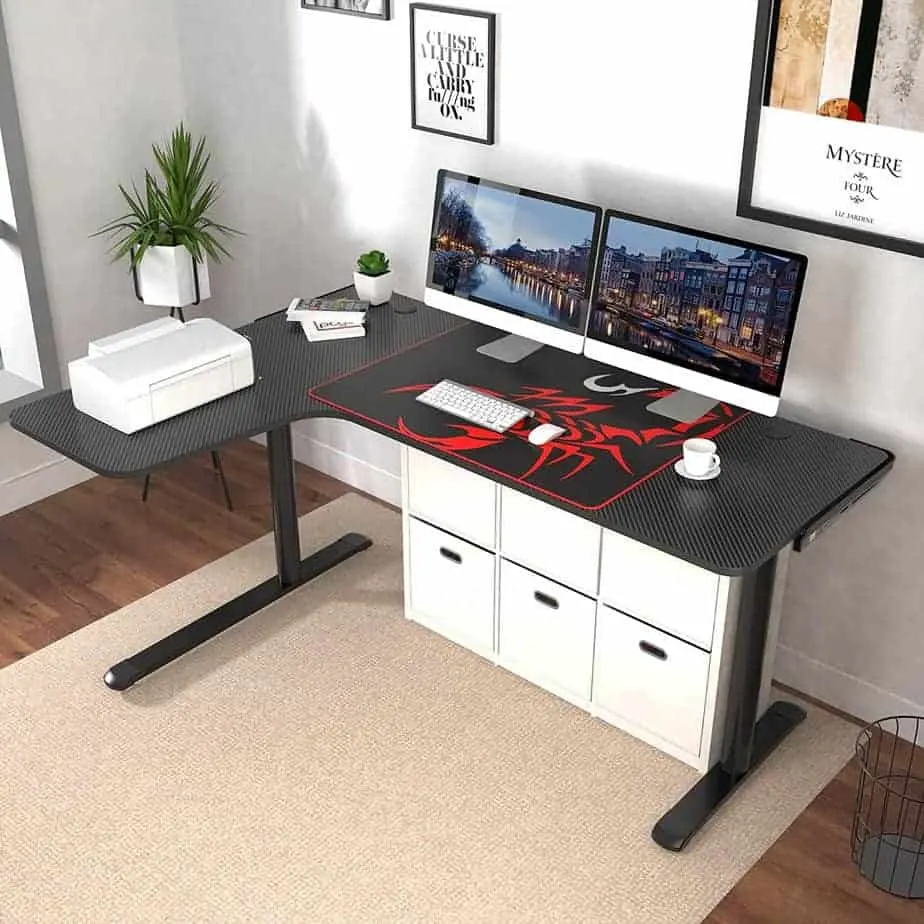 FAQ
Question: Is an L-Shaped Gaming Desk Worth it?
Answer: Yes, thanks to its shape, it offers maximum workspace while occupying minimum floor space. Although a traditional desk provides a similar area, an L-shaped desk allows you to reach everything easily, so you don't have to strain yourself to get across the gaming desk. Many L-shaped desks feature wall cabinets for additional storage, making the design even more efficient and space-saving. What are you waiting for? Go get yourself an L-shaped desk right now!
Question: Can you Position an L-shaped Gaming Desk in the Center of Your Room?
Answer: To save space, you can line it up in the corner or place it against the wall, so you can also use one side as a bookcase or cupboard. You can also set the desk in the center of the V-shaped room. However, when you arrange the desk, avoid facing your back to the entrance to the room.
Question: Is Sitting at the Corner of your L-shaped Gaming Desk Recommended?
Answer: No, reaching the opposite or far ends of the gaming desk will be challenging unless you use a standing desk and don't mind doing cardio between sets. Also, it would be impractical and inaccurate to set up your l shaped gaming desk on the extra surface space so you can sit in a corner. Instead, it's best to sit near the center, so everything is close at hand.
Best L Shaped Gaming Desk – Conclusion
Looking at our L-shaped gaming desk ideas guide as we conclude today, we are confident that you can now make an informed decision as you plan to purchase this gaming desk for your home. The L-shaped gaming desks in our list today are excellent choices, whether you need a strong desk or a minimalist desk with a cool look. What is your favorite L-shaped gaming desk? Let us know in the comments below. Happy gaming desk shopping!
Continue reading:
Couples Gaming Setup Ideas Guide
Best Gaming Chairs with Footrest
Best Gaming Desks on Amazon – My Top Picks for Better Gaming and Streaming