How Do I Host a Twitch Channel?
Hosting on Twitch isn't hard to do. You can use three of the following methods to host another streamer: by using your chat, using the twitch app, or by using the auto hosting feature.
Hosting a Channel Using Your Chat
Using your chat for hosting another streamer is the easiest method. Start by going to your channel and at the bottom right of your screen in your chat; you will need to type /host [channel]

The [channel] part will be the channel name or twitch account you wish to host. For example, if you want to host Dr. Disrespect's channel, you would enter /host drdisrespect to start hosting his channel.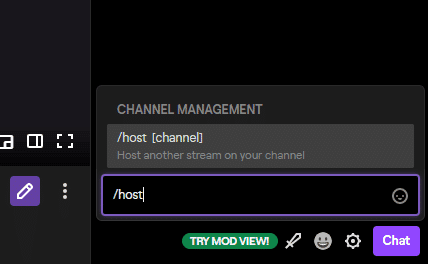 If you ever need to turn off host mode, type /unhost in chat to exit host mode.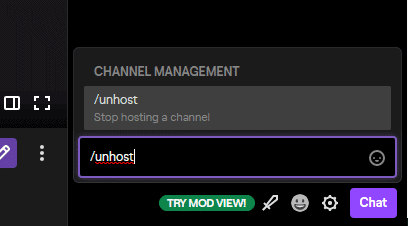 Hosting a Channel Using the Twitch App
In your Twitch app (Android Only), go to the Twitch channel you want to host and repeat the steps above to host that channel using your chat ( type /host to enter host mode or type /unhost to exit host mode).

If you are using the iOS app, you can host even easier. Go to the channel you want to host and click on the gear icon to bring up the channel settings at the bottom select Host [channel]. 

That's It.
Hosting a Channel Using the Auto Host Feature
The auto hosting feature is an excellent way to automate your twitch channel to auto host another channel. It will save you the time of having to pick another channel.

You will be able to select from multiple channels and create a list of streamers that you will auto host once you go offline. The way the hosted channel is selected is customizable. It is randomized, or it will follow the order of your list.

To set up auto hosting, you will need to go to your channel settings (click on your profile picture at the top right and click on Settings), then you will click on the Channel and Videos Tab.


You will need to scroll down the page until you see the Auto Hosting section. From there, turn on auto host channels, then you can select the priority hosting order (random or list), and last but not least, you can manage your host list.